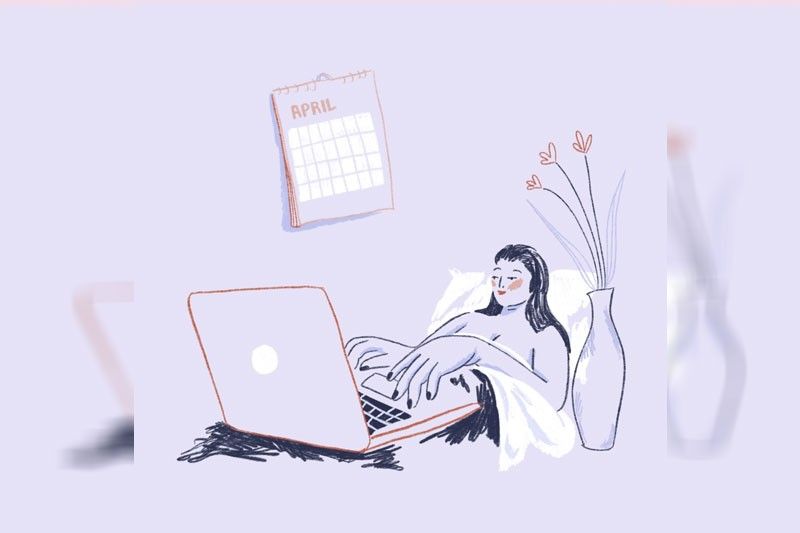 The one-stop platform offers safe and affordable medication, advice from partner doctors, and friendly, open information to all on a single website — making it a necessary service in the time of COVID-19.
Art courtesy of Dima
How Dima innovates reproductive health in the country
On recently launched website Dima, customers of all ages (though take note: minors require valid prescriptions from physicians) can consult with partner doctors, shop for birth control and other products and medication, and learn more about reproductive health in an environment that's safe, open, and private. All this is done online, making the platform convenient and particularly necessary during a time of enhanced quarantine such as this, especially for those with polycystic ovarian syndrome (PCOS) or anyone else who has been prescribed to take pills regularly.
Founded by siblings Carlo and Julia Cu Unjieng, Dima emerged after a conversation about the experiences of Julia's friends with unplanned pregnancies and even sexually transmitted infections. "We are 12 years apart in age but the stories she shared were exactly the same stories I used to hear when I was her age," says Carlo. "Hell, they are the same stories I hear from people in my age group today!"
Because the topic of sexual health isn't so easy to broach in a conservative country like the Philippines, people have had to resort to backroom abortion clinics and unsafe black-market medicine because they might feel that they have nowhere else to turn. "People have limited access to sexual health information, services and products," Carlo says. "If we could improve access on each of these three things in a safe way, we could start really solving this problem."
Despite contraceptives being relatively easy to acquire and doctors being available to offer sexual health advice to their patients, these common problems still arise — which may be due to the stigma that surrounds these topics. "People are deterred from going through the proper channels of seeing a doctor and making purchases in licensed pharmacies," Julia says. "People don't buy their birth control on time, don't buy condoms when they need them, or don't purchase safe and reliable treatment for erectile dysfunction."
"We quickly concluded that a big part of the problem is that these stigmas do exist, and people would understandably much rather discuss these personal issues in a more private space," Carlo continues.
This is where Dima comes in, providing access to all of the above in a way that's risk-free, affordable, and discreet — and without you having to leave your own home. "Every prescription product sold on dima.ph requires the customer to fill out a quick medical form, though Dima also allows the customer to upload their own prescriptions and will, of course, honor one written by a customer's own doctor," says Julia, highlighting the importance of prescriptions for people to know which method of birth control is best for them.
The medical form is sent to partner doctors for review. Certain complicated cases may be rejected and the customer will be advised to see a physician in person, but clear-cut cases tend to be approved as quickly as possible. As soon as the customer has a prescription, they can browse and shop for birth control including condoms, pregnancy tests, and erectile dysfunction medicine. All major forms of payment including cash-on-delivery are accepted, with orders taking up to three business days in Metro Manila and up to eight days in regions beyond.
Each product (note: they sell generics) has been tested and certified with the Food and Drug Administration, and Dima continuously works with them as well as their partner doctors to ensure quality and affordable prices. "How generics work isn't necessarily common knowledge, but essentially our products have the same active ingredients as the leading brands — they're identical in make and act in the exact same way, but come at a far cheaper price," says Julia.
One thing we've learned — or have perhaps proven — in the past two weeks of enhanced quarantine is that our current healthcare system is not equipped to effectively and reliably support the public. Dima comes at a time when sexually transmitted diseases and teenage pregnancy continue to be widespread, along with unwanted pregnancies in adults and cases of erectile dysfunction. To have a platform that's able to address these without judgment, making reproductive health more accessible than ever, is not just fresh and unconventional, but rather a long time coming.
"The problem, however, doesn't just stop at accessibility," Julia says. "The perception of sex and sexual health as taboo also inhibits society's ability to discuss the topic openly, resulting in a general lack of understanding and the spread of misinformation." To this end, they've created an avenue for learning about and exploring sexual health in a "frank, friendly, and fun" way through infographics, writing and social media. "You can't properly care for something you don't understand, and to destigmatize the issue encourages individuals to properly educate themselves on the topic. We hope to empower people to take the reins and own their sexual health."
With plans to expand to other services and products in the future, Dima hopes to keep making reproductive health a common and necessary conversation so that more people can access it. "We want to educate and change the minds of those people that don't believe in using sexual health products," Julia says. We feel that a combination of fighting against social stigma through frank and open discussion, and providing safe and discreet avenues to access important information and medicines is the way forward."
"Everyone has a role to play and a responsibility when it comes to improving the state of our sexual health, whether it's taking charge of your own body by using safe and proper medicines, sharing accurate information to help others do the same, or, as with us here at Dima, helping to create the space to protect people's bodies and expand people's minds," Carlo chimes in. "We think we've found an innovative way to do this, and will continue to innovate so we can improve things as quickly and effectively as possible. And have some fun along the way, of course."