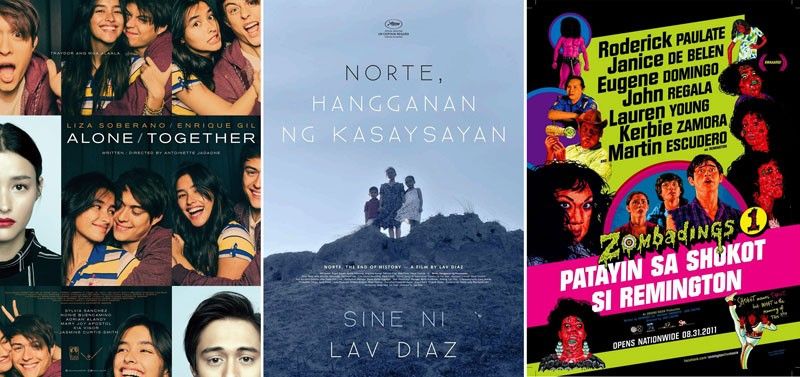 Karl Castro has designed posters for acclaimed films like Alone/Together, Norte: Hangganan ng Kasaysayan and Zombadings: Patayin sa Shokot si Remington.
That Thing Called the Movie Poster
Don Jaucian
(The Philippine Star) - April 6, 2019 - 12:00am
Artist and designer Karl Castro talks about creating some of the more memorable movie posters of the past few years.
In the peculiar world of Twitter, where memes (and social issues) live and die by the minute, a movie poster going viral is a sight to behold. No, it's not the "charmingly terrible" Philippine release one-sheet for Green Book, but the sharply designed poster for Antoinette Jadaone's Alone/Together, made by Jadaone's frequent collaborator Karl Castro. Granted, anything LizQuen (Liza Soberano and Enrique Gil's love team, if you're living under a rock) will surely hit the trending topics list, but the fans' study of the hints that it's giving ("The poster shows a certain sadness," one tweet said) shows that there is an appreciation for its design beyond the need to drum up publicity or just checking out how their favorite celebrities look like.
For the Alone/Together poster, Karl wanted to evoke the story's themes without giving too much away: the idealism and romance of college life, the impact of reality check once a couple is out in the real world, and a sense of nostalgia about a past love (the Warholian veneer of the photo booth style also helped in the rawness of the images). The design hints at an uncertainty that is familiar in some of Karl's film posters, such as Norte: Hangganan ng Kasaysayan, Never Not Love You, and even in That Thing Called Tadhana.
It helps that Karl has a degree in film and audiovisual communication from University of the Philippines, as well as years' worth of experience with graphic design from when he was a kid up to becoming a visual arts major at the Philippine High School for the Arts. But film poster design is just one of the many things that Karl does. His practice also includes painting, photography, book design (for which he's won several awards), and editorial design (for magazines such as Vault and Rogue).
I sat down with Karl to talk about the essentials of a good poster, design as communication, and the pressures of working in love team projects.
Supreme: Before you started designing movie posters, what was your awareness of the use of posters in the industry? Lalo na here that it's usually just huge artista pictures.
Karl Castro: My familiarity with the industry… it's not an industry that invests a lot in posters, I don't know (why), maybe because partly walang budget, partly because they think the budget should be allocated to other things or maybe their notions of what a poster should look like, which is patterned after Hollywood, so it's always big faces, things like that. Parang hanggang ngayon naman, although people think na marami na akong nagawang posters, it's still something that I can't make a living (off) of. 'Yung sa akin, I've been fortunate enough to work on film projects that I believe in. It doesn't feel like a chore or a task to do.
I really appreciate good film posters and as a film student, mas na-appreciate ko pa yung difficulty of translating an idea into a film poster. I think ang malaki na ambag sa poster designs ko is really my book design background kasi after college, my work was mostly focused on editorial work so mga magazines, books… So doing a movie poster is not that different from a book cover kasi you're taking into consideration many different things. It has to represent the author well, it has to represent the publishing house or the producer well, and it also has to represent the concerns ng audience. It also has to have an idea on what this movie might mean to an audience. And dun sa zeitgeist, ano ba 'yung things that might not necessarily be in the movie but it kind of touches on.
You have to be aware of all these things to create an effective movie poster. Kasi siyempre ang poster, hindi naman sapat yung i-represent mo lang yung story, you have to make it interesting to people, you have to find an angle that would make people want to see more and that's, I guess, a tough balance to do.
In an interview that you did last year, you mentioned that movie posters are more design and not necessarily art. Can you elaborate more on that?
A movie poster is there to promote a movie. It's not something you'd necessarily look at on its own, hindi mo siya pwedeng tanggalin sa context ng movie na pinanggalingan niya. Of course some posters will have that as an afterlife but 'yung function niya, if it doesn't do that, it's a failed poster, kahit gaano kaganda 'yung technique niya, if it doesn't make you want to see the movie. So in that sense, it's really design. It's a mode of communication.
That's also why, if you notice the posters I do, they don't really have a particular style. It's not really about me, it's not about my aesthetic, it's really about sharing a particular story to a particular audience and tantalizing (them) into wanting to know more. In some movies, 'yung poster ang unang makikita ng mga tao eh, even if completely unheard of yung movie pero pag nakita 'yung poster, meron ka kaagad magiging judgment or parang… it will also represent the movie in your mind after you've seen it, if it doesn't do a good job.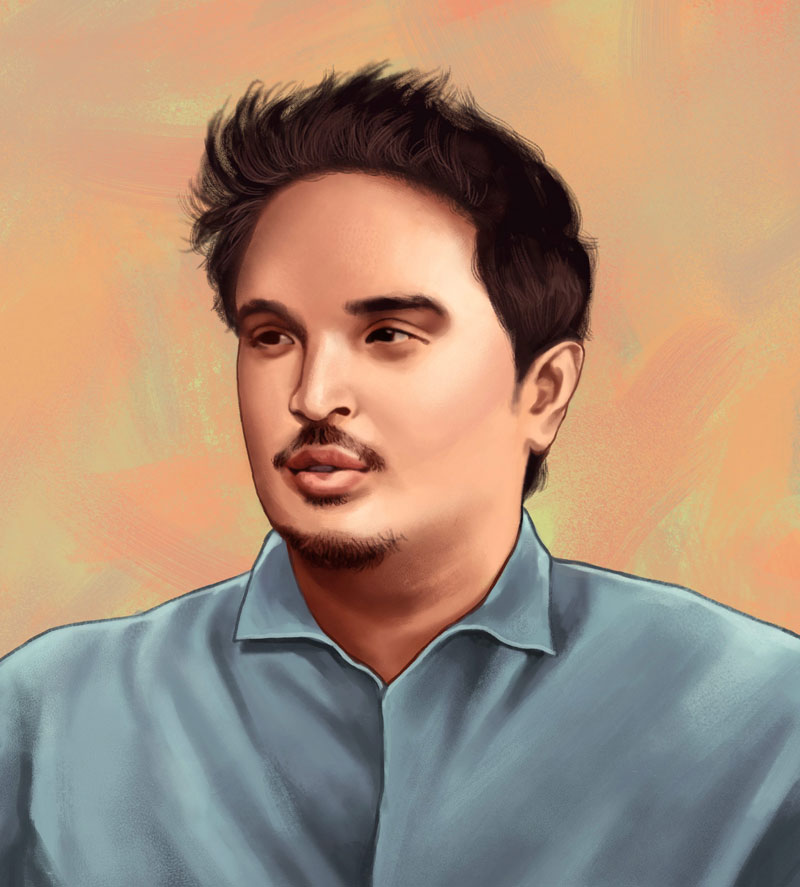 Art by Rard Almario
How do you resist that urge to make your work consistent by having a "trademark look" or "trademark aesthetic" that people will say "Ah, that's Karl Castro's"?
People have said that about my work in general, kahit 'yung book covers or book designs ko, hindi siya obvious na ako 'yung gumawa, they always say na iba-ibang tao 'yung gumawa. I guess that's a strength, in my opinion, kasi it's not about me. I can adjust to any film project that needs to be promoted. So I think usually people tend to see artists and designers as egotistical people hell-bent on making their mark in the world (but) some of us really just want to do a good job, it doesn't matter if you know whose work it is. Sa akin mas may satisfaction pa ako na people love the work without knowing it's by me; mas genuine 'yung appreciation nila 'dun kasi hindi sila biased na ako 'yung gumawa or hindi siya parang lip service lang. I really want it to be about the work.
Is harder to collaborate on a book cover or a movie poster?
Mas mahirap lang 'yung movie poster for me kasi mas marami siyang layers of approval na dadaanan, lalo na if you're handling big artists. Siguro sa indie scene it's similar to a book. With something like LizQuen, siyempre i-approve nila 'yung itsura nila, hindi sila pwedeng super pangit, 'yung positioning ng names, logos, all of these things are subject to approval which is especially hard to do in high-profile artista vehicles. Which is also why I really appreciate Black Sheep and Tonet (Jadaone) kasi I know they really fought for the poster, they really shared with me and struggled, I know that they were really committed to that poster. (Laughs). Maraming pinagdaanan 'yung poster na 'yun, as simple as it seems.
What's the importance of getting the right collaborators?
There's a lot at stake initially, kasi nga (the poster is) the first thing people will see and if it's good, it will be meaningful to fans, to people who will love the film. It has to be someone that gets the material, the director, the direction nung company, the possible value of a movie to the audience.
It's hard, it's many layers of thinking and not all collaborators will be patient enough or be sensitive enough to get that so it's really important. I really value working with Tonet because she really trusts me, even if I give her crazy poster studies, pag-iisipan naman niya and then ire-reject niya or i-approve. She's honest. Alam ko na she's willing to take a risk and alam ko na she's willing to fight for a design if she really believes na 'yun 'yung tama. That's really a lot of the work, parang I can make a daring poster design pero kung hindi siya ilalaban ng mga tao who are really at the decision table — and usually the poster designer is not at the decision table — hindi siya ma-approve. Part of the success of the movie posters that we've released is nilaban siya ng mga direktor or ng mga producer.
There's a lot of value placed on "going viral" these days and meron na talagang "poster reveals" for some high-profile film projects. For you, does that add to the pressure of making a movie poster because there are people who have expectations of the brand/love team? And they'll scrutinize na "Ah ang pangit nila diyan," et cetera?
Ako naman, ang tingin ko sa fans, hindi sila ganun kababaw na it's just about beauty. Kasi siyempre a film poster is about storytelling. Right now, ang napapansin ko, more than 'yung maganda siya or hindi, ang mas nakikita kong comments is people really look for storytelling in the poster. Most of the comments that I see is that alam nilang mawawasak sila sa pelikulang 'to, or iiyak sila just by looking at the poster and for me that's what's really important.
Like itong LizQuen poster, pinapangit namin sila sa poster, alam ko naman na hindi ako papatayin ng fans because there was a story being told with the evolution of the faces. Tapos hindi naman sila ever magiging super pangit. (Laughs).
Iniisip ko din talaga 'yung fans. Between the cover studies that I sent to Tonet, the current one wasn't actually the frontrunner. There's one that's more obvious and more clear-cut in its message and this one is a little more ambiguous sa messaging while mas daring 'yung form. Sabi ko this is the more daring poster and the more fan service because there are more photos of LizQuen and just by that, fans will love it. They look so cute. It gives the fans something to look forward to.