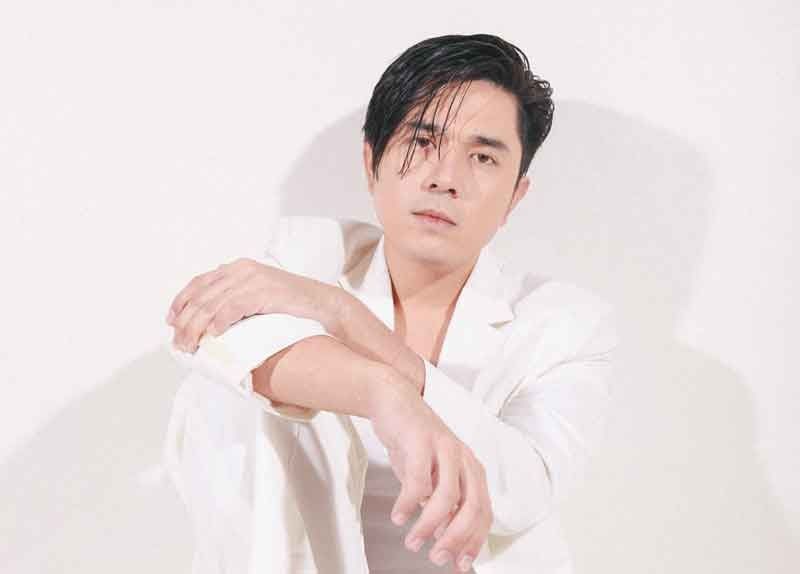 The Philippine historical epic Goyo: Ang Batang Heneral, directed by Jerrold Tarog and starring Paulo Avelino, is now showing in cinemas nationwide.
Photo by JAKE VERZOSA
Paulo Avelino is the captain of his ship
Raymond Ang
(The Philippine Star) - September 8, 2018 - 12:00am
'These films show what we did wrong in the past. We should remember ourselves as a nation, where we started, where we came from, to have a better understanding of why we're where we are now.'
MANILA, Philippines — Paulo Avelino didn't wake up this morning.
He's on time for this shoot but he never made it to his morning guesting, for the Karen Davila show Headstart. "I feel bad," he says, sheepishly. "Di talaga ako nagising eh." It was supposed to be a joint interview with Jerrold Tarog, his director on the much-awaited historical epic Goyo: Ang Batang Heneral. Tarog eventually did the interview by himself and Paulo is palpably ashamed. And then, like one of the romantic leads he's played onscreen, he asks for Karen Davila's address — Paulo Avelino says sorry with flowers.
It's four weeks into promo for Goyo, the big-budget sequel to Heneral Luna, the 2015 historical biopic on General Antonio Luna that against all odds became a blockbuster, and the 30-year-old actor is literally too tired to get out of bed.
During press rounds for Goyo, he made it known to entertainment press that he's looking to take a break. I read him a PEP.ph headline: "Will Paulo Avelino do a John Lloyd Cruz?" He laughs. "Grabe, ginawa nang term ang 'mag John Lloyd'… He deserves it [to take a break]."
What kind of break is Paulo talking about? "Di naman to stay away from showbiz but to take a break, explore some other things," he says. "I have a love for the industry so I can't leave it totally. I'm just [hoping for] a more relaxed pace of doing work. I've always wanted to explore content creation online so maybe I'll have time to look into that too. There are a lot of ideas that I want to do and I can't see them happening while I'm working like this. [If I can take a break,] maybe I might start doing some of them."
Before any of that though, he's got a film to promote. A day after this shoot, Goyo opens nationwide after a three-year wait, as perhaps the most anticipated local film in recent memory, with as much build-up and advance buzz as an Avengers movie.
E.A. Rocha of TBA Studios — which along with Artikulo Uno Productions and Globe Studios, are behind the film — has been quoted as saying that Goyo cost "about three times [more than Heneral Luna], including marketing." Luna reportedly cost P80 million and at about P240 million, many are calling Goyo the most expensive Filipino film of all time.
It's funny that Paulo Avelino ended up here, as the face of the biggest Filipino film of all time. In a way, he's actively avoided the paths that lead to moments like this. Most of the movie roles he takes are risks: When he's playing a romantic lead, he does it in a messy, alcohol-driven indie like I'm Drunk, I Love You. When he goes big studio, he'll play a bisexual caught in a love triangle in a tonally-risky film like Kasal. Last year, as it started to become clear that he's one of the leading actors of his generation, he took a supporting role to music and theater veterans in Ang Larawan — not neccessarily moves that turn you into the biggest star.
"I understand that some artists are being treated as brands for the endorsements or for the money, to tackle a certain market," he says. "Sakin, I want to be all-around — if you need me for support on this thing, I'll do it as long as it's interesting… What's there to be scared of? We're actors here. If you're safely picking your roles for something that's going to lead you to more stardom, I think it's — I have nothing against it — but respected actors aren't really the biggest stars."
Paulo Avelino is in a moment where success within the system — on teleseryes like 2015's Bridges of Love, on numerous endorsements, as a perennial Twitter meme as the Philippine Internet's boyrfriend— has given him the opportunity to lend whatever star power he has to films he thinks the country needs. "I'm lucky they ask me to audition for these types of films," he says. "I'm so inspired to make the films because I have a lot of hope for our country. 'Yun siguro eh. You always see hope for your country to be better so why not? The best way to move forward is to learn from our mistakes. These films show what we did wrong in the past… We should remember ourselves as a nation, where we started, where we came from, to have a better understanding of why we're where we are now."
He believes in the power of cinema, how great art can tell us something about ourselves. "Once we better understand [ourselves], once we contemplate and self-reflect as a nation, makikita natin 'yung mga mali… Hopefully we can fix it for the next generations."
"I was looking for a certain introspective quality because Goyo operated at a quieter tone," Jerrold Tarog says. "Paulo had that, as evidenced in his performance in [Tarog's 2013 film] Sana Dati. The poise and looks are easy to find on any popular actor but I wanted uncertainty, particularly expressed through the eyes, which Paulo is always good at. All of this is in service of breaking down the idea of a national hero, of showing instead a young ordinary man, burdened with responsibility and suddenly aware of his mortality."
He prepared studiously for the role, attending talks by the historian Ambeth Ocampo in Ayala Museum, reading books like Nick Joaquin's A Question of Heroes and Teodoro Kalaw's Gregorio H. Del Pilar, upon the recommendation of Tarog. "The materials I read were probably more than I needed to know for the film but I also wanted to know more about our history," he says. "To see what happened, the different accounts, the hearsays — you get to have your biases of what really happened and what you believe."
Paulo Avelino was 23 when he received the offer to do the 2011 Cinemalaya film Ang Sayaw ng Dalawang Kaliwang Paa. "When I first got the script, to be honest, I didn't understand it," he says. "It was just so deep," Paulo says, "mostly poems or songs."
He didn't quite understand it but he decided to accept it. And that willingness also came into play with last year's Ang Larawan. Already one of showbiz's most in-demand leading men, he gladly took on a supporting role because he knew that the material — written by two National Artists — was bigger than him.
"Not only did Paulo tell us he was interested [when we asked], he said he was willing to audition for the role," Girlie Rodis, one of the film's producers, says. "He was willing to work with a vocal coach to put the extra time to learn the material. He was busy, his schedule was not the easiest but he came to rehearsals and put in as much time as he could… During the actual shoot, he would go from teleserye taping — which would end sometimes at 4 a.m. — then sleep in his car while his driver drove to our shoot. He was always congenial. At shoots, he would find a corner in our cramp green room to set up his folding chair and he would steal power naps in between takes. At one shoot, he even made coffee from his personal coffee press for whoever wanted it."
At the end, in a gesture that showed full support for the fledging production — an independently-produced period musical is always an uphill climb — he told them to waive his talent fee, in exchange for Ang Larawan's titular painting. "He is one of those rare breed of actors who appreciates material and not just fame and fortune," Rodis says. "We were newbies in producing film but he understood what we were trying to accomplish long before we won any accolades."
Here's something not many people know about Paulo Avelino: in the last few years, he's increasingly become involved in the films he does. It started in 2013, for Yapan's Debosyon. "It was just willingness [on my part] to help the project, some aspects of it.Tapos nagulat ako they decided to put me as a producer." Later, he was a producer on the hit indie I'm Drunk I Love You, and on Goyo, he's credited as an executive producer.
"It's more about projects I believe in, not necessarily starring in," he says. "It just so happens that you come across a script, you read it, you decide you want to be involved more in it…. Ang galing ng mga filmmakers natin. I'm lucky to work with them."
"Paulo is usually quiet on the set," Tarog says. "But when he has ideas, he expresses them and we get to discuss and explore. He asks questions most of the time then dedicates himself to executing the vision. He is credited as executive producer but our relationship is mostly on the level of director-actor, collaborator and friends. He wasn't my boss in the same way I wasn't his."
After Goyo, Paulo Avelino is jumping straight into The General's Daughter, a new ABS-CBN teleserye co-starring Angel Locsin that he's already started working on. He also has a project with Gian Abraham, the young filmmaker behind the award-winning indie Dagitab, on the table. ("Actually I'm just waiting on the script," he says, laughing. "Sige, write it para ma-pressure siya.")
Reports say Paulo Avelino wants a break — and jumping from set to set, with endorsement shoots, guestings, and interviews in between, you can't really blame him. But this morning, in the eye of a promo blitz, he seems to have managed to become the calm center. He's carrying the burden of P240 million worth of expectations on his shoulders but it feels like neither success nor failure, a blockbuster or disappointment, will shake him.
"I'm just doing what I want to do," he says. "Maybe it's also why I'm relaxed — I have goals that I want to achieve in life but I'm in no hurry to achieve them or chase them. Who knows, I could get them now or it could happen when I'm 50 or 60? I don't want to be pressured with all that stuff. I want to live in the moment."
"During my teens and early 20s, there were so many insecurities — you value people's opinion too much that you forget who you are and what your core is." Tandaan mo kung sino ka. "I just learned to let go and not give a f**k."
Styling by DAVID MILAN
Grooming by JETT TORREVILLAS
Suit by Joey Samson