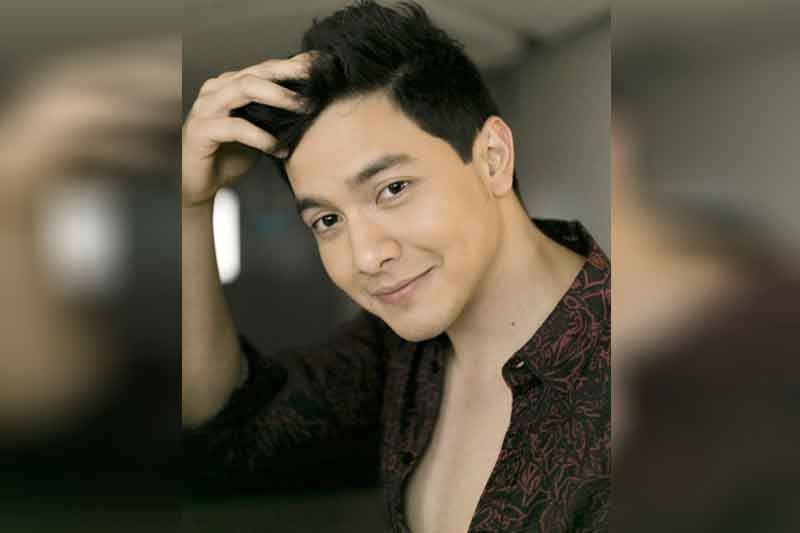 Victor Magtanggol starts airing July 30 on GMA Network.
Alden Richards is larger than life
'I'm sure Maine (Mendoza) has the same principle — kami as AlDub, we have already done a lot of things together. So ngayon, we're trying to do things on our own muna for personal growth.' As he suits up for his new show 'Victor Magtanggol,' Alden talks to us about being shaped by AlDub, and growing beyond it all the same.
MANILA, Philippines — There's an unassuming charm about Alden Richards. Known to his legions of fans as the Pambansang Bae, for all his boy-next-door appeal onscreen, he sure can turn heads in a room and work his charm without much effort off-screen.
Alden has his hands full, a small price to pay for being one of this generation's most in-demand stars. As is the way of local showbiz, he wears many hats: he is an actor foremost, then a regular host on the daily noontime show, Eat! Bulaga; he's a singer, fresh off recording his latest album and is currently preparing for his concert in September. He also occasionally has to show up for dance numbers during the productions on Sunday Pinasaya.
Soon, he wields his hammer in the fantasy series Victor Magtanggol, where he plays a superhero based on the god Thor in Norse mythology. With the show coming under fire recently as viewers drew parallels to the Marvel version, Alden was quick to address these criticisms.
"(Victor Magtanggol) is Norse mythology in alignment (with) Filipino culture, so that's what will make it original… Marvel made their own Thor story, but our show is not a Thor story. This will happen after the death of Thor. This is Victor Magtanggol, this is purely Filipino," the actor asserts, explaining that any content based on public domain — in this case, the myth of Thor — is fair game.
Criticism aside, Alden calls his latest project "a dream role," with his first time suiting up to play a superhero since he started acting in 2011. Known for his dramatic roles, Alden has developed a real passion for acting, considering that he was reluctant to join the industry in the beginning. "(I had) low self-confidence, low self-esteem. I felt like I didn't deserve to be part of this business where everything is about being beautiful, being handsome, being perfect. That was the pressure on me before," the star bares, sharing that it was his late mother who wanted him to be an actor. "But after my mom died, since she wanted me to really be part of it, I told myself that I want to live my mom's dream for me. It's going to be her legacy, that even after she's gone, her legacy still (goes) on."
Eight years later, with a steady stream of projects, Alden is now one of his network's most bankable stars, with quite the repertoire. After all, Victor Magtanggol is certainly a departure from being one half of the love team that once pulled in millions of tweets worldwide with every movement they made.
It would be difficult to talk about the 26-year-old actor without mentioning AlDub. The pairing had all the winning elements of a classic love team that made networks quite happy, yet also subverted the trope entirely. Unlike carefully curated tandems that take some serious planning before their launch, the magic of AlDub happened organically, suddenly catapulting the young actor and a then-unknown Maine Mendoza into overnight stardom. Reeling in ratings, some record-breaking tweets, and a spectacular meet-cute that was literally witnessed by thousands of fans now known as AlDub Nation, Alden and Maine's unlikely team-up made local pop culture history, changing the course of their careers and, most likely, the very concept of showbiz love teams forever.
Three years after they swept the nation off their feet, the AlDub phenomenon has all but ebbed. Yet in the natural scheme of things, Alden is branching out from the love team, coming to terms with his individual image as an artist. "I'm sure Maine has the same principle — like kami as AlDub, we have already done a lot of things together. So ngayon, we're trying to do things on our own muna for personal growth," the actor explains.
Headlining a show seems like a step in that direction. Still, the shadow cast by AlDub is not completely escapable, even when Alden is talking about Victor Magtanggol. "I wanted to do (the show) kasi I'm also a fan of superheroes, and parang, since AlDub started kasi, ang dami naming na-tap na kids na audiences na fans as well. So I wanted to do this for the kids, also. I wanted them to see Alden Richards as a superhero."
Being a celebrity and a role model at the same time is no easy task, especially when you're expected to act as such, even off-camera. However, Alden commits to it wholeheartedly. He sees himself in a peculiar position, where he lives out this larger-than-life version of himself. It's a unique spot to be in, especially because AlDub's Kalyeserye blurred the lines of fact and fiction. Playing a fictionalized version of himself and filmed on live television, the pair played right into the fantasies of a smitten audience.
"When AlDub started, it gave me the opportunity to touch more lives, na na-amplify 'yung reach namin ni Maine as public figures. Which is what really matters most… siguro that was the real purpose of AlDub eh, to do good, to spread the goodness," Alden shares. The actor has also learned how to deal with the pressures of his public image, including being part of a love team that's created such a huge impact. "What really matters is how you guys work as a pair, as a team. Kaya kayo love team eh — you work together, you bring out the best in each other. So ako, my point of view on love teams is, we don't have to deal with pressure. Mahirap kasi 'yung kapag na-pressure, minsan nakakagawa ng mga bagay na hindi dapat gawin. So for me, parang to be part of a love team, both of you should be happy with what you're doing. Walang dapat pilitan."
Not to worry, though: AlDub is far from over. The actor elaborates, "As I've explained to a lot of fans, it's like branches, eh. You branch out at one end, and then the other one will branch out on the other end, but sooner or later, those branches meet again."
There's AlDub, the phenomenal love team. Then there's Alden Richards, the actor so acutely dedicated to his craft. He quips, "Siguro, isang ka-love team ko rin 'yung acting, eh." And as Alden makes it clear, the two can co-exist.