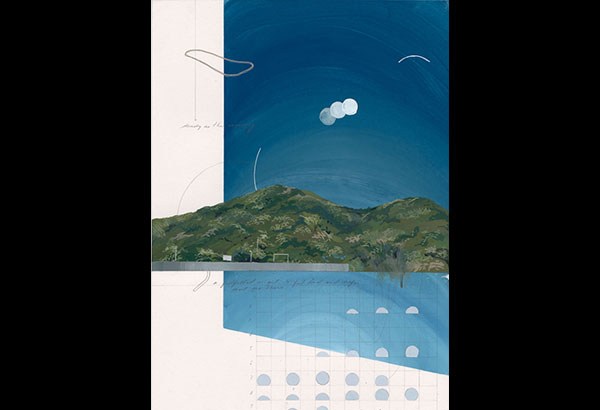 "Long Instance," gouache and pencil on paper, 2016
The view of a landscape forms in the distance, and in the sky, shapes and lines are scattered across the heavens, taking the place of stars. In the work of visual artist Jem Magbanua, elements of design float like poetry. The negative space becomes remarkable in its emptiness — like a poet who strategically deploys pauses in his verse. Her work is delicate: thin wispy lines and light-handed sketches with graphite pencil feel almost like a daydream: ethereal and momentary. These are precise figurations, yet confounded by abstract statements. In other works, she purposefully leaves the signature of the creator — little scribbles and text that an architect might make on the draft of a working blueprint, making the piece more intimate to viewers, as though the message was encoded just for them.
Jem mixes collage with illustration and even hyper-realistic sketches of architecture and nature, exploring ideas of place, of human beings in settings, and of the structures — both organic and artificial — that shape (human) nature. She earned her degree in Fine Arts from the LASALLE College of Arts, Singapore. At the moment, she is in Japan under the Daisen Laboratory Residency. Here, she talks to Supreme about her work and ongoing explorations.
SUPREME: What is the style of your work?
JEM MAGBANUA: It's hard to boil it down since my visual language is a mix of various genres. I draw inspiration from collage work, architectural sketches, illustration and design, to name a few.
Can you tell us about your current residency?
Under the Daisen Laboratory, Japan, I participated in a month-long residency to research and create work for the "Itonami Daisen: The Art of Living" festival. This event is just one of the many art projects springing up around Japan, aimed to revitalize remote regions where there is a steady depletion of residents. It was interesting to see how the community recycled abandoned infrastructure to create creative communal spaces, and how locals forged connections with international artists in spite of the language barrier. I think stepping out of one's own context and experiencing the world in a different light is so important to one's artistic practice, so I found this whole experience exceptionally enlightening. Furthermore, I cherished the interactions I had with fellow artists — especially the senior artists — participating in the festival. It was highly informative to see how they went about their artistic practices.
What did you come up with for your show?
For this festival, I developed a body of work entitled "Traces: A Body in Four Landscapes." It's a series of works consisting of site-specific performances, a drawing installation, and a live performance that explores the ancient practice of iron-making (tatara) that is native to that region. I was able to work closely with a guide who is familiar with the subject and the area in order to dig deeper into the world of tatara. This residency also gave me a platform to share my two practices: visual art and dance. Although I have devoted myself to pursuing these passions of mine for years, they have never converged as a unified practice — until now. Through bodily movement and drawing, I explored alternative means of storytelling and recording the experience of a landscape and its history.
When did you start making art?
I have always been a keen observer of life with an itch to record the various impressions I accumulate in my head. And the most natural form of documenting came through the act of drawing. Drawing allows me to understand the world in depth. By depicting places or objects on paper, it's as if I am scrutinizing and etching that thing in my head. Drawing also gives me a voice to be able to reach out to those around me. Since it was the one thing I trusted myself most with, I decided to pursue a fine arts degree at LASALLE College of the Arts in Singapore. I've been working as a visual artist ever since.
Where do you draw your inspiration?
I am highly interested in one's relationship to the natural and built landscapes and how it affects his sense of belonging and identity. The subject of architecture as structures of memory and self-discovery strongly informs my work. So I naturally draw inspiration from my everyday surroundings — whether it be places I pass by on a regular basis or objects that occupy the space I live in.
* * *
Follow the artist online on Instagram: @jemjunip.