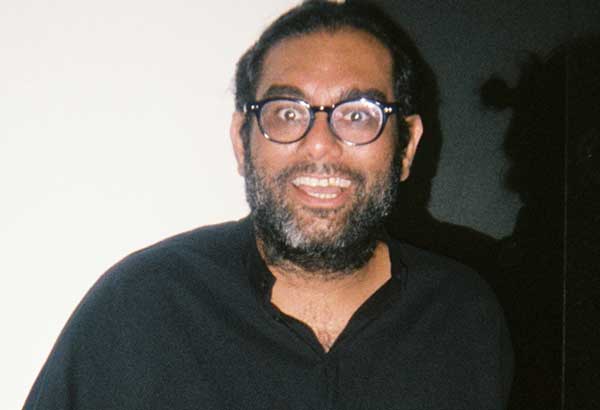 Chef Gaggan Anand, born in Kolkata, is hailed as Asia's best.
A seat in the lab of Gaggan Anand
I am not a food writer. So frankly, one of the reasons why I was so excited about making a reservation at Gaggan was because I had seen the episode of Chef's Table on Netflix that had profiled this chef. A fan of the show — which documents some of the world's most renowned chefs and then shoots their process of sourcing ingredients and creating dishes in such cinematic detail that you can taste the food through the TV screen — I was thrilled at the thought of squeezing in Gaggan during a quick jaunt to Bangkok.
A few months after seeing the show, Gaggan, an inventive Indian restaurant in Thailand, would win for the third consecutive year the title of No. 1 in Asia's 50 Best Restaurants (No. 7 in the world, and the only Asian restaurant in the Top 10). This is not to be confused with the Michelin star, another awarding body, of which he possesses none — yet. Two months after they named him top of the list, Gaggan announced that he plans to close the restaurant by 2020; to move to Japan and open another one there instead. He is quoted as saying, "Every restaurant has a 10-year life. After that, it becomes a brand."
We made our dinner reservations online through their website (about four months ahead of our trip). A few days later (and maybe because we got a little too excited), our seats were booked. And just a few weeks ago, Gaggan announced on his Instagram that the restaurant was fully booked until the end of the year.
A quick cautionary note: our meals at Gaggan cost more than our round-trip ticket to Bangkok. It's not exactly cheap for a measly millennial whose flights are always on promo, but definitely a meal to remember. We wanted everything to be a surprise, so we didn't read any blogs or food reviews beforehand. Then, on the night of our reservation, we arrived, as booked, five minutes before 6 p.m.
The receptionist led us through the repurposed ancestral house that was Gaggan, up the wooden stairs, and into the second floor balcony to an edged U-shape table facing an open kitchen. A glass roof allowed the late afternoon sun to pour in. I thought that they had seated us at some kind of bar table where they usually put small parties, or lonely people, and then I realized: it was the chef's table. Out of the many tables in the two-floor house, we had scored smack-in-the-middle, front-row seats, at a table that only sits 14. (I later learned it's not actually the chef's table, but the Gaggan "lab," a place where Anand carries out his molecular experiments). The benefit of sitting here is that, if the chef is present, he even serves you the food himself. He also talks you through each dish, and converses with you like he is the host of a dinner at his home. It is a very intimate and special experience.
Gaggan later says they mostly book people to sit in the lab if they come in pairs, and they try to get a good mix of backgrounds. So we're seated with people from all over the world; some pairs are romantic, some are platonic, and the others are family.
The tasting menu is a list of 25 emojis, no words. It's a way to transcend the language barriers, he says. They reveal to you the real menu with some words after you finish the last course.
Our course begins with the watermelon emoji, and ends with the peach. The first few courses go by quickly. All are tiny, to be eaten with your hands and in one bite. There are two that are eaten with a fork and a knife. And one is taken with your tongue (it's a puree of mushroom and peas and you are expected to lick it off your plate while they play Kiss's Lick It Up in the background).
Most of the dishes that roll in are comical in a way, like my favorite, the Chilly Bon Bon, which is like an Indian puchka but encased in a white chocolate shell. Or the infamous Yoghurt Explosion, which is a gelatinous yogurt that explodes in your mouth. The dessert of the Riesling Muscat milk cake was absolutely divine. And lobster dosa on an Indian pancake, to be eaten like a taco, took the cake for me. Some were too foreign for my palate (a vegetable cold soup served and prepared like a matcha green tea was utterly confusing because I expected matcha, but got asparagus soup… but this was my partner's favorite because of its complexity). And because there are so many, you tend to forget some of the other small dishes, and remember what you like.
And now the million-dollar question: Was it worth it? Whether it's deserving of the number one spot on the list is an argument that I won't even pretend to get into. I don't know. But here is where I think the Gaggan experience kind of breaks through: it goes beyond dining, and even challenges the definitions of cuisine. You come in expecting modern Indian molecular gastronomy, and you come out with a story, and a handful of curry dishes. He mentions this a lot as he talks us through the courses. "I know you are all waiting for the curry," he says. And, well, personally I know I am.
I wouldn't say that the experience was delicious — if delicious was the only thing you were looking for, I don't think Gaggan should be top of mind. I reckon you can find delicious in S&R's southern fried chicken or your mom's adobo.
Gaggan is interesting. I found that I used my mind as much as my palate in exploring this meal, and openness and a sense of humor seems to be a must when eating here. A must. A part of this is because you don't really know what you are putting into your mouth each and every time, and you're clinging onto an emoji for some kind of explanation. So there's a calculated misalignment between what you see, what you taste, and what you hear when they tell you what the food is made of. And this misalignment can actually make one a little uncomfortable — when you expect chocolate but get a cold savory soup; when you taste foie gras but it's actually goat brain. The sight, and the taste, and your brain — they all kind of go haywire before telling you whether you like what you're chewing or not. And this is why I feel Gaggan maintains its eponymous reputation.
After dinner, my partner and I head to a curbside jazz bar somewhere else in Bangkok, and we deduce that Gaggan is already thinking five layers above the food. The most curry you get: uncooked scallops and two kinds of curry oil that's been labeled "sex" and "making love," so you don't really know what's in it.
One thing's for sure: dining at the table of chef Gaggan Anand will leave you quite stupefied; and you will never look at those 25 emojis the same way again.