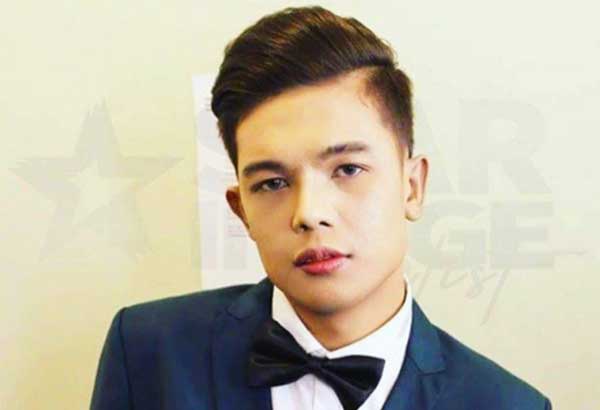 Post-surgery, he is transformed into Xander Ford.
Xander Ford and the unbearable lightness of showbiz
Ano ang pakiramdam mo na… eto na't nagbago na ang buong pagkatao mo?" Rated K's host, Korina Sanchez-Roxas, asked Xander Ford. He entered the set to the cheers and squealing of fans, mostly girls, their mouths agape, staring at the tall figure dressed in a bluish gray suit and bowtie, standing onstage straight out of K-Pop."Natupad ko na po 'yung pangarap ko," he replied.
"Natupad mo na 'yung pangarap mo na? Ano?" she followed up.
Getting no immediate response, she added, "Maging pogi? O, hindi ba?"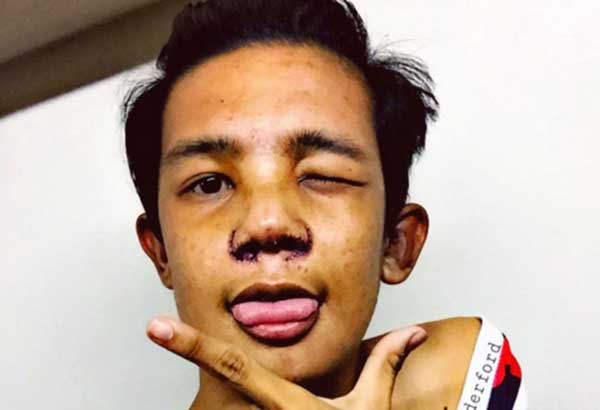 Marlou Arizala of Hasht5 undergoes surgery.
It was an exchange heavy with meaning though it was drowned out by the crowd noise, the reactions online, and Xander Ford's own white, shocking, new face. As most of these showbiz interviews go, it starts with a harmless "How does it feel?" and ends with "pangarap ko" and its many versions. This exchange, however, starts with "character" or pagkatao and ends with pogi.
Marlou Arizala was a member of the Hasht5, a group of pubescent boys who unabashedly and unironically followed an aesthetic along the lines of gangster, urban and "Tribal," indio, and the emo-pero-pa-cute, jejemon. They grew in popularity over 2015-2016, garnering support from those who found their style agreeable — a sizeable portion of our population — and at the same time, receiving undue-yet-massive attention from those who found it fun to mock them. At the center of all this is Marlou, the boy with slits for eyes, two semi-vertical holes for a nose, craters on his fat cheeks, and a round, almost absent jawline. While the most unhandsome among them, he was beyond confident and shone the brightest. He used to post videos of himself singing pop songs, his pants down while sitting at the toilet. Sometimes he offered blind dates for random commenters on his Facebook page. And he would charm haters and fans alike.
Marlou's surgical transformation into Xander Ford did not come as a surprise. Weeks before he was "unveiled" on Rated K, pictures of his face drawn over with a marker, his head capped with a disposable hairnet, made the rounds online. Xander received the expected hype with his usual "haters" sharing photos and naysaying. Radical plastic surgery, however, proved them all wrong. With Marlou's face as a canvas, his surgeons wouldn't lose anything and could do no wrong. Born on Rated K last Sunday evening was the transgwapo.
Cosmetic surgery, a multimillion-peso industry, enters uncharted territory with Xander Ford. He is not only a shift away from the highly publicized breast enlargements for starlets and Botox injections for aging beauty queens; he is also a shift away from plastic surgery's usual social class of clientele. Picking up the pieces from Shiryl Saturnino's tragic failed surgery last March, Icon Clinic sponsored and took on the challenge of placing Marlou under the knife for roughly P255,000 to P305,000 (estimate from PEP.ph). Money is clearly an object here and it's not hard to see who is doing a good PR job in promoting their clinics and the church of plastic surgery's name by taking the unprepossessing Marlou to the operating table and turning him into a matinee idol. It is a move that sends a clear message: plastic surgery is not just for the rich. It is for everyone.
"Marlou is dead," posts Xander's Facebook page along with photos of his transformation from a jejemon to a handsome, clean-cut man clad in a suit. Beauty is, indeed, a virtue inseparable from social class. But today, with Xander's case, this reality is being turned on its head to say that "in order to get rich, look beautiful;" not the other way around.
Others might argue that "the outside doesn't matter," or that "we should be happy with what God has given us," or that beauty standards are relative to place and time (e.g. South Koreans and their obsession with plastic surgery). But these ignore certain realities like the fact that our eyes find some things pleasing and some things not, and the fact that "what's inside" can neither be seen nor surgically repaired.
While many find comfort in the subjectivity of beauty, for others, it is an imposition precisely because heavier circumstances exist for their subject positions. Farmers working in the field might not concern themselves too much with plastic surgery. It is expensive and it would hardly help them perform their tasks. TV actors and actresses, on the contrary, might think a whole lot of it. Their careers depend on how they look. The idea of beauty being for everyone, therefore, is hegemonic — beauty does not, and will not, sit well with many.
As beauty is being turned, more and more, into a quest solely for individual pursuit, it now attempts to break our societal ideas of religion, gender, class and, ironically, of beauty itself. Borrowing from Milan Kundera, it is the unbearable lightness of showbiz, this burdening with things which might just prove inconsequential or insignificant in the end. Xander Ford's coming out might no longer be of worth anything one year from now… except, of course, for Marlou himself.
It's best to see this as Marlou's narrative unfolding — a horizontal action, instead of a sudden rise to fame, fortune, and the achievement of his dreams. It is simply a necessary continuation in the showbiz timeline. Asked what his message was for those who used to bully him, he said with a grin on his face, "Hu u na sila ngayon?"