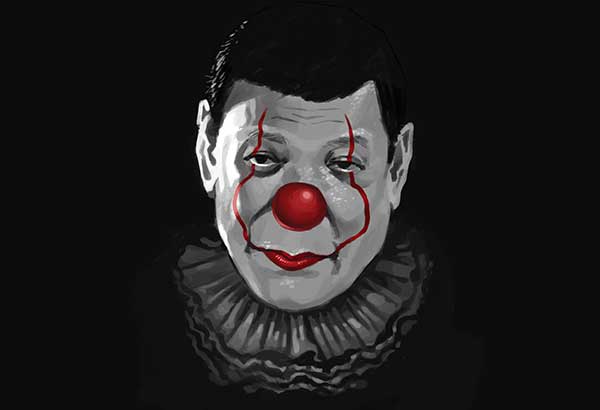 Illustration by RARD ALMARIO
President Pennywise and all these killings
At a packed movie house a few weeks back, on the first scene of Stephen King and Andy Muschietti's It, my brother blurted out, "E.J.K.?"
As Pennywise the Dancing Clown — nicknamed "It" by the children he haunts — baits and gorges on children and teenagers without any great cause but to serve his appetite, the thought of Kian, Carl, Kulot, and other kids whose tragic murders we never thought possible, becomes unmissable. The three of them are there in that movie, as well as our society and the people in power. In one way or another, we are all complicit in their deaths. But void of a reason for being, the existence of Pennywise begs the question: in the real world, who is he?
P.C. as we are today, professional clowns in the US and Canada have taken to the streets, carrying banners which scream "CLOWNS ARE PEOPLE, TOO!" Stephen King has responded with a non-apology via Twitter stating that "most (clowns) are great, BUT... kids have always been scared of clowns." Indeed, there is something more to Pennywise. He is not another devil-needing-exorcism or a monster from folklore, summoned to avenge somebody's death. To the audience's great relief, this lack of a "traditional" basis for Pennywise (and the fact that it is set in 1980s suburban North America) makes the film less relatable and less frightening than the likes of The Exorcist or Annabelle. Pennywise is pure fiction sprouting from Stephen King's head.
Pennywise is Fear incarnate; this much we get from the dialogue. He is a shapeshifter who takes the form of the children's different fears, ranging from creepy, deformed paintings to haunting memories, regrets and other uncontrollable and uncertain endings. Iced in their fears and in their most vulnerable states, the children are consumed by Pennywise and hung as ornaments in his floating, morbid collection of amputated, headless, dead kids. The clown's demise comes when each member of the gang — "The Losers" as they call themselves — conquers his or her respective fears. With their fears expelled, so is Pennywise, who before finally falling into the abyss blurts his last word, "Fear!"
But It is not plainly a kids-out-to-save-the-world story à la Goonies (1985). It elevates the genre of horror and takes it from mere jump scares, or incantations to the Divine, to criticize society and the way we think, and it does this better than Cabin in the Woods (2011) did. This movie has teeth which, when examined closely, should gnaw on consciences and even the consciences of this government of clowns which now rules and reigns over us.
An often overlooked theme in It is how the town, Derry, Maine, breeds a sadder, more horrific and backward reality versus the existence of the supernatural, Pennywise. Derry is a place with a law enforcement agency plagued with inefficiency; it is home to a high school which has a microcosm of its own, composed of cliques, run by bullies feeding on nerds and other "losers," and other social strata; worst of all, with no plausible explanation, children regularly vanish in Derry. Deeper into the story, we find out that the town has its own share of pedophilic fathers, obsessively controlling mothers, and other uncaring, red-necked adults. It is not Pennywise or a mystical being who causes these evils; these are inherent to the people of Derry. In this case, Pennywise even offers an escape — a fictional, probably imagined, scapegoat to answer for the town and its citizens' shortcomings.
While Pennywise is Fear incarnate, he also represents a greater form of horror: growing up, losing one's innocence, and thinking that the remedy to fear is ruthlessness, not love. The film pits adults and children in opposing corners and asks the viewer to choose: to simply accept the status quo, or to fight it; to become sheep and subscribe to the dog eat dog world of adults, or to be childlike and see the world as a strange quest to be finished with friends. The movie's strongest scenes are when the myopia of adults is highlighted: when Beverly's father fails to see the blood spewed all over the bathroom walls; when Ben utters, "What do I care? I'll be 40 and faraway from here!"; when the TV asks people to mindlessly do stuff.
When the preschoolers, their teacher, and Pennywise started singing, "Kill them all! Kill them all!" in unison, on the boob tube, I couldn't help but feel chills — it was too close to this administration's obsessive call to kill all drug users, addicts, and peddlers (not lords, though). It was easily the most horrific scene in the movie precisely because it hits too close to home.
Derry is not far from the Philippines under President Duterte. It feels sometimes that we have clowns running this country, promoting fear. Worse, we have a conforming citizenry, adverse to those who protest this prevailing order. And slowly, over the past year, we have crept towards the acceptance of the imprisoning rhetoric, "If you're not doing anything wrong, then you have nothing to fear." In this country, it seems that the rule is to take up arms, lose your childhoods, your dreams and your children.
All in all, anyone watching It still has to wonder why, of all persons, Pennywise chooses to murder kids? And unfortunately — be it Pennywise's case or the case of this "War on Drugs" — children are killed because in this country ruled by fear, they make for the easiest targets.