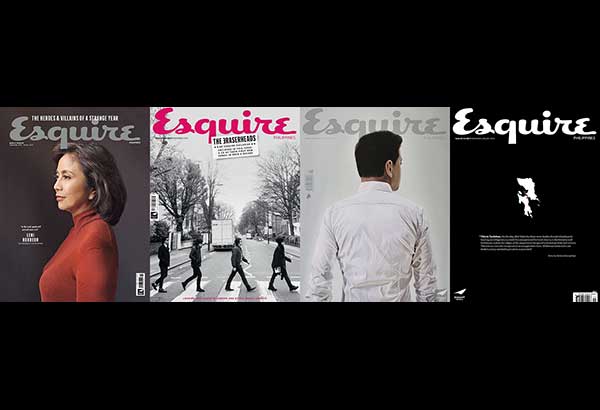 Esquire covers: Leni Robredo, The Eraserheads, Nona Garcia X John Lloyd Cruz, and Tacloban
A farewell to a Man at his Best
In its first three years, Esquire Philippines' approach to "Man at His Best" was to present a well-rounded, slick version of the modern man whose interests didn't just revolve around cars and sports. There were field guides to the female psyche, beefed-up features on cultural and political preoccupations, and the occasional sex advice. The covers were either women in swimwear or men in suits (in 2012, the covers featured six men in suits — including Juan Ponce Enrile, split in half, with a window ad for a credit card peeking in between).
But this is not to say the pages inside were insubstantial. A topless Andi Eigenmann headlined the inaugural "Fiction Issue"; a new class of pin-up girls fronted an issue with features on "The Butcher" Jovito Palparan; the supposed grand urban design of Quezon City; and a closer look at some of the most recognizable Philippine logos.
Magazines usually traffic in objects of desire but the Esquire Man seemed to be more literary than others. Esquire itself has long boasted a storied literary arsenal, counting writers such as Truman Capote, F. Scott Fitzgerald, James Baldwin and Ernest Hemingway among its contributors. When it was time to unveil the Filipino Man At His Best (the first issue was published October 2011, with Manny Pacquiao on the cover), celebrity profiles existed alongside fiction and essays by Butch Dalisay, Dean Francis Alfar, Lualhati Bautista, Ian Casocot, Luis Francia, Pete Lacaba and even Lav Diaz. At one point, fresh from the success of a bestselling September 2014 issue featuring The Eraserheads and a CD of their new material in years, the succeeding cover featured writer Erwin Castillo and an excerpt from his new novel. Its then editor in chief, Erwin Romulo, counts being able to feature an author on the cover as one of his successes.
There was a bit of a struggle to establish its identity in its first three years. Tottering at first, Esquire Philippines was just learning to walk, though there were some pretty big steps. It was obvious how much Romulo and his editors valued good writing above anything else. The magazine's design was something that needed constant improving (covers were fairly standard with only a few rising to the memorable) but unwrapping an issue was still thrilling.
For a visual medium, Esquire Philippines stood out because of the prominence it gave to incisive reportage and its attention to push journalism as a literary medium. Foregoing the "A Thousand Words" column where writers usually duked it out with their chosen (or assigned) topics, Esquire Philippines started publishing a "Notes and Essays" section where it assembled a compelling cachet of writers every month.
By the time it published its Tacloban issue (the cover only featured a map of Tacloban surrounded by a sea of blackness) in December 2013, with a 20-page reportage on Typhoon Haiyan by Patricia Evangelista, Esquire Philippines had hit its stride.
Next came 2014, a year of arresting covers, not quite exactly in the tradition of George Lois, but distinctly bold and remarkable in its own right. Nona Garcia painted John Lloyd Cruz from his back, effectively concealing his celebrity status (it was unaccompanied by cover lines); Grace Poe by way of a classic Volkswagen ad; The Eraserheads recreating the iconic Abbey Road crossing; a smirking Mar Roxas on the back of a pickup truck for a "One Year after Typhoon Haiyan" issue (the magazine got in trouble for this one); and a collector's edition five-cover special featuring archival photos of five statesmen ("The Greatest Presidents We Never Had"): Carlo M. Rector, Carlos P. Romulo, Jose W. Diokno, Leon Ma. Guerrero and Benigno Aquino Jr.
In 2015, then Davao Mayor Rodrigo Duterte would pose for the cover, holding a gun and surrounded by pubescent boys — the Apocalypse Now throwback was intentional. Politics was deeply embedded in the Esquire Philippines DNA, wrestling with perspectives left and right, objective or otherwise, but always holding a keen sense of how the zeitgeist was shaping the nation's psyche.
Romulo left as EIC in 2015, leaving behind a formidable body of work that highlighted the highs and lows of these troubled times. After him, a woman, Kristine Fonacier, took the reins. Esquire Philippines, after all, is essentially a men's interest magazine, and the male gaze (though tapered down on the covers) still remained a presence in its pages. Fonacier's first issue was taken by celebrity storm: a controversial cover story on Maine Mendoza was viewed unfavorable by AlDub fans, (the writer: Supreme's future editor) Kara Ortiga even received scathing hate mail, but it was to be a sampling of the radical shifts that 2016 would offer, not just for the magazine, but to the publishing industry in general.
The war was mostly waging online and Esquire Philippines' newly revamped website (mostly overlooked during Romulo's time) published articles critical of the administration, though the 2016 "Style Issue" featured a dapper Sal Panelo; and its "Heroes and Villains" issue almost put Mocha Uson on the cover, her mouth covered by a cross of packaging tape. It was an interesting first year for Fonacier and her team (mostly women), to say the least.
For several years, I was reading Esquire Philippines as an adversary of sorts. Working for a competing men's interest magazine meant that we had to tread lines carefully. But game must recognize game and Esquire Philippines was one of the few local publications that was actually worth buying and reading. Two hundred-plus pesos is not an amount to easily part with, after all.
Open any magazine in the last few years and the scant advertising pages are more and more apparent. There were telltale signs of demise. The magazine's online presence was gaining more traction, its stories living online rather than in print, more features from foreign editions made its way into the pages (its March 2017 issue was barely distinguishable). In June, rumors spread that its publisher, Summit Media, will stop printing a number of its titles, Esquire Philippines included. In August, Esquire Philippines announced that this would be the last print issue.
Esquire US has been recognizable since David Granger left in 2016, its current incarnation a neutered version of "man at his best." At a time when the definition of what it means to be a man is challenged by the gradual dissolution of gender conventions, magazines like Esquire have been forced to recalibrate its approach on all fronts. Esquire Philippines hasn't been perfect, some covers didn't land quite right, and its perspective at times was too middle-upper class (it was still a magazine with luxury advertisers targeting to the A-B class) but it was nevertheless a home for some of the most important stories of our time. In its seven-year print run (the website will stay with Fonacier still at the helm) the idea of manhood lived almost exclusively in its style pages: Esquire Philippines thrived in celebrating the Filipino.