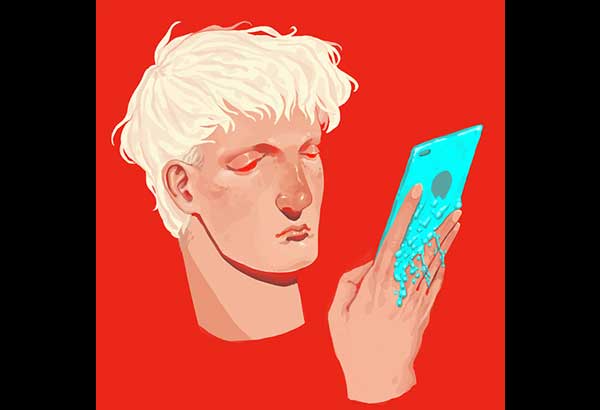 Illustration by RARD ALMARIO
There was a notable media outlet that ran a story a few months back gathering magazine editors at a roundtable, and asking them if "print still matters."
The resounding sentiment was that yes, a magazine or newspaper still holds unique value; it's the physicality of it that makes it special: to see a striking photograph on paper and stories laid out on pages is still an experience distinctive to the medium. I sat back in my chair and breathed a sigh of relief upon reading this. "Our noble magazine lives another day," I joked to my fashion editor. It's always been an inside joke on our editorial team at the men's magazine where I worked for four years: "Will we still have a job next year, guys?" We guffawed to ourselves, not knowing that the answer to our private gallows humor would become, quite unfortunately, "No."
The truth is that this digital age is racking up more than just the obvious casualties. Digital and social media has also changed the way we as people function, how we as consumers absorb information, how we interact with one another, and how we present ourselves to the public. It forces us to reshape and reexamine our definitions of the norm (does "narcissism" still apply when everyone is so carefully curating their online personae every second of every day?). On a bigger scale, it rattles some traditional business models, forcing old channels and organizations to "adapt or die," as Wired magazine ruthlessly put it. Goodbye, rockstars of Wall Street; hello nerds of Silicon Valley (who are now all hotshots in their own right). How does one advertise nowadays when mass communication is so diverse, and every person has the capability to choose who to follow, what to listen to, and what to believe? I remember writing for Young Star with this same byline as a college student, begging people to "be more critical" about everything. But today, my Facebook feed blows up with political histrionics, sometimes misinformed, misplaced criticism, and I can't help but gasp at what has become of said critical thinking (the line between being critical and being a flat-out bully is constantly crossed. Also, since when did we lose sight of intention?).
To say that the digital world is the "future" is ignoring a blatant reality: The future is now. Things may not have looked this way a year ago — but then, hey, months ago, a number of reputable magazines wouldn't have ever thought their imminent closing would happen so soon. To be completely honest, joining the Supreme team makes me anxious to death. We are at the cusp of a new age, witnessing the end of an era. Yet I can't help but relish the thought that it is also the start of something new. Adapt. Or. Die.
So we adapt.
Supreme, under the tutelage of visionary editor and director Pepe Diokno, has for years produced eloquent stories coupled with beautiful photography that perfectly encapsulated the hottest trends in entertainment and pop culture. I hope to be able to maintain these standards, but also look forward to exploring more stories and more media that expose the unique relationships this digital age has with us people. For example, in this issue, we highlight the work of photojournalist Jes Azman — currently covering the war in Marawi — whose photograph landed on the cover of Time magazine. He talks to Angelica Gutierrez about social media's role in a time of crisis coverage. Also, Idge Mendiola, associate editor of the memorable Yummy magazine, talks about the state of Filipino food — asking us not so much to worry about eating out, but to instead go back to where our first encounters with food began.
The tides are turning for all media, but as long as there is room to grow and change, we will push on.