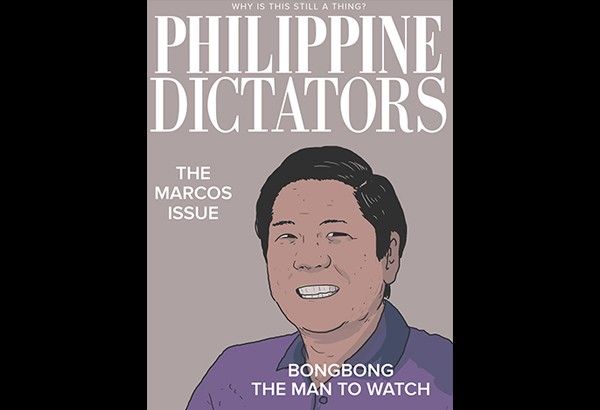 POST-SCRIPT: Bongbong Marcos, the once and future king
(This is a work of fiction and should only be taken as such. All characters and events in this piece are purely fictional and similarities are only coincidental, even those based on real people. The imagined persona of Senator Marcos was distilled from a number of sources, including but not confined to pro-Marcos websites and other propaganda. — Ed.)
MANILA, Philippines - In the two months since the transfer of Ferdinand Marcos's remains to the Libingan ng mga Bayani, there has been a void at the Marcos residence in Paoay, Ilocos Norte. The refrigerator that preserved the late dictator's corpse has been turned off and stowed, its low-pitched humming giving way to a deafening silence. But on the day that I visited the "Malacañang of the North", there was a special celebration taking place. Close friends and supporters of the Marcos family had gathered, filling the mansion with the sounds of music and chatter. I felt power just by walking through the halls. I wondered whether this warm sensation came from the energy of loyalists or from all the gold bars radiating, supposedly, from the building's basement.
"A beauty, isn't it?" Rochelle, the Marcos family's public relations officer, asked me as we climbed up the stairs. "Is this your first time here?"
"Nope, our college history class had a field trip here," I replied.
"And what did your professors tell you?" she asked.
"I actually don't remember much," I said. "We just fooled around and took pictures for Multiply."
She laughed and placed her hand on my shoulder. "Multiply? Tagal na no'n, ah! But you know, you should've listened to the tour guides. You know, many of our guides here — even the caretakers and gardeners — do their work pro-bono. It's just their love for Apo that keeps them going."
I nodded and smiled as I typed the detail down on my phone.
"But of course, we happily pay them their fees," Rochelle added, noticing a lack of interest on my part. "Kahiya namang 'di sila swelduhan, 'di ba?" she said chuckling.
Ain't no Party like An Imelda Party
When we got to the upstairs hall, some faces glanced at me and Rochelle. The men and women in the room were dressed to the nines, all of them exuding an air of past or present importance. Everyone had a drink in hand. I was later informed by the waiter that they were serving Hibiki whisky on the rocks for men and martini for women—"What's your poison po?" he asked. It was one of Imelda's parties, after all.
The Marcos grandchildren who were too young to party were clumped in one corner, looking both sharp and cute in mini barongs and sayas, all of them glued to their iPads and iPhones. Borgy Manotoc and his cousins from the same age bracket — including Ferdinand Alexander III, newly inducted to showbiz fame as Sandro Marcos — were scattered in the hall, taking selfies with old cronies, listening in to what the dictator's aging friends had to say.
"I'm preparing for my burial, too, you know! Wala naman sigurong magpoprotesta sa libing ko, 'no?" said a stout congressman, loud enough for the entire hall to hear, his face pink from having too much to drink. The men around him burst into laughter while others who heard him giggled while sipping from their glasses.
Rochelle tapped me on my shoulder, "This way po. He's waiting for you."
I didn't think that it was the Senator himself who would agree to be interviewed. I thought it would be one of Marcos' daughters, considering that they would probably have more amor with the people. But with Imee Marcos having been berated online for lying through her teeth about being too young to know about Archimedes Trajano's murder, perhaps they thought it was Bongbong's turn to talk. Besides, Imee's orgasmic rejoicing after the Supreme Court voted 9-5 for Marcos' burial in Libingan was a dead giveaway and wouldn't make for an interesting response. My feet felt cold in an instant.
"We don't want to keep him out of the party for too long," Rochelle said. "Would 10 minutes be okay?"
Bongbong's Charms
I nodded and immediately approached Ferdinand Marcos, Jr., who was seated alone by a round table under a gold plated chandelier. I shook hands with the Senator and he gave me a charming smile. Subjected to yellow light, he resembled a kinder version of his father, a President Marcos minus a jawline and the cracks and blemishes on his face. For a moment, I thought that perhaps, it is true: He isn't like his father. Physically, at least.
"Have you had your drink?" he said. I stuttered as I asked for a beer. "My god, I invite you to my home and all you ask for is a beer? Not a fan of scotch? They're serving Hibiki tonight, my good man." he added. I said beer was fine. He ordered Rochelle to get me a bottle of beer and a glass of Hibiki so I could "elevate my taste."
"What's the occasion?" I ask, looking around the room.
"2017, of course." Bongbong answered, taking a deep breath. "Don't you smell it? The power in the air. 2017 is the year that we reclaim what is rightfully ours."
"Didn't you lose the election to Leni?" I asked.
He laughed. "A temporary hiccup," he snapped. "I won, obviously. I mean, if I lost to Alan [Cayetano], tanggap ko pa. But to Leni? 'Last man standing is a woman?' Oh, please. This is not the Lord of the Rings where the Nazgûl lose to women."
"Is it Harry Potter, where Voldemort loses to a rookie?"
The smile on Bongbong's face disappeared. "Good chap, this is not a battle of good versus evil. In this world, the only things that are black and white are the robes worn by the Supreme Court justices that will vote for me."
'Drink the Hikbi'
At this point, my beer arrived along with a full glass of whisky. "Drink the Hikbi," Bongbong said, staring straight into my eyes. I took a swig.
"Isn't it a bit premature to say that you're going to win?" I asked, reeling from the punch of hard liquor.
"I offered you Hikbi and you took it. Let's just say I'm good at persuasion," Ferdinand Jr. answered, smiling. He turned to a a nearby window, and looked out at the view, wistfully. "They cheated me. If they did that noong panahon ng Papa ko… well, hindi nila magagawa 'yun sa panahon ni Papa. You know, Mr. Pineda — Pineda, 'di ba? — for 30 years, we have been exiled, vilified, laughed at, spat on, stepped on. Now, we are fighting back. And just as my father got the burial that he demanded, I shall be getting what I deserve."
"Isn't it hard to play victim when you're drinking Hikbi in a mansion?" I asked.
"Poor people are not the only ones who suffer," he answered. "This Hikbi is nothing compared to what what we had during the glory days."
As the whiskey began to take effect, I felt a buzz in my head and found myself drawn to the charms of Bongbong. "What would you do when you're Vice President?" I asked him.
"President Duterte needs a strong VP, and I, unlike Leni, have balls. I would raise my fist beside the President, so that there will be not just one but two iron fists hammering at Filipino people. I will support Digong in his war against drugs, the West, and the oligarchy," he said. "And of course, I will be prepared for the worst if the time comes. Digong, bless his soul, is a 71-year-old man on fentanyl, lest we forget."
The New (Old) Order
We stepped out to the party at the residence's vast lawn under the moonlit sky, and I followed Marcos, Jr. as he partied with high society butchers. The night's hot gossip was that big, bad Rody was in one of the hidden rooms somewhere, taking his poison, though nobody present would confirm it. In small groups, drunken guests raised their glasses and chanted, slurring their words, "To Vice President Marcos!" while a grinning Bongbong shook two hundred of the Philippines' wealthiests' hands, making his rounds from table to table to table.
At some point in the night, Sandro took the reins of the DJ booth, blasting EDM to the amusement of the titos and titas. I walked closer to Bongbong and gathered the courage to speak over the thumping bass to ask the one question that has nagged at him since he announced his candidacy: "Are you anything like your father?" I said into his ear.
"As I said during the campaign, 'Hindi ako ang aking nakaraan.' I admit, my father was not perfect. Who is? But the son does not inherit the sins of the father. Now, as to what Papa's sins are, we'll just let the courts decide." He then put his arm around my shoulder, holding me tight. "I'm just me. Friendly, harmless Bongbong," he whispered.
I freed myself from his grip. "So what did you inherit from your father, aside from a popular last name, a stronghold over Ilocos, the legendary Yamashita Treasure, millions of dollars in riches hidden here and abroad, and a large network of loyalists and cronies?" I asked him.
Bongbong smiled. "My love for the Filipino people. They have, after all, given us so much."
He glanced at his Bréguet and Rochelle came bearing another round of Hibiki and took Mr. Marcos aside, whispering of a VIP's arrival. I looked out at the crowd of famous faces, of old cronies and political patriarchs, of Bongbong's very rich and very Western-educated friends and family. "If the President is against the oligarchy, why is he in touch with all these old, powerful people?" I asked myself, downing a full glass of Hikbi as the world began to spin…
Change is coming and it's looking a lot like the past. Welcome to 2017. I think I'm going to be sick.
* * *
Tweet the authors @sarhentosilly and @pepediokno.