Raymond Ang
(The Philippine Star) - October 1, 2016 - 12:00am
MANILA, Philippines - She has one of Philippine cinema's most storied careers. The fan who waited outside studio gates just to catch a glimpse of her idols became lead actress of legendary filmmakers, producer of Philippine cinema's most treasured classics, creator and host of local TV's longest-running drama anthology, and head of the country's largest entertainment and media company. Now, the woman who left the screen is back — with a magnificent triumph.
It only makes sense that one of Philippine cinema's most storied careers was set in motion by Philippine cinema's most revered filmmaker.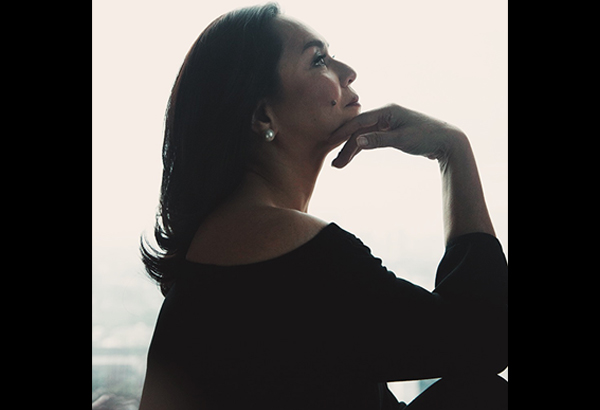 In 1976, the director Lino Brocka was helping Mike De Leon, the cinematographer and producer of his masterpiece Maynila sa Mga Kuko ng Liwanag, to find a star for his first film as a director, the horror movie Itim.
At the same time, a Communication Arts major from St. Paul's College Manila had joined a beauty pageant called Baron Travel Girl. She won the competition and eventually landed on the covers of magazines, making her a face to watch out for. The colegiala—pretty but in a way that was unassuming, simple and a little plain—caught Brocka's eye and the director gave her name to Mike De Leon. In May 1976, the girl did a screen test for Itim and ended up nabbing the role.
Her name was Charo Santos.
* * *
Itim ended up catapulting the careers of Santos and De Leon to the upper tiers of the movie industry. De Leon established a reputation as one of the country's best filmmakers, a status that was only solidified and later surpassed by subsequent films such as Kisapmata and Batch '81. And Santos became known as one of the era's premiere dramatic actresses, bolstered by a surprise win for Best Actress at the 1977 Asian Film Festival and later, by her selectiveness and commitment to quality material.
Ricky Lee, an uncredited writer on Itim, remembers the buzz about Charo Santos then. "Mike was raving," he says. "She was really good. People were saying, ang tali-talinong babae na ito… Ang ibang artista sa set, nagpapaganda, nagtsitsismisan, she was reading, asking questions and maski sa role niya, intelligent ang insights niya—a very intelligent actress."
Forty years later, in May 2016, an older, wiser, more experienced Charo Santos-Concio sat down beside Lav Diaz, arguably the most revered filmmaker of his time, at a dinner to celebrate the success of Hele sa Hiwagang Hapis, a Lav Diaz film that Santos-Concio's company Star Cinema supported since it co-starred Piolo Pascual and John Lloyd Cruz, two of the studio's biggest stars. At the dinner, she gave Diaz the Alredo Roces book Rage!: Juan Luna/Antonio Luna/Trinidad Pardo de Tavera as a gift, which the director graciously accepted. The two began talking. "Kailan ka aarte ulit?" Diaz casually asked. "Kung may magandang role, tatanggapin ko," she answered back.
Forty years to the month she did that fateful screen test for Itim, Santos-Concio sat down for a dinner with Lav Diaz and unwittingly set in motion a return to acting that would take her to the Venice Film Festival, where Ang Babaeng Humayo—the film she ended up making with Diaz—made history by winning the prestigious Golden Lion. It was the first time that the top prize of the world's oldest film festival was awarded to a movie, not just from the Philippines, but from Asia.
Did Charo Santos-Concio, known for her intelligence, talent, and sharp instincts plan a return to film that would take her to one of the world's top film festivals? The 60-year-old Santos-Concio, sitting in her office's conference room in an elegant black off-shoulder dress, lets out a surprisingly girlish giggle. "No!" she says. "When you're young, of course you make plans... But at my age? Parang I really just want to live life," she says.
"I guess, when you reach my age, yung expectations ng mundo, nawawalala na eh," she continues. "You've faced your fears eh. Parang, okay na ako. Allow me to live my life. Allow me to have this sense of adventure… [And working with Lav Diaz] is really like going on an adventure."
* * *
Her Beginnings
Charo Santos-Concio is no stranger to adventure. When Lino Brocka found her in 1976, she had no interest in working in front of the camera. Cross-enrolled in De La Salle University, she was already taking production classes under the likes of Doy Del Mundo ("He was my professor in La Salle and guess what, he was the writer of my first movie!") and interning at KBS—the old ABS-CBN—as a production assistant on John en Marsha. Her thesis was on Brocka's Maynila sa Mga Kuko ng Liwanag. Charo Santos-Concio's eventual move from actress to producer wasn't the surprise—it was that she became an actress in the first place.
"Fate intervened, eh. Siguro if Lino didn't see me? I would have been in production. I would have been, because that's my first love," she says. "I was really interested in the world of cinema, mainly because I was a movie fan."
Growing up, Charo Santos and her family would go to the movies every Saturday. "I would watch all the double features," she says. "Kaya a Lav Diaz movie that runs for four hours? Nothing!"
Later, while acting in a film for Bancom Audiovision, the head of the company asked the inquisitive actress if she wanted to try production work, eventually giving her her first crack as a line producer on the set of De Leon's Kisapmata. "Kasi I'm a very observant person, even as an actress on the set, I would observe how things were done. I would observe how light producers do the work, how, you know, [it came together]." She hit the ground running, producing future classics like Peque Gallaga's Oro, Plata, Mata and Ishamel Bernal's Himala in quick succession.
A decade later, Santos-Concio would abandon acting altogether, aside from the occasional cameos in Star Cinema projects like Esperanza: The Movie in 1999. In the '80s, she started line-producing action movies—a man's world but one she handily conquered anyway. After that, she became Mother Lily Monteverde's creative head in Regal Films, working on some of the genre's biggest hits, before finally joining in ABS-CBN in 1987 as a production consultant.
A Return To The Screen
Her return to acting in 2016 then, is a true Philippine movie lover's event—Mike De Leon's muse, the thoughtful woman at the calm center of the director's sometimes emotionally explosive movies is suddenly back. In English, Ang Babang Humayo translates to The Woman Who Left. And just as her character left home only to come back decades later, one of Philippine cinema's favorite actresses is back on our screens.
What made her come back? "You know, if I am really drawn to the characters, then, I'm there," she says. "It's not difficult to convince me." In Lav Diaz's script for Ang Babang Humayo, she found a character she could really sink her teeth into.
Santos-Concio plays Horacia, a former schoolteacher who has just been released after 30 years in jail for a murder she did not commit. "I was really drawn to her because she went through a journey of transformation and transcendence, and I believe that that's our journey in this world," she says. "It's very human. I mean, we struggle about choices everyday, from the simplest, to the most complex, and often times it's a struggle to walk the right path… There are so many distractions, and so many temptations, and, expectations. And sometimes our pride, our ego, our biases get in the way of transcending our hurts, our past, our pain—that's what attracted me to the character. It's like a spiritual journey."
During press at the Venice Film Festival, a critic remarked that she sees Horacia's journey as a journey of a saint. "Horacia was framed for a crime she didn't commit," Santos-Concio says. "She lost 30 years of her life and she goes back with, this desire to exact revenge. But she meets people along the way and she begins to see again the inherent goodness in man, and she lets go of that bondage of her past. And life goes on-- life goes on for her… Really, sometimes you don't have to lift a finger: the universe just unfolds, and you just go with the flow."
Already, Santos-Concio's return to the screen has earned rave reviews from the world's most respected critics. The Hollywood Reporter notes a "majestic performance from Charo Santos." Variety remarks that "it's Santos' soft-skinned but seething performance that viewers must see through the film's most challenging passages."
It's an astounding—but perhaps, surprising—return for a woman who started in independent cinema and then became a big part of mainstream moviemaking. "I was so pleasantly surprised when I asked [Lav Diaz] the difference between independent cinema and mainstream. 'What is your opinion?' And you know what he told me? 'Charo, there should be no difference; it's only one cinema. Sometimes we can be too condescending.'"
"Sabi ko, this man really has it. It really speaks of his character," she says. "Sometimes we think we have the answers to everything, we think we're the best, when really, there should only be one cinema. And sabi ko, eh di, respeto pa rin yung pagka-fan ko, di ba? [laughs] I grew up watching a lot of kilig movies, and I wouldn't mind doing a kilig movie, you know? Just as I would enjoy doing a Lav Diaz movie. May respeto siya eh, respeto sa individuality ng bawat isa. That's what's nice about Lav."
This week, Ang Babang Humayo was finally released in the Philippines, in 80 cinemas nationwide. At three hours and 45 minutes though, and despite the presence of Santos-Concio and John Lloyd Cruz, Ang Babang Humayo might still be too daunting a task for the average Filipino moviegoer. Working for decades behind the scenes of some of the country's biggest box-office hits, Santos-Concio knows what the film is up against—but believes it's a fight worth waging.
"His cinema is art," she reasons. "And as human beings, part of our transcendence is that we feed our souls—we should. [Cinema] is not just for relief. His films makes one reflective, eh, in respect to life. We're not just here to enjoy life, right? We're here to find some meaning in everything that we're doing, and I think his films make you look at that."
* * *
A Nice Girl Like Charo
"What's a nice girl like her doing in show biz?" asked an Expressweek story on Nov. 2, 1978.
Coming off her breakthrough performance in Itim, Philippine showbiz wasn't really sure what to make of an articulate, soft-spoken ingenue like Charo Santos, "cool as a cucumber" and armed with poise and intelligence beyond her years. At 22, she was being offered bold films, the trend at that time but a trend she refused to participate in.
"I practice self-censorship, I don't do things just because people are pressuring me into doing them," she said then. "Had I accepted all the offers, I would have done more than 15 films last year. But you see, it's not only the money that counts, my principles matter most." While most actresses of the era traded in beauty and body, she was becoming known for restraint and meticulousness. And rising through the ranks of ABS-CBN in the late '80s and early '90s, it was those virtues—restraint, intelligence, meticulousness, calm under the pressure—that served her well on her way up.
"When she joined ABS-CBN, it was a man's world," director and Santos-Concio protege Olivia Lamasan says, "and she had to prove herself to Mr. Freddie Garcia, Mr. Rolando Cruz, and Mr. Gabby Lopez at the time. She was program director and she was challenged by Freddie Garcia. 'What can you do? What can you bring to the table?' And we knew na lalake nga sila lahat, so kasi nga babae ka, paano ka aakyat sa ladder?"
True to form, Santos-Concio kept her head down and regrouped. She sat down with Lamasan and the rest of her team, to come up with a program could compete on primetime. The fruit of those brainstorming sessions was Maalaala Mo Kaya—now the country's longest-running drama anthology and at 25 years old, still one of the network's most successful shows.
An Independent Woman
"If the men in the organization said, 'Ano ba kaya mong gawin?' na-challenge lang ako. Sabi ko, 'Tignan mo!'" Santos-Concio says, laughing. "Tinuro yan ng tatay ko sa amin. My father told us that we have to learn — because we're a family with five girls — and my father told us, 'I will not be here for you forever, so you will have to learn to fend for yourselves.' He taught us that early on so parang ako, independent ako. I'm not clingy. I don't need to depend on anyone, you know?"
"From Charo, I really learned that gender is not a barrier for you to achieve things or for you to achieve success," Lamasan says. "I had so much admiration for her because [when I started working for her], she was a woman who was line-producing action movies. That's really very difficult. It's a man's world but she was able to do it. She may appear soft but she has an iron hand.
"I remember she was eight months pregnant with her second son, but she would go to the boondocks to scout for locations. That's how she is as a leader. Hindi reason that she's pregnant, she will really deliver — if that means that at eight months pregnancy, she will [have to] scout locations by herself, she will do that."
Most people's first impression of Charo Santos-Concio is that she's gentle, soft spoken, and almost impossibly serene. It's an impression that was followed her throughout her career, from her beginnings as an ingenue in 1976 to her time as president and CEO of ABS-CBN. It's a quality that's served her in many ways — a quality that has made her revered but also approachable, misunderstood but also loved. And in some cases, it's a quality that has led people to underestimate her, to think of her as someone who can be pushed around, talked over, or taken for granted.
"When I worked for her," Lamasan says, I started discovering that, beneath that, she's a very strong-willed person. Siya lang yung babae pero siguro meron kasi siyang charm. You look at her and she looks so soft, like you want to protect her — but you don't know that underneath, is a very strong woman who can make you do things. Hindi mo alam na nakuha ka na pala niya… It's a man's world but she was able to do it. She may appear soft but she has an iron hand."
Later, as she proved herself as an executive, Santos-Concio was able to assemble what would become her A-team, a group she worked with to churn out the company's top-rating teleseryes and blockbuster movies. With Lamasan and sister Malou Santos by her side, Santos-Concio and her team began to change the landscape of entertainment — one of the most influential companies in the country no longer a man's world.
* * *
Things Come Full Circle
In the end, everything comes full circle — the fan who waited outside the gates of the ABS-CBN lot just to watch noontime shows and catch a glimpse of her idols, the college student who interned as a production assistant on John en Marsha, the lead actress in Mike de Leon's first film Itim, the actress-turned-producer who worked behind-the-scenes to make movies like Himala and Oro, Plata, Mata happen, the soft-spoken line producer of macho action movies, the Regal Films creative head who read Mother Lily her concepts, the upstart executive at ABS-CBN, the "Ate Charo" of the the country's longest-running drama anthology series Maalaala Mo Kaya, the president and CEO of the country's largest entertainment and media company.
She's been a patron and a creator, a muse and an artist, a financier and an executive, a champion and — through ABS-CBN's film restoration efforts—protector. She's had as many lives as there are roles in the production, consumption, and preservation of cinema. And while she's the first to downplay her contributions to the medium, it wouldn't be too much of a stretch to say that Charo Santos-Concio is a living embodiment of this era of Philippine cinema, from the award-winning art house classics she got her start in and then returned to, to the record-breaking popcorn fare she had a hand in making.
"Why do people think na kayang-kaya ko ang lahat, na hindi ako marunong umiyak, magwala, magkasakit at magkamali?" a 26-year-old Charo asked in a Jingle Extra Hot Magazine interview on Dec. 28, 1981. "There's nothing so special about me, I am a very ordinary person."
In the middle of making the three Mike De Leon movies film buffs best remember for, an audibly frustrated Santos was just coming out of her cage, speaking out against the media's one-dimensional portrayal of her ("too intelligent," "sobra ang pagka-confident," and "masyadong mataas ang standards") and talking up Kisapmata — her third and final De Leon film as an actress, but first film as a line producer. "Baby ko ito," she said in the interview. "Happiness to me is having a sense of achievement in anything I do."
Thirty-five years later, with the benefit of hindsight, her sentiment about "achievement" perfectly encapsulates the kind of trajectory Charo Santos-Concio has had. "More than intelligence," Ricky Lee says, "once Charo sets her mind on something, she's going to do it. She's going to see it through. She's going to work hard. She will look at every single detail—hands on. Wala siyang pababayaan maski anong maliit na detalye. She will not be careless. Kung 20 details ang kailangan para buuin ang isang bagay, she will pay attention to every single detail dun sa 20 plus one detail, that something extra." He continues, "Hindi enough yung skills, yung talent, yung beauty, yung intellience—hindi yun enough para ka talaga mag succeed all the way."
History has proven Charo Santos-Concio right in a lot of ways—the films she selected so carefully as a young ingenue in the late '70s and early '80s, the blockbusters and classics she produced in her early career behind the scenes, the efforts she championed as a woman in the most powerful position in media and entertainment—but she was never more wrong than in December 1981, in her interview with Baby K. Jimenez for Jingle Extra Hot Magazine.
There is nothing ordinary about the woman Charo Santos was, became, and is. In a world of stars, superstars, legends, and geniuses, she stands apart — a true outlier, never really belonging to one group or another but existing in an orbit all her own.
* * *
A New Lease On Life
Today, Charo Santos-Concio says she has never been more relaxed, raving about the new lease on life retirement's given her. Now, she says, she has more time to spend with family, to play, and smell the roses. Recently, she's begun working on ticking off items on her bucket list. "I saw Niagara Falls for the first time and I'm so happy!" she says. "There is God!"
She's also conquering her fears. "Anything that has to do with water, natatakot ako," she shares. "So I took up swimming lessons. I don't think I'll ever be good at it but…" she trails off and she breaks into laughter.
Forty years into a career that's taken her from one high to another, that's allowed her to actively shape the medium she fell in love with as a young girl, Santos-Concio says, more than ever, she is appreciating her place in the world—not as a woman in power but as a human being.
"Your job cannot define you, should not define you, nor anyone," she says. "You have an ego—everyone has, and everyone should have—but I think part of the spiritual journey is also having a healthy ego. You honor your feelings, but you don't allow your feelings, or your insecurities or your imperfections to ruin you and to run you."
"When you're young, you live up to other people's expectations, 'di ba? You're being defined by the world, being defined by other people's expectations, and then you realize at the end of the day, you're not gonna get it from the world, you have to get it from within yourself—you have to find it from within yourself—that approval," she says.
Still, Santos-Concio might be the entertainment industry's busiest retiree yet. Aside from acting in a Golden Lion-winning Lav Diaz film, she also still serves as ABS-CBN's chief content officer and executive adviser to the chairman. On top of that, she still hosts the weekly Maalaala Mo Kaya.
"They keep coming," she says, about the stories she receives as host of the drama anthology. "Sabi ko nga eh, 'Listening to your stories makes me feel so small.' Kala mo great-great na natin? Wala! Iba sila. And their love for family really is, quite admirable; they'll do anything for their loved ones, to improve the quality of life."
"These people keep you grounded. You cannot be so self-absorbed! You cannot, di ba? And you realize," she says, a joyful disbelief on her face. "You're really just a speck of dust."
* * *
Tweet the author @raymondangas.
Photos by Joseph Pascual
Produced by David Milan