REVIEW:The case for literary festivals
(The Philippine Star) - September 10, 2016 - 12:00am
Money makes the publishing world go round. This is a reality that authors have to face, especially when we put out work for a niche audience, or when our lowly bylines don't amount to the hype that celebrities get when they're publishing books about their stale life lessons. It can all get a little disheartening. These days, you can slap a name of a celebrity on any book and it'll be guaranteed to land in the bestsellers list. It makes one yearn for the time that Wattpad novels were flying off the shelves instead of gathering dust as pocket books in convenience stores.
Enter the Philippine Readers & Writers Festival, a three-day summit on books, literature, and culture, with talks and book signings by bestselling authors, ambassadors of literature, and a Pulitzer Prize winner. It was perhaps what the local literary scene needed, providing writers like me with commiseration, encouragement, and a lot of inspiration.
Inspiration and Encouragement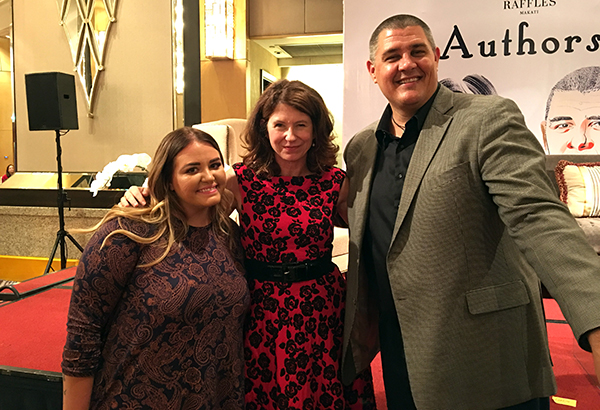 International bestselling and award-winning authors Anna Todd, Paula McLain, and Adam Johnson headlined this year's The Philippine Readers and Writers Festvial.
Inspiration and encouragement came quickly. At the authors' dinner on the second day, Anna Todd, Paula McLain, and Adam Johnson, all talked candidly about the rollercoaster that is their literary life. Todd wrote close to a million words for her first novel, After, which was written in Wattpad and has, to some extent, involved billions of editors telling her what to write next. (After has racked up to a billion views on Wattpad.) McLain's novel, The Paris Wife has sold a million copies. Saying this brought her to tears, as she has come full circle from her experience as a poet who received negative royalty checks from her poetry collections. Johnson, meanwhile, is the author of The Orphan Master's Son a New York Times Bestseller and a Pulitzer Prize winner. He revealed that he is obsessive about language and revises a page up to 500 times.
It was Todd and McLain's experiences that probably resonated the most with the audience. Todd, who describes herself as an army wife, wasn't planning on being a writer at all. She got married young and worked at a makeup counter and spent her free time writing fan fiction on One Direction's Harry Styles on Wattpad — the very novel that was picked up by Simon and Schuster and Paramount Pictures. McLain, on the other hand, was abandoned by her parents, moved into various foster homes for 14 years, and supported herself doing various odd jobs such as a nurse's aid and pizza delivery girl. Years after she received her MFA in Poetry and taught at a university, she quit her job to pursue a career as a poet, which didn't really amount to anything (hence the negative royalty checks). She had to suffer much in her writing life before she finally wrote a bestseller, which was inspired by a feverish night of reading Ernest Hemingway's A Moveable Feast. "I got a call that my book got into the Times bestseller list and then I just lost it," she said.
Commiseration
Commiseration came next at the festival. It was a meeting of kindred souls at the launch of the second edition of the anthology Maximum Volume: Best New Philippine Fiction. Before a small audience mostly comprised of the anthology's contributors, their family members, and a few believers of the form, editors Dean Francis Alfar and Sarge Lacuesta admitted, half-jokingly, that they know their book won't sell. They did it anyway since venues for young fictionists — all under 45 — are quite rare. They also made it a point to pay the writers more generously than regular fiction publications in the country. It was encouraging to hear that quality fiction, from different backgrounds strewn across the country and the world, was being put out by our generation. Alfar and Lacuesta received hundreds of entries for the book, which, to us, indicates a healthy level of interest and passion among young writers to continue with the literary tradition and break boundaries while they're at it. (There's always the case of the same writers submitting to anthologies every now and then but the second volume's roster is much different than the first, and includes some first ever published stories of young writers.)
Meanwhile, Adam Johnson's talk filled an entire ballroom; proof that Johnson's quiet but powerful work resonates with the Filipino audience. Most of his discussion revolved around his experience in North Korea, which he visited under a state-sponsored trip, as part of his research for The Orphan Master's Son, a work that the Pulitzer committee calls "an exquisitely crafted novel that carries the reader on an adventuresome journey into the depths of totalitarian North Korea and into the most intimate spaces of the human heart." I got to talk to Johnson a few hours before his talk; a small interview that stretched into a conversation about his writing life. He told me that he keeps his family close by; that he doesn't find inspiration to write when his life is going well; and he is drawn to the power of putting obscure, wily emotions into words. "To take something abstract as a feeling and to put it in something as exact and precise as language seems like a monumental feat," he said. Hearing him discuss his thoughts on fiction is probably how it feels like to sit in one of his creative writing classes at Stanford.
By the time the festival wrapped up, people in attendance – myself included -- were buzzing with energy. Some authors spoke about collaborations, others committed to finally starting their own novel, or to simply picking up a pen to write and write and write. It was heartening to see people moved by words, by the power of literature, especially in an era where the writing people come across is mostly in the form of expletive-laden, logically faulty junk on social media. We need more literary festivals, please.
* * *
Tweet the author @donutjaucian.