Koji Arsua
(The Philippine Star) - January 3, 2015 - 12:00am
There are two films you must watch at the MMFF
MANILA, Philippines - Yes, it's true. We're recommending you watch the Metro Manila Film Festival. But that's only because there seems to be more quality films this year. If there are only two films you can catch this year, we recommend English Only, Please (directed by Dan Villegas), the lone rom-com of the bunch, which follows a Fil-Am who hires a Filipina to write a scathing breakup letter to his cheating girlfriend. Along the way, people fall in love and hearts get broken. It sounds like your average formulaic plot, but the clever writing and flawless performance of both Derek Ramsay and Jennylyn Mercado (who won Best Actor and Actress honors at awards night) make for a charming respite from the usual sequel and crossover fare of the MMFF. But one sequel we'd like to recommend is Kubot: The Aswang Chronicles 2 (directed by Erik Matti), the followup to the visual effects feast, Tiktik. The sequel is more visually dazzling than the first (it won Best Visual Effects, Production Design and Makeup), but it takes itself less seriously, making it a fun and entertaining watch. Luckily, MMFF films are screened everywhere, so you can drop by your local neighborhood theater to see the future of Philippine cinema.
Bookmark art at 'Book Ends'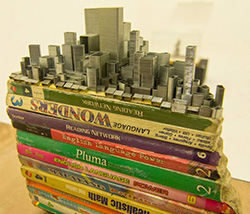 If you want to start your year beautifully, surround yourself with art on 2015's first Saturday. For Blanc Gallery's show "Book Ends," which ends today, curator Mariano Ching gathers 41 artists to experiment with books. These artists deconstructed tomes, took pages apart, painted on them, and built sculptures on them to redefine what books mean to them. The participating artists are: Allan Balisi, Albert Sy, Apol Sta.Maria, Bembol Dela Cruz, Brian Sergio, Carina Santos, Charles Buenconsejo, Chito De Borja, Costantino Zicarelli, David Ryan Viray, Dexter Fernandez, Dina Gadia, Erik Sausa, Eugene Jarque, Felix Bacolor, Geraldine Javier, Jacob Lindo, Jo Santos, Johnny Alcazaren, Katherine Kim, Keiye Tuazon, Lena Cobangbang, Louie Cordero, Mac Valdezco, Manuel Alvero, Mariano Ching, MM Yu, Nice Buenaventura, Nicole Tee, Nilo Ilarde, Poklong Anading, Raena Abella, Ranelle Dial, Robert Alejandro, Romeo Lee, Ryan Villamael, Soler Santos, Vladimir Grutas, Yasmin Sison, Wire Tuazon, and Zeus Bascon. Blanc Gallery is located at 145 Katipunan Avenue, St. Ignatius Village, Quezon City.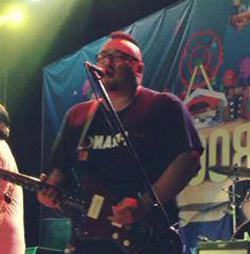 Start the year right with 'It's a Wonderful Life'
Those in the know are familiar with "Attraction! Reaction," the monthly gig production hosted by band manager Kathy Gener and Anj Pessumal (who co-wrote English Only, Please). It has become a favorite for those looking for a low-key night of good fun and good music. Proof of its popularity is that it has lasted for seven years, which the duo will be celebrating tonight at Route 196. Dubbed "It's a Wonderful Life," this month's edition at Route 196 (196-A Katipunan Avenue Extension, Blue Ridge A, Quezon City) has Ang Bandang Shirley, Pastilan Dong, Modulogeek, The Purplechickens, Blast Ople, and SQUID 9 on deck. Seven years is a long time in bar years, so A!R! (as it's fondly called by regulars) could be considered an institution rather than a production. Perhaps there are plans for a bar in the future? Whatever the plan, it will surely attract.
* * *
Tweet the author @kojibberish.