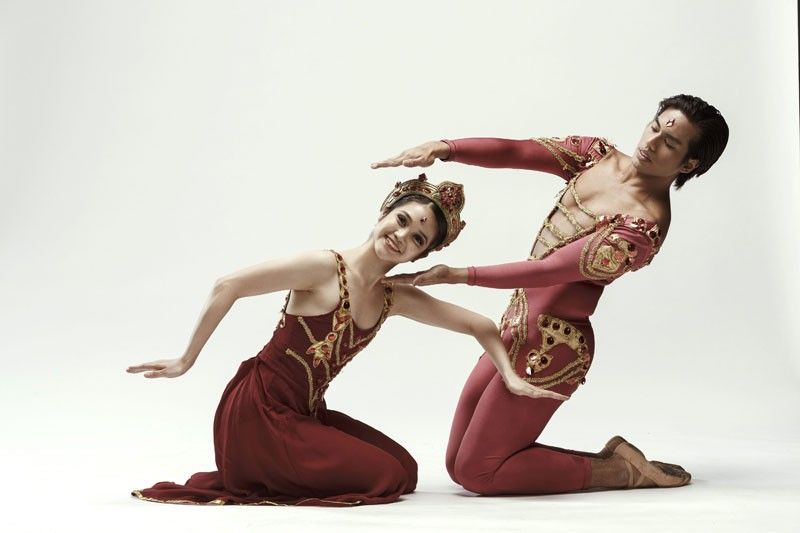 Monica Gana as Sita with Ronelson Yadao as Rama Ronelson Yadao as Rama in Rama, Hari, the BP 50th-anniversary finale choreographed and directed by Alice Reyes
Will there be 'revenge dancing' for Alice Reyes in 'rama, hari'?
There's nothing quite like it. Rama, Hari, a 1980 masterpiece of Philippine musical dance theater, is no doubt one of Ballet Philippines' most beloved and enduring works, a fitting finale to the 50th anniversary season. It's a rare collaboration of five National Artists: Alice Reyes, founder and artistic director of BP, who did the choreography and direction; Bienvenido Lumbera, librettist; Ryan Cayabyab, composer and musical director; Salvador Bernal, set and costume designer; and Rolando Tinio, English translator for supertitles.
Alice Reyes had just celebrated the company's first decade then, with acclaimed works like Amada and Itim-Asu changing the face of dance in the country and gaining international recognition in tours abroad, from the USSR, France and Italy to Singapore and other Asian countries.
"It was during the Asian leg that we would inevitably come upon a performance of the Ramayana in one form or another," recalls Alice. It also brought back memories of the epic during her college days as a history student. "I was always drawn towards the universality of its teachings and the richness of its lore."
She knew she had to create a "rock opera ballet" based on the ancient Sanskrit tale and turned naturally to a kindred spirit. Lumbera, prize-winning poet, critic and dramatist, wrote the libretto with varying levels of language, from an elevated, poetic form for the protagonist lovers Rama and Sita to Filipino slang for the villain demons Ravana and Soorphanaka. The librettist thought street diction "could jar the audience into perceiving that the ancient epic of India is also 'now' and 'Filipino.'" It also translates the story into "very human and contemporary terms," says Alice, who tapped Ryan Cayabyab to put all of this to music.
"Cayabyab produced a brilliant score that incorporated the Filipino kundiman, Indian melodies, Asian percussion, soul rock, monkey sounds and even some Dixieland for extra spice," Alice writes in the program's Choreographer's Notes. There are a lot of earworms in the songs, like Sita's Magbalik Ka Na, Mahal, and Rama's Tagistis Ng Ulan, which keep playing in our minds every time we watch the ballet. The poetry of the lyrics is always so moving. Our DVD of the most recent restaging in 2012 is now well worn from constant replaying.
But there's nothing like the actual performance on the CCP stage when the story comes alive with Bernal's stark, futuristic utopia of a set evoking a multilevel Mughal garden, a clean canvas to set off his stylized Indian costumes in the colors of jewels and spices. It also perfectly sets off the signature choreography of Alice, which combines the lightness of classical ballet with grounded, modern steps that have a distinct Filipino sensibility and vocabulary. It's a unique blend that developed with her background, from folk dance at the Bayanihan Dance Co. and her exposure to the dance greats like Martha Graham, Hanya Holm, Alwin Nikolais and Merce Cunningham at Sarah Lawrence in New York, to her explorations and collaborations with Philippine artists when she decided to come back home to form her company, which would become BP.
This is what makes Ballet Philippines like no other company in the world, a point that cannot be stressed enough in the ongoing uproar from the dancers, BP alumni, and the arts and culture community over the BP board's appointment of a Russian artistic director to succeed Alice when she retires in April.
At a recent rehearsal at CCP, we talked to some of the dancers, who are constantly inspired by the work and style of Alice, whom they fondly call "A.R." Katrene San Miguel, who will dance the Gintong Usa, appreciates the "versatility they have acquired, easily shifting from classical to modern," with classes to strengthen their proficiency in both.
Bonnie Guerrero, who plays Bharatha, the brother of Rama, says that Alice "creates a unique identity for the company — I learned how to adopt the different cultures that we'd put in one piece." He is particularly captivated with how the gongs and bamboo instruments, to be played by the P.W.U. Indayog Ensemble, inspired beautiful dance movements. This lesson has inspired him to go back to his hometown in Sultan Kudarat, Mindanao, and do collaborations with the B'laan tribe.
But the inspiration works both ways, which is why the ballet is not a museum piece that is being dusted and restaged exactly as it was in 1980. "We have tweaking sessions," Alice informed us. The choreography is evolving based on the bodies of the dancers and how they move today.
The music will also be subject to a new interpretation with Antonio Maria Cayabyab, Ryan's son, conducting the ABS-CBN Philharmonic Orchestra. His multidisciplinary background, from film production to music (he has a jazz sextet, Debonair District, with arrangements of Filipino folk, kundiman and pop music, among others) will make for an exciting infusion from the younger generation.
Not to mention that current theater superstars led by Gian Magdangal and David Ezra alternating as Rama, Aicelle Santos and Sheila Valderrama-Martinez alternating as Sita, Audie Gemora as King Dasaratha and Kakki Teodoro as Soorphanaka, will put their spin on the classic dance musical.
"The energy will be different with a whole new set of people," says BP dancer Sarah Alejandro, who's alternating with Denise Parungao as Soorphanaka, the sister of the demon Ravana. "It will be lots of fun interacting with the singers. A.R. has a way of incorporating both singers and dancers harmoniously," according to Monica Gana, who alternates with Jemima Reyes as Sita.
As far as the BP dancers are concerned, this will be a show of shows, possibly the last one where they will all be together and with Alice at the helm. With the coming of a new artistic director who they feel does not know the soul of BP, "the company will be lost," says Victor Maguad, who plays Rama together with Ronelson Yadao, who also laments how the BP board's failure to consult with the dancers, as well as with Alice, who is also a board trustee, will be detrimental to the future of the ballet company.
With the current turmoil, they can only fight back with their best weapon: Dancing well, now known as "revenge dancing," after they showed top form in "Alice & Friends," the last-minute show organized by Alice with funding from CCP after the board cancelled Itim-Asu and Other Dances. If they danced with a vengeance then, watch out for them in Rama, Hari. Be afraid. Be very afraid.
* * *
Rama,Hari will run at the CCP Main Theater on March 20 (8 p.m.), 21 (2 p.m. and 7 p.m.), 22 (2 p.m.), 27 (8 p.m.), 28 (2 p.m. and 7 p.m.) and 29 (2 p.m.).
Follow the authors on Instagram @rickytchitov; Twitter @RickyToledo23; Facebook - Ricky Toledo Chito Vijandre.