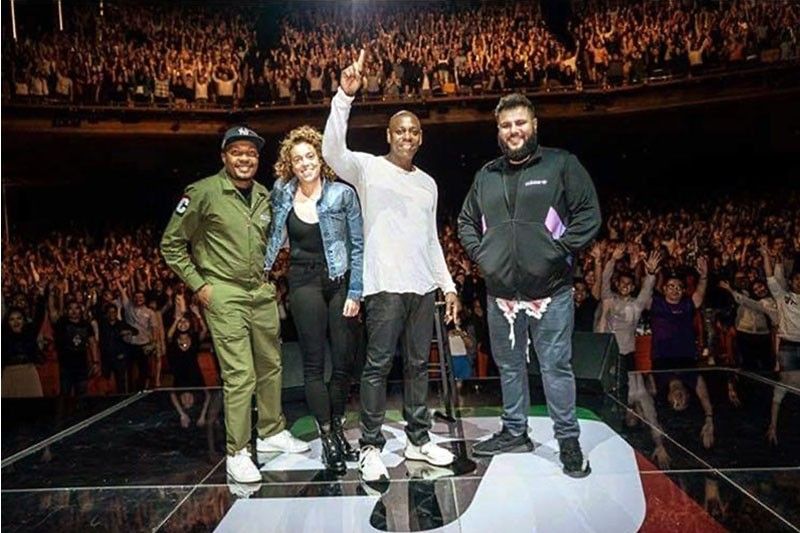 Dave Chappelle poses with DJ Trauma, Michelle Wolf and Mo Amer on first night at Solaire Theatre.
From Solaire Resort and Casino IG, photo by Mathieu Bitton.
Dave Chappelle kills 'em softly in Manila
Dave Chappelle walks onto the Solaire Theatre stage to whooping cheers as though he's just glided in from his living room, where he was plunked down on the sofa; he's wearing baggy black sweatpants, topped with a sheer-black, form-fitting pullover.
Welcome to our living room, Dave.
Capping off two nights here in Manila, Chappelle — who has a Filipino connection, having been married to Fil-Am Elaine Mendoza Erfe for 20 years — settled into a typical monologist's posture: holding a cigarette throughout most of the night in one hand, gripping a mic in the other, often resting a white trainer on a stage monitor to lean into his storytelling.
He apologized for the lit cigarette at one point. "It's the only place I can smoke indoors," adding, "It's tobacco. Can't get no weed here, your president would go — cccck!" (Making a throat-slicing motion) "He's like Batman without a mask."
Little does Chappelle know the preferred method here is bullets, not knives.
During an 80-minute set (no encore), Dave wandered into familiar topics — politics, celebrities, gays, transgender people, drugs — and unfamiliar, such as his Filipino wife's family roots. "I've never seen so many Filipinos in one place since my mother-in-law threw a party," he joked to the crowd. Chappelle has definitely picked up on local peculiarities, like how his mother-in-law gets excessively excited whenever Pinoys are in the news. "That guy who shot all those people from a hotel window in Las Vegas?" she told him, before leaning in conspiratorially: "His wife is a Filipina!"
Mostly, Dave got cozy, took his time telling stories, and seemed about as relaxed as a well-paid comedian can be in a foreign country. "Can't tell trans jokes in the US," he griped, before launching into a bunch of 'em. Political correctness irks him. One of his more salient bits had to do with LGBTQ culture, and how namby-pamby he feels it is nowadays. People get all upset about what they're called, what pronouns can be used, Dave says. He respects the "old school" gays, the "mustache-wearing, Freddie Mercury ones" who covered themselves in baby oil and wore booty shorts. They knew who they were, and let people know. They didn't have to ask for emancipation. "If black people had baby oil and booty shorts back in slave days," Dave mused, "slavery would have ended 100 years earlier!"
Interesting point. Chappelle capped it by telling us about a trans person named Daphne he befriended on the club circuit back in the day. She wouldn't take any crap from hecklers, and he respected that. Sadly, she ended up committing suicide, which led Chappelle to dedicate the show to her. So he gets to tell a trans joke and seem compassionate at the same time. Talk about having your cake and eating it, too.
Chappelle touched on politics, saying things were pretty messed up back in the US. "My son is 10, so his only past experience with presidents is with a black one," meaning Obama. "He keeps asking me, 'Dad, how come white people can't run sh*t?'"
He delves into the Trump impeachment case, noting it all started with a transcript of a phone call to the Ukraine president. "I read that transcript," he says, "and it was a perfect call. Perfect. President Trump speaks fluent extortion. That's exactly what extortion sounds like." But politics doesn't really get Chappelle's motor running. He ended the bit with a resigned shrug. "Anyway, he's gonna get reelected." It's probably tough for an African-American to imagine a white American not escaping justice.
All through it, Chappelle prowled the stage like it was his living room: he seemed loose, comfortable, occasionally calling out for tequila from the wings, occasionally checking to see if a joke would be too much — too racist, too whatever — for the audience, then going ahead and telling it anyway.
In terms of diversity, Dave's show opened with short standup sets by Palestinian comic Mo Amer and Michelle Wolf, both Netflix regulars. A DJ turned the place into a house party before introducing Dave, though one prefers not to be told when to clap, when to pump a fist. I would like to share more jokes, but, bad journalist that I am, I forgot to pack a pencil and notepad and had to lock up my cellphone, per Chappelle concert policy. For someone so laidback, this comedian does seem a little overly concerned with methods of control.
He toasted a newlywed couple from New Zealand in the front row with bottles of beer, then urged them to name their first kid "Dave." And he gave three tips on having a lasting marriage (1. Don't count up grievances; 2. Remember, you wanted to be there, and 3. Cheat!) and he ended the set talking about his mother-in-law again, noting she moved to the US in the '60s, married and gave birth to his future wife, so when he brought her back to her home country this time, he made sure she was on a private jet, picked up at the airport by a Rolls-Royce. Then he added the kicker: "Just in time to see the place destroyed by a volcano! When is Godzilla gonna turn up?"
(Incidentally, the comic has since reportedly donated P1 million to the Rayomar Outreach Foundation, helping those affected by the recent Taal eruption.)
Chappelle's always been a smart guy, a reflective humorist. His voice has dropped a register with age (he's 46 now), so it's not surprising that he doesn't do crack addict jokes like he did in his 20s. (Now, apparently, the addicts come to his house: he talks about white meth freaks standing outside his estate, shaking the gate and yelling racist epithets. Progress, perhaps? Or just the price of success?)
It's natural for some critics to say Chappelle, who recently won the Mark Twain Prize for humor, has "lost his edge." That seems to miss the point, though. A comedian can't — shouldn't — tell the same jokes for 20 years. He/she has to evolve, grow up. It's like sharks in the water: if comics don't keep moving, they die. Usually onstage.
I prefer to think of Chappelle as a fine aging wine. His humor's more reflective, more worldly now, less manic and shrill. He's both more cantankerous and more chill, if such a thing is possible.
Mostly, he acts like not much in the world bothers him, though it does amuse him. And the audience at Solaire? They were content to let Dave be Dave.