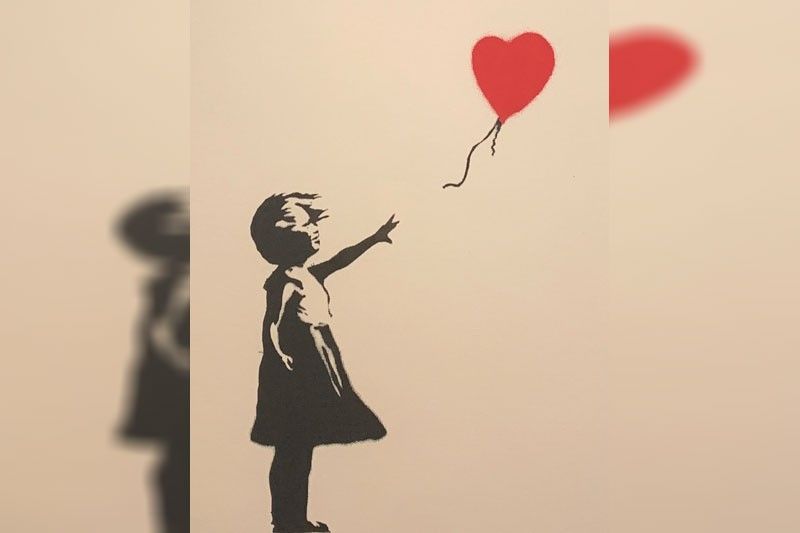 "Girl with Balloon" by artist Banksy first appeared in London's Waterloo Bridge in 2002. He has since reworked the image and painted it on in the West Bank (floating with the balloons) and Syria (wearing a headscarf).
In a city of protests, Banksy resonates
Are you sure about that?" friends asked when I said I was going to Hong Kong for the New Year. Since the protests for Hong Kong's democracy and independence from Beijing began in March 2019 and swelled into continuing mass movements in June, Hong Kong has become somewhat of a tourist ghost town. In July and August, hotels' occupancy rates reportedly dropped to 30 percent — a city that received 65 million tourists the previous year (Paris received 40 million tourists in the same year).
Filipinos who love the city, for whom a weekend is enough to escape ours, have for the most part of 2019 stayed away. But the (unauthorized) Banksy exhibit "Genius or Vandal?" was coming to Hong Kong in December and I wanted to see his satirical works.
Foremost, I wanted to see "Girl with Balloon," which the hooded street artist and filmmaker first stenciled on London's Waterloo Bridge in 2002. It depicts a young girl reaching out to catch a heart-shaped balloon flying away.
This and its various iterations might be Banksy's most inspirational work. It can be painted in any city and interpreted in different ways. In Hong Kong, the context seems on point. An idea, a system that is escaping in the gust of a powerful wind sweeping away everything that was.
And so my friend Rica (with whom I previously saw some of Bali's cultural sights) and I went to the exhibit on New Year's Eve. On display are about 70 original works and prints from private collections — serigraphs, illustrations, stencils — photos, installations, recreations on walls and film reels.
Mounted by Art Projectors and Last Bullet Productions in Hong Kong, the exhibit also ran in Spain, Portugal, and Russia including in St. Petersburg, in a space just over two kilometers from the Hermitage Museum, which has the largest collection of paintings in the world.
Running until March 1, the exhibit is at Portal 6311 in the Kowloon Bay area, a neighborhood with a dizzying fraternization of footbridges, vehicular flyovers, worn-down structures and new high-rises. On the footbridges are flyers of an illustrated gas mask with the words "Not one less," signifying the protesters' five demands from their government.
The entrance to the show is not in the gleaming lobby that is typical of most buildings in the city, rather it's around the corner in what looks like a loading dock where you are greeted by a half-shredded signage flapping in the wind — in the same manner that the artist shredded his own work as soon as it was sold.
In 2005, Banksy reworked Girl with Balloon in two paintings on the separation wall in the West Bank, Palestine and retitled it "Flying Balloon Girl." This time, a pony-tailed girl is clutching a string of eight balloons and floating as if to get over the wall.
In 2014, Banksy again modified the girl in his social campaign (or political protest, if you will) on the civil war in Syria, painting her with a headscarf and the hashtag #withsyria. Banksy has done several graffiti touching on the Syrian crisis including a 2015 mural in Calais, France called "The Son of a Migrant from Syria," depicting Steve Jobs carrying his belongings in a black bag over his shoulder and his other hand holding an original Mac.
Banksy's political leanings have always been derived from his work. It's all about rebellion, protest, giving the middle finger to the status quo, authority and the hypocrisy of the moneyed. But in 2017 he was more direct. Before the UK's general election, he replaced the girl's red balloon with the Union Jack and offered to send a free print to people who voted against the Tories. He later rescinded the offer after being warned by the Electoral Commission. But, really, what did they expect from an artist who've been flipping authority since the 1990s in Bristol?
In 2018, a 2006 framed print of Girl with Balloon was auctioned at Sotheby's, fetching 1.043 million pounds (US$1.4 million), the highest amount any of his work has sold for. After the bid was closed, the artwork began to shred itself with a paper shredder concealed in the frame, though the upper part with the balloon remained intact.
Sotheby's said they were "Banksy-ed" but people just rolled their eyes believing the auction house was complicit in the stunt. Now the half-shredded artwork has become a new artwork called "Love is in the Bin" — and its price immediately increased by 20 percent according to art appraisers.
Banksy has said "the art world is one of the most amusing phenomena on the planet" and for someone who's made so much money from the art world, he has no compunction about hiding his disdain for it. In 2007, three of his works were auctioned at Sotheby's and "sold at unimaginable prices for those times." Banksy decided to create an artwork on the whole process, calling it " I Can't Believe You Morons Actually Buy This Shit." That piece is in the exhibit.
The greatest crimes in the world are not committed by people breaking the rules but by people following the rules. It's people who follow orders that drop bombs and massacre villages," he says in Wall and Piece.
Included in the exhibit is "Napalm," wherein Banksy uses the famous Vietnam War photo by Nick Ut. The image is of a young girl running and screaming after her village Trang Bang was attacked in a napalm blast — only this time she is flanked by Mickey Mouse and Ronald McDonald, the two mascots smiling as if they were in a theme park. Banksy doesn't really explain his works and one would be forgiven to interpret this as how he sees America — a peddler of war and pop culture.
Dorothy Gale from Frank Baum's The Wizard of Oz figures in two frames. One is called "Stop and Search," it features a policeman searching Dorothy's wicker basket while her dog Toto looks on. This was never painted on a wall, rather it was released in 2007 as a limited-edition of 500 signed prints (Banksy signed them with a blue crayon).
The second is a poster of his Banksy vs. Bristol Museum in which Dorothy paraphrases her famous line to her dog, "I don't think we're in canvas anymore." Banksy took over his hometown's Bristol Museum in 2009 for 12 weeks, exhibiting over 100 pieces of his paintings, sculptures and animatronics.
Banksy's rats are inescapable. He once said on painting and glorifying them, "They exist without permission. They are hated, hunted and persecuted. They live in quiet desperation amongst the filth. And yet they are capable of bringing entire civilizations to their knees. If you are dirty, insignificant, and unloved then rats are the ultimate role model."
Banksy has painted rats (including a gangasta hip-hop rat) around the world. "Welcome to Hell" is part of his 2004 Placard Rat series; the other two are "Get Our While You Can" and "Because I'm Worthless." Banksy painted these on walls and released 75 signed prints and 175 unsigned.
The smiley emoji is another Banksy fave, appearing in the faces of cops in full battle gear (painted on the walls of a corridor) and the grim reaper. Called "Grin Reaper," death is holding his scythe and sitting over the face of the London Clock Tower five minutes to midnight, both a sinister and a friendly image.
The exhibit also recreated the hotel he owns in Bethlehem, The Walled Off Hotel — a bed with a mural of a cop and a masked protester in a pillow fight. The hotel describes the experience of staying there as "literally sleeping inside a work of art."
I loved how the exhibit translated graffiti into organized panels, interspersing the framed works with other media showing the gritty walls Banksy originally painted on. Even though the works are small (most are limited-edition prints), they evoke the same powerful emotion (and inspiration, according to Rica) as those in the gritty neighborhoods he painted them.
For me, Banky's always been about the Girl with Balloon. Her hand reaching out and you know she will never catch it. In the West Bank, in Syria, maybe inevitably in Hong Kong too, the wind is too strong and blowing in the opposite direction, but we reach out our hand anyway, hair and hopes flying, to grasp it.
* * *
Visit the author's travel blog at www.findingmyway.net. On Twitter and Instagram @iamtanyalara.