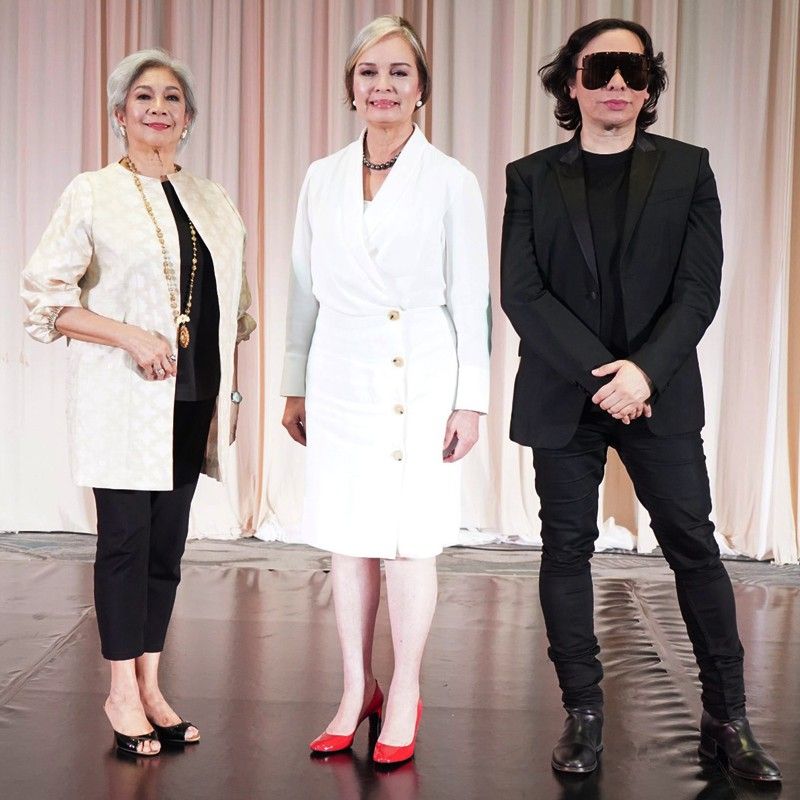 Ballet Philippines artistic director and Philippine National Artist for Dance Alice Reyes, CCP chairman and former Ballet Philippines president Margie Moran-Floirendo and Dubai-based Filipino fashion designer Michael Cinco
Ballet Philippines dances with Michael Cinco
'No one has done classical ballet with fashion,' says Margie Moran. 'It's going to be a first.'
Fashion designer Michael Cinco's wearable works of art, which have graced superstars and royalty around the world, all bear the grandiosity and drama of being made for a performance-art production — and come Sept. 29 it will be in Ballet Philippines' silver anniversary gala of Swan Lake.
Like Odette and Odile in the classical Russian ballet, CCP chairman and former Ballet Philippines president Margie Moran-Floirendo (in all white) and Michael Cinco (in his signature head-to-toe black) are collaborating to draw in a new, couture-loving audience to the ballet in a fantastical coming together of darkness and light and the artistic disciplines of fashion and dance.
I'm talking "modern, non-traditional" costume design, as Michael notes, for the entire production, as well as a special, 50-piece collection inspired by elements of the ballet representing Ballet Philippines' 50 years of being part of Philippine culture and identity housed in the Cultural Center of the Philippines.
To Michael, there is no difference between designing the costumes and the gowns. "The woman who wears my clothes is a star and she is ready to give a performance," he says, and adds, "It has to do with grace and the durability of the outfit to be worn by dancers and models. They both have to exude grace and charisma and perform."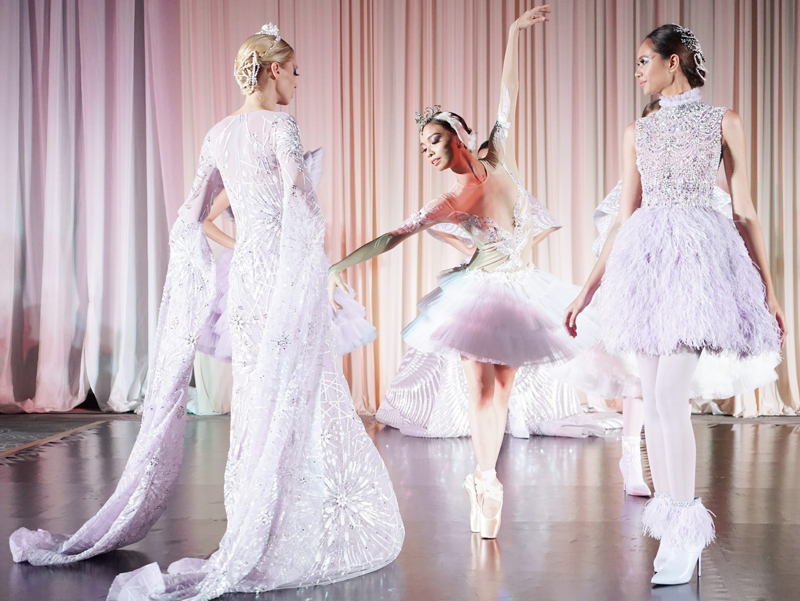 Fashion meets classical ballet: Ballet Philippines principal dancer Denise Parungao (center), playing Odette/Odile, surrounded by five dresses from Michael Cinco's 50-look Swan Lake-inspired collection for the 50th anniversary of Ballet Philippines.
He previewed five of 50 looks, each one a different silhouette and length and all in a sheer, white and pastel palette — very Odette. Dancers will perform during Michael's fashion show with new choreography by Alden Lugnasin, also inspired by the Swan Lake ballet. The costumes and gowns will be brought from Dubai to Manila and made completely by Filipinos in Dubai, in partnership with Emirates.
"No one has done classical ballet with fashion. It's going to be a first," says Margie.
"There is a perfect harmony between fashion and dance," says Ballet Philippines artistic director and Philippine National Artist for Dance Alice Reyes, who returned as artistic director in 2017 after 28 years of being away. "In dance, we have costumes, which is fashion design. There is the magic that dance and fashion shows create. Both are theatrical. Especially Michael's work — he reaches for perfection, and so do we. You'd have to wait another 10 years for him to design for another cast!"
Margie has always wanted to work with Michael for the celebration of Ballet Philippines' milestone. "It is because of his flamboyancy and workmanship," she says. "I know his couture matches what I think of Swan Lake. He's very international and Ballet Philippines is also international. Being a dancer and then a model, it's my dream to present a fusion of ballet and fashion extravaganza. They are both art. And then two years ago, I bumped into him in Paris on the Baton Rouge during the wedding reception of Vicki Belo and Hayden Kho."
Swan Lake is indeed a perennial audience favorite. Because of this, there was an immediate connection between the two. "When I was approached by Miss Universe Margie Moran, she asked me to do the show and immediately I had the idea to do costumes and a Swan Lake collection," Michael shares with a laugh. "It is the first ballet I ever watched and probably the only one I've seen. I've watched it so many times."
"My parents took me to the opera as a child and when I was seven, I saw my first ballet, which was Swan Lake," Margie adds.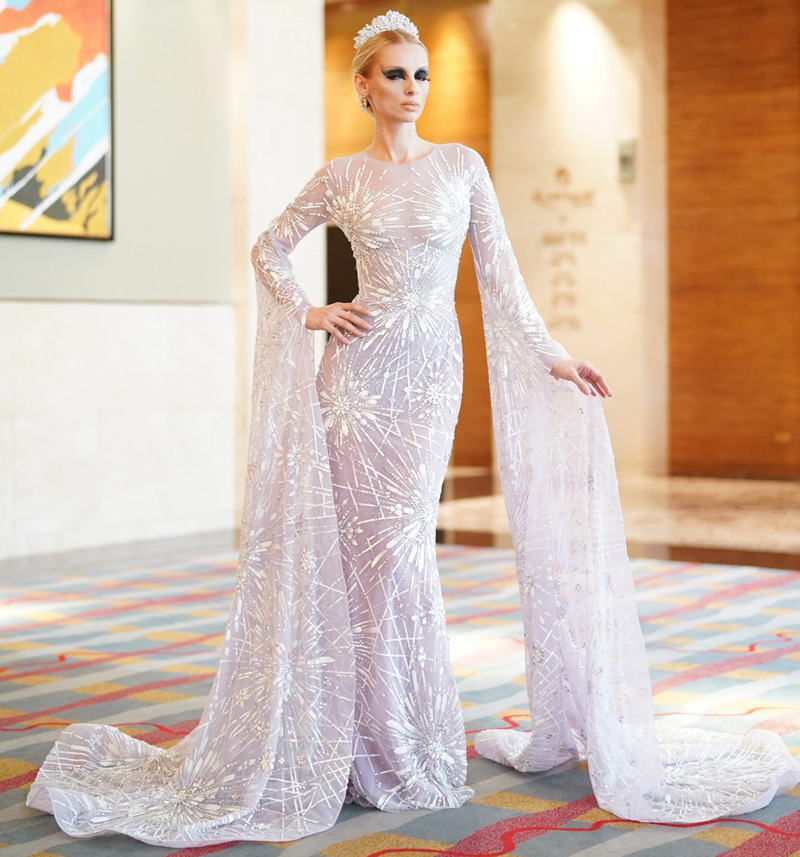 The collaboration has been in the making ever since that fateful meeting and will be unveiled at the perfect time, and for a good cause. "We are raising funds for our scholarship and outreach programs in order to continue a new generation of dancers and choreographers," Margie says. "It is a career. We employ them, they get paid, and we are contributing to the economy by generating income. We train young choreographers to continue the company. We have over 500 in our repertoire from the talent that has come in." At present, Ballet Philippines permanently employs over 60 people.
Swan Lake will feature two guest artists from the Mariinsky Ballet opening on Aug. 30 and Sept. 29. Principal dancer — and herself a Ballet Philippines scholar — Denise Parungao will also portray Odette/Odile. She has just returned from being a guest artist at the 2019 Okamoto International Ballet Festival in Japan.
The company has been doing a lot of traveling to share dance beyond the CCP. "We just came back from the Visayas and Mindanao to promote our culture within our country and make people proud to be Filipino," says Alice.
"In Beijing, there were no seats left during the two nights," says Margie. "On our one night in Shanghai, it was full! Their average audience attendance is 90 percent. I wish we could do that. Ours in the CCP is 60 percent."
She surmises, "It's that CCP is perceived as something elitist, but it's not. We have a lot of programs for the youth and the public in general. We have festivals that are very experimental, very loko. Our mission is to bring the arts to every Filipino. Our Pasinaya has gone from a one-day thing to three days, joined by 15,000. We are part of TernoCon in partnership with Bench, where we also bring fashion and art together. There was a big demand for designers who want to learn how to make the terno."
Margie thinks there was a whole generation that we lost in the arts. "We were very concerned with STEM (Science, Technology, Engineering, and Mathematics). Now the Department of Education is shifting to STEAM; the K-12 curriculum has added Arts, but very few teachers have been exposed to the arts. When we expose children to the arts, we develop a whole person and they become leaders in society. It's a whole progress we lead."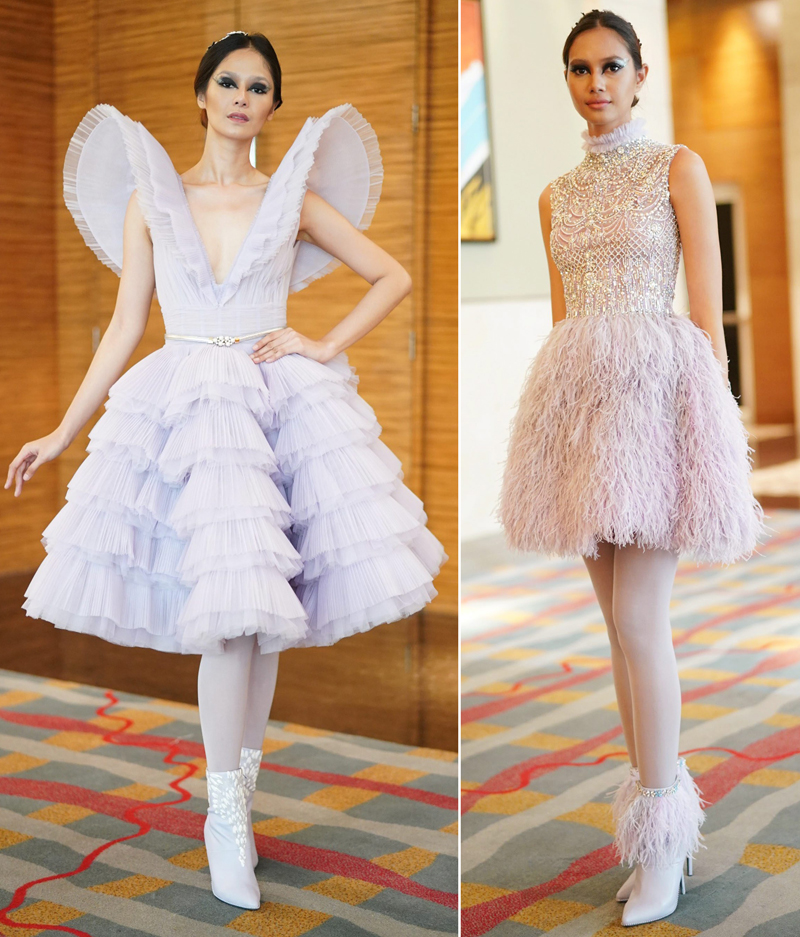 * * *
Ballet Philippines' 50th Anniversary Gala Fashion Show will be held on Sept. 29 at the Marriott Hotel Grand Ballroom. For tickets, visit the website http://ballet.ph/.