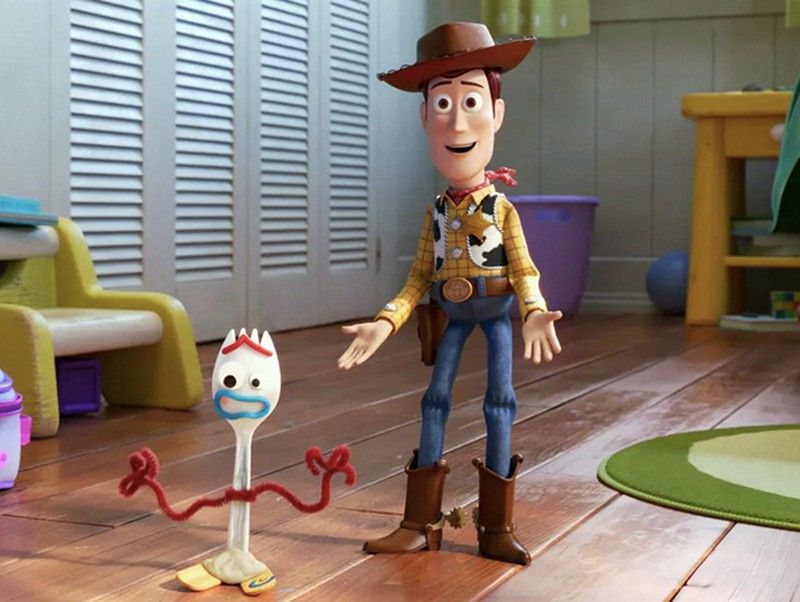 Don't forget to recycle: Woody (Tom Hanks) tries to convince Forky (Tony Hale) to stick around in Toy Story 4.
Is this the last rodeo for 'Toy story'?
Pixar's Toy Story movies, aside from their remarkable facility at extracting emotions from CGI-rendered plastic and furry objects, have always been about a larger world — one that includes all of our fears and existential questions — just beyond the confines of Andy's bedroom.
In Toy Story 4, it's about Woody (Tom Hanks) grappling with his ultimate purpose in life. That's pretty heavy, and not your usual kid's movie theme, but you'll definitely be there along for the ride as the pliable cowboy figure tries to mentor a new toy in town — the kindergarten project "Forky" (voiced by Veep's Tony Hale) who believes his true purpose in life is to be tossed in the trash (he is, after all, made of a plastic spork, pipe cleaners, wooden ice cream spoons and Elmer's Glue). Woody, ever the friend to new arrivals (well, except for that one jealous spat with Buzz Lightyear in the first movie), tries to explain that being loved by a child is the ultimate joy; Forky doesn't get it at first — there are countless touching scenes where he tosses himself into trash bins — but later he does.
Along the way, we encounter new characters — a whole antique shop full of them, including emotionally damage doll Gabby Gabby (Christina Hendricks), Canadian daredevil Duke Caboom (Keanu Reeves who's literally everywhere these days), Ducky and Bunny (Key & Peele) and some truly terrifying ventriloquist dummies, all named Benson — on a new mission, this time to restore Forky to Andy's kindergartener sis Bonnie.
As Toy Story 4 unfolds — this time without a Pixar short preceding it — we are invited to think about the autumnal colors, the emphasis on nightfall and the remarkable digital rendering as a sort of epilogue, a reflection on the passage of time, and how people move in and out of one another's lives. Again, for the kids in the audience, this message will not hit as hard as the cute gags, witty lines, and incredibly lifelike escapades of our favorite toys. But for adults, there's a lump in the throat at knowing this just might be the last roundup, cowpokes.
Whereas past Toy Story features focused on keeping the motley crew of plastic dinosaurs, toy soldiers, Slinkys, Potato Heads and Bo Beep dolls intact, the latest suggests that finding meaning outside a child's transient affection might be an even higher purpose.
What's remarkable, again, is the franchise's willingness to touch on real fears. In the past, Woody's dealt with separation, his owner growing into young adulthood, and all sorts of terrors (Van Dyke-bearded eBay salvagers, dysfunctional day-care centers) that always seem to assert themselves in the midst of what is ostensibly a kid's movie. That's because the scripts (mostly by Andrew Stanton) clearly have an adult purview in mind. It's childhood issues with all the emotion intact, but also a larger perspective there to rein things in when it gets overwhelming.
This is the first time we get to meet Andy's parents on a road trip, and like every other adventure in Toy Story, it's in the telling and the details that the joy unfolds. If Toy Story 4 feels like an ending — in a year of many other endings — then it's a rousing, emotional, satisfying one.