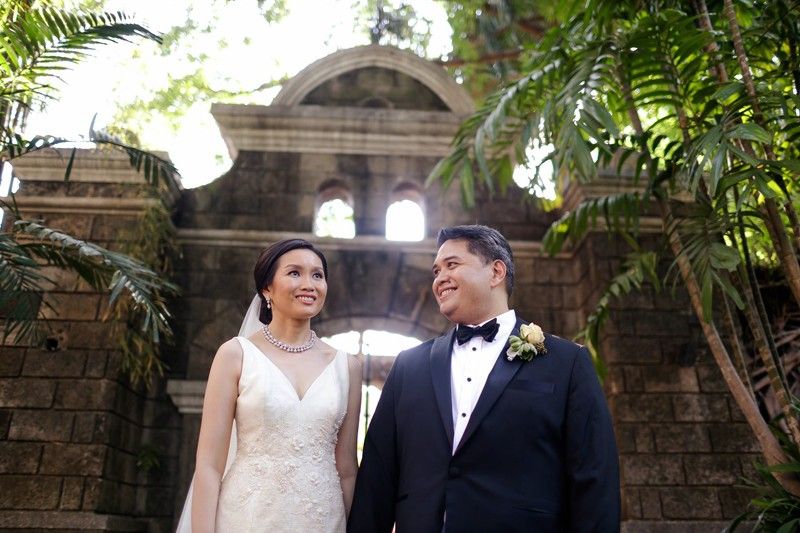 They love: ''This is it! The most important moment of my life,'' says David, looking at Catherine.
Photos by Caliber King and Pat Dy
Why Nedy Tantoco cried, and what David Endriga sang for Catherine Huang
Wedding of the year
I cried when I saw Catherine come through the church door and walk down the aisle with her father Tony. I thought to myself how beautiful she looked and how much I loved her!" said Nedy Tantoco, head of Rustan's but on that most important day of days, also the tearful mother of the blushing bride.
The Santuario de San Antonio parish church was the picture of elegant restraint last Sunday, with sampaguita garlands combined with pale pink roses, representing the East-meets-West background of the couple. The romance was a modern parable of love : David is a successful orthopedic surgeon , who trained abroad but decided to return home to practice and to settle down with the love of his life. Catherine is a UK-educated no-nonsense executive, general manager of the Marks & Spencer franchise in the Philippines held by Stores Specialists Inc.
Their slice of happiness: Fresh flowers on the wedding cake.
"The first decision Catherine made was to select the designer for her gown and the bridal entourage," shares Nedy. "She chose Jojie Lloren, a Rustan designer (smiles)."
Catherine adds, "I knew I wanted a dress in a cut that was easy to wear and did not have a big skirt, which is why Jojie designed a princess-cut dress. I gravitated toward fabrics with interesting textures like silk damask, jacquard and piña. It was Jojie who suggested to do the calado skirt and a modern Filipiniana jacket, both of which turned out beautifully. I'm also glad I trusted Jojie when he suggested beading on the skirt. I thought it added dimension to a very matte fabric."
As she trod down the aisle, Catherine was as nervous as any bride, "I was so afraid that I would walk too fast so I decided to calm myself by gazing at the flower arrangements and looking around the church to see which guests I would recognize. It also helped that the cello music was so soothing. I really like the Cello Suite No. 1 by Bach, in particular, which is why I requested it for my bridal march." Concert cellist Renato Lucas did the honors for this one.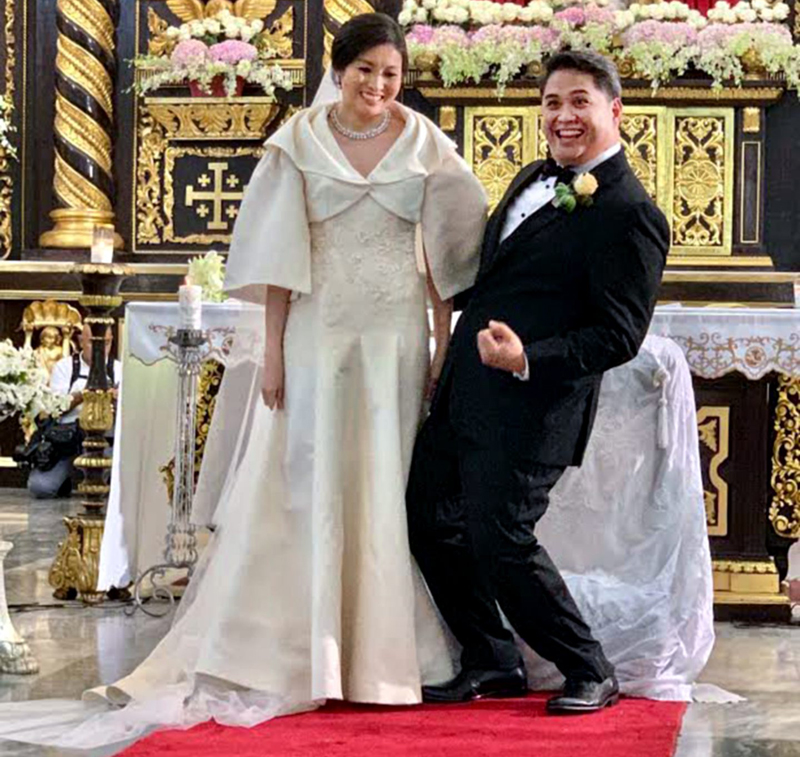 They rock: Retail maven Catherine Huang and doctor-rock musician David Endriga. Photo by Millet M. Mananquil
But things were not as straightforward at the beginning of the wedding preparations, says Nedy. "This wedding was quite a different experience for me because Catherine made it clear from the start that she wanted to do things her way. Being used to doing things my way — well, it was not a smooth start at all!"
"At one point, Cathy even said in frustration to me, 'Mommy, we have not agreed on anything except for the groom!' Oh, my goodness, I thought. That is the important thing, I told myself, it's better to keep quiet and let her do the wedding. It could have been worse if we did not agree on the groom!" she laughs.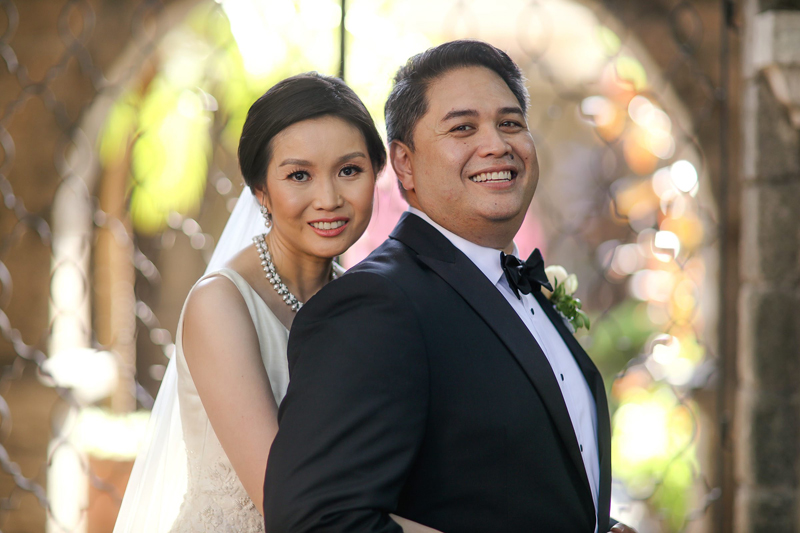 They do: ''I love you just the way you are.''
"The couple chose their godmothers and godfathers and entourage completely on their own. All I asked is that I take care of the gowns for the ninangs and the mother of the groom. I asked Criselda Lontok to that. I also offered to arrange the flowers and the physical arrangements, only because I have a very strong 'back office' organization with a good and professional team." And so it was that Catherine and David started to plan their wedding.
"I only 'backed up' their plans so that David and Catherine would be able to realize theirs. I focused on the details of the tablecloths and chairs, the candles and the flowers, even the chargers. These things do matter a lot! (Incidentally, the chargers were made of an iridescent abalone and mother-of-pearl shell, made in the Philippines, of course.) I was just amazed that the GM of Shangri-La at the Fort, Mr. John Rice, led his team personally to make sure the evening was perfect."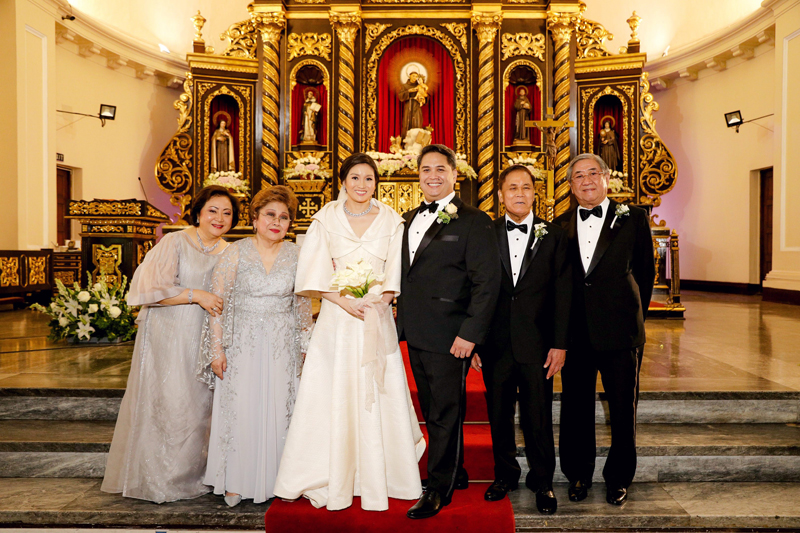 Pillars in culture, education, retail and food business: Newlyweds David and Catherine flanked by their parents Nedy Tantoco, Tessie Endriga, Baltazar Endriga, Anthony Huang.
For Bal Endriga, father of the groom, what was running through his head at the wedding? "I am looking forward to having another grandchild who I can help develop to be an asset to the country!" he exclaimed. "David shared with us his desire to live simply, to try to be the best spine surgeon in the the country and to establish a 'spine medical center' in the country." He said it filled his heart with pride since he himself "hails from a 5th-class municipality in Southern Leyte called Libagon."
David practices at the Philippine Orthopedic Center (formerly the National Orthopedic). It's a testimony to his character that he's decided to work primarily at this government hospital, although he works on more difficult cases at St. Luke's Medical Center at BGC. Once, he operated on a French tourist, for example, who broke his neck bone when he dove head first into shallow waters off Palawan, his father narrates. "It was a delicate five-hour operation. He was so happy with his recovery that he invited David and Catherine to Brittany and they were treated 'royally,' The French patient's wife cooked a special meal for them and the next night, David cooked a special dish for his hosts too."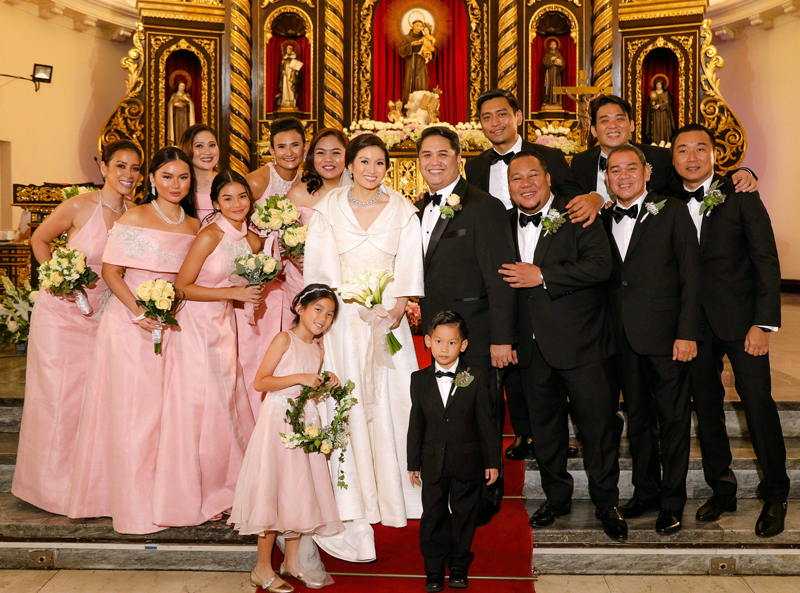 Foreground: Flower girl Mackenzie Huang and ring bearer Kameron Huang; first row: bridesmaids Kathy Huang and Nikki Huang, junior bridesmaid Isabelle Huang, Catherine and David, best man Dr. Raphael Jurilla, groomsman Eric Honrado, best man Paul Ang; 2nd row: matron of honor Vanessa Pineda, maid of honor Michelle Paredes, bridesmaid Maria de Venecia, groomsmen Dr. Kit Dizon and Jerry Sychingho
Bal continued, musing on the perfection of this union, "Catherine is very low-key; David is not. He is an extrovert, a take-charge kind of guy. They complement each other."
The reception included all the highlights of the circumstances of how the bride and groom met and fell in love. The happy couple first met at a New Year's Eve dinner hosted by the mother of the bride an astounding 14 years ago. Slowly, joyfully and almost imperceptibly, their love blossomed over musical evenings at the Cultural Center of the Philippines which both their parents organized.
David recalls "having two 'first dates' with Catherine": "The first was in Blackbird in 2014, just before I left for the States. We stayed in touch the whole time I was away. And then the other 'first date' was at Terry's in 2016 as soon as I got back." He popped the question in May 2018 but they "both waited a while before telling our parents."
Their way: David and Catherine knew what they wanted — a simply beautiful wedding with very Filipino details.
The Shangri-La hotel ballroom was awash in candy-pink lights with matching blooms. Towering centerpieces in white and pink, accented with rattan and tropical flowers continued the floral story from the church (created by Joey Honrado).
Catherine Huang explained, "The wedding's color scheme was actually mainly gray and pink with sage accents. The ninangs were in gray, the moms in silver (which was close in tone). By coincidence the ballroom of Shang Fort had a grayish color scheme so Mom — and Rustan Flower Shop's Pam Gonzales Lopez — added in the pink and green accents through the flowers, It made it easier to decorate without having to cover everything the way it's done in many weddings now."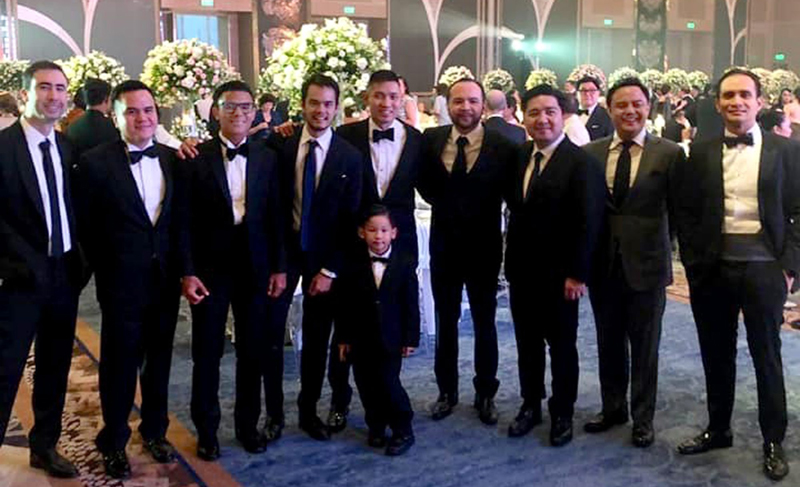 Will Adashek, Christopher Tantoco, Donnie Tantoco, Eman Pineda, Mike Huang, Kameron Huang, Quito Lopez, MJ Tantoco, Paolo Tantoco, and Dino Pineda
The occasion was elegant — and heart-warming. Bal Endriga remarked in his toast that the only thing he wanted to know was — "Son, what took you so long?" Anthony Huang said quite simply (and sweetly): "David, our new son-in-law, we say, 'Welcome to the family.' And to Catherine, your mom and I would like you to know that over the years, you have brought us much joy and happiness and we can't be prouder of the smart, confident woman you have become. We love you very much!"
The music that the couple loved most was from the evening's guest of honor: "Opera stars Rachel Gerodias and husband Byeong In Park offered to sing as their wedding gift to us," said Catherine. (They performed All I Ask of You from Phantom of the Opera and Gaano Ko Ikaw Kamahal.) Cousin Jaime Pineda performed Sunrise, Sunset, a special request of David's father Bal that moved the audience almost to tears. Also spectacular was the performance of Viva Voce, with featured 10 singers, appearing as if by magic like an operatic flash mob. "That was all David's idea, it was something different and fun," noted Catherine.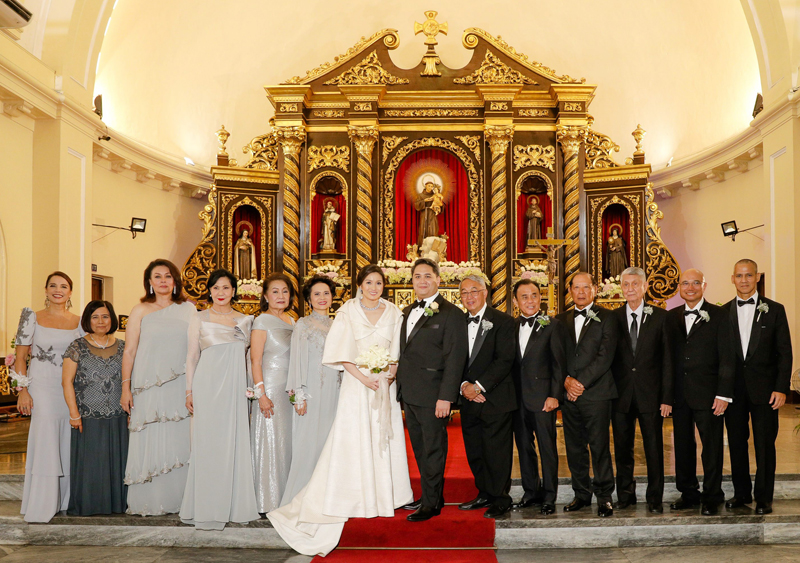 Principal sponsors: Clara Ramona, Dr. Flor de Lys Soledad, Ping Valencia, Babette Aquino-Benoit, Cathy Lee, Marilou T. Pineda, Catherine Huang and David Endriga, principal sponsors Dr. Florentino Aquino, Rico Tantoco, Ric Tan, Dr. Richard Tiongco, Dr. Rolando Puno, Dr. Jose Martin Paiso
But the show-stopper of the evening was the groom's moving rendition of Billy Joel's classic love song Just the Way You Are. (This doctor happens to have organized his fellow surgeons into a rock band; and also still finds time to do a bit of flamenco guitar on the side.) "It just captured exactly what I feel about Cat — and mind you, I am not a sentimental person," confided David. "I'm not an emotional person (either)," said Cat. "The only word I can use to describe how I felt was 'happy.'"
At the altar, David said, "I remember thinking 'This is it! This is the most important moment of my life!"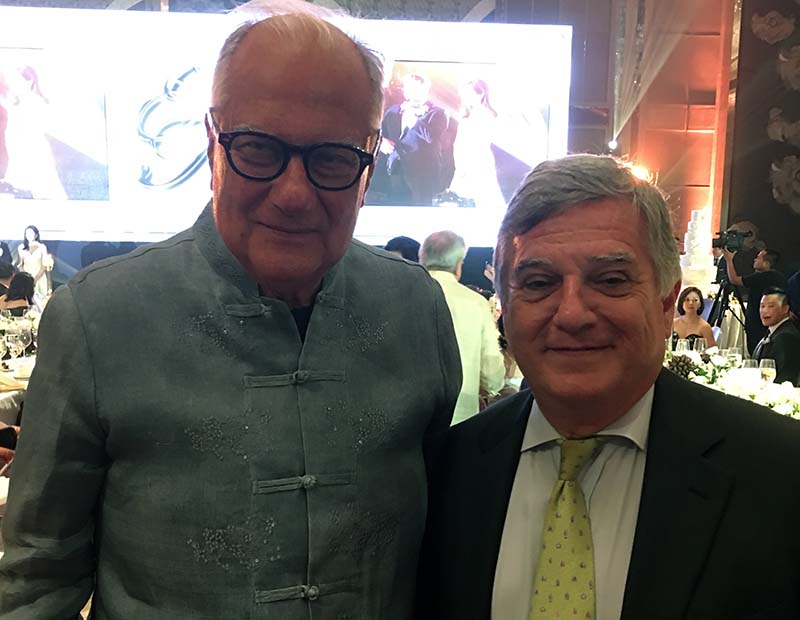 Former Italian Ambassador to the Philippines Luca Fornari and the present envoy Giorgio Guglielmino