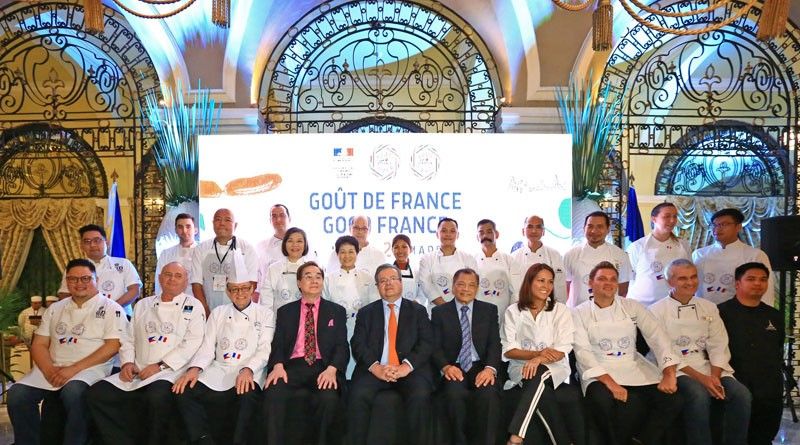 Goût de France is launched by French Ambassador Nicholas Galey (center, flanked by Manila Hotel director Benjamin Yap and Manila Hotel president Joey Lina), along with 21 chefs, at the Champagne Room.
Photos by Walter Bollozos
26 chefs in world celebration of French Cuisine on March 21
Manila Hotel's Champagne Room was the scene for a very special preview last Wednesday night — a degustation spread of French-inspired dishes by 26 local and foreign chefs celebrating the upcoming food festival Goût de France, which is held worldwide on one day only: March 21.
For one day, you can visit some 22 restaurants throughout Metro Manila, but also as far as Tagaytay, Baguio, Cebu and Bukidnon, to experience how Filipino chefs get inspired by France in the kitchen.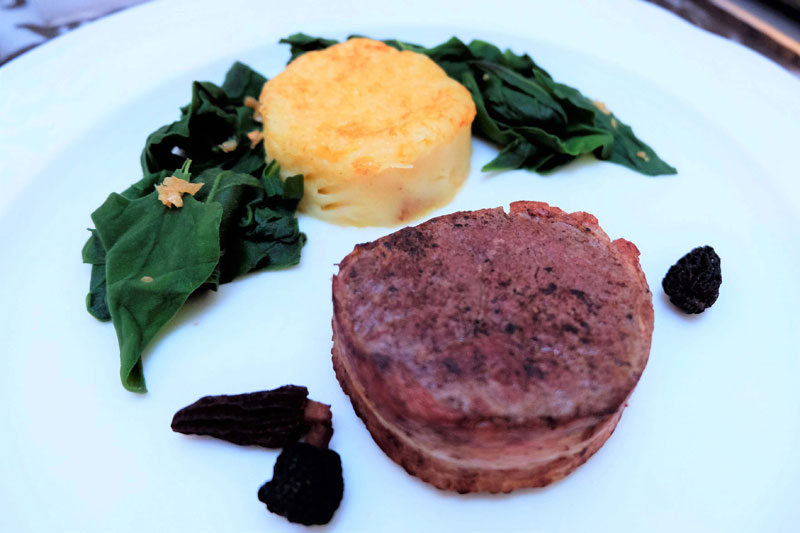 Brandade de morue au gratin from Chef Jessie Rockwell Club
At one degustation table along the corridor of Champagne Room, chef Jessie Sincioco was busy preparing Essence of Wild Game with Herb Dumpling, which she eagerly had me sample: delicious, clean, savory broth in a shot glass. Later, she wheeled out the Brandade de Morue au Gratin (with US Angus). Elsewhere, chef Gene Gonzalez chatted with chef Martin Kaspar of L'Entrecôte about his salmon carpaccio with oysters, chives and walnut oil vinaigrette (later, we finished things off sampling chef Gonzalez's tarte tatin with mulled red wine ice cream and sauce beurre noisette). Somewhere else, chef Vicky Pacheco of Chateau 1771 explored slow-cooking heaven with a five-hour duck served in sampling-size terrines; a roti de coquelet (roast cockerel layered with fresh vegetables and espresso sauce) was presented from SGD Roastery, while a smoked salmon dome with asparagus mousseline and poached egg came out from Spiral Manila.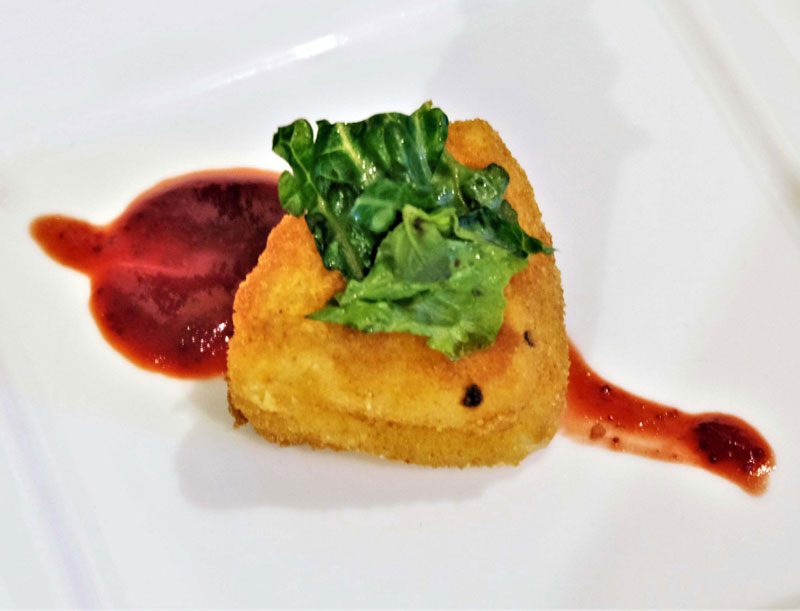 Breaded camembert with red fruit jam from La Me?re Poulard Manila
"The French are really the best at this," admitted Anya Resort Tagaytay general manager Michel Arriet, a Spaniard, as we surveyed Manila Hotel's Champagne Room, transformed for one night into a French marché. "They know how to get the best ingredients, but also how to organize a big celebration." But Anya's French-born chef Jonathan Bouthiaux (representing Samira restaurant) was no slouch, serving up a terrific gougère (a kind of savory cheese dough), a foamy truffle cappuccino, next to a beef tartare on a bed of crispy rice.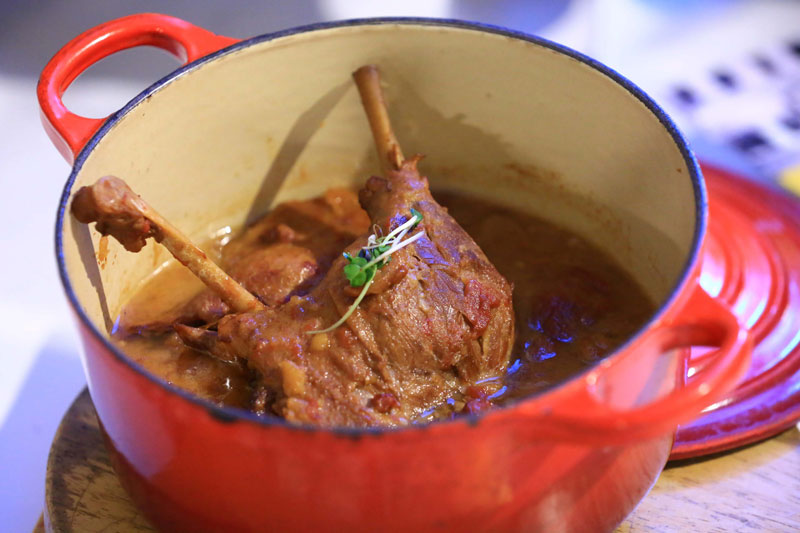 Five-hour duck by Chateau 1771
Goût de France means "Taste of France," but it sounds a lot like "Good France" to these non-Francophile ears. That's what these chefs had to offer: something that pays tribute to, and celebrates, what we love about French cuisine.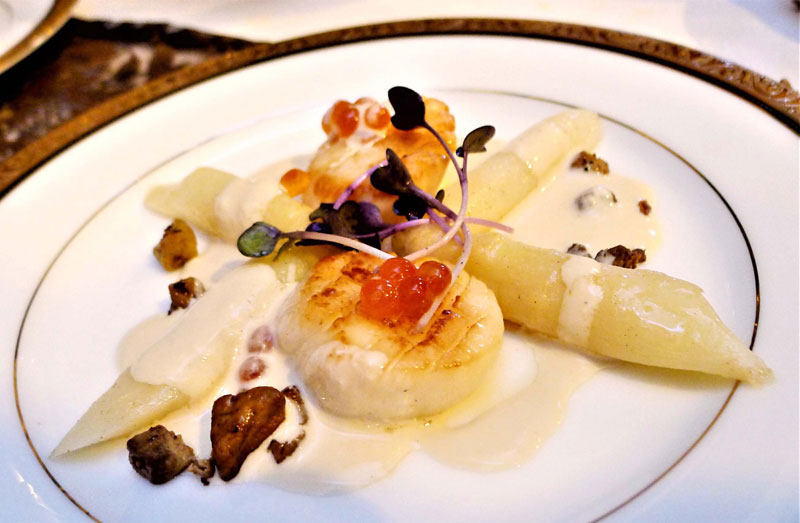 Pan-seared scallops on white asparagus with foie gras from Champagne Room
As French Ambassador Nicholas Galey said in his remarks, Goût de France was an initiative undertaken after UNESCO added French cuisine to the World Heritage list. "This year, there will be some 5,000 restaurants worldwide, all offering meals under the label 'Gout de France' for one day." Some 26 chefs are participating in the Philippines this year, up each year since it started five years ago. "It's a celebration of gastronomy, beyond the usual image of high-quality but very expensive French cuisine or wines," notes Ambassador Galey. "As you know, the French don't eat $300 meals or drink very expensive bottles of wine every day, and Goût de France shows that you can have such cuisine at very friendly prices."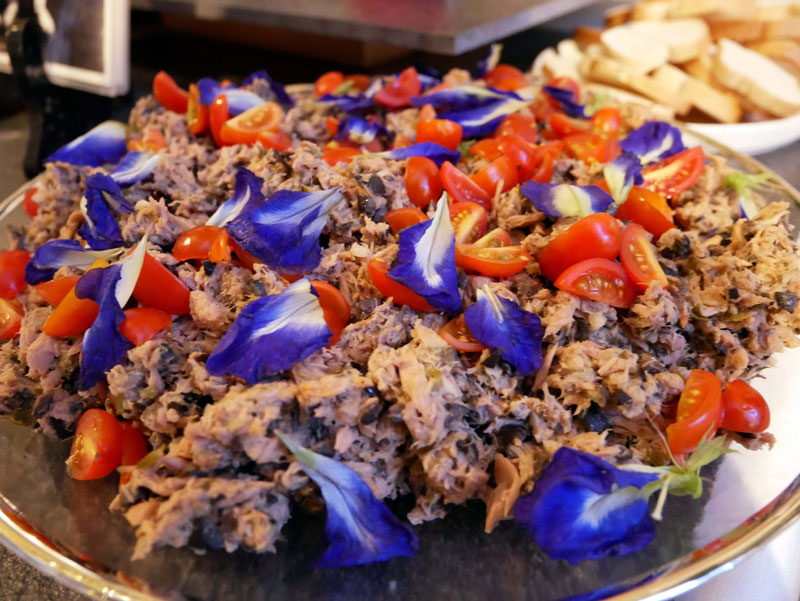 Tuna tapenade by Tito Chef
This is the first time Manila Hotel has hosted the press launch for Goût de France, and The Champagne Room, with its chandeliers and Old World glamour, is a fitting historical and romantic backdrop. As Manila Hotel president Joey Lina mentioned, "This year Manila Hotel turns 107 years old, and Champagne Room has been with us for many of those years; we have hosted heads of state, leaders and artists from all levels of society; some of the most important conversations in the country's history, the most crucial deals and the most romantic memories have happened within these fabled walls. President Quezon used to dance the tango and sometimes the pas de quatre (a French square dance) here; Ernest Hemingway dined here on his historic visit to the Manila Hotel; during WWII, Carlos Romulo stopped off at Manila Hotel on his way to Corregidor to pick up extra food supplies; he later wrote that, as he passed by, he heard strains of music coming from the Champagne Room, and paused to remember all the happy parties he had attended there."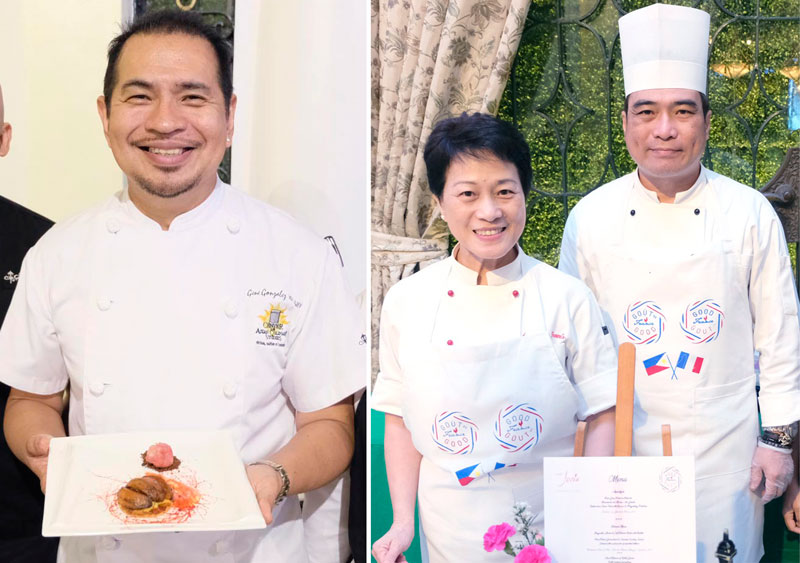 Chef Gene Gonzalez(left) of Cafe? Ysabel. Chef Jessie Sincioco (far right)
Walking the degustation walk, I sampled a sublime coq au vin from chef Trish Panlilio's Mulberry Door, and delved into chef Menoy Gimenez's "Taste of Provence" treats, including a tuna tapenade and an eggplant vichyssoise in a glass he termed "weirdly good." It's a pity I could not sample every single dish, but March 21 is another chance to explore their menus in full.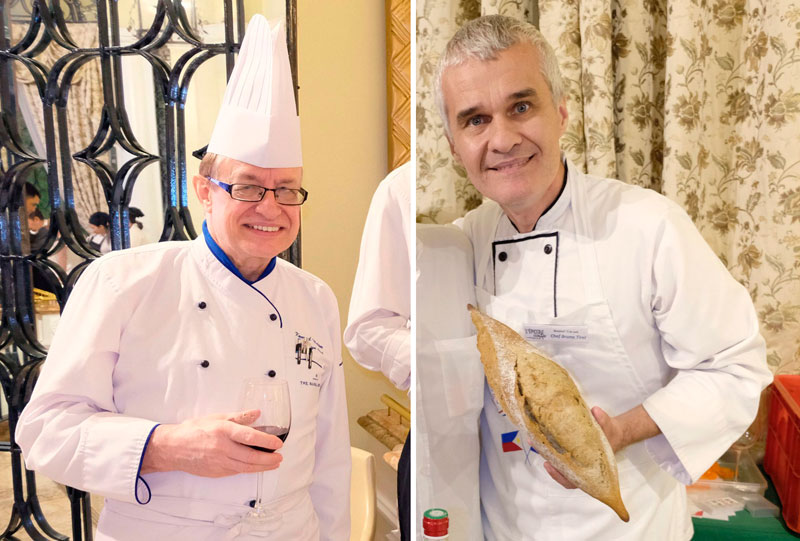 Chef Konrad Walter of Champagne Room. Chef Bruno(left) Tirel of L'Epicerie Gourmande.
Here's a list of chefs and restaurants participating in Goût de France with special menus starting next Thursday: Jacq Tan (Apéro and Duck & Buvette); Ariel Manuel (Bistro Manuel); Didier Derouet (Café Adriana); Konrad Walter (Manila Hotel's Champagne Room); Vicky Pacheco (Chateau 1771); Jessie Sincioco (Chef Jessie Rockwell Club); David Olyver Virrey (Eiffel Kubo); Waya Araos-Wijangco (Gourmey Gypsy Art Café); Martin Kaspar (L'Entrecôte Manila); Clément Damotte (La Mère Poulard Manila); Richard Amado (La Vie Parisienne Cebu); Robert Lilja (Maria Luisa's Garden Room); Hervé Clair (Raffles Hotel's Mirèio); Trish Panlilio (Mulberry Door); Glenda Maupin (Petit Bistro Manila); Justin Baradas (Enderun College's Restaurant 101); Jonathan Bouthiaux (Anya Resort Tagaytay's Samira); Cocoy Ventura (SGD Roastery); Patrice Freuslon (Society Lounge and Tauro Pintxos); Menoy Gimenez (Tito Chef); Julien Cossé (Sofitel Philippine Plaza Manila's Spiral); Pierre Cornelis (Vatel Restaurant Manila); and Richard Amado (La Vie Parisienne).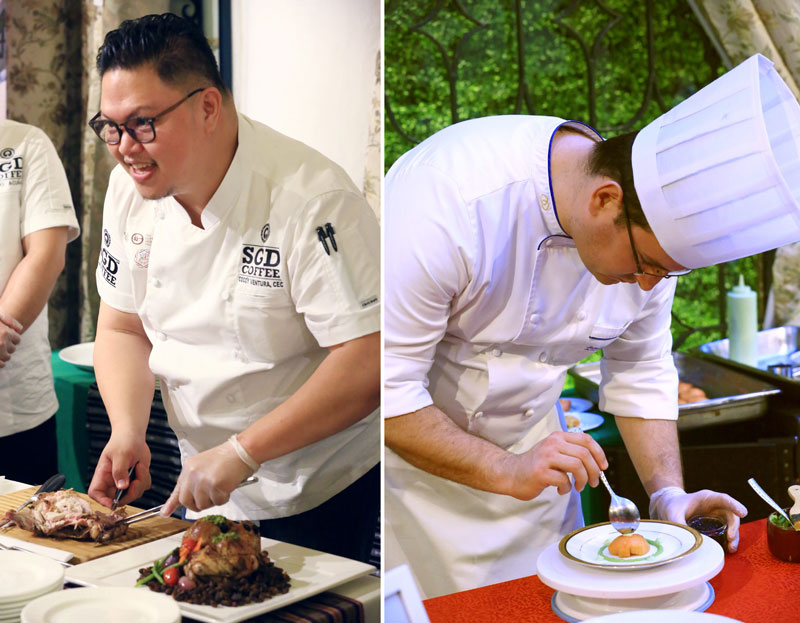 Cocoy Ventura of SGD Roastery (left) and a smoked salmon dome from Spiral Manila (right)
* * *
For more information on participating restaurants and their respective menus, visit http://restaurateurs.goodfrance.com/en/participating-restaurants.