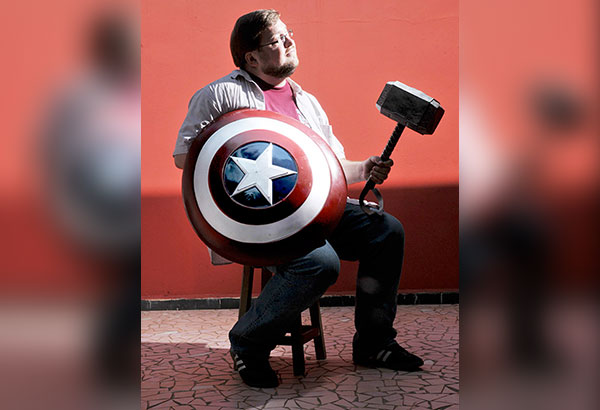 Marvel's C.B. Cebulski is on Team Manila: "My advice to Filipino creators at Marvel is put a part of yourself into what you do; don't instantly forget where you came from."
C.B. Cebulski: 'We will soon see a Manila-based Marvel hero.'
Marvel movie fans are used to sticking around past the final credits because they want a teaser of what's to come. For our phone call with C.B. Cebulski, Marvel Asia's VP for international business and brand management, that teaser came somewhere in the middle.
"In the near future — probably sooner than later — we will be seeing a Manila-based hero making his way into the Marvel Comic Universe."
That was Cebulski, on the line from Shanghai, making a promise that Filipino fans and artists have long waited to hear.
Cebulski, a former manga and Marvel artist who's become an Asian conduit for all things Marvel over the past decade, adds that the Philippines is now the fourth biggest producer of Marvel Comics artists — just behind the US, Canada and Italy. "I go to Manila almost every year to look for new artists, and we've had a very successful hiring streak for Filipino artists, especially in the last two or three years."
More about what it takes to become a successful Marvel artist a bit later. First, we asked the amiable C.B. about the upcoming string of releases — what they're calling "The Year of Marvel." For fans, 2018 begins early with the release of blockbuster Thor: Ragnarok, followed by a rapid succession of releases through next year starting with Black Panther (February 2018), Avengers: Infinity War (April 2018) and Ant Man & The Wasp (July 2018). That's a ton of content to process, even for Marvel fans. Cebulski wouldn't have it any other way. "The beauty of the Marvel Universe is that we have 1,000 different characters and, in the comics, we're constantly creating new ones every week — people might not realize that, but every week, somewhere in the comics there's a new character being created."
That's right: somewhere at this moment, a Filipino superhero is sprouting his first superpowers, just waiting to be born. Think of Marvel as a dual laboratory: the comics continue to generate new characters — what has always been the backbone of Stan Lee's roster — which Marvel Motion Pictures (under Disney ownership) then continues to work up into new combinations onscreen, introducing new (sometimes unlikely) hit franchises like Guardians of the Galaxy and Ant Man. Can Captain Sisig be far behind?
The beauty of all this Marvel experimentation is the comic scientists can't really predict the final results: "Whether a new character becomes popular or not, we don't know; it's almost a matter of throwing it at the wall and seeing what sticks."
C.B.'s role in Asia is what he calls "reverse-engineering" the Marvel brand.
"For most of Asia, their first exposure to Marvel was the films, so they're not as familiar with the Marvel characters and Marvel's history," he explains. "So when I say reverse-engineering, I'm trying to move along the concept that if you're a fan of the films, you don't have to wait for the next movie; once you leave the theater, the Marvel story continues 365, 24/7, in all kinds of areas — you can pick up comics, games, go online to social media, buy marvel T-shirts, buy Marvel action figures and create your own stories."
Nowadays, you can't escape Marvel. I point out that we have become, in some ways, a superhero-dependent popular culture, and I ask if Marvel feels a responsibility to reflect social issues or current politics in its comic world. "You know, Marvel has always reflected the real world," notes C.B. "Stan Lee always said that Marvel is the world outside your window. We were the first in so many cases to reflect the political situation, be it the Vietnam War, the Afghanistan War, even 9/11, the way the heroes in our comics reacted to those terrible events. And we continue to do that, as we expand globally and bring different countries and cultures into the comics, because we want to accurately reflect those cultures as well."
That being said, the first responsibility is to entertain fans.
"We have to remember that we are escapism as well. People go into the movies and read the comics to forget about what they're seeing on the news sometimes. So that's the fine line we're always going to walk: we have to reflect what's going on in the world, but sometimes it's best if Marvel heroes don't get too political or reflect the opinions or views of the people that are making them. We're always striving to find that balance."
I ask what elements of Filipino culture might local artists focus on in developing their homegrown superheroes.
"I think a lot of artists, when they get jobs in Marvel, their immediate reaction is to kind of put their own personal culture aside and focus on telling stories that are based in New York — like 'go big,' in a way. Almost like that Luke Skywalker mentality: the farm boy who wants to escape the farm."
But Cebulski has very different advice: bring the local into your stories. "My advice to the Filipino creators is when you get a job at Marvel and start pitching stories, or when you start drawing, put a part of yourself into what you do; don't instantly forget where you came from. The best stories are the ones where we can feel a piece of the artist or writer in the work. There's little things, like when you're designing a room, the posters on the wall, when the character's going to a restaurant, things that even if the story is based in New York, you can find some way to reflect your culture in some way, shape or form.
"So if you're the artist drawing Peter Parker taking Mary Jane on a date, don't just send them to a fancy French restaurant or a steakhouse. Now, in New York, we've got plenty of Filipino restaurants. Have Mary Jane and Peter have some sisig and dinuguan and isaw or something like that. It's interesting to bring a part of who you are into the art and make it feel more authentic, and make it feel more Marvel."
That brings C.B. to confirm that a Manila-based superhero will be entering the Marvel Comics Universe — "in the near future."
Um, when, we ask? And who?
He just chuckles over the long-distance line. "TBD (To Be Determined). My lips are sealed."
Teasers talaga.