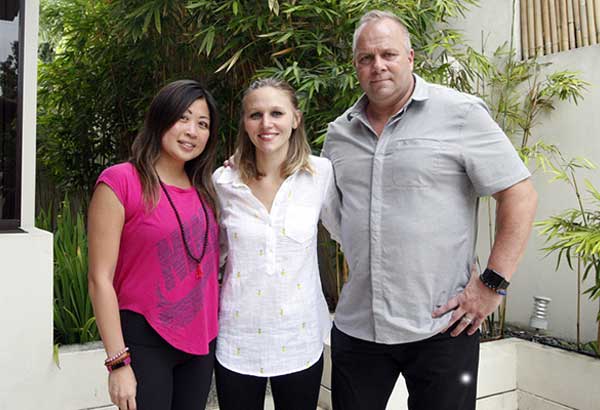 The Lafferty family: Kristen (center) with her father, STAR Lifestyle columnist James Lafferty, and stepmom Carol. Photos by BENING BATUIGAS
A rape victim's journey from trauma to healing
Seven months ago, Kristen Lafferty suffered one of the worst traumas a woman could ever experience.
The 26-year-old is the youngest daughter of STAR Lifestyle columnist James Lafferty and first wife Susan, the third child in a brood of five. She was born in Ohio but, thanks to dad James' career with multinational company Procter & Gamble, left America with her family before she was a year old and lived in Morocco, Poland, and Switzerland before settling in the Philippines at age 15. "Here feels most like home because I've been here 11 years," Kristen says.
Over the New Year, Kristen visited her younger brother, who lives in Arizona, and attended a party at his house. During the celebrations, "there was alcohol involved," Kristen says. "I drank a lot and ended up passing out."
When she woke up, she realized that her brother's housemate was raping her, "but I only had about two seconds of consciousness before I went back out. And then, when I woke up in the morning, I was completely naked."
At first, Kristen wasn't able to fully process what had happened because she was on the move, traveling to different states to visit relatives. "I didn't even really remember I had woken up," she says. "I knew I didn't feel okay, but I didn't know why until I was trying to track what happened that night. I asked my brother and he said, 'You were passed out, you were fine.' He had no idea."
When Kristen told her parents James and stepmom Carol about it, her dad told her to do the right thing and report it to the police, but Kristen hesitated at first: "There was something about it I didn't feel comfortable doing, but if I could prevent him from doing it again, then okay."
Carol accompanied Kristen back to Arizona to report the incident to the police, but when her brother's housemate heard she was coming back, he ran away. "No one could find him, and still to this day no one knows where he is," Kristen says.
"He's on the loose," dad James says grimly. "I don't know if the Phoenix police have a warrant out. They have murderers and other things (to take care of), so they're looking for him but not very hard."
Still, James feels it's only a matter of time before his daughter's attacker will be found. "He'll probably get caught in some other state. I mean, something will happen and he'll get picked up, and then we'll go from there."
The situation has been hard for him, as Kristen's father. "It's tough, especially the father-daughter dynamics," he says. "You try to be protective of your daughters."
Though he wants Kristen's rapist to be brought to justice, the victim herself bears surprisingly little anger towards her attacker.
"I never felt that revenge anger; I never blamed myself," Kristen says. "I think some survivors — or as I call them, 'warriors' — they can't blame themselves, like, 'Oh, I shouldn't have been drinking.' Does that mean I should never have an alcoholic beverage again because someone might do something like that to me?"
When I ask if she vowed to never put herself in that type of situation again, she replies, "I did know that I needed to reevaluate my relationship with alcohol. A month or two after it happened I was drinking very heavily; I was using it as a Band-Aid for what I was really feeling. It made me reevaluate why the heck did I need to drink that much, but it was more about self-awareness than anger towards myself or blame."
She says if it hadn't happened to her, it would have been someone else. "They talk about a power and control cycle with the rapist where they feel powerless in their own life, so they take advantage of situations where they can get that control or power back."
While Kristen's family rallied around her, it was stepmom Carol, a yoga instructor who's been practicing for the past 12 years, who suggested Kristen try different ways of healing. Along with the usual counseling and therapy for rape victims in the United States they consulted a lady shaman, and Carol took Kristen on a spiritual retreat to the Bahamas.
"We went to a Sivananda yoga ashram for eight days, and it was really, really amazing," Kristen says. "I'd never done full-on meditation, chanting, yoga, or sound and voice healing."
Kristen also tried aromatherapy, and Carol even found her an art therapist in Chicago, which helped Kristen — who had never picked up a paintbrush outside of school — open up to the thought of creating art, even if she wasn't an "artist" in the usual sense of the word.
"I had always been fascinated with art therapy but had never tried it, so when I started to have ideas about visual or written ways to portray certain aspects of this healing, that's when I decided to do my own form of art therapy," she says.
When Kristen got back to the Philippines, she experienced bouts of post-traumatic stress disorder (PTSD) — something rape counselors had warned her about. She started obsessively researching the subject of rape on the Internet, and drinking heavily again. To cope, she started putting all her pent-up thoughts and emotions on canvas, and was overwhelmed at the resulting flood.
"I didn't leave the room for eight or nine days and just crashed after that because I had been so sucked into the world of rape," she recalls. "Even when I wasn't in the room my mind was still thinking of ideas. I could not shut it off."
She had to set some ground rules for herself, like not working for more than five hours a day, or more than five days at a stretch. "I have to take a day off, and if at any time I don't feel okay, I need to go for a walk outside immediately, even if I tell myself I need to finish a piece."
In her home studio are her paints, art materials and inspirational quotes taped to the wall, like "Creativity takes courage" and one by Martin Luther King Jr. she finds particularly inspiring: "Darkness cannot drive out darkness, only light can do that. Hate cannot drive out hate, only love can do that."
On her first canvases are definitions of rape and consent. On the floor is a particularly disturbing installation: the clothes Kristen was wearing that night outlined in police tape.
One of her most cathartic pieces is called "Dark Night of the Soul," which was one of Kristen's first attempts to tap into her creative flow. "Something survivors often feel is that they want to shower a lot because they want to get the feeling of the person off of them, but then you realize you actually can't."
Another she calls her vandalism piece: "I found that rape is actually a form of vandalism because you're doing it on purpose and it's a destruction of someone's private body, so I took a lot of symptoms from PTSD, like the inability to sleep, inability to eat, really bad dreams, bouts of crying, and made it look like this public bathroom wall that you see in movies."
As we go through her work a clear arc emerges, however: that of darkness transforming into light. One painting depicts a white dragon the shaman described to Kristen as her protector: "She said there was always this white dragon with me and anytime I needed protection it would literally wrap itself around me."
Another is a poem about a pink sky: "I kept trying to understand why he did it, and realized I'll probably never get to know because he ran away. It was learning to be okay with not knowing."
Kristen wanted to share her journey with those who might not have had the same resources for healing she had, so, beginning Aug. 19, she's mounting an exhibit of her pieces in "Collab: Birth of a New Warrior" at A Space Greenbelt. As you would expect, it's not your typical art exhibit. Panel discussions will be conducted on rape, self-defense, and sound healing. Carol will teach a yoga class during "Warrior Fest" the next day. Kristen herself created an audio tour to guide visitors through her journey, which includes her police interview about that fateful night.
"I felt I needed to share my healing process with people in a similar situation who weren't able to process — because they didn't have the resources to heal properly," she says. "Hopefully this can help them in their healing process."
She will be selling some of her art but most she is giving to the people who helped her most. "I had a realization this morning about the importance of gratitude," she says. "I think it will be cathartic, like the final ending of the healing. It's like this thing I created and I let it go."
* * *
"Collab: Birth of a New Warrior by Kristen Lafferty" will open on Aug. 19, 6 p.m., at the Gallery, A Space Greenbelt, 110 Legazpi St., Makati. "Warrior Fest" will be held on Aug. 20, 10 a.m. to 5 p.m. Admission is free. Works will be on display until Aug. 27.