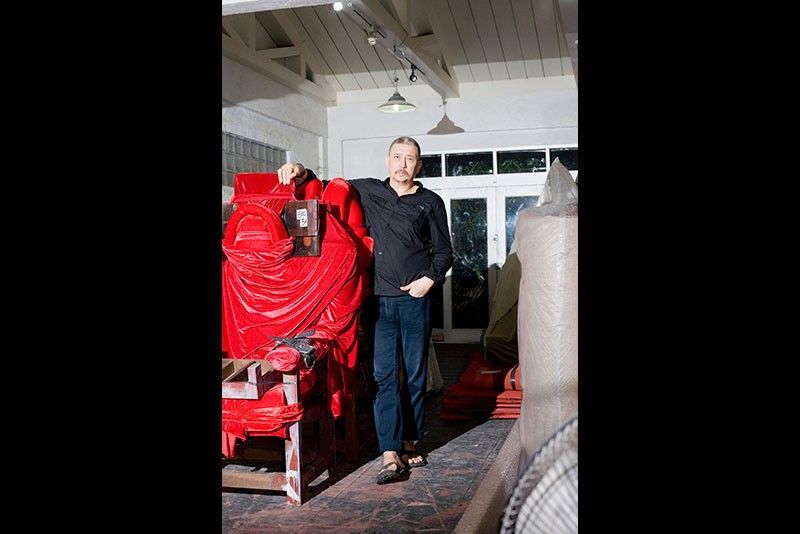 Roll out the red carpet: How a giant Pinipig Crunch tongue might tell us about the state of the nation
Jose Tence Ruiz lives on an open property. There are no walls and no gates — save for a guard dog waiting for you at the entrance.
The actual house is more of the same. While homey and enveloped in beautiful natural light, it's almost completely open. The second floor feels more like a loft than a second floor and you can see almost completely through the house from one corner to another.
Decades ago, when Ruiz and his family were having the house built, he told Ning Encarnacion-Tan, the architect, that he wanted a house like letters of the alphabet — spare, utilitarian, and flexible. "I said to make it an open space — like a bodega — kasi kung di ako maka benta ng work, I'm gonna need space to put it!" he says, laughing.
Hindsight tells us Jose Tence Ruiz shouldn't have had anything to worry about. Almost four decades deep into a career characterized by indelible social realist imagery and an inventive way with materials, Ruiz is one of Philippine art's most respected names. He was eventually able to purchase the house beside the Ruiz home with earnings from his work. Today, that second house is his studio.
The last few years have constituted another peak in Ruiz's already long career. In 2015, he was one of three artists who represented the Philippines in our return to the prestigious Venice Biennale, after a 51-year absence, in the exhibit "Tie A String Around the World," curated by Patrick Flores. The Philippine Pavilion — anchored by Ruiz's massive "Shoal" installation — was tagged a "must-see" by many international art reporters at the 56th International Art Exhibition. The "Tie A String Around the World" show came home to the Philippines in December 2016, when it was hosted in the Vargas Museum. The initiative to get the Philippines back into that cultural conversation was headed by Senator Loren Legarda.
"Venice Biennale yan eh," he remembers telling Flores in mid-2014, during initial discussions about "Tie A String." "It's like asking a tennis player if he wants to join Wimbledon. There are some things that just resonate."
"Shoal" was a labor of love as much as it was patriotic duty. "You went to Palazzo Mora?" he asks, referring to the building that housed the Philippine pavilion in 2015. "There's no service elevator… Sabi ko, oh my God, 72 steps. Try going there at age 60. Sabi ko nga, I'm too old to do this. (Laughs) Pero wala ka magagawa, these are 17th century houses. Venice is Venice!"
"When you see the motivation, it's the first and the original. Before Venice in 1895, everything was basically countrywide salons," he says. "Right now, siguro you have 250 different biennales taking place all over the world. But this is the original. This is where the people coined a concept of a once-every-two-years big exhibition that gives prestige both to the city and the artists who are nominated."
Ruiz is once again preparing to show a massive installation in a platform that, while not as prestigious as the Venice Biennale, is another way of speaking of the national condition. At the Art Fair Philippines 2017, all eyes will be on "Langue Lounge," his installation for the fair. Ruiz is one of the artists for Bench Presents.
"When you see the artwork, it's a Pinipig Crunch but it's also a tongue. So it's a tongue licking a tongue. What do we do with Pinipig Crunch?" He answers his own question, miming an eager kid licking an ice cream bar.
"The chairs are meant for the people who are tired of looking at all the art to sit in," he says. "The whole idea is to have a lounge. Pahingahan talaga siya, that's why it's called the "Langue Lounge" — sa Frances, la langue, the lounge of dila. It's a very big dila — a Pinipig Crunch dila." It's entitled "Tongue in a mood."
"We have lots of red carpet. It's all red-carpeted with pillows and then the Pinipig Crunch is surrounded by electric chairs you can sit on — and they're comfy. They range from looking like electric chairs to becoming like thrones. It's the whole range of experiences sa Pilipinas. From being very poor to being the ruler, eventually you will be judged and you are surrounding the big tongue," he explains. "Yung mga tao, they like to lap up the tongue."
The allusions to the national condition — a political climate of convoluted rhetoric and he-said, she-said back and forth — is not lost on him. "Imagine all of the great art you've seen… Ako ang sense ko, everything from hunters in the early days to pharaohs, you go about the history of art and it's about daily life. It has to be. Eventually, people developed a more cosmic point of view or a mystic point of view. You go as far as Mark Rothko — medyo mystic ng konti. But even for those people, in their own mystic way, they were recording their daily lives… It's reflecting the time you are around — because that's the only time you're around.
"The whole idea to me of narrative is because of the orientation of Kaisahan (Social Realist Group)," Ruiz explains. "There are an unlimited gamut of things that one can do for your art but for me and many of the guys I've been around in the last 40 years, sabi namin, there has to be some kind of measurable reciprocity between the maker and the viewer. This will translate to the possibility of symbols that are more common. In my case, I try to keep reinventing the common symbols so that they have an added meaning. There might be a twist. There might be irony. But it starts from a place that you do remember."
Ruiz was invited by the Art Fair Philippines team in January of last year — which, he quips, is later than he'd like. ("Two years lead time would be great," he says.) But he relented anyway. "Maganda ang Art Fair eh," he says. "The Art Fair to me is a real passionate effort by people who love art. Ako it has always been my thing sa Philippine art na kung hindi pa natin suportahan yung satin, wala na tayo. We will always be a minor player but if you keep supporting your own culture, it will grow."
Ruiz got into art relatively early, through his grandfather Arturo Rosenberg, an academic and a book dealer famous for the textbook Philippine Literature in English ("ang life's work niya"). "He was an abused son who went to America like Carlos Bulosan, got an education, came back and became a professor, and was the second husband of my real grandmother. He was actually my step-grandfather," he says. His grandfather noticed that the young boy had a bit of ADHD and was almost unable to pay attention. "He gave me an art book and nakita niya, wow, tumahimik yung bata." His grandfather was also the one who gave him the nickname "Bogie" — after the actor Humphrey Bogart.
At the age of 58, Ruiz says some aspects of art-making have gotten more challenging for him. In recent years, he's learned to truly rely on the help of his team — led by Danilo W. Ilag Ilag — so he can focus on the ideas and the designs, and leave the execution to them. For the last nine months, Ruiz and his team of six have been working eight hours a day for six days a week on the installation, the centerpiece of Art Fair Philippines 2017.
He looks around the room, at the red velvet electric chairs already wrapped and ready for delivery, the giant stick for the giant Pinipig Crunch tongue resting beside one of the chairs, and the giant Pinipig Crunch itself wrapped and ready, creating a curious silhouette on the floor. "Imagine getting all of that up!" he exclaims, suddenly laughing at the absurdity of the challenge ahead. "What we did was rent a small open-back truck but we calculate about nine to 10 trips up and down" from the Tandang Sora studio to The Link in Makati.
Almost four decades into his career, art-making has never really gotten easier for Ruiz. While tenure gives you confidence in your craft and ideas, and the technical know-how to execute just about anything, some things never change — budget constraints, the limits of art-making in a Third World country, the naivety of a relatively young art scene. Still, at a boyish 57, Ruiz seems surprisingly — despite calling himself "jaded" — like a closet idealist, still a dreamer with full faith in the potential of things.
"You gotta do it because it's for our community. You gotta give it your best shot. A lot of people get excited (and get into art) because of things like this." He's talking about the exhibit, and the Art Fair, but he might as well be talking about his life's work. "And then," he says, "it's worth it."