Geraldine Roman on being the 1st transgender in Congress, beauty secrets, love, Duterte, Pope Francis & Pacquiao
Aside from the reformist President Rody Duterte, new senators like Joel Villanueva, Risa Hontiveros and Win Gatchalian, and new Speaker Bebot Alvarez, one of the new superstars in Philippine politics is the 49-year-old Bataan Congresswoman Geraldine Roman. In our predominantly Roman Catholic nation where divorce is not allowed, Geraldine made history with her May 9 landslide election win as the first transgender legislator in the Philippine Congress.
Daughter of two former legislators, Geraldine was educated in the all-boys Jesuit-run Ateneo High School, then University of the Philippines. She later earned two masters degrees in Spain where she worked as a Spanish-language journalist and editor, then moving to corporate communications in the same country. Her best friend, former Ateneo de Manila University Spanish language professor Pam Bigornia, said: "Geraldine is the best girl I've ever met. She's very intelligent, a girl with a big heart."
Next month when she visits the US to attend the graduation of her niece at Dartmouth College, Geraldine already has numerous invitations ranging from The Ellen DeGeneres Show on TV, a speech at Asia Society and others. She granted the The Philippine Star this exclusive interview at Shangri-la Makati Hotel, here are excerpts:
PHILIPPINE STAR: What are your beauty and health secrets, how come you don't look 49 years old?
GERALDINE ROMAN: I run five times a week, 30 minutes every time. I usually run on the treadmill or in open areas like the memorial park in Orani, Bataan province where I get to also visit the tombs of my grandparents the late educator Antonio Roman, Sr. and pharmacist Irene Pascual Roman… Secrets of youth? I live a healthy lifestyle. I eat mostly fruits and vegetables even as a kid, not so much meat. I also take antioxidant formula, fish oil and vitamin C once a day. I also moisturize every day, ever since 1989 when I went to study in Spain because the air there was dry.
One more secret: hindi ako nagbibilad sobra sa araw (I don't expose myself too much to sunlight). I often use a parasol, which is for the sun, while umbrellas are for the rain.
Is this your first time to in politics?
Yes, this is my first time to run for public office, but I'm not a newcomer because my late father Antonio Roman was a congressman since 1978 and my mother, Herminia Roman, too was in Congress.
I heard from the late realty tycoon Tan Yu that he was good friend of the late Republic Bank owner and Bataan Congressman Pablo Roman who was also close to Senator Ninoy Aquino, was he your relative?
Yes, he's the brother of my grandfather. He was also close to Marcos. Lolo Pablo Roman founded the Bataan Export Processing Zone, was owner of Cinerama, Capitol Hills Golf Club, congressman in the 1960s, that's their branch of our clan, they're business people. Our side of the family was more simple, we were landed, but not business people. It was my mother who's the business person on our side.
When did you first realize that you were not a guy?
I realized it when I was three or four years old, when I felt different yet people classified me as a "boy" but I wanted to be with girls and I liked dolls. It was a natural tendency.
How was it like growing up in an all-boys school like Ateneo from grade school to high school?
Of course, you go there to study, but there was teasing. I tried to excel in my studies, because if you're bright, they'd respect you. The Jesuit priests were very kind, like the guidance counselor Bro. James Dunne S.J., even our principal Fr. Alberto Ampil S.J. Mabait sila (they were kind), there was no rejection. In fact, during the 10th anniversary of our Ateneo High School batch in 1994, Fr. Ampil pulled me towards the teachers and introduced me, saying: "This is the first alumna of the Ateneo High School." Now the school is co-ed.
Other Jesuits who were good to me included Fr. Candelaria, the next principal. There was also the Irish Jesuit Fr. James O'Brien SJ. Before I undertook my sex re-alignment or re-assignment surgery in 1994 in New York, I consulted Bro. James Dunne SJ. He even linked me to the Jesuits of Fordham University, they came, prayed for me and they even wrote me. They ministered to me.
I heard your family also supported you in that decision?
Yes, my parents were supportive. My father even went to the grocery and cooked. We stayed at my brother's apartment, he was then interning at a Jewish hospital in New York.
Who won in your district in Bataan for president and VP? What are your reactions to Mayor Duterte who said he supports LGBT rights?
Duterte and Bongbong Marcos won in my area, but I'm a Liberal Party member so I voted for Mar Roxas and Leni Robredo. On Duterte's being supportive of LGBT rights, I'm happy about that, and I hope his approach as leader is one of humility because you have to realize that not everyone agrees with you. (I suggest) the way he presents his ideas can be gentler, mas maganda ang packaging (they could be packaged in a better way). Davao City is actually LGBT-friendly, he even offered to be lawyer for the LGBT political party. For me, I also prefer that LGBT rights activists not to be militant, but to be part of or integrated into society.
I heard various fashion designers are scrambling to create your State of the Nation gown?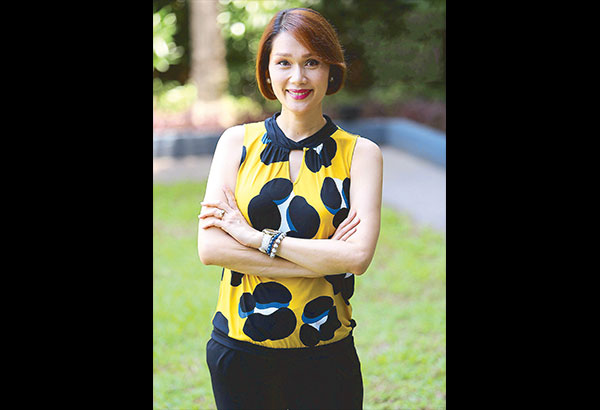 'Gender is our identity and our consciousness. Life is very complicated. I didn't choose to be like this, I am fortunate I have parents who loved me and supported me,' says Geraldine. Photos by WALTER BOLLOZOS
Yes, that's true, but I already chose the first one who approached me. I actually prefer business-like look, but the existing culture in the SONA is formal Filipiniana wear and I respect that. But what if Pres. Digong Duterte said "Wala nang ganyang mga ka-artehan (Do away with those elaborate fashion)?
Do you like the reformist and less extravagant style of Duterte?
In a way, I'm a practising Catholic, but it is refreshing that for once we have a president who is not afraid. I believe in separation of church and state. It is refreshing to have a leader who is fearless.
Duterte wants to encourage up to three kids maximum per family, I read Pope Francis has that preference too, your reactions?
Pope Francis is a Jesuit and he said that it doesn't make you a better Catholic if you have more children. Pope Francis also said, "If a gay person reaches out to God, who am I to judge?"
Is it true that you're already married in Spain? To whom?
No, it's not true, I'm not married. I have a partner of 18 years. He's a Spanish man, a former cameraman for TV, but he's now with our family's real estate business in charge of our subdivisions. We have projects in Batangas, Laguna and Bataan.
His name? Age? How did you end up with him? Were there others before him?
His name is Alberto, he's 50 years old. I was attracted to him because of his kindness of heart. We lived in Europe, we had no househelp there, so he helped me cook. He would cut vegetables, he vacuumed our home and if I got home very late, he'd massage me. He's very secure in his manhood, you cannot find that among most Filipino men due to the upbringing here, where men have their clothes made ready for them by others. You would never have seen my late dad holding a broom.
I used to date a top executive, he was sophisticated, but there was no connection, there was no room to be yourself. He was always counting calories. What's the point of having a fairy tale man who's not real? He was very hard to please. It's hard to be with ego-centric men, who think they're God's gift to women. Would you like to be married to that?
Alberto looks good physically, more important, he's kind, humble, supportive. You don't need to find (a lover) from a buena familia, with an illustrious surname, an executive, successful, etc. Those things do not guarantee happiness. As young people, movies fed us with these superficial things. We have our arguments, that's natural, because if there are no arguments it means you don't care anymore.
A news report said your worry is which toilet to use when you're in Congress?
Those who wrote that were fed wrong information. Would you believe that, my political foes claimed that my overriding concern in Congress is which comfort room to use whether male or female? Of course, I will use the female CR, because if I use the male CR baka pagka-guluhan ako sa beauty ko (the guys there night get into trouble due to my beauty)!
Those who wrote that were paid by my foes to write it. In this election, my foes tried to mock me on stage, but I heard the people and the voters empathized with me because many people have suffered their own experiences of discrimination due to either gender, age, lack of education or even poverty.
Your reaction to reports that ABS-CBN news host Noli de Castro saying that you're not a man and you're not a woman, so they should address you as "congressperson"?
Noli texted me to apologize for that remark on TV. I replied saying: "Ok, we learn our lessons naman. Just remember that you're in a position that entails a lot of responsibility."
You don't get angry at others who mock you or even criticize you?
Ayaw ko ng grudge because nakakatanda ang mag-hold ng grudges (I dislike grudge, grudge, holding grudges can age you).
STAR business columnist Vic Agustin said there's at least one senator who is secretly gay and several congressmen too, your comments?
What I can say is, each person has the right to reveal or not who he or she is.
Your reaction to Manny Pacquiao's controversial comments on gay people?
I was saddened by his comparing gays to animals, because I have great admiration for Pacquiao as a boxer. I thought he had a good heart, but it turns out he is judgemental pala. Please don't ask my opinion on his winning as Senator, because his record in Congress (is not good), I hope that will change… I heard he only attended (sessions of Congress) four times?
Your views on BB Gandanghari, the former Rustom Padilla?
I admire her, even if he came out late. I sympathize with her, because she had to hide her identity for so long because her family did not accept her like that. She was even married to a woman.
I read in Google that the late comedian Dolphy had a movie on World War II gays who were forced by the Japanese military to become comfort women, your reactions?
I heard that story. A lot of transgender women and gays have also been forced into prostitution because they couldn't find jobs due to discrimination. I know of some who suffered this way.
US-based novelist Ninotchka Rosca at Pandesal Forum of Kamuning Bakery Café said that in pre-colonial Philippines, there were five genders in Philippine society? Was this true?
Actually in pre-Hispanic Philippines, transgender women acted as priestesses, they were called "Babaylan." They were not ostracized, they were part of society. Things changed when the Spanish colonizers came.
Your top three priorities in Congress?
First, the socio-economic welfare of my district and my province Bataan; second, human rights, such as the anti-discrimination law and LGBT rights; third, agriculture.
Many people think that being gay is a choice and that this could be changed somehow? Is it partly true?
No, even if you exorcized us, use brainwashing or even electric treatments, this (reality) cannot be changed. Nobody taught us to think this way. Some (religious) fundamentalists claim that we could choose, but who would like to choose a life filled with so much discrimination? Everybody wants to have a normal life with a wife and kids.
The world and nature are not perfect, some people are born as a girl with the heart of a boy and some people are just born as a boy with the heart of a girl. Gender, it's technically what is between our legs, but it is actually what is in our brain, it's our identity and our consciousness. Life is very complicated. I didn't choose to be like this, I am fortunate I have parents who loved me and supported me.
* * *
Thanks for your feedback! E-mail [email protected] or follow WilsonLeeFlores on Instagram, Twitter, Facebook and http://willsoonflourish.blogspot.com/