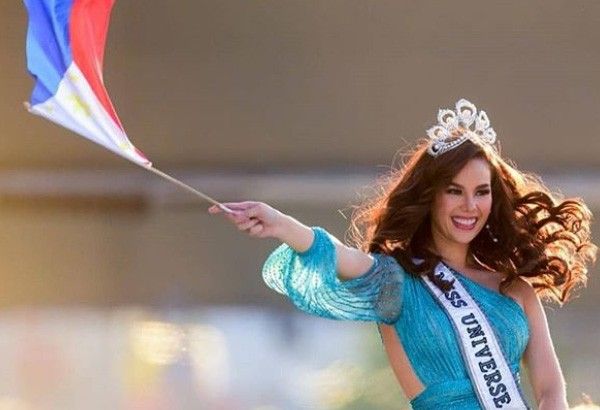 Miss Universe 2018 Catriona Gray
Instagram/Catriona Gray
Miss Universe 2018 Catriona Gray shares Election Day checklist
MANILA, Philippines — Miss Universe 2018 Catriona Gray has a message for her fellow Filipinos this Election Day.
In her Instagram story, the beauty queen from Bicol encouraged fellow Filipinos to exercise their right to vote.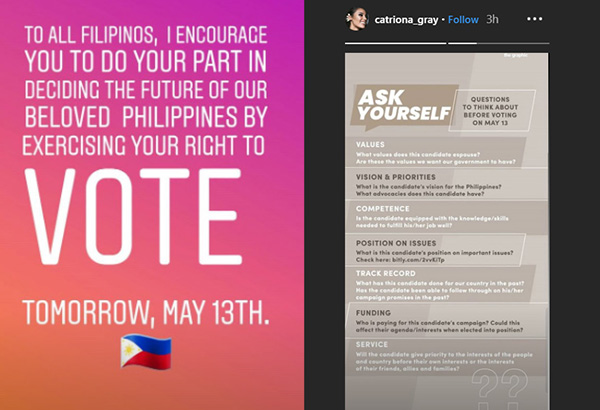 Screenshots of Catriona Gray's Instagram stories. Philstar.com/Deni Rose M. Afinidad-Bernardo
"To all Filipinos, I encourage you to do your part in deciding the future of our beloved Philippines by exercising your right to vote," Catriona wrote.
She also listed down questions to ask oneself before casting a vote for a political candidate, and these include values, vision, priorities, position on issues, track record, source of funding and service.
"What values this candidate's vision for the Philippines? What advocacies does this candidate have? Is the candidate equipped with the knowledge/skills needed to fulfill his/her job well? What is this candidate's position on important issues? What has this candidate done for our country in the past?" Catriona asked.
"Has the candidate been able to follow through on his/her campaign promises in the past? Who is paying for this candidate's campaign? Could this affect their agenda/interests when elected into position? Will the candidate give priority to their own interests or the interests of their friends, allies and families?" she added.
Last Sunday, Catriona greeted her Filipina mom a happy Mother's Day.
"To the woman who has fiercely given me unconditional love from the time I could fit into her arms to now, as a 'baby damulag' or baby giant as she calls me. Thank you @mitagray for always pushing me to dream big, yet always being there beside me to guide me, uplift me and be an invaluable mentor and best friend. Love you so much Mama, happy mothers day," she wrote.