Health comes in watch you wear
December 18, 2021 | 12:00am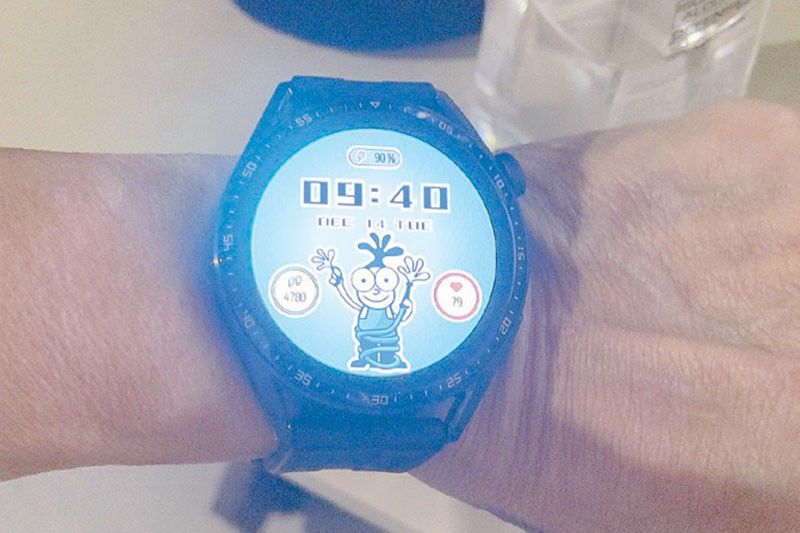 The smart watch has been a regular part of my daily life for many years now. I don't use a watch unless it can take a lot of wear and tear, plus sweat. I have seen how smart watches have developed both in tech and in style to become better lookers, as well as capable of taking the hardest fitness workout and even wearing them to sleep.
And in this area of development, I cannot help but be blown away by how smart watches paired with cell phones have grown by leaps and bounds.
The Huawei Watch is an Android Wear-based smart watch compatible with both an Android or Apple cell phone.
The first Huawei Watch GT watch was first introduced at 2015 Mobile World Congress and released on Sept. 2, 2015. It was the first smart watch produced by Huawei and when it was launched locally we had a session with the Huawei group so they could demonstrate how to pair the watch correctly.
I remember back then that, although it had to be paired with a Huawei phone, it already had the makings of a stylish-looking watch with a great fitness tracker — and this only promised more to come.
The Huawei Watch GT 2 leveled up the interface, smoothed things out and made the whole experience feel less bulky; and that was followed up by the Watch GT 2 Pro, a more premium take on the winning formula.
Enter Huawei GT3 pro 1
THE main thing that anyone who uses a device that requires frequent charging is: a longer battery life. And the Huawei Watch GT 3 has the best battery life one can ask for. Matter of fact, I used the battery-tastic Huawei Watch GT 3 for 10 days before having to charge it again.
And although it seems that the smart watch world is getting saturated, the Huawei Watch GT 3 just gets better and better.
Because, aside from the longer-than-long battery life, here are four added things I love about the Huawei Watch GT 3.
1. The Huawei Huawei Watch GT 3 has a new processor design that make the smart watch smoother to use than the GT 2. Up close and personal, the most striking thing about the Huawei Watch GT 3 is its big, bold, bright screen in the 46mm face. The Watch GT 3 comes with a rubber sporty strap, perfect for my everyday use.
For those of you who, like me, like a big watch face, the Watch GT 3 46mm option sports a 1.43-inch round panel with 466x466 resolution — that's really great.
Yet the watch measures just a little over 1cm in thickness, so it isn't chunky, and it's lightweight, too.
2. There are hundreds of downloadable watch faces for the Watch GT 3, both free and paid-for designs. So it was not hard one to find one I liked (see photo) to keep me company on all the steps I took during the day.
The watch also benefits from a rotating crown that adds easy navigation even in wet conditions, and Huawei's also updated the interface to reflect Harmony OS 2, as found on the Huawei Watch GT 3.
Huawei has upgraded the heart rate monitor on its new Watch GT 3, increasing the number of light signal receivers, which are the all-seeing eyes that peer into your veins to get your pulse. The watch also benefits from an arched base design, increasing the likelihood that the point where it touches your skin will be more snug and secure, and the back also features a micro-nano optical film to reduce interference.
The watch has an upgraded optical heart rate sensor, and a curved back to fit more closely against your skin.
I had the chance to test out the heart rate monitor and found it to be comparable to a reliable health watch.
There are other features — all good. But I need more time to get to a pro level and learn to use the other feature like mapping out a training plan for users across 13 pre-defined on-device programs. The watch also feeds in my personal running and health data and can tailor a personalized plan accordingly.
The GT 3 brings back sleep tracking, heart rate, stress, SPO2 monitoring and more. Runners can also enjoy dual-band five-system satellites, which include standard GPS tracking, Galileo, Beidou, GLONASS and QZDD.
3. The Huawei Watch GT 3 sends Bluetooth calls from my phone to my wrist. While unavailable on small variants of past watches, both the Watch GT 3 46mm and 42mm support this feature. There's also room on the watch for up to 500 songs, and there's a new processor powering the watch along. Its smoothness is instantly noticeable when compared to past-generation GT watches.
So, never fear missing a call or text during your daily "me" time.
4. This smart watch is made for urban exploration. Check this: the Huawei Watch GT 3 can inform users of instantaneous changes in the surrounding natural environment just by raising the wrist. It has a built-in altitude barometer, which can provide a reminder before severe weather comes in by observing sharp changes in air pressure. The watch face can also display the time of sunrise and sunset every day, supporting eight moon phases such as new moon, full moon, and first quarter moon, and shows tidal changes in real-time.
Make a choice
There are definitely more that four reasons to fall in love with the Huawei Watch GT 3, but let me limit is to these for now.
Choice is a good thing, and so is progress. On first impression, the Huawei Watch GT 3 represents both. It gives users a round watch with longer battery life, and boosts the performance when compared to the GT 2.
But what's undoubtedly a deciding factor is the Watch GT 3's premium design, its more responsive UI, and its impressive battery stats that keep on tracking without a daily charge. With great fitness features and two strong styles — this Huawei Watch GT 3 looks like it is timed to be a charm.