O Christmas tree
December 14, 2019 | 12:00am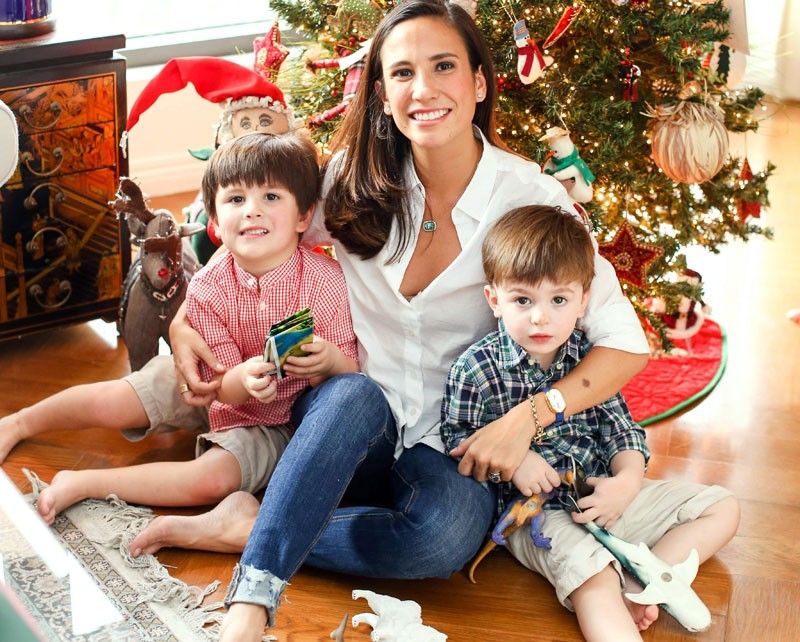 MANILA, Philippines — I've never not had a Christmas tree. Even my first year as a student in Paris, I remember barely having any furniture, but I had brought home the biggest tree I could possibly carry myself. I lovingly decorated the prickly branches with candy cane striped balls, fun bright colors of lime and fuschia mixed with vivid red and green – a break from the super traditional tree we had at home. I was 19 and it was such fun to have a tree of my own. After a week of Christmas cheer, I obviously knew nothing about fresh pine tree, because all the needles had ended up on the floor, leaving my tree looking naked and pitiful. Fortunately, in a few days I was leaving to head back home for the holidays where a big, voluptuous bushy, fake tree was waiting for me with its comforting childhood smell of warm plastic and dust heated by highly dangerous glass twinkle lights. The pointy crazy flammable ones not the safer LED ones. That was what Christmas smelled like to me. I would lay under the tree and look up, blinded by the glow and basking in all that Christmas goodness.
Now that I have children, the Christmas tree decorating ritual is much more important and while for the past few years, they were more of a nuisance than a help with all the "don't touch that!" "ack!" "that's fragile!!!" being frantically thrown around the room, this year was different. Sebastian and Maxi, both aged 5 and 3, were fully invested in decorating the tree. To the tunes of Frosty the Snowman and Jingle Bell Rock, they carefully unpacked all the ornaments, listened to instructions and truly helped place every ornament on our tree. They slowly learned the method in the madness — "Don't put the same two ornaments together" or "Put the glass ones up high" and they were so proud of their handiwork. They even helped decorate the rest of the house and chose to have a small tree in their room. It was so special to have them so involved and I hope that this is just the beginning of a beautiful tradition.
Speaking of traditions, it's been several years that I've been having this Christmas Tree feature where four people share their trees and their Christmas inspirations. Moving beyond the classic, this year we have four very fun and playful trees that take inspiration from flamingoes to superheroes showing us that as long as there is heart and sentiment, anything truly goes for Christmas!
I originally wanted to go for a classic looking Christmas tree. The classic green tree with red ornaments, but when I saw the pink ornaments I instantly fell in love with them. It's new, unique, fun and chic. I also wanted to go with the color pink for my decorations so my seven-year-old sister can enjoy my tree. She loves the color pink. The star would be my favorite ornament and Santa, two of the things I look for in a tree. This is my first Christmas tree; I have yet to find out if I will go for a different look next year, as much as possible I want to keep the same decorations so I don't spend extra for new ones, but we'll see when we get there.
Since Justin and I got married and moved to a new home, we have opted to decorate the house every Christmas with small accessories scattered in different corners of the home. We never thought our condo needed a Christmas tree. That all changed when Hunter came along. Now that he is one-and-a-half years old, he is really impressed and curious about the different Christmas decorations he sees on the street, in the mall and in my mom's house. That's when we decided that it was time to put up a Christmas tree of our own this year. It's all for Hunter!
I collaborated with Portia Cruz of Eventique Manila, who also decorated all Belo clinics this year. I told her that I wanted the tree to be fun because it's Hunter's first tree. She decided on an Arctic White Christmas with polar bears, eskimos and sleds. It's so cute to see Hunter go to the tree to visit his Eskimo friends and play with them.
I would opt for a different look every year. All the materials for the tree are from Portia and Eventique Manila. Living in a condo, I have to be practical — the less I buy and have to store, the better. The best part about hiring them is that we are able to change concepts every year using the different materials they have in their storage. It's like renting a tree for Christmas, which is perfect for people like me. I do have one sentimental ornament given by Marielle Santos-Po. It's a silver bear from Harrods London with the words "my first Christmas" inscribed. She gave it to Hunter last year and I think we will continue to have that in our tree every year.
I wanted to focus on a dominant color for our tree: red, gold, silver or white. I ended up choosing red because it's the most festive and that was the feel I wanted for our tree. It's our first tree and Christmas in our home so I wanted something a bit more traditional—nothing too modern or cool—just a tree that sparks joy and makes you think about all the good things that come with Christmas. Marissa of @calligraphy.em gifted us wooden ornaments in the same candy cane color palette with our names on them—cokoro, Joni, Camille and our dogs Penny, Pepper and Pixie. Hoping that as our family grows, more names will be added to our tree. As for the next tree, I haven't decided what I want yet. The practical side of my brain is telling me I should keep this look for at least another year or two. But we'll see! We'll play it by ear! One thing is for sure, pieces will be reused. I'm not the type to buy things and use them just once. "
Before I had kids, I had never really thought about having any other kind of themed tree in our house and now, both my son and daughter have their own trees. My daughter's is very girly and candy colored and my son's is a superhero theme to match his room. He and his dad are into superheroes and, if I was going to convince my husband on another tree, then this was the one. I believe in first creating a concept for a tree and purchasing different elements to add to it over time. I really take my time picking out each and every Christmas ornament that goes on them. It does not matter if its for my own Christmas tree or for my clients home. I always recommend to everyone that, if you spend for your tree, you should keep those one of a kind pieces, reuse them and add a little more to it each year to keep it fresh. If you have a tree and it gets you exited and in a festive, Christmas mood every time you look at it, then why would you want to change it? Adding new pieces not only gives it a fresh look, it adds layers of memories I shared and moments I had with my family during the year I bought those ornaments. My Christmas trees serve not only as a decoration but as a "scrapbook" of all the good memories and blessings i have received and am thankful for."