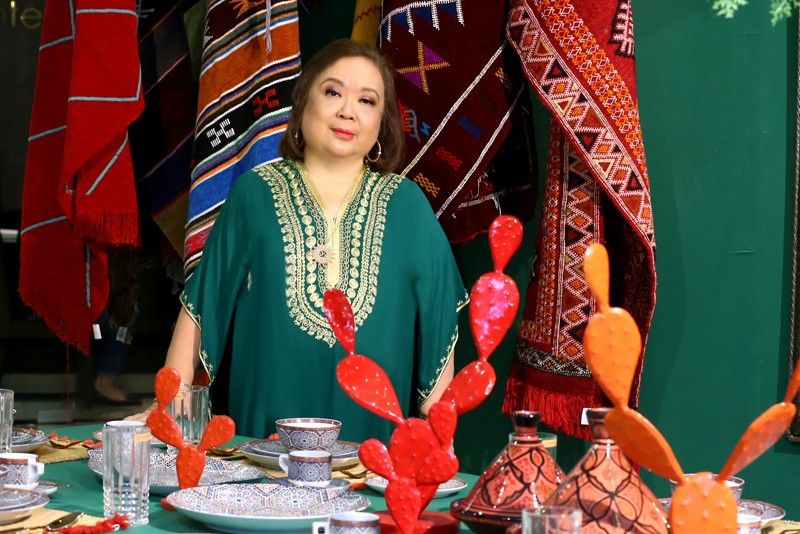 Rustan's VP for merchandising-home division Marilen Tantoco at the ongoing "Fall in Love with Morocco" festival in Rustan's Makati: "I love Morocco because it's a place to see such wonderful things and the design is so colorful. It's an Instagramable country."
Photos by Walter Bollozos
Marilen Tantoco brings her Moroccan dreams & memories to Rustan's
When you think of Morroco, you think of riads, the stately traditional homes with Andalusian-style courtyards of wealthy merchants; of tajine, the clay vessel used for slow cooking; fountains made from colorful mosaic tiles; lamps made of glass and cast iron. You think of exotic architecture and interior design — a combination of African, Arab Moorish and Mediterranean styles from centuries of conquests.
For Rustan's VP for merchandising-home division Marilen Tantoco, who is also the consul general of Morocco for the past 15 years, she goes back to the memories of the five years when it was home to her in the late '80s to the early '90s (she visits Morocco four or five times a year).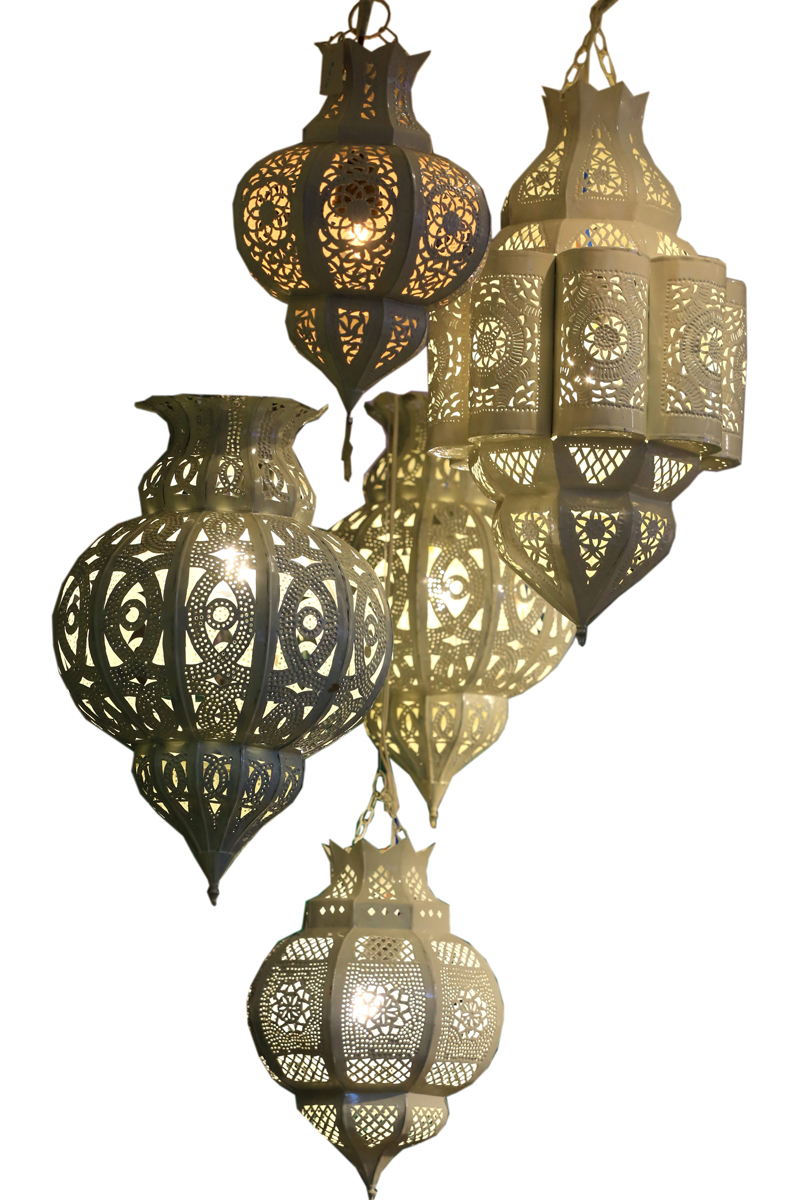 Perforated lamps can be used indoor or outdoor to give the space that Moroccan feel.
Starting this week, Rustan's brings the mystery and magic of Morocco with its festival called "Fall in Love with Morocco."
The Tantoco family certainly did decades ago and they want their customers to do the same.
"We thought of this festival because people who have gone to Morocco want their memories to be alive and so now they can bring a piece of the country to their homes," Marilen says.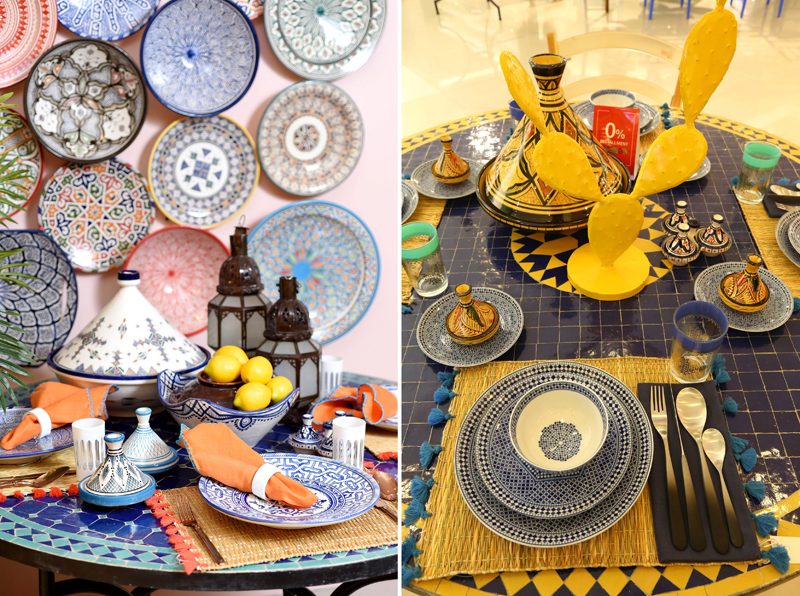 (Above left) The plates on the wall are for sale, but not the ones on the table (above right), which are part of Marilen Tantoco's vast collection of dinnerware from Fez, Marrakech, Rabat and other cities of Morocco.
Rustan's scoured the souks and boutiques of Marrakech to bring service ware and drinkware such as beautifully embellished tea sets, plates, bowls, saucers and ceramic tagines. But only the plates displayed on the wall are for sale. The dinnerware on the table vignettes are from Marilen's personal collections and not for sale. I tell her it would break the hearts of some customers because they are such lovely sets. "My sister Nedy keeps telling me that I should sell them, but I can't bear to part with them. We might use them in the Moroccan Café we are opening at the end of the month. We had a café last year for a month but this time it could be as long as a year or two because people love Moroccan cuisine, famous for couscous, lamb, chicken lemon."
There are also embellished lamps, tables and fountains made of mosaic tiles. Marilen says, "These are easily the most-sought after artisanal items from Morocco. They are well known for their mosaic tiles that are hand crafted. You can embellish your space with cactus plants to add greens."
For fashion, there are colorful kaftans by the Moroccan designer Zain. Bejeweled shawls, slippers, kaftans and djellaba are also available.
Drink ware in silver and glass
Marilen first went to Morocco when her sons MJ and Chris were just three years old and two months old, respectively. "I was tasked to live with my parents there; they were invited by the king to start the duty-free shops because they had the background. My mother Glecy passed away in 1993; my children went home in 1994. My son Chris is now running the business.
"I love Morocco because it's a place to see such wonderful things and the design is so colorful. It's an Instagramable country. In Marrakech there's the Majorelle Garden, which Yves Saint-Laurent bought in 1980, and is one of the most visited sites. It was also my mom Glecy's favorite place. It's so dreamy with trees and exotic plants, streams and pools with water lilies and lotus flowers."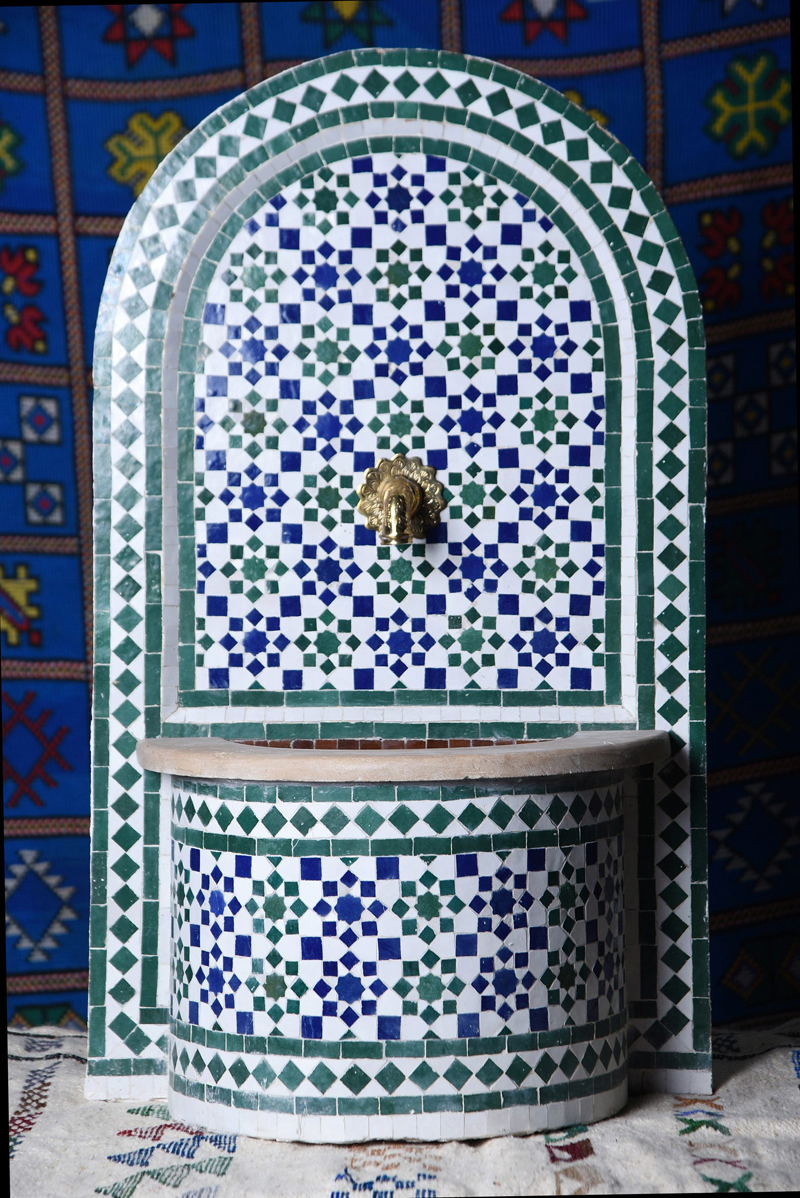 Fountain made from colorful mosaic tiles
When asked of her lasting memories of Morocco, Marilen replies, "There's too many to choose from. I love bringing people around Morocco as their tour guide or I help fix their itineraries. Even after so many years, I'm still excited to go to the markets, to the medina, I never tire of Moroccan food. You know, their means of income is phosphate and agriculture, that's why the food there's good, the fruits are so sweet and they're cheap. There's always something new in Morocco."
And you can start your own love affair with the country today at Rustan's.
* * *
"Fall in love with Morocco" is held in partnership with HSBC, Adventure International Tours, Inc. and Ralph's Wines & Sprits at Rustan's Makati and Shangri-La Plaza.
Enjoy 0% installment for up to nine months on Moroccan tour packages at the exclusive travel fairs, held in partnership with Adventure International Tours, Inc. Secure your tickets at the 5th level of Rustan's Makati on August 24 and 25 (10 a.m. to 9:30 p.m., Saturday; 10 a.m. to 9 p.m., Sunday). Catch the fair on Aug. 30 to 31 (11 a.m. to 10 p.m. Friday, and 10 a.m. to 10 p.m. Saturday) at the 2nd Level, Rustan's Shangri-La Atrium.
Visit the author's travel blog at www.findingmyway.net. Follow the author on Twitter and Instagram @iamtanyalara.