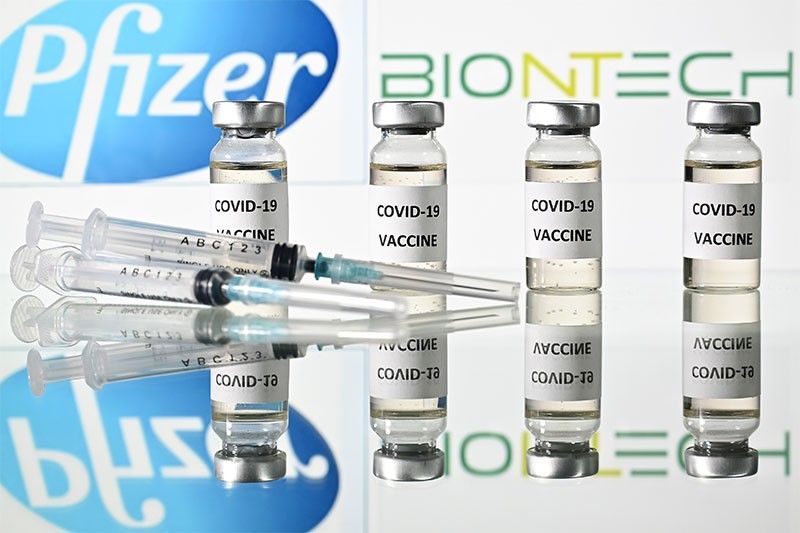 An illustration picture shows vials with Covid-19 Vaccine stickers attached and syringes with the logo of US pharmaceutical company Pfizer and German partner BioNTech, on November 17, 2020.
AFP/JUSTIN TALLIS
Pfizer/BioNTech say final results show vaccine 95% effective
(Agence France-Presse) - November 18, 2020 - 9:19pm
WASHINGTON, United States — Pfizer and BioNTech said Wednesday that a completed study of their experimental Covid-19 vaccine showed it was 95% effective.
They said the two-dose vaccine had no serious safety concerns and that the companies will apply for emergency use authorization from US regulators "within days."
The announcement came as coronavirus cases are surging in the US and other parts of the world, and boosted hopes for an end to the pandemic that has upended life around the globe.
"The study results mark an important step in this historic eight-month journey to bring forward a vaccine capable of helping to end this devastating pandemic," said Pfizer CEO Albert Bourla.
"With hundreds of thousands of people around the globe infected every day, we urgently need to get a safe and effective vaccine to the world," he added.
Pfizer had said last week after a preliminary analysis that its product was more than 90 percent effective.
On Monday another biotech firm involved in the race to develop a vaccine, Moderna, said its own vaccine was 94.5 percent effective, according to a preliminary analysis.
Pfizer has previously said it expected to contact the US Food and Drug Administration to apply for an Emergency Use Authorization by the third week of November.
The FDA had imposed a requirement on COVID-19 vaccine makers of having at least two months of follow-up with volunteers after their second dose, taken 28 days after the first, in order to ensure the drugs are safe.
Moderna developed its vaccine along with the US National Institutes for Health.
Both vaccines use mRNA (messenger ribonucleic acid) technology to deliver genetic material to the body that makes human cells create a protein from the virus.
This trains the immune system to be ready to attack if it encounters SARS-CoV-2.
Other vaccines that are in late-stage trials, such as one being developed by Johnson & Johnson and another by Oxford University and AstraZeneca, use modified viruses to deliver genetic material for the same purpose.
No mRNA vaccines have ever been approved, but Anthony Fauci, the United States' top infectious disease scientist, told AFP Tuesday the technology had now "established itself."
As It Happens
LATEST UPDATE: November 27, 2020 - 3:45pm
Pharma giants Sanofi and GSK said on July 29, 2020, that they have agreed to supply Britain with up to 60 million doses of a potential COVID-19 vaccine. The agreement covers a vaccine candidate developed by France's Sanofi in partnership with the UK's GSK and is subject to a "final contract."
This thread collects some of the major developments in the search for a vaccine to ease the new coronavirus pandemic. (Main photo by AFP/Joel Saget)
November 27, 2020 - 3:45pm
One of the developers of Russia's Sputnik V coronavirus vaccine announces that India-based drugmaker Hetero will produce over 100 million doses of the jab.
"Hetero, one of India's leading generic pharmaceutical companies, have agreed to produce in India over 100 million doses per year of the world's first registered vaccine against the novel coronavirus infection -– Sputnik V," the Russian Direct Investment Fund says in a statement, adding that production was expected to start in early 2021.
Earlier this week, Russia said interim results from the Sputnik V clinical trails showed the vaccine was 95% effective, similar to other international vaccine makers that have also published test results showing efficacy rates of 90% and higher. — AFP
November 27, 2020 - 11:14am
The World Health Organization urges African countries to improve their capacity to vaccinate populations against COVID-19, warning the continent was still "far from ready" for mass immunisation.
With three coronavirus vaccines now showing efficacy rates of 70% or more, the UN body called on Africa to "ramp up" preparations for "the continent's largest ever immunisation drive".
The African region is so far only 33 percent ready to roll out Covid-19 vaccines, the World Health Organization says in a statement. — AFP
November 27, 2020 - 9:34am
The British government says it has asked its independent medicines regulator to assess AstraZeneca's coronavirus vaccine as part of the formal approval process for the drug to be rolled out by the end of the year.
More than 1.4 million people have died since the novel coronavirus emerged in China late last year, and three drug developers -- Pfizer/BioNTech, Moderna and AstraZeneca/Oxford University -- are currently applying for approval for their vaccines to be used as early as December.
AstraZeneca has completed Phase III clinical trials of its vaccine, the last stage before regulatory approval. — AFP
November 26, 2020 - 11:53am
Cash-strapped Latin American governments face severe geographical, economic and social challenges in trying to ensure life-saving COVID-19 vaccines are made available to vulnerable populations, experts say.
Megacities like Sao Paulo, mountain ranges like the Andes as well as the vast Amazon basin pose just a few of the geographical problems for distributors, given the vital need to maintain the cold chain to preserve the vaccines.
Transporting vaccines "to the most distant parts of the big cities and to peripheral neighborhoods, with the need to conserve the cold chain, will be the first major challenge," Colombian epidemiologist Carlos Trillos told AFP.
Governments also face a race against time to provide training to those handling the doses throughout the cold chain, he said. — AFP
November 25, 2020 - 10:47am
The United States plans to distribute 6.4 million doses of the Pfizer-BioNTech COVID-19 vaccine in the first week after it is cleared for emergency use, which is likely next month, officials say Tuesday.
A committee of the Food and Drug Administration meets on December 10 to decide whether to green light the medicine, with the US confronted by soaring numbers of deaths and new cases.
Latest figures on Tuesday showed that the country had recorded a total of 259,600 COVID deaths and 12.5 million cases — with over 2,000 deaths and 167,000 new cases in just the last 24 hours.
General Gustave Perna, chief operations officer for the government's Operation Warp Speed, told reporters some 40 million doses of vaccine would be available by the end of December.
That figure includes another vaccine developed by Moderna and the National Institutes for Health, which announced some preliminary efficacy results last week and is also close to applying for emergency approval. — AFP