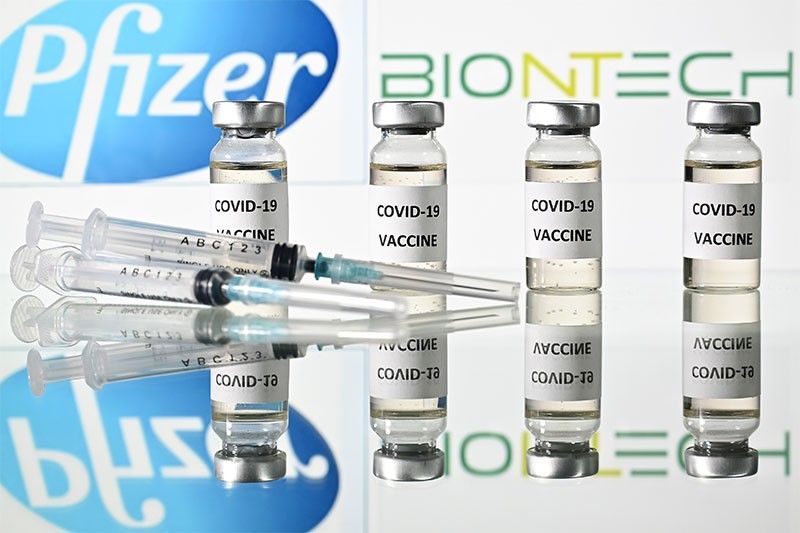 An illustration picture shows vials with Covid-19 Vaccine stickers attached and syringes with the logo of US pharmaceutical company Pfizer and German partner BioNTech, on November 17, 2020.
AFP/JUSTIN TALLIS
Pfizer/BioNTech say final results show vaccine 95% effective
(Agence France-Presse) - November 18, 2020 - 9:19pm
WASHINGTON, United States — Pfizer and BioNTech said Wednesday that a completed study of their experimental Covid-19 vaccine showed it was 95% effective.
They said the two-dose vaccine had no serious safety concerns and that the companies will apply for emergency use authorization from US regulators "within days."
The announcement came as coronavirus cases are surging in the US and other parts of the world, and boosted hopes for an end to the pandemic that has upended life around the globe.
"The study results mark an important step in this historic eight-month journey to bring forward a vaccine capable of helping to end this devastating pandemic," said Pfizer CEO Albert Bourla.
"With hundreds of thousands of people around the globe infected every day, we urgently need to get a safe and effective vaccine to the world," he added.
Pfizer had said last week after a preliminary analysis that its product was more than 90 percent effective.
On Monday another biotech firm involved in the race to develop a vaccine, Moderna, said its own vaccine was 94.5 percent effective, according to a preliminary analysis.
Pfizer has previously said it expected to contact the US Food and Drug Administration to apply for an Emergency Use Authorization by the third week of November.
The FDA had imposed a requirement on COVID-19 vaccine makers of having at least two months of follow-up with volunteers after their second dose, taken 28 days after the first, in order to ensure the drugs are safe.
Moderna developed its vaccine along with the US National Institutes for Health.
Both vaccines use mRNA (messenger ribonucleic acid) technology to deliver genetic material to the body that makes human cells create a protein from the virus.
This trains the immune system to be ready to attack if it encounters SARS-CoV-2.
Other vaccines that are in late-stage trials, such as one being developed by Johnson & Johnson and another by Oxford University and AstraZeneca, use modified viruses to deliver genetic material for the same purpose.
No mRNA vaccines have ever been approved, but Anthony Fauci, the United States' top infectious disease scientist, told AFP Tuesday the technology had now "established itself."
As It Happens
LATEST UPDATE: April 20, 2021 - 12:50pm
Pharma giants Sanofi and GSK said on July 29, 2020, that they have agreed to supply Britain with up to 60 million doses of a potential COVID-19 vaccine. The agreement covers a vaccine candidate developed by France's Sanofi in partnership with the UK's GSK and is subject to a "final contract."
This thread collects some of the major developments in the search for a vaccine to ease the new coronavirus pandemic. (Main photo by AFP/Joel Saget)
April 20, 2021 - 12:50pm
The US Food and Drug Administration requests that production of the Johnson & Johnson coronavirus vaccine be halted at a factory that previously reportedly ruined about 15 million doses of the shot.
The pharmaceutical giant told AFP at the end of March it had identified a batch of doses at a plant in Baltimore run by Emergent BioSolutions "that did not meet quality standards," but did not confirm the specific number affected.
The New York Times later reported the batch consisted of about 15 million doses. — AFP
April 16, 2021 - 5:21pm
The European Union is very unlikely to renew its COVID-19 vaccine contracts with pharmaceutical company AstraZeneca, a French minister says.
Denmark this week banned the use of AstraZeneca jabs over blood clot concerns, just as the EU said it was expecting 50 million Pfizer vaccine doses earlier than expected.
No final EU decision had been taken, French Industry Minister Agnes Pannier-Runacher tells RMC radio, but "it is highly probable" that no further AstraZeneca doses would be ordered. — AFP
April 16, 2021 - 1:03pm
The head of Pfizer says in an interview that people will "likely" need a third dose of his company's COVID-19 shot within six to 12 months of vaccination, while elsewhere defending the relatively higher cost of the jab.
CEO Albert Bourla also says annual vaccinations against the coronavirus may well be required.
"We need to see what would be the sequence, and for how often we need to do that, that remains to be seen," Bourla tells CNBC in an interview. — AFP
April 15, 2021 - 8:36am
A pause on all US vaccinations with the Johnson & Johnson Covid shot will continue for at least another week after members of a government-convened expert panel said Wednesday they needed more time to assess its possible links to a clotting disorder.
The Centers for Disease Control and Prevention (CDC) convened a meeting a day after authorities reported six cases of women developing brain clots along with low blood platelet counts, including one death, within two weeks of people getting the one-dose Covid-19 vaccine.
The shot has been given to some 7.2 million Americans, and participants at the meeting were told on Wednesday a seventh case involving a 28-year-old woman has been identified. — AFP
April 14, 2021 - 6:46pm
Russian President Vladimir Putin said Wednesday he has received the second dose of a vaccine against the coronavirus and said he hopes Russians follow his example.
"I want to inform you that right now, before entering this room, I also received the second vaccination," he said at a televised meeting. "I assume that you, taking care of yourself and your loved ones, will do the same and follow my example." — AFP