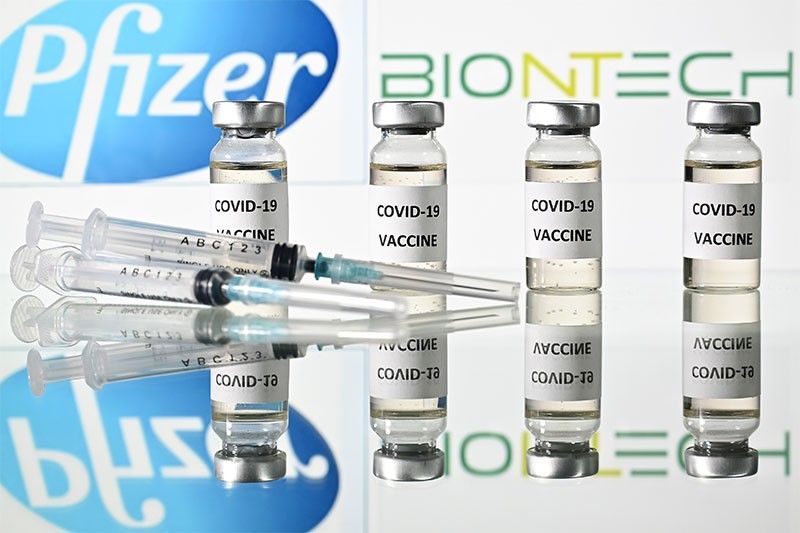 An illustration picture shows vials with Covid-19 Vaccine stickers attached and syringes with the logo of US pharmaceutical company Pfizer and German partner BioNTech, on November 17, 2020.
AFP/JUSTIN TALLIS
Pfizer/BioNTech say final results show vaccine 95% effective
(Agence France-Presse) - November 18, 2020 - 9:19pm
WASHINGTON, United States — Pfizer and BioNTech said Wednesday that a completed study of their experimental Covid-19 vaccine showed it was 95% effective.
They said the two-dose vaccine had no serious safety concerns and that the companies will apply for emergency use authorization from US regulators "within days."
The announcement came as coronavirus cases are surging in the US and other parts of the world, and boosted hopes for an end to the pandemic that has upended life around the globe.
"The study results mark an important step in this historic eight-month journey to bring forward a vaccine capable of helping to end this devastating pandemic," said Pfizer CEO Albert Bourla.
"With hundreds of thousands of people around the globe infected every day, we urgently need to get a safe and effective vaccine to the world," he added.
Pfizer had said last week after a preliminary analysis that its product was more than 90 percent effective.
On Monday another biotech firm involved in the race to develop a vaccine, Moderna, said its own vaccine was 94.5 percent effective, according to a preliminary analysis.
Pfizer has previously said it expected to contact the US Food and Drug Administration to apply for an Emergency Use Authorization by the third week of November.
The FDA had imposed a requirement on COVID-19 vaccine makers of having at least two months of follow-up with volunteers after their second dose, taken 28 days after the first, in order to ensure the drugs are safe.
Moderna developed its vaccine along with the US National Institutes for Health.
Both vaccines use mRNA (messenger ribonucleic acid) technology to deliver genetic material to the body that makes human cells create a protein from the virus.
This trains the immune system to be ready to attack if it encounters SARS-CoV-2.
Other vaccines that are in late-stage trials, such as one being developed by Johnson & Johnson and another by Oxford University and AstraZeneca, use modified viruses to deliver genetic material for the same purpose.
No mRNA vaccines have ever been approved, but Anthony Fauci, the United States' top infectious disease scientist, told AFP Tuesday the technology had now "established itself."
As It Happens
LATEST UPDATE: December 2, 2020 - 3:42pm
Pharma giants Sanofi and GSK said on July 29, 2020, that they have agreed to supply Britain with up to 60 million doses of a potential COVID-19 vaccine. The agreement covers a vaccine candidate developed by France's Sanofi in partnership with the UK's GSK and is subject to a "final contract."
This thread collects some of the major developments in the search for a vaccine to ease the new coronavirus pandemic. (Main photo by AFP/Joel Saget)
December 2, 2020 - 3:42pm
Britain's approval of BioNTech-Pfizer's vaccine against COVID-19 marks a "historic moment" in the battle against the pandemic, the US pharma group's chief executive says Wednesday, after his company won the first such authorisation in the West.
"Today's Emergency Use Authorisation in the UK marks a historic moment in the fight against COVID-19," says Pfizer CEO Albert Bourla.
The US company and Germany's BioNTech adds that they expected further regulatory decisions from other countries "in the coming days and weeks". — AFP
December 2, 2020 - 3:20pm
UK approves Pfizer-BioNTech vaccine for rollout from "next week".
Britain on Wednesday becomes the first country to approve Pfizer-BioNTech's COVID-19 vaccine for general use and says it would be introduced next week.
"The government has today accepted the recommendation from the independent Medicines and Healthcare products Regulatory Agency (MHRA) to approve Pfizer-BioNTech's Covid-19 vaccine for use," the department of health says in a statement.
"The vaccine will be made available across the UK from next week," the statement says, with priority groups including care home residents, health and care staff. — AFP
December 2, 2020 - 2:41pm
President Rodrigo Duterte grants authority to the Food and Drug Administration to issue emergency use authorization for COVID-19 vaccines, Executive Secretary Salvador Medialdea says.
Duterte's Executive Order 121 also allows FDA to release emergency use authorization for COVID-19 drugs, prescribing conditions and for other purposes.
December 2, 2020 - 8:15am
The Pfizer and Moderna COVID-19 vaccines could be approved in a matter of weeks, but who in the United States will get them first?
A high level panel of US experts on Tuesday voted that health care workers and residents of long-term care facilities should be prioritized in the first phase.
"I believe that my vote reflects maximum benefits, minimum harm, promoting justice and mitigating the health inequalities that exist, with regard to distribution of this vaccine," said Jose Romero, chair of the Advisory Committee on Immunization Practices at the Centers for Disease Control and Prevention.
As the sequence continues though, US experts may differ from other countries in prioritizing "critical workers" who keep society running — potentially even before people at highest risk. — AFP

December 1, 2020 - 8:45pm
The European Medicines Agency (EMA) on Tuesday says it would hold an extraordinary meeting on December 29 "at the latest" to consider emergency approval for a COVID-19 vaccine developed by Germany's BioNTech and US giant Pfizer.
"If the data submitted are robust enough to conclude on the quality, safety and effectiveness of the vaccine, EMA... will conclude its assessment during an extraordinary meeting scheduled for 29 December at the latest," the EU regulator says in a statement.
Pfizer and BioNTech earlier announced they had formally applied for conditional EU approval for their jab, following a similar request in the United States. — AFP