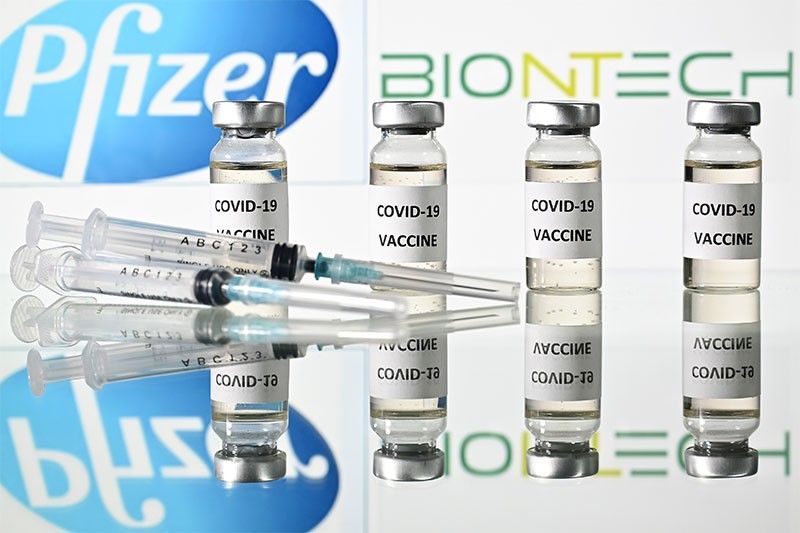 An illustration picture shows vials with Covid-19 Vaccine stickers attached and syringes with the logo of US pharmaceutical company Pfizer and German partner BioNTech, on November 17, 2020.
AFP/JUSTIN TALLIS
Pfizer/BioNTech say final results show vaccine 95% effective
(Agence France-Presse) - November 18, 2020 - 9:19pm
WASHINGTON, United States — Pfizer and BioNTech said Wednesday that a completed study of their experimental Covid-19 vaccine showed it was 95% effective.
They said the two-dose vaccine had no serious safety concerns and that the companies will apply for emergency use authorization from US regulators "within days."
The announcement came as coronavirus cases are surging in the US and other parts of the world, and boosted hopes for an end to the pandemic that has upended life around the globe.
"The study results mark an important step in this historic eight-month journey to bring forward a vaccine capable of helping to end this devastating pandemic," said Pfizer CEO Albert Bourla.
"With hundreds of thousands of people around the globe infected every day, we urgently need to get a safe and effective vaccine to the world," he added.
Pfizer had said last week after a preliminary analysis that its product was more than 90 percent effective.
On Monday another biotech firm involved in the race to develop a vaccine, Moderna, said its own vaccine was 94.5 percent effective, according to a preliminary analysis.
Pfizer has previously said it expected to contact the US Food and Drug Administration to apply for an Emergency Use Authorization by the third week of November.
The FDA had imposed a requirement on COVID-19 vaccine makers of having at least two months of follow-up with volunteers after their second dose, taken 28 days after the first, in order to ensure the drugs are safe.
Moderna developed its vaccine along with the US National Institutes for Health.
Both vaccines use mRNA (messenger ribonucleic acid) technology to deliver genetic material to the body that makes human cells create a protein from the virus.
This trains the immune system to be ready to attack if it encounters SARS-CoV-2.
Other vaccines that are in late-stage trials, such as one being developed by Johnson & Johnson and another by Oxford University and AstraZeneca, use modified viruses to deliver genetic material for the same purpose.
No mRNA vaccines have ever been approved, but Anthony Fauci, the United States' top infectious disease scientist, told AFP Tuesday the technology had now "established itself."
As It Happens
LATEST UPDATE: January 28, 2021 - 6:25pm
Pharma giants Sanofi and GSK said on July 29, 2020, that they have agreed to supply Britain with up to 60 million doses of a potential COVID-19 vaccine. The agreement covers a vaccine candidate developed by France's Sanofi in partnership with the UK's GSK and is subject to a "final contract."
This thread collects some of the major developments in the search for a vaccine to ease the new coronavirus pandemic. (Main photo by AFP/Joel Saget)
January 28, 2021 - 6:25pm
The vaccine made by Pfizer and BioNTech appears to retain its effectiveness against coronavirus mutations in worrying new variants that have emerged recently in Britain and South Africa, the firms say.
Several new variants -- each with a cluster of genetic mutations -- have sparked fears over an increase in infectiousness as well as suggestions that the virus could begin to elude immune response, whether from prior infection or a vaccine. — AFP
January 28, 2021 - 4:11pm
Pfizer and BioNTech, makers of a COVID-19 vaccine, say on Thursday that their product is effective against coronavirus variants that have emerged in Britain and South Africa.
In a statement, the two companies say the "small differences" detected in tests comparing the original virus and the recent versions "are unlikely to lead to a significant reduction in the effectiveness of the vaccine". — AFP
January 27, 2021 - 7:21pm
Pharmaceutical group AstraZeneca has pulled out of a meeting with EU representatives meant to take place Wednesday to get to the bottom of delays of its COVID-19 vaccine, an EU official tells AFP.
The sudden cancellation by the Anglo-Swedish firm marked a dramatic new turn in escalating tensions between it and the European Commission, which is demanding AstraZeneca fulfil its contract for the vaccine doses. — AFP
January 27, 2021 - 9:55am
AstraZeneca's CEO insists that the company was not selling vaccines ordered by the European Union to other countries at a profit, after delayed orders sparked fury from EU leaders.
The British-Swedish drugs firm admitted last week that it would not meet its contractual delivery commitments to the EU because of "reduced yields" in its European supply chain.
That prompted European Health Commissioner Stella Kyriakides to announce that the EU plans to start tracking vaccine shipments exported to non-member countries -- a sign of growing distrust. — AFP
January 26, 2021 - 8:03pm
World Health Organization experts on Tuesday cautiously backed delaying second injections of the Moderna coronavirus vaccine in some situations, and insisted international travellers should not be prioritised for COVID-19 jabs.
The WHO's Strategic Advisory Group of Experts on Immunisation (SAGE) said it was best to adhere to the tested interval of 28 days between doses of the Moderna vaccine, but that in "exceptional circumstances" the doses could be spaced as far as 42 days apart. — AFP