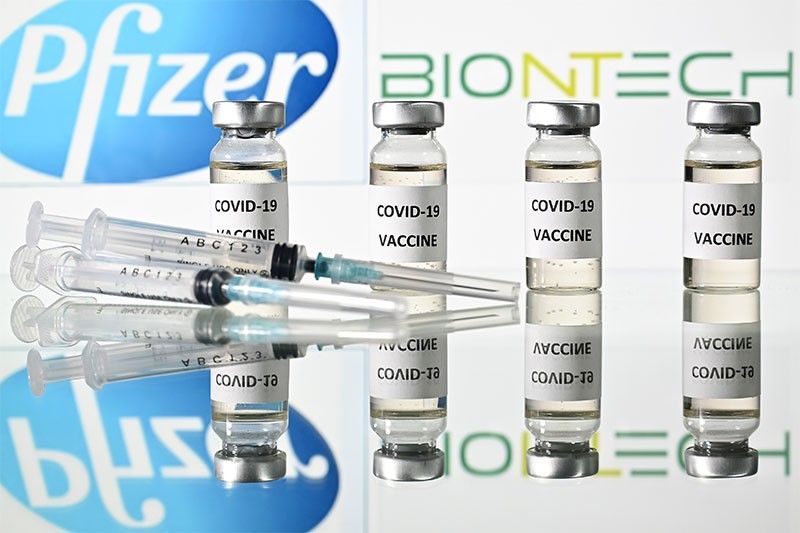 An illustration picture shows vials with Covid-19 Vaccine stickers attached and syringes with the logo of US pharmaceutical company Pfizer and German partner BioNTech, on November 17, 2020.
AFP/JUSTIN TALLIS
Pfizer/BioNTech say final results show vaccine 95% effective
(Agence France-Presse) - November 18, 2020 - 9:19pm
WASHINGTON, United States — Pfizer and BioNTech said Wednesday that a completed study of their experimental Covid-19 vaccine showed it was 95% effective.
They said the two-dose vaccine had no serious safety concerns and that the companies will apply for emergency use authorization from US regulators "within days."
The announcement came as coronavirus cases are surging in the US and other parts of the world, and boosted hopes for an end to the pandemic that has upended life around the globe.
"The study results mark an important step in this historic eight-month journey to bring forward a vaccine capable of helping to end this devastating pandemic," said Pfizer CEO Albert Bourla.
"With hundreds of thousands of people around the globe infected every day, we urgently need to get a safe and effective vaccine to the world," he added.
Pfizer had said last week after a preliminary analysis that its product was more than 90 percent effective.
On Monday another biotech firm involved in the race to develop a vaccine, Moderna, said its own vaccine was 94.5 percent effective, according to a preliminary analysis.
Pfizer has previously said it expected to contact the US Food and Drug Administration to apply for an Emergency Use Authorization by the third week of November.
The FDA had imposed a requirement on COVID-19 vaccine makers of having at least two months of follow-up with volunteers after their second dose, taken 28 days after the first, in order to ensure the drugs are safe.
Moderna developed its vaccine along with the US National Institutes for Health.
Both vaccines use mRNA (messenger ribonucleic acid) technology to deliver genetic material to the body that makes human cells create a protein from the virus.
This trains the immune system to be ready to attack if it encounters SARS-CoV-2.
Other vaccines that are in late-stage trials, such as one being developed by Johnson & Johnson and another by Oxford University and AstraZeneca, use modified viruses to deliver genetic material for the same purpose.
No mRNA vaccines have ever been approved, but Anthony Fauci, the United States' top infectious disease scientist, told AFP Tuesday the technology had now "established itself."
As It Happens
LATEST UPDATE: January 20, 2021 - 8:31am
Pharma giants Sanofi and GSK said on July 29, 2020, that they have agreed to supply Britain with up to 60 million doses of a potential COVID-19 vaccine. The agreement covers a vaccine candidate developed by France's Sanofi in partnership with the UK's GSK and is subject to a "final contract."
This thread collects some of the major developments in the search for a vaccine to ease the new coronavirus pandemic. (Main photo by AFP/Joel Saget)
January 20, 2021 - 8:31am
Mexican authorities are investigating the theft of several coronavirus vaccines from a public hospital, the army said Tuesday, underscoring the challenges of distributing the shots across the crime-plagued country.
Mexico, which has one of the world's highest COVID-19 death tolls, has deployed the military to guard the vaccines and prevent them falling into criminals' hands.
The army said that the stolen vaccines were under the control of a public health institution in a hospital in central Morelos state whose security is overseen by a private company.
"This theft could have been a dishonest act of self-interest by a member of the hospital's vaccination team," it said in a statement. — AFP
January 16, 2021 - 7:37pm
Serbia becomes one of the first European countries to receive a Chinese-made COVID-19 vaccine on Saturday when one million doses of a jab produced by Sinopharm arrived at Belgrade airport.
President Aleksandar Vucic posted a picture of himself on Instagram, standing next to the plane carrying the vaccine.
"We are proud of our friendship with China," he was quoted as saying by Beta news agency, telling reporters that he hoped to be inoculated with the Sinopharm vaccine in six or seven days. — AFP
January 14, 2021 - 7:41pm
Both Pope Francis and his predecessor, former pope Benedict XVI, have received the coronavirus vaccine, the Vatican says on Thursday.
"I can confirm that as part of the Vatican City State vaccination programme to date, the first dose of the Covid-19 vaccine has been administered to Pope Francis and the Pope Emeritus," spokesman Matteo Bruni says. — AFP
January 13, 2021 - 1:25pm
President Joko Widodo receives the first COVID-19 vaccine in Indonesia. The shot, from China's Sinovac, kicks off the massive immunization campaign in the country dealing with one of most number of cases in the region.
Indonesia opted to secure millions of doses from the Chinese pharmaceutical company whose lack of transparency about its vaccine sparks concerns. While the Philippines ordered 25 million doses, Indonesia secured 125.5 million from Sinovac.
Indonesia is also expecting 50 million doses from Astrazeneca, 150 million from American biotech firm Novovax, 60 million from Sinopharm and 20 million from CanSino, making it the third territory in the world with the most number of confirmed doses after Europe and the United States. (Handout photo)
January 13, 2021 - 7:17am
The Chinese-developed Coronavac COVID-19 vaccine has demonstrated a 50 percent efficacy following tests in Brazil, the organization in charge of its production in the South American country says.
Coronavac has been given to frontline health care workers in close contact with coronavirus patients.
The Butantan Institute repeated its claim from last week that the vaccine is 78% effective in preventing mild cases that needed treatment and showed 100% efficacy in staving off moderate to serious cases. — AFP