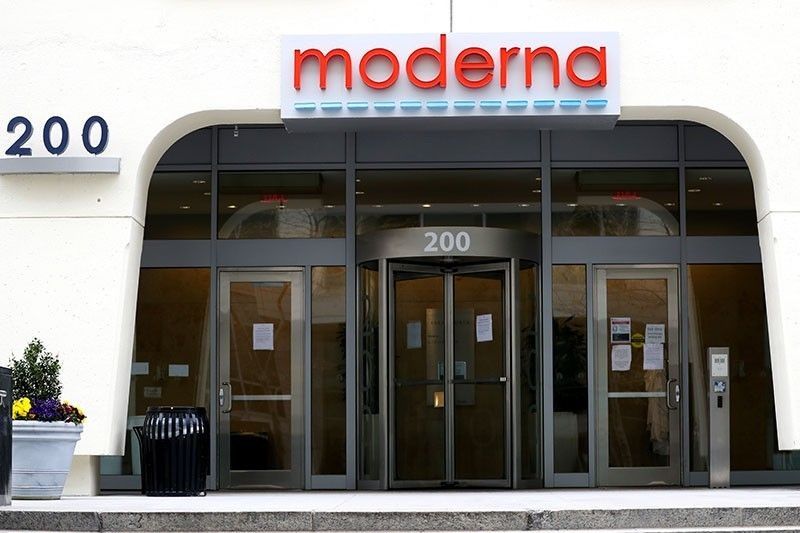 In this file photo a view of Moderna headquarters is seen on May 8, 2020 in Cambridge, Massachusetts. US biotech firm Moderna on May 18, 2020 reported "positive interim" results in the first clinical tests of its vaccine against the new coronavirus performed on a small number of volunteers. The vaccine appeared to produce an immune response in eight people who received it, of the same amplitude as that observed in people infected with the virus, the company said, adding that phase 3 trials with a large number of volunteers would begin in July.
AFP/MADDIE MEYER/GETTY IMAGES NORTH AMERICA
Moderna vaccine 94.5% effective in second breakthrough
Issam Ahmed
(Agence France-Presse) - November 16, 2020 - 9:06pm
WASHINGTON, United States — US biotech firm Moderna on Monday announced its experimental vaccine against COVID-19 was 94.5% effective, marking a second major breakthrough in the vaccine hunt.
Moderna released early results from a clinical trial with more than 30,000 participants, after US pharmaceutical company Pfizer and its German partner BioNTech last week said their vaccine was 90% effective.
Both vaccine frontrunners are based on a new platform called messenger RNA, which is faster to produce than traditional vaccines and effectively turn human cells into vaccine factories.
"This positive interim analysis from our Phase 3 study has given us the first clinical validation that our vaccine can prevent COVID-19 disease, including severe disease," said Stephane Bancel, Moderna's CEO.
The company plans to submit applications for emergency approval in the US and around the world within weeks, and says it expects to have approximately 20 million doses ready to ship in the US by the end of the year.
Global infections from COVID-19 have soared past 54 million with more than 1.3 million deaths since the virus emerged in China late last year.
The Moderna vaccine, which was co-developed by the US National Institutes of Health, is given in two doses 28 days apart, and the preliminary results are based on 95 volunteers of the 30,000 who fell ill with COVID-19.
Of the 95, 90 had been in the trial's placebo group, and five in the group that received the drug, called mRNA-1273.
'Tremendously exciting'
There were 11 people who fell severely ill, all of whom were in the placebo group.
The vaccine was well tolerated, with the majority of side-effects classed as mild or moderate.
After the first dose, about three percent of people had injection site pain classed as severe.
Among side-effects classed as severe after the second dose, about 10 percent had fatigue, nine percent had muscle pain, five percent had joint pain or headaches, four percent had other pain and two percent had redness at the injection site.
These adverse events were "short lived," according to a statement.
"This news from Moderna is tremendously exciting and considerably boosts optimism that we will have a choice of good vaccines in the next few months," said Peter Openshaw, a professor of experimental medicine at Imperial College London.
Crucially, Moderna also announced that its vaccine can remain stable at standard refrigerator temperatures of 2 degrees Celsius to 8 degrees Celsius (36 degrees Fahrenheit to 46 degrees Fahrenheit) for 30 days.
The company added it could be kept in long-term storage at standard freezer temperatures of -20 degrees Celsius (-4 degrees Fahrenheit) for up to six months.
Pfizer's vaccine, on the other hand, needs to be stored in deep-freezer conditions which could complicate supply chain logistics, particularly in less developed countries.
It is not yet clear how long lasting the protection will be from either the Moderna or Pfizer vaccines, nor how well they work for the elderly, the age-group at highest risk from COVID-19.
As It Happens
LATEST UPDATE: January 28, 2021 - 6:25pm
Pharma giants Sanofi and GSK said on July 29, 2020, that they have agreed to supply Britain with up to 60 million doses of a potential COVID-19 vaccine. The agreement covers a vaccine candidate developed by France's Sanofi in partnership with the UK's GSK and is subject to a "final contract."
This thread collects some of the major developments in the search for a vaccine to ease the new coronavirus pandemic. (Main photo by AFP/Joel Saget)
January 28, 2021 - 6:25pm
The vaccine made by Pfizer and BioNTech appears to retain its effectiveness against coronavirus mutations in worrying new variants that have emerged recently in Britain and South Africa, the firms say.
Several new variants -- each with a cluster of genetic mutations -- have sparked fears over an increase in infectiousness as well as suggestions that the virus could begin to elude immune response, whether from prior infection or a vaccine. — AFP
January 28, 2021 - 4:11pm
Pfizer and BioNTech, makers of a COVID-19 vaccine, say on Thursday that their product is effective against coronavirus variants that have emerged in Britain and South Africa.
In a statement, the two companies say the "small differences" detected in tests comparing the original virus and the recent versions "are unlikely to lead to a significant reduction in the effectiveness of the vaccine". — AFP
January 27, 2021 - 7:21pm
Pharmaceutical group AstraZeneca has pulled out of a meeting with EU representatives meant to take place Wednesday to get to the bottom of delays of its COVID-19 vaccine, an EU official tells AFP.
The sudden cancellation by the Anglo-Swedish firm marked a dramatic new turn in escalating tensions between it and the European Commission, which is demanding AstraZeneca fulfil its contract for the vaccine doses. — AFP
January 27, 2021 - 9:55am
AstraZeneca's CEO insists that the company was not selling vaccines ordered by the European Union to other countries at a profit, after delayed orders sparked fury from EU leaders.
The British-Swedish drugs firm admitted last week that it would not meet its contractual delivery commitments to the EU because of "reduced yields" in its European supply chain.
That prompted European Health Commissioner Stella Kyriakides to announce that the EU plans to start tracking vaccine shipments exported to non-member countries -- a sign of growing distrust. — AFP
January 26, 2021 - 8:03pm
World Health Organization experts on Tuesday cautiously backed delaying second injections of the Moderna coronavirus vaccine in some situations, and insisted international travellers should not be prioritised for COVID-19 jabs.
The WHO's Strategic Advisory Group of Experts on Immunisation (SAGE) said it was best to adhere to the tested interval of 28 days between doses of the Moderna vaccine, but that in "exceptional circumstances" the doses could be spaced as far as 42 days apart. — AFP