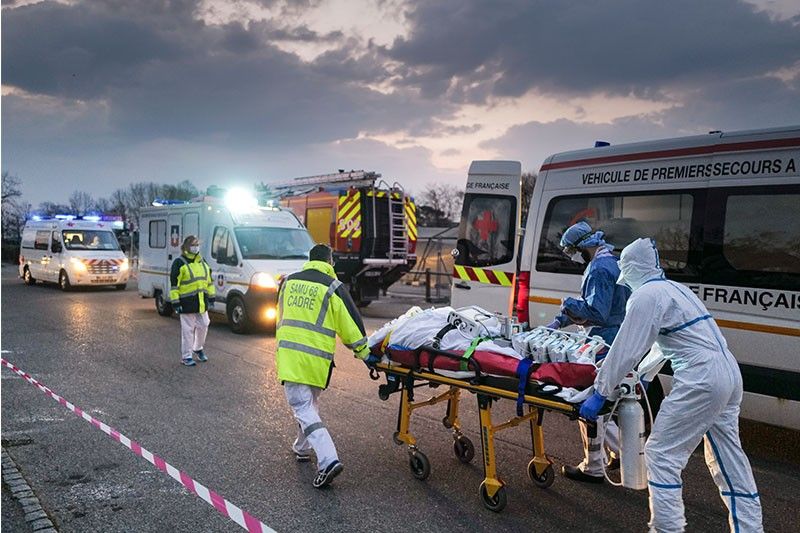 In this file photo taken on March 29, 2020 emergency medical personnel carries a patient affected with coronavirus (Covid-19) from a military hospital to an ambulance before being transported aboard a medicalised TGV (high-speed train) to be evacuated towards hospitals of other French regions in Mulhouse, eastern France, amid the spread of the COVID-19 (new coronavirus) pandemic.
AFP/Sebastien Bozon
Pandemic risks 'surge' in infectious disease deaths
PARIS, France — Poorer nations could see hundreds of thousands of additional deaths from HIV, tuberculosis and malaria as COVID-19 disrupts vital health services and access to life-saving treatment, new research warned Tuesday.
Modelling the impact in countries that will bear the brunt of the three diseases over the next five years, the study found that they could even see as many years of life lost from those illnesses as from the pandemic itself.
The team behind the research said it was vital for governments to ensure that people living with the three killers continued to have access to diagnosis and treatment even while health systems are stretched by COVID-19.
HIV, tuberculosis and malaria kill close to three million people every year, the vast majority in low- or middle-income countries despite the existence of cheap and effective treatment or prevention.
Dozens of countries are already reporting an increase in people avoiding health care facilities out of fear of contracting the virus, and the supply of medicines such as anti-retroviral treatments for HIV are stretched.
"In countries with a high malaria burden and large HIV and TB epidemics, even short-term disruptions could have devastating consequences for the millions of people who depend on programmes to control and treat these diseases," said Timothy Hallett from Imperial College London and paper co-author.
For the study, which was published in the Lancet Global Health medical journal, the team looked at four different policy scenarios affecting the spread of COVID-19.
They then incorporated transmission models of HIV, tuberculosis and malaria to estimate the impact on heath services within the different scenarios over a five-year period.
The greatest impact was projected to be from interruption of anti-retrovirals for those living with HIV, with parts of southern Africa experiencing up to 10 percent more HIV deaths than would occur without COVID-19.
In the worst case scenario, screening and treatment for tuberculosis -- still the world's biggest infectious killer -- could see deaths rise by 20 percent in southern Africa.
Malaria deaths linked to the interruption of mosquito net campaigns could surge by 36 percent if little is done to stem the spread of COVID-19 in high incidence countries.
Study co-author Alexandra Hogan said the pandemic risked destroying many gains made in malaria control over the past decade.
"Routine preventative measures must be prioritised, ensuring mosquito net distribution campaigns and (preventative) treatments, such as mass drug distribution, are maintained," she said.
As It Happens
LATEST UPDATE: August 5, 2020 - 9:02am
Follow this page for updates on a mysterious pneumonia outbreak that has struck dozens of people in China.
August 5, 2020 - 9:02am
The US adds 1,302 deaths from COVID-19 in the past 24 hours, according to a tally by Johns Hopkins University.
The world's largest economy also adds 53,847 new cases of the virus, the Baltimore-based institution's tracker showed at 8:30 pm (0030 GMT Wednesday).
The US has now recorded 4,765,170 total cases with 156,668 deaths, making it by far the worst-hit country in the world. — AFP
August 4, 2020 - 7:27pm
Global police body Interpol warned Monday of an "alarming" rate of cybercrime during the coronavirus pandemic, with criminals taking advantage of people working from home to target major institutions.
An assessment by the Lyon-based organisation found a "significant target shift" by criminals from individuals and small businesses to major corporations, governments and critical infrastructure.
"Cybercriminals are developing and boosting their attacks at an alarming pace, exploiting the fear and uncertainty caused by the unstable social and economic situation created by COVID-19," said Interpol Secretary General Juergen Stock.
"The increased online dependency for people around the world is also creating new opportunities, with many businesses and individuals not ensuring their cyberdefences are up to date," he added. — AFP
August 4, 2020 - 4:42pm
The Department of Health reports 6,352 additional cases of the coronavirus disease. This raises the total number of COVID-19 infections in the Philippines to 112,593.
There are currently 44,429 active cases in the country. 240 patients have recovered and 11 more died from the deadly virus.
August 4, 2020 - 10:24am
According to a tally by Johns Hopkins University, the United States added 46,321 new coronavirus cases in 24 hours Monday.
The world's largest economy also added 532 deaths, the Baltimore-based institution's tracker showed at 8:30 pm (0030 GMT Tuesday).
The US has now recorded 4,711,323 total cases, with 155,366 deaths, making it by far the worst-hit country in the world. — AFP
August 4, 2020 - 7:38am
Latin American and the Caribbean on Monday surpassed five million coronavirus cases, according to an AFP tally, more than half of which have been registered in Brazil.
Alongside the cases, there have been more than 200,000 deaths from COVID-19 in the region.
Brazil, a country of 210 million, has recorded 2.75 million infections and more than 94,000 deaths.
Only the United States with 4.8 million cases and almost 155,000 deaths has been worse affected than the South American giant. — AFP