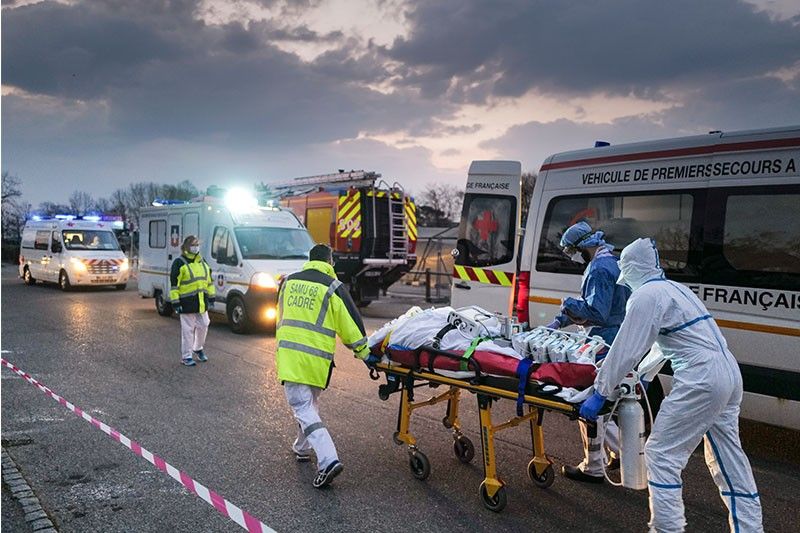 In this file photo taken on March 29, 2020 emergency medical personnel carries a patient affected with coronavirus (Covid-19) from a military hospital to an ambulance before being transported aboard a medicalised TGV (high-speed train) to be evacuated towards hospitals of other French regions in Mulhouse, eastern France, amid the spread of the COVID-19 (new coronavirus) pandemic.
AFP/Sebastien Bozon
Pandemic risks 'surge' in infectious disease deaths
PARIS, France — Poorer nations could see hundreds of thousands of additional deaths from HIV, tuberculosis and malaria as COVID-19 disrupts vital health services and access to life-saving treatment, new research warned Tuesday.
Modelling the impact in countries that will bear the brunt of the three diseases over the next five years, the study found that they could even see as many years of life lost from those illnesses as from the pandemic itself.
The team behind the research said it was vital for governments to ensure that people living with the three killers continued to have access to diagnosis and treatment even while health systems are stretched by COVID-19.
HIV, tuberculosis and malaria kill close to three million people every year, the vast majority in low- or middle-income countries despite the existence of cheap and effective treatment or prevention.
Dozens of countries are already reporting an increase in people avoiding health care facilities out of fear of contracting the virus, and the supply of medicines such as anti-retroviral treatments for HIV are stretched.
"In countries with a high malaria burden and large HIV and TB epidemics, even short-term disruptions could have devastating consequences for the millions of people who depend on programmes to control and treat these diseases," said Timothy Hallett from Imperial College London and paper co-author.
For the study, which was published in the Lancet Global Health medical journal, the team looked at four different policy scenarios affecting the spread of COVID-19.
They then incorporated transmission models of HIV, tuberculosis and malaria to estimate the impact on heath services within the different scenarios over a five-year period.
The greatest impact was projected to be from interruption of anti-retrovirals for those living with HIV, with parts of southern Africa experiencing up to 10 percent more HIV deaths than would occur without COVID-19.
In the worst case scenario, screening and treatment for tuberculosis -- still the world's biggest infectious killer -- could see deaths rise by 20 percent in southern Africa.
Malaria deaths linked to the interruption of mosquito net campaigns could surge by 36 percent if little is done to stem the spread of COVID-19 in high incidence countries.
Study co-author Alexandra Hogan said the pandemic risked destroying many gains made in malaria control over the past decade.
"Routine preventative measures must be prioritised, ensuring mosquito net distribution campaigns and (preventative) treatments, such as mass drug distribution, are maintained," she said.
As It Happens
LATEST UPDATE: April 7, 2021 - 6:09pm
Follow this page for updates on a mysterious pneumonia outbreak that has struck dozens of people in China.
April 7, 2021 - 6:09pm
Prime Minister Narendra Modi's home state Gujarat becomes the latest to tighten coronavirus curbs as India's infections surge to a record of almost 116,000 new cases in 24 hours.
Experts blame the country's fresh wave on people ignoring guidelines and attending huge religious and political events, as well as weddings and cricket matches in recent months.
India has now recorded 12.8 million cases, the third-highest behind the United States and Brazil, although those nations have much smaller populations. More than 166,000 Indians have died. — AFP
April 7, 2021 - 9:24am
Brazil registers more than 4,000 Covid-19 deaths in 24 hours for the first time Tuesday, the health ministry says, as the country reeled from a surge of infections that has made it the current epicenter of the pandemic.
The coronavirus claimed 4,195 lives in the deadliest day of the pandemic yet for the hard-hit country, whose total reported death toll is now nearly 337,000, second only to the United States.
Brazil's health system is buckling under the strain of the latest virus wave, which has forced doctors into agonizing decisions over which patients to give life-saving care and led cemeteries to hold nighttime burials to deal with the crush of coffins. — AFP
April 4, 2021 - 9:17am
Argentina's President Alberto Fernandez, who has been vaccinated against Covid-19, announced late Friday that he had tested positive for the coronavirus.
"At the end of today, after presenting a fever of 37.3 (99 Fahrenheit) and a slight headache, I performed an antigen test, which was positive," he tweeted.
A PCR test later confirmed the diagnosis.
The president, who turned 62 on Friday, was in isolation as a precaution but said he was "physically well."
"Although I would have liked to end my birthday without this news, I am also in good spirits," he said. — AFP
April 3, 2021 - 1:03pm
Argentina's President Alberto Fernandez, who has been vaccinated against COVID-19, announces that he had tested positive for the coronavirus.
"At the end of today, after presenting a fever of 37.3 and a slight headache, I performed an antigen test, which was positive," he tweets, adding he was waiting for the results of a PCR test to confirm the diagnosis. — AFP
April 3, 2021 - 9:16am
Latin America and the Caribbean pass the 25 million mark for recorded coronavirus cases as a surge in infections saw countries place restrictions on travel and movement while vaccine campaigns catch up.
An AFP tally showed the region reaching the grim milestone of 25,001,533 infections, putting it in third place after Europe with 44.2 million cases and the United States and Canada with over 31.5 million.
The death toll for Latin America and the Caribbean exceeded 788,000, according to AFP's count, second only to Europe which has lost some 936,000 people in the pandemic. — AFP