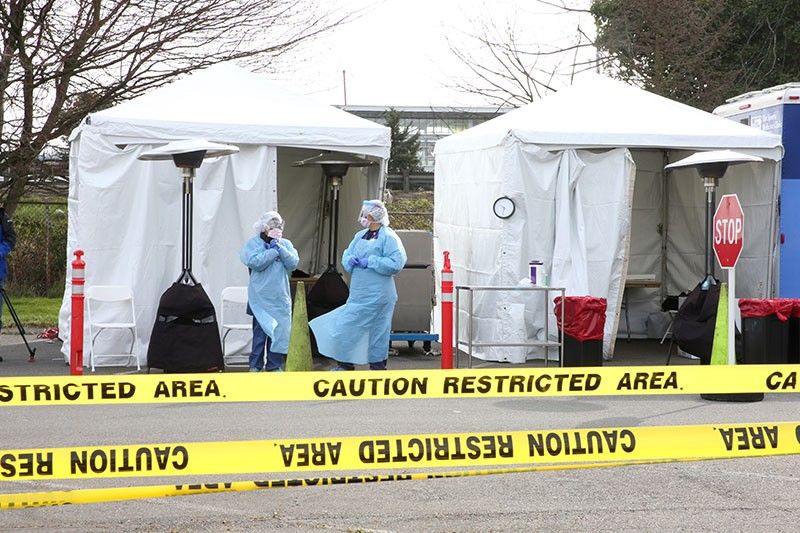 Nurses wait for a patient to arrive for a COVID-19 screening at an appointment-only drive-up clinic set up by the University of Washington Medical Center Northwest Outpatient Medical Center on March 17, 2020 in Seattle, Washington. The new clinic was set up to provide additional screening capacity, support personal protective equipment conservation efforts and help reduce the number of patients entering healthcare facilities for testing.
AFP/Karen Ducey/Getty Images
New coronavirus can survive on surfaces for hours: study
(Agence France-Presse) - March 18, 2020 - 7:59am
WASHINGTON, United States — The novel coronavirus can survive on surfaces or in the air for several hours, according to a US-government funded study published Tuesday.
Scientists found that the virus that causes the COVID-19 disease had similar levels of viability outside the body to its predecessor that caused SARS.
This means that factors like greater transmission between people with no symptoms might be why the current pandemic is far greater than the SARS outbreak of 2002-2003.
The new paper was published in the New England Journal of Medicine (NEJM) and carried out by scientists from the Centers for Disease Control and Prevention (CDC), University of California, Los Angeles and Princeton.
The new coronavirus was detectable for up to two to three days on plastic and stainless steel, and for up to 24 hours on cardboard.
The team used a nebulizer to simulate a person coughing or sneezing, and found that the virus was detectable for three hours in the air.
The study was first posted on a medical pre-print website last week before it was peer-reviewed, and attracted much attention, including some criticism from scientists who said that it may have overstated the airborne threat.
The virus is predominantly transmitted by respiratory droplets and in this form it is viable for only a few seconds after a person coughs or sneezes.
Critics questioned whether a nebulizer accurately mimicked a human cough or sneeze.
The team behind the NEJM study performed similar tests on the SARS virus, finding the two viruses behave similarly.
But their similar viability fails to explain why the novel coronavirus pandemic has infected close to 200,000 people and caused almost 8,000 deaths, while the SARS epidemic infected about 8,000 and killed nearly 800.
"This indicates that differences in the epidemiologic characteristics of these viruses probably arise from other factors, including high viral loads in the upper respiratory tract and the potential for persons infected with SARS-CoV-2 to shed and transmit the virus while asymptomatic," wrote the researchers.
SARS-CoV-2 is the technical name for the new coronavirus.
The findings affirm guidance from public health professionals regarding social distancing, avoiding touching the face, covering your cough or sneeze, and frequently disinfecting objects using cleaning sprays or wipes.
As It Happens
LATEST UPDATE: March 28, 2020 - 6:29pm
Follow this page for updates on a mysterious pneumonia outbreak that has struck dozens of people in China.
March 28, 2020 - 6:29pm
Iran announces that 139 more people had died from the novel coronavirus, raising the official death toll to 2,517 in one of the world's worst-affected countries.
Health ministry spokesman Kianoush Jahanpour says in a press conference that 3,076 more cases had been confirmed in the past 24 hours, bringing the total number of infections to 35,408. — AFP
March 28, 2020 - 3:53pm
Actress Iza Calzado tested positive for the coronavirus disease, her manager says.
March 28, 2020 - 1:30pm
Toyota Makati Inc. announces that a team member tested positive for COVID-19.
"The safety and security of our employees, customers, and all of our stakeholders, is paramount to us. Keeping this in mind, and under the guidance and support of the relevant national and local authorities, we are taking immediate and comprehensive actions necessary, including disinfection of the dealership, to prevent any spread of the virus," the company says.
"Furthermore, all employees who have had close contact with the infected member have been quarantined," it adds.
March 28, 2020 - 10:43am
The United States now has more than 100,000 confirmed cases of the new coronavirus, a tracker maintained by Johns Hopkins University shows.
There have been 100,717 cases including 1,544 deaths as of 6:00 pm Eastern time (2200 GMT).
The biggest cluster by far is in New York, home to almost half the cases, overwhelming the hospital system. — AFP
March 28, 2020 - 9:08am
Manila Development Authority General Manager Jojo Garcia has tested positive for the coronavirus disease.
"I wish to inform everyone that I will have to work from home as I have been found positive for COVID-19," Garcia says in a statement.
"I embrace this challenge with full trust and faith in God that I will overcome the same with your prayers," he adds.