I dreamed a dream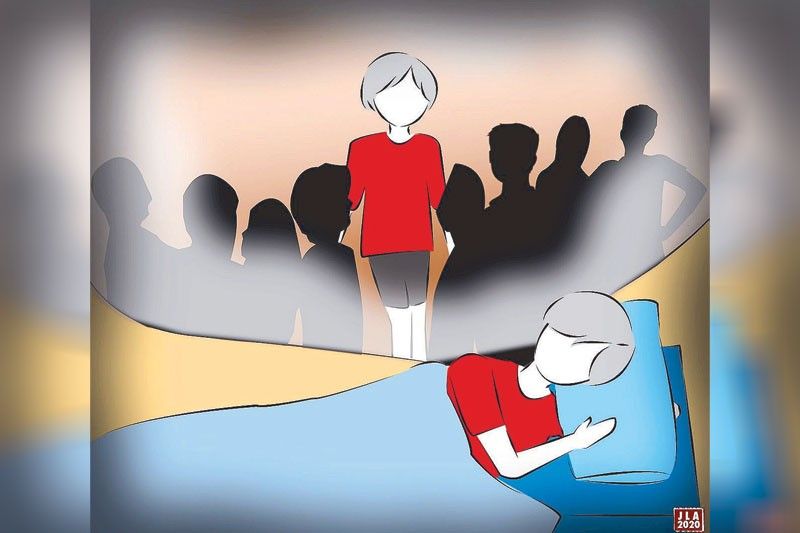 I was recently awakened from a deep sleep by a dream that left me totally frustrated. I dreamed that I was in Portugal, in a castle in Sintra, where my friend Dr. June Lopez and I were to receive an award. We were in our room getting ready for a dinner with the bigwigs of the awarding organization. As we walked to the dining hall, I realized that I was still in my sleeping clothes biking shorts and a very loose T-shirt. I had forgotten to change!
So, I went back to the room to change where, rummaging through my luggage, I could find nothing decent to wear to a formal dinner. I had brought all the wrong clothes. I had packed the clothes I have been wearing throughout the lockdown — faded dresses that have seen better days, and other ratty pambahay.
In my dream, I missed the dinner. And I woke up to the sound of my own voice crying out loud, "I have nothing to wear!"
I didn't need a dream interpreter to tell me what that dream was about. The thing is, I have nice clothes to wear. I just have no place to go wearing them. These days, with nowhere to go, I have been living in my oldest and most comfortable pambahay.
I survey my wardrobe and see dresses I'd love to wear again. But I mustn't complain. I am home where I have enough to eat, my clothes are laundered regularly, the internet works, I am safe from the rain and the heat, and there is running water and electricity all day and all night. Except for my desire to get dressed up and step out once in a while and hug a friend or two, all my needs are met.
I know the drill for staying safe: stay home, be wary of visitors, wash your hands, disinfect footwear and all goods coming in from outside, and if you have to go out, even to the driveway, wear a mask. I have fallen into the routine and am beginning to take for granted what in these past three months has become the new normal.
I no longer listen to the daily reports of the health department on the number of new cases, recoveries, and deaths there are each day. I'm just living from day to day, finding things to fix or rearrange at home, catching up on my reading, overusing my cellphone, and watching CNN and TV Patrol.
Watching the news, I realize how privileged I am being where I am.
There are hundreds of passengers who have been stranded for months outside the airport, wondering when they can go home — aspiring OFWs from the provinces who got stuck in Manila when the lockdown cancelled all international flights and they were not able to get to their jobs abroad. With no regular domestic flights either, they have no way to fly back home.
There are homeless students, workers, returning OFWs, and other random folk who are stuck in the big city with no relatives to run to for food and shelter. Hungry, angry and frustrated, they depend on the kindness of strangers for survival.
The jeepney drivers have not been allowed to ply their routes since the authorities find it quite impossible to impose social distancing in their vehicles. When they rally or beg in the streets for sustenance, they are arrested and detained for not wearing masks and observing the necessary distance from one another.
It seems like the rules were drawn up with only the citizens who have the means to observe them in mind. No one seems to have anticipated that the majority of the residents of Metro Manila live in tiny spaces in crowded communities where it is impossible to keep the proper distance from the next person to be safe from COVID-19.
While the authorities have allowed some basic industries to open up, no one seemed to remember that most workers depend on crowded jeepneys, buses, and trains to get to and from their jobs.
Meanwhile, the attraction of staying home all day in pambahay is getting old. I resent the rule that all seniors must stay at home, whether or not we have pre-existing conditions that would make us vulnerable to the virus. While, as a senior, I can now take a walk around the village I Iive in, I want to know that I can walk out of the village gate and visit my relatives nearby, buy stuff in the grocery, and hear Mass in the parish church.
However, I listen to Dr. Fauci, and I know the whole world (except perhaps for New Zealand) is in this for the long haul. Who really knows when the quarantine period can be lifted safely? And if and when the IATF does lift the lockdown, will we have enough confidence in their judgment to venture out?
We don't hear much about contact tracing, the scientific kind being done in Baguio by Mayor Magalong, and the testing for the virus has been slow, inefficient, and expensive. The situation is far from ideal.
And so it goes. I expect the frustration to continue emerging in my dreams, as I wonder what kind of dreams — or nightmares — most other Filipinos are having in this uncertain season of the deadly COVID-19.