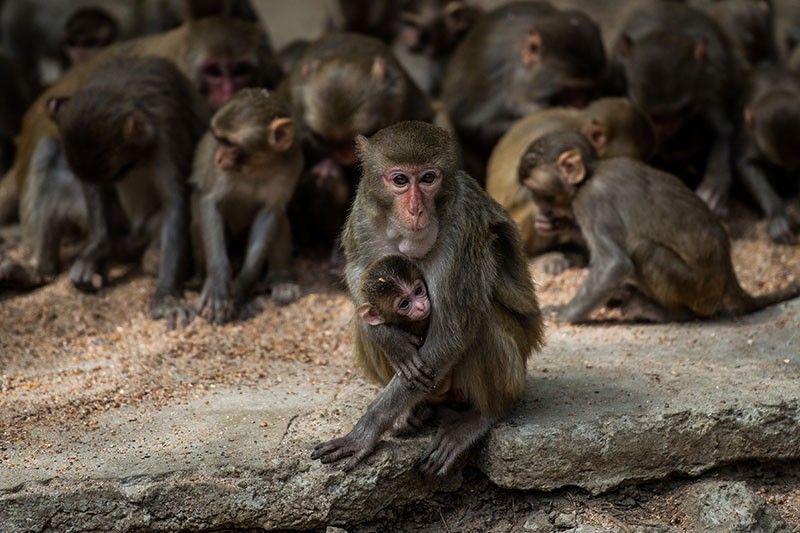 This photo taken on May 17, 2020 shows monkeys gathering during feeding time by rangers at the Hlawga Wildlife Park, outskirts of Yangon that remains closed, amid the concerns of the COVID-19 coronavirus pandemic. Hlawga Park attracts large visitor each months awaiting for reopening with restrictions as preventive measures against coronavirus.
AFP/Ye Aung Thu
Monkeys develop virus immunity after infection, vaccine: studies
(Agence France-Presse) - May 21, 2020 - 7:38am
WASHINGTON, United States — Two studies on monkeys published on Wednesday offer hope that humans can develop protective immunity to the novel coronavirus.
The studies, published in the journal Science, looked at a prototype vaccine and whether infection with SARS-CoV-2 provides immunity against re-exposure.
Both questions are critical as researchers tackle the virus, which has infected nearly five million people around the world and caused more than 325,000 deaths.
The studies were carried out on rhesus macaque monkeys to see whether they develop protective virus immunity from natural infection or from a vaccine.
"The global COVID-19 pandemic has made the development of a vaccine a top biomedical priority, but very little is currently known about protective immunity to the SARS-CoV-2 virus," said senior author Dan Barouch, director of the Center for Virology and Vaccine Research at Beth Israel Deaconess Medical Center in Boston.
"In these two studies, we demonstrate in rhesus macaques that prototype vaccines protected against SARS-CoV-2 infection and that SARS-CoV-2 infection protected against re-exposure," Barouch said.
In one study carried out by Barouch and other researchers, nine adult rhesus macaque monkeys were infected with the virus.
The monkeys developed COVID-19 symptoms but created protective antibodies and recovered after a few days.
To test their immunity, they were exposed to SARS-CoV-2 again 35 days later for what is called a "re-challenge", and they showed few to no symptoms.
The authors of the study cautioned that further research will be needed because of the "important differences" between SARS-CoV-2 infection in monkeys and humans.
"Rigorous clinical studies will be required to determine whether SARS-CoV-2 infection effectively protects against SARS-CoV-2 re-exposure in humans," they said.
The second study, involving many of the same researchers and led by Jingyou Yu, involved vaccinating 35 adult macaques with DNA vaccine candidates designed to generate protective antibodies.
They were exposed to the coronavirus six weeks later and had developed levels of antibodies in the blood sufficient to neutralize it, the study found.
The levels of antibodies, it said, were similar to those seen in humans recovering from the virus, providing hope that an effective human vaccine can be developed.
"Further research will need to address the important questions of the durability of protective immunity and the optimal vaccine platforms for a SARS-CoV-2 vaccine for humans," the authors of the study said.
As It Happens
LATEST UPDATE: June 5, 2020 - 4:56pm
Follow this page for updates on a mysterious pneumonia outbreak that has struck dozens of people in China.
June 5, 2020 - 4:56pm
The Department of Health reports that the total number of confirmed COVID-19 infections in the Philippines climbed to 20,626 as of Friday, June 5, 2020.
There are 244 additional cases, 82 recoveries and three new deaths.
June 5, 2020 - 9:16am
Brazil's death toll from the novel coronavirus has surged to become the third-highest in the world, surpassing Italy's, according to official figures released Thursday.
The South American country of 210 million people reported a new record of 1,473 deaths in 24 hours, bringing its overall toll to 34,021, from 614,941 infections, the health ministry said.
Italy has confirmed 33,689 deaths from 234,013 infections. — AFP
June 5, 2020 - 7:26am
The novel coronavirus has killed at least 387,280 people since the outbreak first emerged in China last December, according to a tally from official sources compiled by AFP at 1900 GMT on Thursday.
At least 6,563,710 cases of coronavirus have been registered in 196 countries and territories. Of these, at least 2,838,800 are now considered recovered.
The tallies, using data collected by AFP from national authorities and information from the World Health Organization (WHO), probably reflect only a fraction of the actual number of infections. — AFP
June 4, 2020 - 6:44pm
Britain's Prince Charles spoke of his experience of coronavirus, saying he was fortunate to have only mild symptoms and that he hopes the pandemic will refocus efforts on the environment.
"I was lucky in my case and got away with it quite lightly," the 71-year-old heir to the throne told Sky News television in an interview broadcast on Thursday.
"I can so understand what other people have gone through. I feel particularly for those who've lost their loved ones but were unable to be with them at the time.
"That's to me the most ghastly thing," he said. — AFP
June 4, 2020 - 5:05pm
The Department of Health reports 634 additional cases of the coronavirus disease, which brings the national tally to 20,382.
The agency says there are 95 recoveries and 10 deaths.