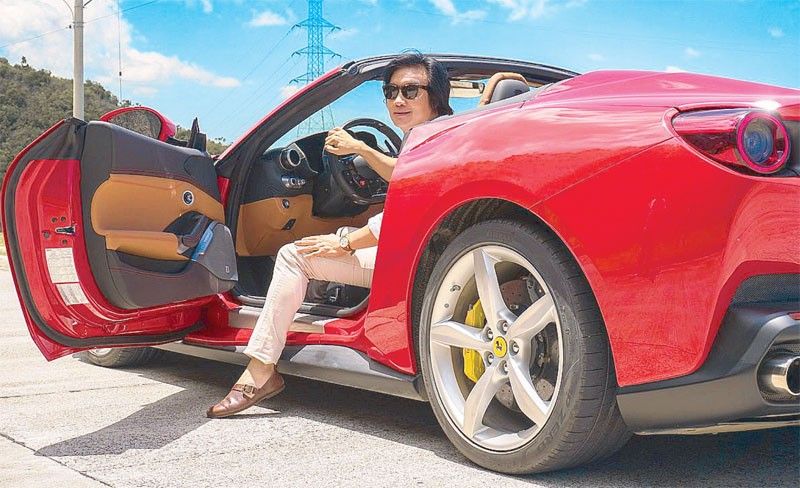 A man and his car: Kenneth Cobonpue and his red Ferrari
Kenneth Cobonpue on design, living in cebu, and driving his ferrari
Kathy Moran
(The Philippine Star) - November 5, 2019 - 12:00am
MANILA,Philippines — Just like Ferrari, each of Kenneth Cobonpue's creation is an iteration of his past experiences. Every Ferrari is different in design and performance (but always superior than everything else), and this is what makes the brand exciting and exhilarating.
"A classic Ferrari, like my Dino, has a raw and timeless appeal that is special. Driving it is like piloting an old F1 car. A Ferrari from the '80s is modern but still retains that old-school feeling, requiring driving skills at high speeds," said the world-renowned industrial designer.
The design of a Ferrari, Cobonpue said, is a reflection of the aesthetic language of its time—from curvy shapes to sharp wedges and then back to a combination of both.
Cobonpue is one of the featured influencers in the Italian carmaker's latest social media campaign, which aims to put the spotlight on real-world Ferrari owners who also embody the essence of the Ferrari Portofino model: beauty, passion, excellence, tradition and innovation, and emotions.
Set against the backdrop of Southeast Asia's iconic cities, the campaign follows three accomplished individuals from the Philippines, Indonesia, and Thailand as they share how Ferrari readily fuels their narrative of grit, passion, and affluence. The storyline in each of the campaigns will focus on what inspires them and the values they live by. This campaign aims to highlight Ferrari's bespoke offerings and experiences that allow the Ferrari Portofino to take center stage
Backed by an established heritage, the Ferrari Portofino is a powerful vehicle that features timeless qualities — engineering excellence and enduring aesthetic sensibilities — that are coupled with advances in technology and modern functionalities of the time.
"My designs are inspired by nature and I am fond of bringing the feel of the natural environment in. I believe that design is a living process, forever transforming in response to the changing world," Cobonpue said.
With designs that have appeared in full-length films such as Ocean's 13 and CSI Miami, organic forms derived from plants and animals and open weaves that allow light and air to pass through have become the hallmark of his design aesthetics.
Cobonpue was basically born into the furniture industry, with a mom who had a furniture- making workshop in their backyard. He grew up watching craftsmen create amazing pieces of work, which fascinated a young Cobonpue.
"I would make my own toys and show them to my mom, which really made her happy. That's when I knew I wanted to do something that would make people happy with objects that I would create that could be part of their lives," he said.
Cobonpue is a proud Cebuano. Living there, he said, keeps him grounded. "I love that we have found this balance between industrialization and preserving our natural beauties. Seeing trees among buildings means we're still on the right track. I hope this doesn't go away."
One thing in common between the Ferrari and Cobonpue's designs is the attention to detail that is required to make their respective visions come to life—and how everything culminates in elegant masterpieces.
Cobonpue got to drive the Portofino for two days with his son in Dubai and he was impressed with the award-winning engine that is incredibly fast but docile.
In an Instagram post (@kennethcobonpue), the designer gamely posed with the Ferrari Portofino. In the caption, Cobonpue said he "looks forward to days like these when I get to spend some time with my son and drive through the desert."
"It makes for a great first Ferrari and is great as an all around car weaving through traffic in Manila or as a getaway car on weekends," he said.
Cobonpue today has his hands full with projects all over the world. Locally, he's doing the official Philippine Pavilion of the Department of Tourism in London; a green walking park in Naga, Cebu; and an interactive installation where people can lounge and hang out in Clark during the upcoming SEA Games in November.
Cobonpue said: "I create to excite. Meaningful design evokes emotion, and my aim is to enrich people's lives and transport them to a world of fantasy and imagination."