The Baron Method: Eat more, live more
The glutton in us was jumping for joy when we heard sports nutritionist Harvie De Baron make this weighty declaration: Eat more, live great!
Yes, you read that right, but do read on. No, this is not just another diet. Harvie calls it a "lifestyle upgrade." It's not about starving oneself to lose weight. It's about eating the right kind of food, getting your health and life back, feeling good, and looking good.
You can say Harvie has been there and done that, and more. He was fighting a bruising battle with ulcerative colitis (inflammatory bowel disease), which can be traced to stress, poor diet, and an unhealthy lifestyle. He was packing on the pounds because of his steroid treatments. One day, he woke up and told himself, "Enough!" He went into research on how to get well using the natural method and food as medicine. Didn't the Father of Medicine Hippocrates hand down this age-old wisdom "Let thy food be thy medicine and thy medicine be thy food"?
So, armed with his diploma in Sports Nutrition from Oxford College with high distinction, Harvie created the Baron Method to help people achieve what he now enjoys: better health and a fuller and healthier lifestyle, thanks to informed food choices.
Using his own Baron Method, Harvie lost 60 pounds of excess weight. And he has kept the dreaded unwanted pounds away to this day.
"People often wonder why they're not losing weight despite the fact that they don't eat rice anymore," Harvie unleashes a mouthful. "The reason is they're not eating enough."
Harvie elaborates, "You need calories to lose weight, to build muscle. You need calories for your brain, blood circulation, breathing, etc. to function. You need calories even when you're at rest or sleeping. A lot of people eat only enough calories to survive. If you eat only for survival, your body can't perform the higher function of healing and beautifying. Which is why those who starve themselves get the symptoms of falling hair, weak nails, pale skin, etc."
He shares his own battle with the bulge, "I was trying to lose a bit of weight and my old mind set told me to eat less — one cup of rice for lunch and one cup for dinner. But I realized may kulang ako, I was undercalorizing. So I increased my calories to 1-1/2 cups of rice for breakfast, 1-1/2 cups for brunch, 1-1/2 cups for lunch, and 1-1/2 cups for dinner. My weight went down from 187 lbs. to 183, then 182, then 180, after increasing my calories."
Harvie shares this observation, "You don't see people walking around with big muscles, do you? (The ogle-worthy ones I see are mostly actors like the abs-olutely divine Derek Ramsay or the personal trainers.) It's because they don't eat enough so they don't build muscle even if they go to the gym regularly."
Here at this healthy press lunch (but more on this a bit later) to throw her support behind her husband is Eizza De Baron, former Mutya ng Pilipinas Tourism International and a walking advertisement that the Baron Method works. Eizza, who has maintained her beauty queen figure (34-24-34, weighing 101 lbs.) to this day, has not always had it easy. Things were not always served to her on a silver platter (but for sure, it was a platter full of food).
After giving birth to a bouncing baby boy, Eizza weighed a bouncing 132 lbs. with a 29-inch waistline. "I didn't want to go out," she confesses. "Ang feeling ko, magang-maga ako (bloated). I was slightly depressed and I didn't want to eat."
"I told her she couldn't do that because she was breastfeeding," says Harvie.
Harvie put Eizza on the Baron Method and four months later, her weight plunged to 110 lbs. and she was back to her 24-inch whistlebait waistline.
The lovely couple is happy to share tons of success stories of assorted clients helped by the Baron Method. For instance, there's the dramatic case of a stage 4 liver cancer patient who had his chemo in Singapore and then went home to the Philippines to further look for the elusive cure to his cancer.
"What we did for him was we fed him high-value nutrients in a glass," Harvey describes this patient's program. "We started him on juicing to initiate his healing. After chemotherapy wipes out the good and bad cells, juicing helps. We juiced for him lots of leaves of the ashitaba, saluyot, alugbati, etc."
After a few months (much sooner than expected), this stage 4 liver cancer patient was overjoyed to find that his cancer markers were now normal.
Then there's the case of 40-year-old Jesse de Guzman with a really big health problem: He was chronically overweight. A great lover of food, Jesse gave the Baron Method a try because Harvie made this big promise to him: You will never go hungry on his program.
"The Baron Method is a very unconventional eating program so all the food and health knowledge I knew I threw out the window," Jesse relates. "For example, Harvie asked me to eat two eggs a day and, in the beginning, my mom was worried and said it would make my cholesterol levels go bad. Also, Harvie asked me to snack on lots of fruits to keep my metabolism up. And again, my mom said my blood sugar would go up because the fruits were all sugar."
To ease his mom's worries, Jesse went for another blood test four weeks into the Baron Method. To his big surprise, his cholesterol level went down to 146 (from 175) and his blood glucose level was at 101.
He adds with a big sigh, "Lastly, I don't think my waistline has been this small since I was in 6th grade."
There's also the inspiring story of Elaine Pangan who was diagnosed with hypertension at the young age of 19, which did not come as a surprise because both her parents were hypertensive (she lost both of them to liver diseases). She led a life of bad eating habits (like breakfast was rice with some cooked processed food and a mug of sweetened coffee).
Elaine was a proverbial walking time bomb, diagnosed with Polycystic Ovarian Syndrome and Metabolic Syndrome, which put her at high risk for high blood pressure, high blood sugar, high triglycerides, and low HDL (good) cholesterol. Her doctor told her she had fatty liver and would forever be dependent on drugs.
Now, at 35, she turned her life around, got into the Baron Method, and never looked back.
"She cried when we told her she could eat rice," says Eizza. A big eater, Elaine couldn't imagine not eating her favorite rice.
Today, Elaine's fatty liver is gone, her blood sugar is A-OK, and she's eating well and living a full life.
Let me also tell you about Dr. Norie Roxas who was not the epitome of health that he preached. Dr. Roxas is diabetic and his nutritionist, following conventional wisdom, told him to limit his food and fruits as they contain lots of sugar. With the Baron Method, he had unlimited fruits as snack in the morning and in the afternoon, sometimes with honey to make it even sweeter. After two months on the program, his lab workup showed a normal blood sugar profile and he asked his endocrinologist to lessen his anti-diabetic drugs (which were eventually removed, including his antihypertensive meds).
With his program, Harvie has helped assorted patients — children with autism and Attention Deficit Hyperactivity Disorder, and sportsmen like the members of the country's junior swimming team. Through the Adopt-an-Olympian program, Harvie is also committed to making sure Maristela Torres brings home our first gold in the long jump at the Rio Olympics in 2016.
So, what was the healthy lunch we ate at Nomama Artisanal Ramen at Capitol Commons in Pasig? FYI: It's owned by Harvie's chef brother — just call him Him, that's really his name. It seems that Harvie's parents love the letter "H" so much that all seven of their children have names starting with H — Harvie, Hoover, Him, Harvard, Herald, Hershey, and Happy (the only girl so the couple must really be happy to have her).
Okay, okay, what did chef Him cook for us? Get a load of these: creamless carbonara with organic and biodynamic pork back bacon, flank steak with French green beans, salad with candied nuts. Eizza baked her decadent butterless, flourless dark chocolate chip cookies!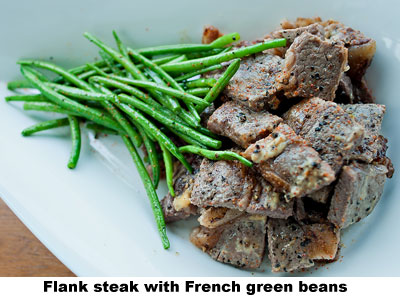 Finally, Harvie gives us these eating tips that should not be taken lightly:
• Beat hunger, avoid being hungry. "I never crave because I'm never hungry, I'm always full."
• If you crave snacks, go for something healthy like nuts — almonds, unsalted or boiled peanuts — or corn without butter.
• Don't ever touch processed meats, these are the really bad stuff as they contain a lot of salt.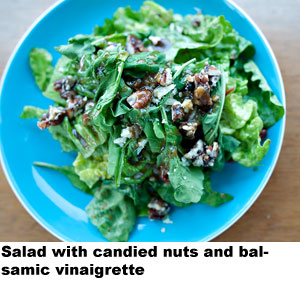 • Salt is not always a sin. It's okay but not too much of it. Sea salt is very good. As long as the salt is not overwhelming. The salt limit is 2,000 mg. for a man and 1,200 to 1,500 mg. (or less than a teaspoon per day) for a woman.
• If you're really serious about your health, you have to cook your food so you know exactly what goes into it.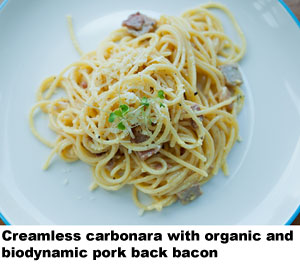 Believe it or not, Harvie eats six eggs a day (poached, omelette, etc.). He eats homecooked chicken tocino and longanisa for breakfast.
Eizza observes that a lot of people are counting calories and starving to get thin and look good. "Okay, papayat sila, but th rebound effect is huge because they don't address the lifestyle issue. They don't eat well on a regular basis."
Making a big buzz now is kale, touted as the queen of greens because of its remarkable nutrients. "But it's so expensive (P500/P600 a kilo) — for that amount of money, you can literally eat a whole garden and pay less than half of that," says Harvie, the smart green shopper. "We use stuff that's available like alugbati, malunggay, camote tops, saluyot, and make them part of our healthy recipes that are not only full of nutrients but full of flavor, too."
Yummy! So, who says healthy food is yucky?
* * *
The Baron Method involves a six-month program that includes a highly personalized eating plan based on your current state of health, your goal in mind, and your daily schedule. For inquiries, call 09178522854; visit www.baronmethod.com; e-mail [email protected] Like it on Facebook and follow it on Instagram at /baronmethod and on Twitter @baronmethod.