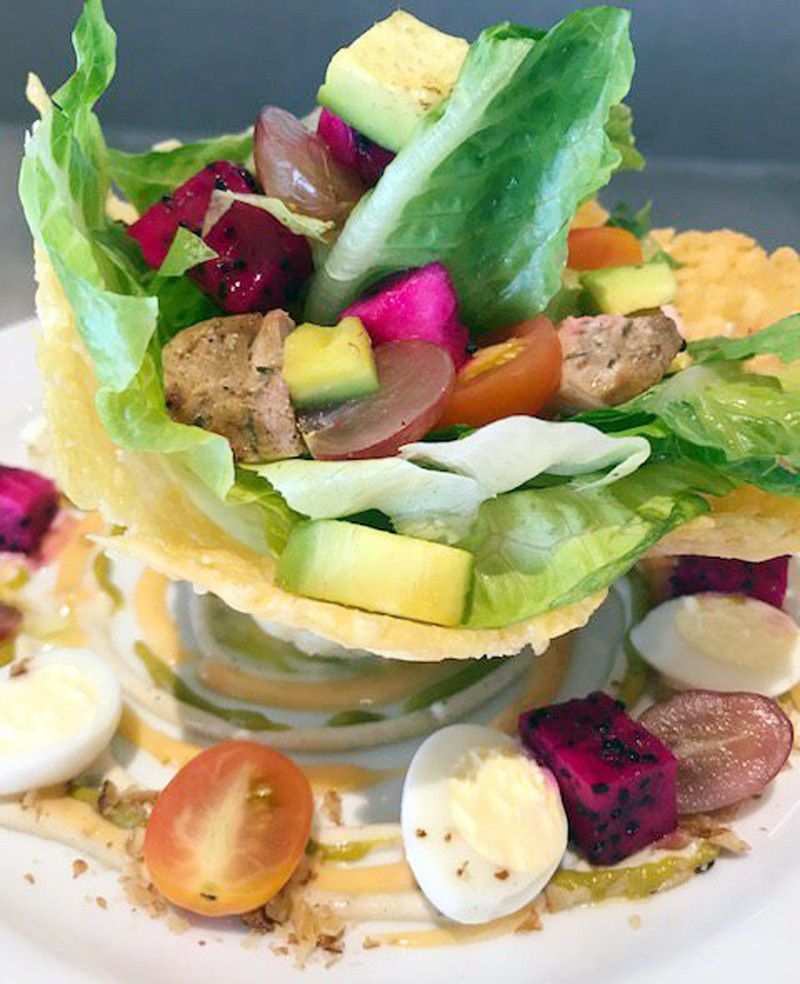 Get cheesy: Parmesan basket salad at Manyaman
Eats, treats & thrills for the family
When was the last time you joined a club or group activity? Mine was years ago when I joined a race?— not the kind where you had to run and outrun the others, though this one required speed, too. It was how fast you could demolish a platter of burgers (with everything on them) before running off to the next event. After that, I never wanted to look at a burger or join a group activity again. That is, until I joined a trip to Alviera Country Club in Porac, Pampanga, and discovered a whole new meaning to club activities, fun and family time.
No more than one hour and 35 minutes' drive from Manila (without traffic) and you're in Alviera, basking in the sun and savoring a welcoming, refreshing view of the Porac Hills in the distance. Alviera is snugly perched on a 1,800-hectare estate by Ayala Land and Leonio Land amid a mix of residences, commercial districts, parks, and leisure facilities.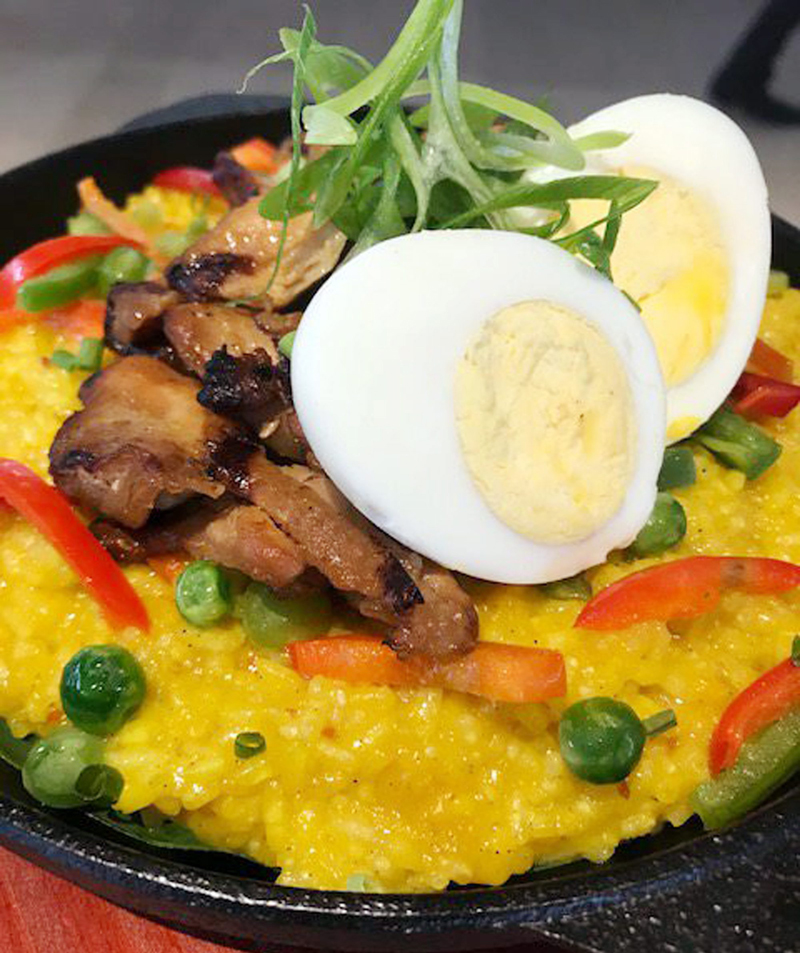 Bring me my rice: Bringhe is a cherished Kapampangan specialty.
The architectural team of Leandro V. Locsin Partners drew inspiration from Porac's rugged, prairie-like landscape to carve an oasis of a destination that is Alviera Country Club. It is the heart — and belly (but more on that a mouthful later) — of the entire Alviera estate, where families and guests can have fun together and enjoy bonding time to the max.
Welcome to the club
Welcome to the Alviera Country Club — all six hectares of it, with its multiple indoor and outdoor sports courts (tennis, badminton, basketball, futsal, volleyball), fitness gym and studio, the Inawa Spa, a network of swimming pools, game console room, private KTV and theater rooms, function rooms, and a grand ballroom.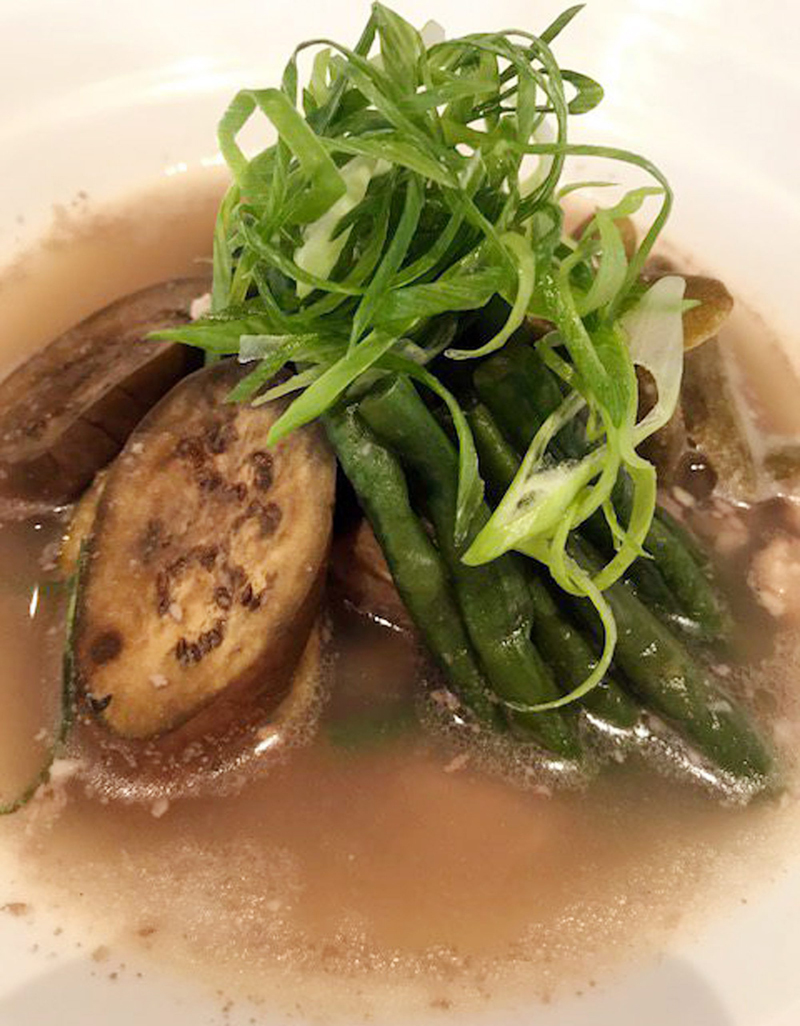 Souper good: Bulanglang soup using native guava
Melanie Eugenio, project development manager, AyalaLand's Strategic Landbank Management Group, tells us to choose which activity we feel like doing for the day. The active ones can't wait to take the plunge — in the half-Olympic-size pool or the lounge pool. As for the seniors, our best bet is the theater (cinema) as it entails the least muscle movement. So, off we go to see Nova Villa/Sarah Geronimo's fantasy drama Miss Granny and forget about the real world as we sit back and relax.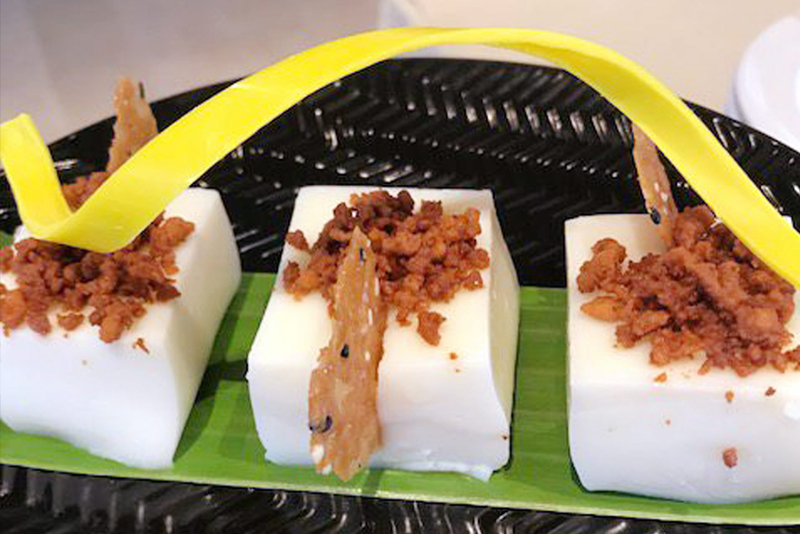 In a heartbeat: Tibok-tibok, a native Kapampangan dessert, is made of carabao's milk.
But probably the best activity that all members of the family, from one to 91 years old, can enjoy, is the food-binging marathon. The main restaurant is aptly named Manyaman, which in Kapampangan means "delicious." There's also the Sabyan Cafe for fresh-brewed coffee and hot choco to perk you up, tea to soothe you, freshly baked breads, pastries, pizzas (care for longganisa pizza or chicken adobo pizza?). And then there's the Galo Sports Bar, a casual dining option where you can unwind with a game of billiards, darts or table tennis.
What's cooking in the Alviera kitchen?
We meet up close and deliciously personal the Olongapo-born executive chef Raffy Borromeo Hubilla, who shares some sizzling secrets from his kitchen — from appetizer to salad to soup to the main courses to desserts. We get to taste chef Raffy's superb specialties (a palate-tickling mix of international and well-loved Pampango dishes) later in a degustation our taste buds will long remember: sesame-crusted seared tuna loin with ripe sweet mango, pickle radish, wasabi cream, and balsamic reduction; buttermilk chicken wings with spiced garlic, aioli & capsicum dip; crispy calamares fritos with honey mustard dressing and coriander chili dip; Parmesan basket salad with Alviera's secret "Cobb" dressing; pako (fern) salad (a Kapampangan specialty) with vinaigrette dressing; bulanglang soup (a Kapampangan specialty) in guava paste; kare-kare cooked in fresh-crushed peanuts with homemade bagoong; bringhe (a Kapampangan specialty), a traditional rice dish cooked with yellow ginger, coconut milk with a twist of grilled chicken inasal; pan-roasted Australian blacken salmon steak spiced with tomato tarragon sauce; and barbecue baby back pork ribs with smoked hickory barbecue sauce.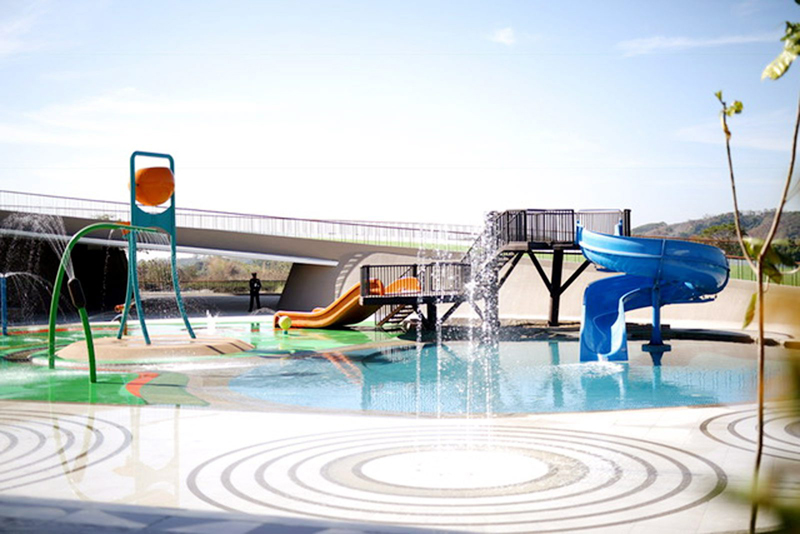 Make a splash: The water park features water jets, fountains, a slide, a splash bucket, and splash pads.
For dessert, pastry chef Macy Robles offers us the native tibok-tibok, made with carabao's milk, which we polish off our plates in a heartbeat, and the chocolate cake chocoholics have been dreaming about — Alviera Chocolate Dream Cake, dark moist choco sponge with milk chocolate mousse, dark chocolate ganache, embedded with walnut crumble and dusted with coco powder. After eating these sinful desserts, you can go to Confession.
The family that plays together
"The concept of the club is really a club for the family," says Leonard Grape, project development associate manager, AyalaLand's Strategic Landbank Management Group. "Aside from a place nestled in an environment like this that is very restful, we wanted to offer a complete family experience. As you may have noticed, the kids have a kiddie pool — a whole water park complete with water jets, a splash bucket, fountains, a slide, an open area with water splash pads. We also have entertainment areas for young adults and teens who can either do sports or watch a movie in our private theater, where movies are changed regularly. All these amenities — entertainment, pools, sports, health and wellness gym — are now operational for members."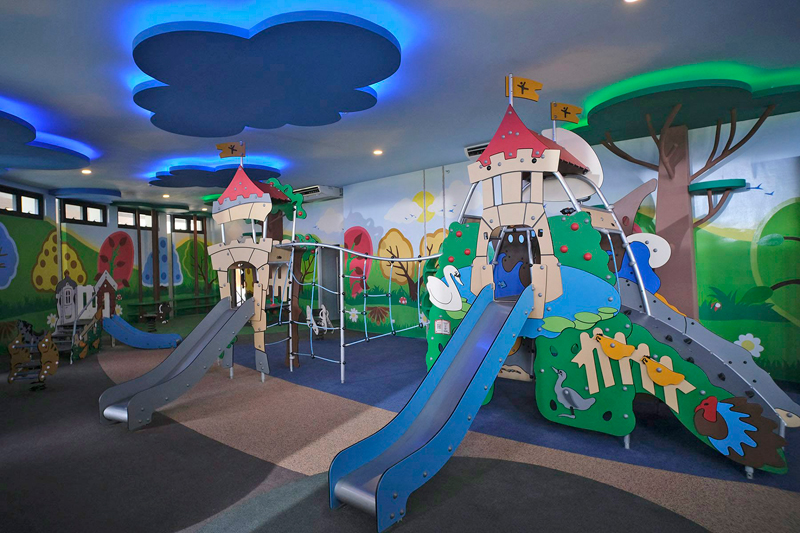 Indoor fun: Kids can enjoy active play in air-conditioned comfort at the Kiddie Zone.
In addition, the Kiddie Zone also features an indoor play area for active play in air-conditioned comfort, complete with a nursery (for the precious bundles of joy), dedicated lockers, and a changing room for children.
For the family that eats together, Manyaman Restaurant will also have signature meals every month, like a menu of the month.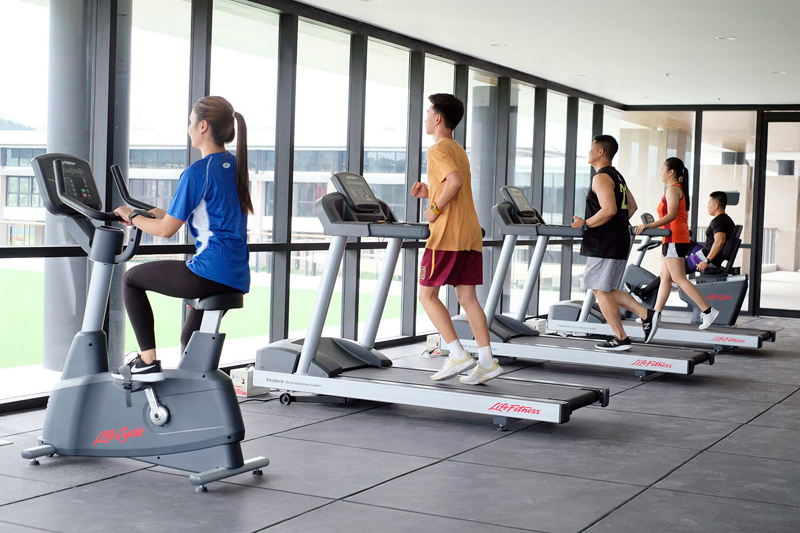 Gym with a view: Enjoy a refreshing view of the greenery outside as you work up a sweat in the gym.
More activities for the family that plays together: Set for next month is a family Amazing Race and an inflatable Obstacle Course Challenge. Already scheduled are yoga, Pilates, aqua Zumba, and aqua fitness classes. Later this year, members can look forward to the first Alviera Basketball Cup. And for those who would like to flex their artistic muscles, there will also be painting classes, exhibits, and arts and crafts tutorials.
As we leave Alviera Country Club, we all agree that bonding with family (or with friends) was never this much fun!