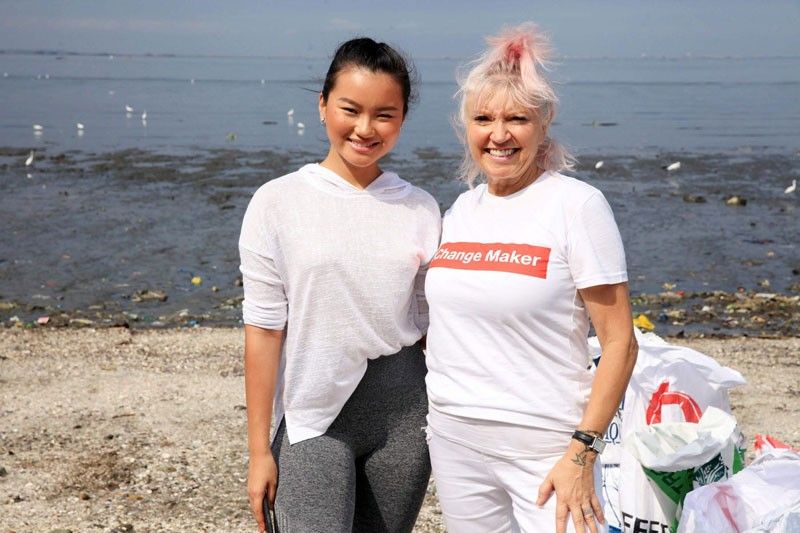 Lush co-founder Rowena Bird with Nikki Huang at the coastal cleanup of the Las Piñas-Parañaque Critical Habitat and Ecotourism Area in Manila Bay
Photos by Bening Batuigas
Lush wants to start a cosmetic revolution
With gloved hands, Lush co-founder Rowena Bird digs into black sand and pulls out bits of waste that she tosses into a sack. She's wearing a T-shirt that says "Change Maker," and her rubber boots are pink, to match her pink and platinum hair.
We're at LPPCHEA, an acronym for the Las Piñas-Parañaque Critical Habitat and Ecotourism Area, a long swathe of beach that is part of Manila Bay. It's the last mangrove refuge in the Manila Bay area, according to Haribon, and is a bird sanctuary where 84 species of birds migrate or live. Legend has it that it used to be a white-sand beach, where dugongs were once spotted frolicking.
Today, while there are a number of birds visible along the shore, the "beach" looks like the site of an oil spill, slicked with black sludge, silt, but mostly trash — you can tell by the bright wrappers and bottle caps mixed in with the sand and stones.
Bird has initiated a project in which she wants to collect a ton of trash from beaches for a year, so she wanted to do a coastal cleanup to drum up awareness and encourage Lush staff to do the same.
"I wanted to pick up litter this year — I do it every day at home," laughs Bird, who's one of the original six founders of Lush, the fresh, handmade cosmetics brand from the UK that concocts yummy treats for the bath, skin and hair like solid shampoo bars, bath bombs and Dream creams. "I'm doing two beach cleans in the Philippines and in Malaysia. Within Lush, packaging is recycled and recyclable in black pots; it's important to us not to be part of the trash in the ocean."
Cleaning up the coast along with Bird is a whole group of people from Lush Cosmetics Philippines, Lush UK, Japan, Haribon, and Nikki Huang, daughter of Anton Huang, president of Lush's partner in the Philippines, Stores Specialists, Inc. (SSI).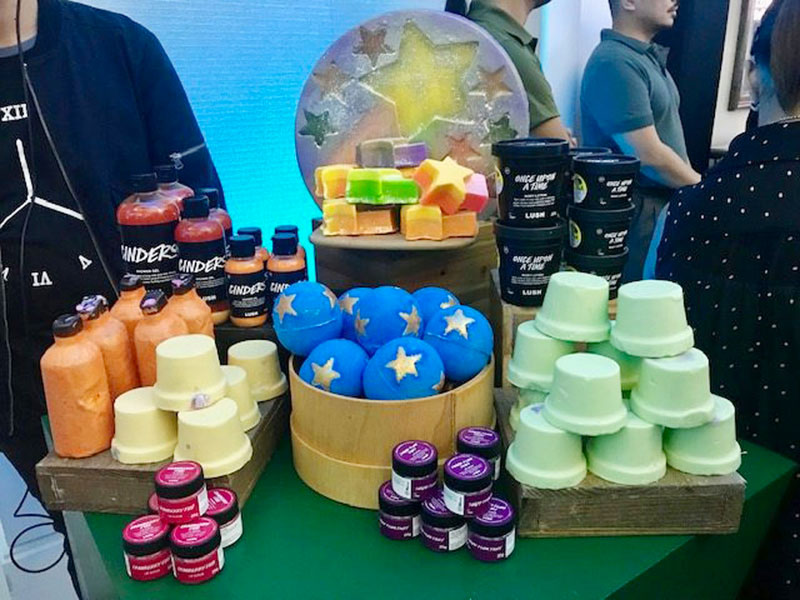 Fresh, handmade and naked: Lush's Christmas collection is free of wasteful packaging and plastic.
"Lush are pioneers in the environmental movement, and I'm super glad that SSI carries them in the Philippines," Huang says.
While she talks she continues picking up trash and sorting them into sacks: one for styrofoam, one for PET bottles, one for glass bottles and aluminum cans, another for rubber and clothing, and yet more for other residuals like plastic wrappers, diapers, and non-recyclable plastic waste.
"We've been finding a really depressing amount of plastic straws," notes Huang, a high-school senior who's worked as a national youth counselor for WWF Philippines for three years now. "I'd just like to remind people that you don't even really need a straw to drink your drink. If you do use one, get a reusable one — it's much better for your health and the environment."
According to a report by Ocean Conservancy, the Philippines is the third biggest contributor of plastic waste to our oceans, and mainly with single-use plastics like straws, sachets, PET bottles for mineral water, and plastic packaging.
"All the plastic that has ever been made in the world today still exists because plastic does not biodegrade, it only breaks down into smaller micro plastics, which release chemicals and also absorb toxins more easily," Huang says. "They're actually consumed by fish and other wildlife, and humans eat these creatures, so we're also taking the toxins into our bodies. So, avoiding plastic use is not just for the benefit of other animals but also our own health, too."
One of the biggest contributors to plastic packaging is the cosmetics industry, hence Bird's vision of starting a cosmetic revolution, first, by lessening packaging, if not doing away with it altogether.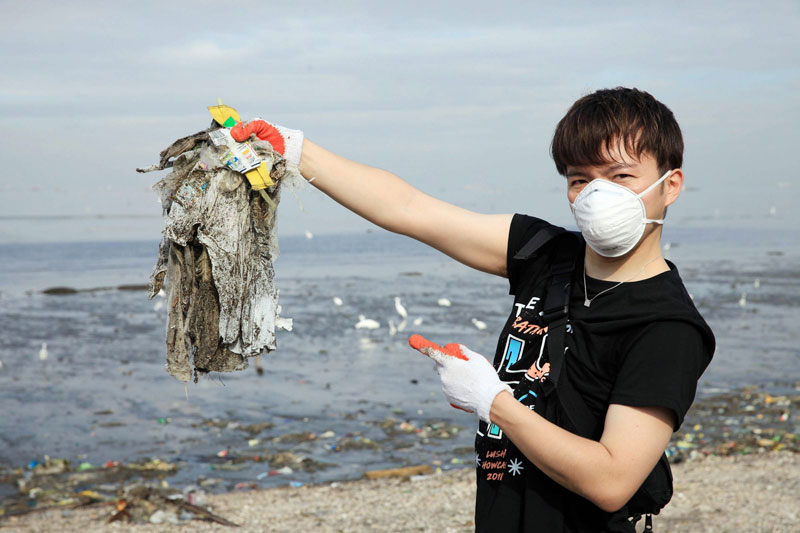 BY from Lush Japan collects plastic waste from LPPCHEA.
"Lush has done the 'naked packaging' right from the beginning," says Bird, who invented Lush's makeup line Emotional Brilliance.
"As a consumer you've paid for the packaging but you're just going to put it in the bin, whereas we haven't got any packaging so you're paying for the product and raw materials. In most cases, the product inside costs less than the packaging."
Lush makes its cosmetics into solids like foundation sticks that don't need packaging. "What packaging there is will be very different," promises Bird, who's making eyeshadow and powder containers from nuts and ground almonds that are completely compostable. "All our lipsticks are wrapped in wax; you can peel it and put it in an old lipstick container or buy a container so it's not automatically coming packaged," she promises. "I don't care if someone puts my lipstick into a MAC or Estee container; if it saves a container being thrown in the bin, that's okay."
Lush has teams of buyers constantly scouring the world for herbs, essential oils, butters, and nuts, and they came across the tagua nut from Brazil and Ecuador. Called "vegetable ivory" because it's white, smooth, and you can carve it, tagua was once used to make buttons but fell out of favor thanks to plastic. Now Lush is resurrecting it to make all of its pressed-powder containers, and "you can compost it and bury it in your garden and it will disappear," Bird says. This nut packaging is the Lush innovation she's currently proudest of.
Capitalist yet caring
You can't have a revolution without soldiers, so Lush is also trying to get consumers to change their buying habits as well.
"If you can give them an alternative that is as effective and not packaged, that's a win-win," says Lush global PR Karen Huxley.
You definitely can't have a revolution without leaders, so Bird is doing two talks next year with the big players in the cosmetics industry.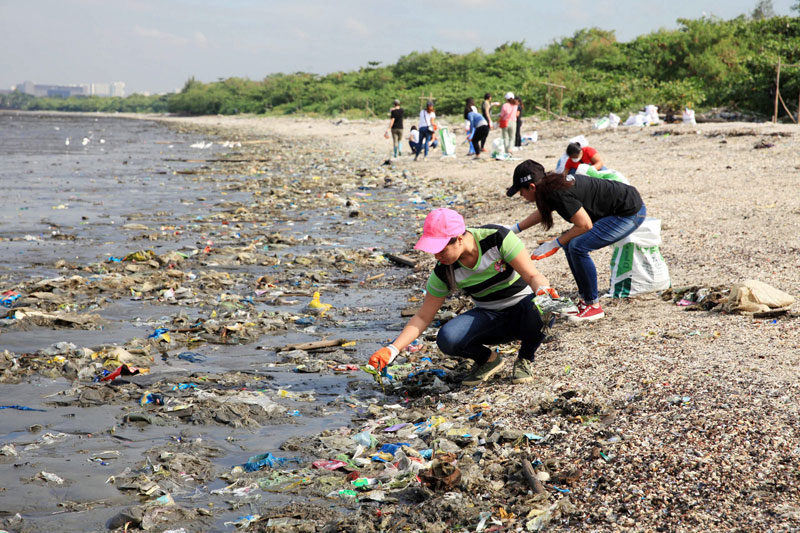 Lush Cosmetics Philippines and Haribon team up to clean the polluted beach.
"They've got so much money. We're tiny in comparison, and we're finding alternatives. Why aren't they? They're making billions of profit. We're only making millions of profit. And they're not looking to see what they can do to make it all better."
While other companies have just started focusing on sustainability, Lush is centered more on regeneration. "We meet with local communities and how they can grow cash crops," Bird says. "Permaculture very important to us: where we grow our raw materials, source them and buy them from so we know we're buying the best quality. We never use mineral oil and high preservative levels."
Lush is proof that a company can be caring and capitalist at the same time. "It's about being transparent and honest and having a set of ethics we don't compromise on," Bird says. "We pay our taxes. If people see exactly what you're doing, they trust you. We're not green-washing (saying something) and doing something else."
They don't advertise, preferring that the money for that go to the communities where they source their ingredients instead. They don't make false claims: when you go into a Lush store, they sell you products that give you the kind of skin and hair you want, not the "big dream." They don't do buy-one, take-one because they feel that people will hoard the products, forget about and not use them, "then it goes into landfill." And they'll never sell the brand publicly, preferring to keep the company private and within their control.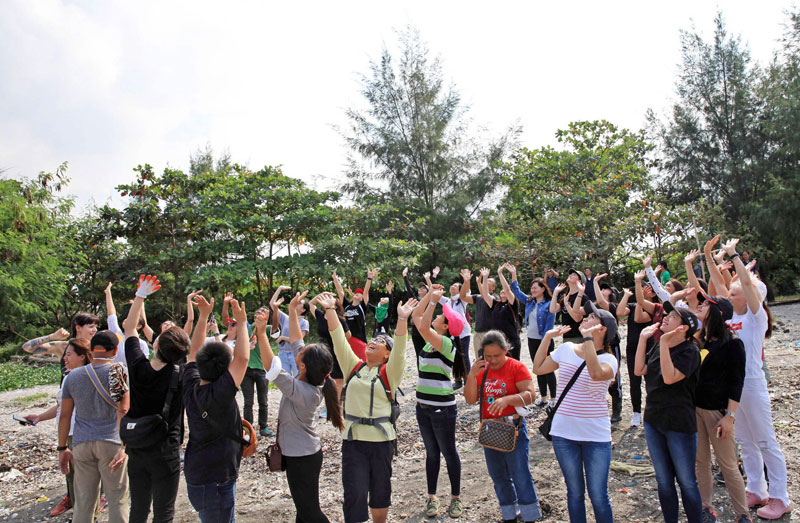 They heart the environment: The coastal cleanup team from Lush and Haribon form a heart and wave to the drone taking their picture.
For companies like Lush that don't advertise, social media is a godsend.
"We've found that user-generated content has been very good for us, because Lush products are very visual and obviously Instagram is all about images, " says Huxley. "So 'bath art' became a really big thing: people would take photos, share them and that became huge."
They also work with influencers whom they invite to Lush showcases or the factories where the products are made, but they don't pay them and influencers can say what they like, even if they don't like a certain product.
The footfall is strong in Asia
Lush, which has 937 stores in 49 countries, counts Korea as its biggest market in Asia, followed by Japan.
"Asia's a great market," Bird says. "In a lot of other parts of world footfall is falling and people aren't shopping in the same way they did before, but in Asia, footfall is strong."
In the Philippines Lush has nine stores, with the 75-sqm. flagship in SM Mall of Asia.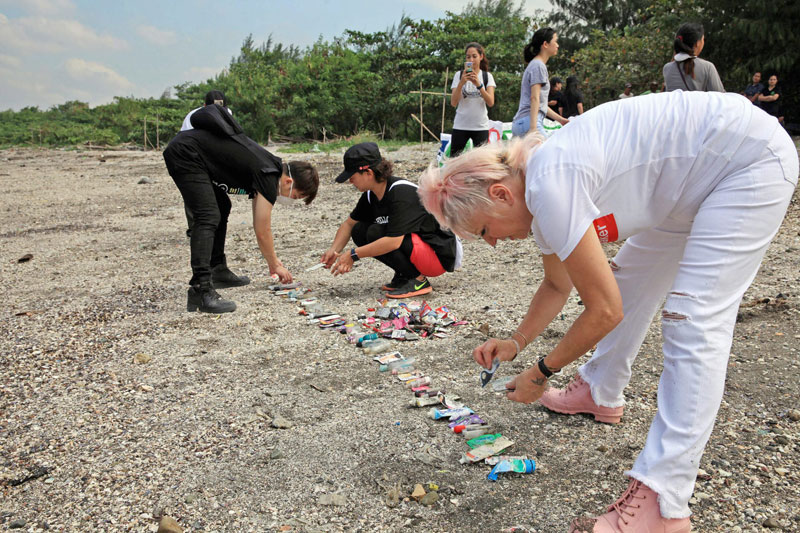 Bird sorts out plastic waste, the most numerous of which are straws, sachets and product containers.
Huang says she loves the bath bombs: "I'm an addict," she admits. "One of my favorite things about Lush is that they're so rooted in their values of sustainability, which is so important, especially in the cosmetics industry, where so many items are packaged in single-use and non-recyclable packaging. Lush does not do that; their practices of ethical sourcing and fair wages is admirable and something I hope to see in the cosmetics industry more, moving forward."
After a whole morning spent picking up trash and sorting it, Lush and Haribon have collected 35 sacks of waste. Bird wants to form them into an SOS sign on the beach for a drone to take a photo of, and then the people who did the cleanup to form a heart. It was an apt human emoticon for how much Lush cares, and the lengths they take to show it. The poetry of a lady named Bird helping to save a sanctuary for birds also wasn't lost on me.
* * *
Follow me on Instagram @theresejamoragarceau.