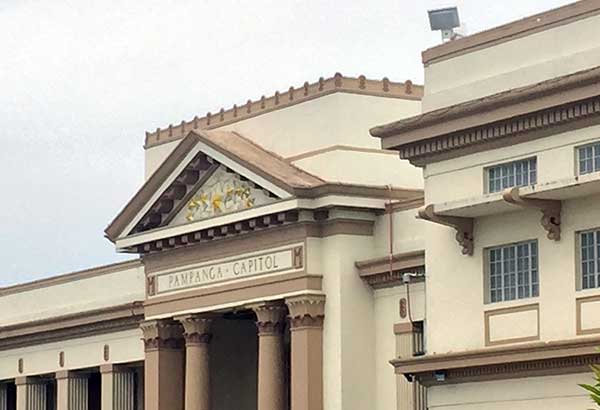 Stately seat of power: Pampanga Provincial Capitol, which was transferred to San Fernando City from Bacolor in 1904, is a stunning gem of neo-classical design and considered as one of the finest architectural landmarks in the province.
Pampanga's new capital of pride rises
MANILA, Philippines — A province once known for its rich river people, Pampanga still holds the prestige as home to some of the Philippines' most prominent clans. Its affluent, colorful history as a strategic pre-colonial hub for boat-trading merchants made it one of the earliest gems in the Spanish crown, making the 2,000 square kilometer province the first colonial territory in the island of Luzon.
At present, much of this stately heritage is retained, by way of the Kapampangan's prosperous culture found in the most delectable native fares as the country's undeniable culinary capital, in its ornate crafts of fine woodwork and majestic architecture, its pious commemoration of the Catholic faith, best witnessed in its elaborate baroque churches and colorful festivals, and, pretty much, in its people, whose well heeled lifestyles reflect the province's inherent celebration for life's finest facets.
With a dedicated international airport and a strategic proximity to the nation's commercial and political capital, Pampanga is considered as one of the key provinces at the center of the country's current growth expansion. Now, newer, more ambitious developments particularly found in its capital city of San Fernando reclaims Pampanga's once lofty position in the rest of the Philippines.
"The City of San Fernando is also the center of commerce, trade, and regional government of Central Luzon. It has a beautiful story of its own. A first class city in the Philippines, San Fernando serves as one of the agricultural processing center of Central Luzon. And of course, the City of San Fernando is known to be the Christmas Capital of the Philippines, bringing over almost 1.1 million transient visitors and workers daily," reveals Megaworld vice president Eugene Em Lozano of the development group's integrated urban township in the Pampanga capital, called Capital Town. Capital Town is set to rise in the city's former Pampanga Sugar Development Company (PASUDECO) compound, now considered as one of San Fernando City's key heritage sites.
When it was built in the 1920s, the PASUDECO's art deco industrial complex became the main purchasing and processing company for Central Luzon's lush sugarcane plantations, adding more prestige and affluence to Pampanga's capital. "In the same way that PASUDECO provided thousands of jobs during its time, Capital Town is envisioned to generate jobs and improve the livelihood of the present and future generations in Pampanga," shares Lozano, who, himself, is a proud Pampanga native.
"Envisioned as the upcoming Central Business District of the North, Capital Town Pampanga shall rise to be Megaworld's first integrated urban township in the area, as we continue to build visions of self-sustaining communities that embody our signature lifestyle concept of live, work, play, and learn, all in one setting," Lozano further adds. The ambitious project is set to house a dynamic mix of residential and corporate towers set in Pampanga's flair for complex, neoclassical architecture, as well as commercial hubs, institutional facilities, and a shophouse district that borrows from San Fernando City's awe-inspiring rows of art deco heritage houses. "This 35.6-hectare, 10-year development plan will integrate residential, corporate, retail, civic and institutional components in various ways, to fully bring this township to life," Lozano reveals.
Aside from being the center of future economic activity for San Fernando's residents, the Capital Town development also intends to preserve and showcase the inherent heritage of the city, by retaining the values that helped build the robust area in the first place. With the same founding principles of industriousness and diligence, the once PASUDECO compound will be home to more timely opportunities in business process outsourcing set in a fully-integrated cyberpark, with a dedicated historical museum and a landscaped outdoor area at its core.
In matching the entrepreneurial spirit and the dedication to excellence of its residents, Capital Town's shophouse district will integrate retail and commercial spaces with shops designed to reflect the elevated tastes of the Kapampangan consumers and business owners. "Through the Shophouse District, we aim to support local businesses and showcase the best of what Pampanga has to offer, like some of the homegrown and unrivaled Kapampangan culinary destinations. This will be a place for entrepreneurs to branch out and flourish," Lozano says.
And yet, above all, more than the aesthetics and the economic advancements, what the new Capital Town development aims to enhance and embody is San Fernando City's greatest advantage, its people capital. "Kapampangan pride is one of the best assets of the locals. They put their heart into everything they do. Capital Town is set to become a new venue for Kapampangans to showcase their artistry and craftsmanship in many areas in life, where people are given endless avenues to practice, enhance, master and display the rich culture and the skills that make them distinctly Kapampangan," Lozano promises. With an outdoor amphitheater, events trade hall, a world-class hotel, and some of PASUDECO's historical relics and artifacts, as well as tribute statues of different Kapampangan iconic personalities, revolutionists, heroes, and playwrights all integrated in the blueprint, soon, Capital Town will make it possible for locals and visitors alike to better explore and experience the pride that goes with being from Pampanga.
"History shall be used as a tool towards progress, and that's exactly what we want to deliver," Lozano notes. "We intend to preserve the historical value and the provenance of the site that will weave the rich culture and heritage of the Kapampangans to its present generation," he adds.
"With the presence of Capital Town Pampanga, the City of San Fernando enters a new phase of growth and development as a capital, beyond its reign as the Culinary and Christmas Capital of the country," Lozano vows. Perhaps, pretty soon, with the rise of Megaworld's P30-billion development can also reclaim the city's pride as the capital of one of the Philippines' most colorful, tasteful, creative, and affluent cultures.