Citi launches voice biometrics as new authentication process
We've seen it in many spy movies, from Mission Impossible to True Lies. To get through the Pentagon or a bank vault (insert your favorite highly classified room containing the names of covert operatives), one of the security measures the main character has to hurdle is fingerprint authorization, in which case they simply lift the fingerprint of the authorized person or chop off his finger. The second is voice recognition, which is a bit harder, especially if they have to utter a particular sentence. But they always manage to do it.
It turns out that in reality and with voice biometrics, you really can't. Because, like one's fingerprint, one's voice is unique and cannot be replicated — at least not with the system that Citibank is using.
This month, Citi Philippines launches its new phone authentication process with voice biometrics, wherein your voice is your password, eliminating the need to remember a password, personal identification numbers or answers to security questions.
The technology has already been in use by Citi in the US for the past two years and started its rollout in Asia this year. Voice biometrics authentication is in Taiwan, Australia, Hong Kong, Singapore and Malaysia. It will be rolled out throughout the region in 2016 and 2017 to cover all 12 of Citi's consumer banking markets in Asia Pacific that represent more than half of the bank's 19 consumer markets globally.
Last Wednesday, Citi Philippines CEO Aftad Ahmed and Consumer Banking head Bea Tan introduced this groundbreaking technology to media with live demonstrations led by host Tessa Prieto-Valdes. With this, Citi's more than one million clients in the country can now enroll in voice biometrics and let their voices be the means for authentication of their phone banking transactions.
"We are proud of our strong track record in innovation, including being the first to issue international ATM cards in the Philippines; managing the Philippines' domestic dollar system, which continues to benefit the banking system in the Philippines; we are the first foreign bank to be accredited by the BIR to collect taxes; and we launched the first user-friendly mobile-based application to name a few," said Ahmed. "We are delighted to once again take the lead in introducing a game changer in the banking industry. We are relentlessly focused on making it more convenient for our customers to bank with us. Voice biometrics will deliver convenience and additional protection for their accounts."
Ahmed emphasized that voice biometrics is not simply matching the voice recording in the Citi system with the caller's. "Biometrics is basically a voice print. Through a recording, we pick up an algorithm of your voice. In simplistic terms, it's like translating your voice print into dots and dashes and it gets recorded on a platform. This is done on a free speech basis, it's not a question of having to remember a pet phrase or a password. It's not the recording that is used for authentication purposes, it's that unique print each of us leaves like a thumbprint."
"Voice biometrics is a great example of how we at Citi listen to our clients and leverage technology to address their concerns," explained Tan. "With our client's agreement, we can digitize their voice print and with a successful registration, the next time they call, we will do away with the three to five questions to verify their identity, which can take between 45 and 60 seconds."
Voice biometrics cuts down the authentication process to 10 seconds. Or 66 percent less time spent verifying their details currently.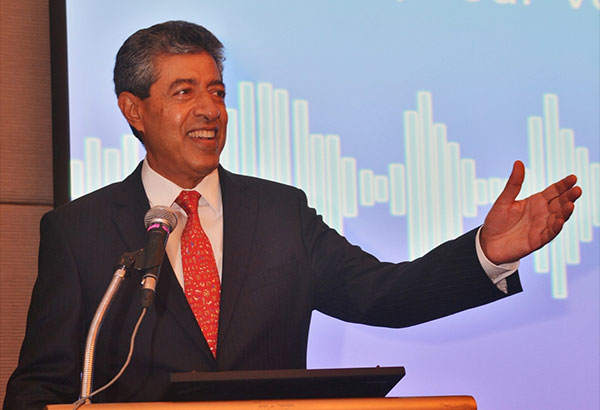 Citi Philippines CEO Aftab Ahmed
Naturally, we tested it live during the press conference. I pretended to be host Tessa Prieto-Valdes and attempted to access her account using her phone. The operator said, no, the system does not recognize my voice and then told me she would ask a series of security questions. At that point, Tessa took her phone and told the operator, "This is Tessa. Now can I access my account?'
One security measure is that the system does not allow a "conference call," meaning after the authentication failure, the real account holder must hang up and call again to start the process.
What if one's bag is stolen and for some reason the thief gets ahold of the answers to four to five security questions after failing the voice biometrics?
Ahmed said, "Two of those questions will be 'dynamic,' meaning something only the cardholder will know, such as the last transaction made on the card."
What if you partied all night and your voice is hoarse when you call Citi? Yes, the system will still recognize that it's you.
What if you changed your voice and pretended to be someone else while accessing your own account? The system will still recognize it's you.
What if you made the call under duress, like you're crying or at gunpoint. Yes, the system will still recognize that it's you and they may conduct further verification process. And if your transaction is one that you normally don't do — say, a huge money transfer that's beyond an amount your history indicates — then the transaction will not be processed.
Ahmed said that anything short of laryngitis, which typically results in loss of voice or huskiness, the system will recognize your voice under any condition.
Citi targets to be the first financial services firm to deploy voice biometrics authentication across Asia Pacific as the bank builds further on its successful innovation in retail banking in the region. Citi has around 15 million consumer banking customers in the region and the bank expects to have at least one million customers actively using voice biometrics authentication in the next 12 months. Within three years the bank expects the number of users to grow to three million.
Asia is an important region for innovation at Citi. Six years ago, the bank launched its new branch design — called Smart Banking — in Asia for the first time. The Smart Banking concept involves using technology, architecture and design and new retail channels to connect customers to their money and provide them with a better way of banking. Over 200 such branches have since been rolled out globally since the Asian launch.
"Voice biometrics is another step forward in our attempt to be customer-centric. Everything we do from an innovation standpoint is with the customer in mind," said Ahmed.
* * *
Follow the author on Twitter and Instagram @iamtanyalara. Check out her travel blog at www.findingmyway.net.