Subsonic Eye of the storm
October 3, 2022 | 12:00am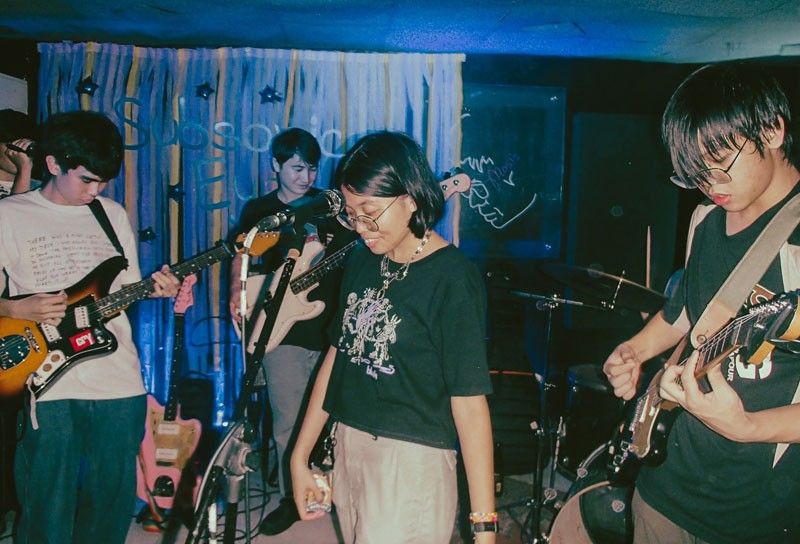 The wind howls outside as the Singaporean band Subsonic Eye settles in the recording room of Malabong Lababo Studio, Quezon City. Vocalist Nur Wahidah, bassist Sam Venditti and guitarists Daniel Borces and Jared Lim were listening to producer Kean Reformado's explanation of what "Signal No. 5" meant in the context of the Philippines' convoluted weather report system. Their phones buzz with weather alerts, but they're relieved that their drummer Lucas Tee was able to fly out right after their show.
The band was visiting to record a live session with Kean, who they reached out to during the pandemic to mix their now critically-acclaimed album, "The Nature of Things." Even if the Philippines bears the brunt of the storms brewing in the Pacific, it isn't so distant from Singapore, after all.
When they played in Mow's the night before for their headlining show co-organized by Furiosa and TFL, there was no hint that the typhoon was brewing. Ther band started their performance with Cabin Fever to a crowd that sang back in unison. Their latest album finds them shedding their dreampop inclinations towards more immediate and visceral Midwest emo-tinged indie rock, propelled by vocalist Noa Wahida's disarmingly direct lyrics. As their track Cabin Fever goes, "Sh*t bums me out." How much more straightforward does it need to be?
The band finds that their flight schedule was postponed yet again. They're used to the flux of schedules as a touring band, on the third leg of their 2022 SEA weekend tour. A tour demands much from a band in terms of time, resources and energy, which Subsonic Eye has committed to.
"In Singapore, you can drive around the whole island in an hour," says Dan. "If you only play local shows, you're playing to the same 50 people every week. There's this need to break out of it and see—"
"—other scenes," says Wahidah, completing Dan's sentence. With a lot of fresh bands coming out of Singapore in past years, it's surprising to find there's only one venue left at the time of writing that independent acts can rent and play in. The pressures of living in an urbanized country was a theme that the band explored in "The Nature of Things," with tracks like Consumer Blues and Animinimism.
Somehow, Wahidah finds room for life amidst the concrete jungle of Singapore. "Nature is everywhere, even in the tiny weeds in the cracks in the pavement," she says. "When you realize these kinds of things, it feels easier to connect to this whole interconnection of nature." Playing music is an extension of these networks of empathy, which has brought them places.
They're also relatively fresh from their maiden US tour where they played to audiences from California to New York. It isn't often that bands from Southeast Asia get to play an eight-show tour on the other side of the world, along with a performance in KEXP's iconic studio in Seattle. Perhaps the weight of designating them as ambassadors of Southeast Asia music is a burden no band should bear; but nonetheless, musicians and audiences who've followed them since their debut album in 2017 are ecstatic to see them there.
Not that Western acknowledgment is the be-all, end-all of a band's trajectory. They still hold on to their DIY roots of finding kindred spirits in the cities around them, whether it's the local indie communities in Manila, Kolibri Records in Indonesia, or other scenes in Southeast Asia. "Finding the same sound or mindset in those places, that helps a lot," says Dan. "It's a give and take: they help us when we're there, and we help them when they're in Singapore. It's a whole ecosystem."
"Philippines is always my favorite place to play in all of Asia," says Jared, who has also played in the Philippines in the jangle pop band Sobs. "Every time we get to come here, we see familiar faces, very nice people, bands that we love."
An NDRRMC alert punctuates the interview, warning about floods and intensifying winds. It's a relief that the folks who went to their show were at least able to get home safe, before the storm. The studio is set up, and it's time to record.
Subsonic Eye performs a toned-down rendition of Matahari, one of the band's first songs that Wahida wrote in Malay. Despite the turbulence outside, the song wraps the studio in stillness.
It's uncanny to hear live. Filipino and Malay are linguistic relatives and I should be understanding this stream of familiar syllables and utterances. But not everything needs to be directly understood for things to make sense. We're all concerned about getting home safely, whether by land or by air. But for the meantime, there was solace to be found in music, and these warm parallels that traverse archipelagos.