Artists in quarantine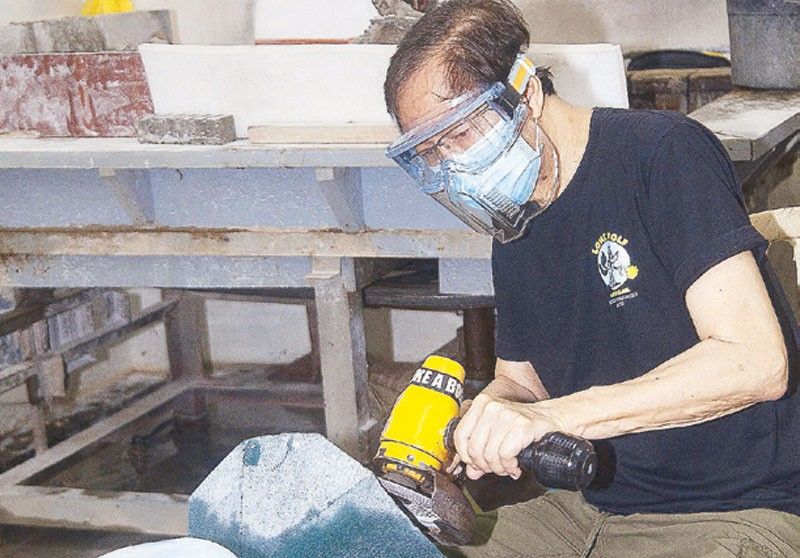 We are now into our fifth month of quarantine. Most of us are now in the new normal of WFH, or working from home. For those in the creative fields, this has been both good and bad.
For architects and related creatives, the quarantine has made site visits difficult but the creative part goes on, with studios and computers at home. For those in the visual arts field, many have already been based at home, in home studios or corners dedicated to artistic production.
For this article we focus on those artists (and a few architect/artists) that have carved out physical territories for themselves in homes they share with their families. We feature the architect and glass sculptor Ramon Orlina, the Singapore-based Dengcoy Miel, the Bohol-based graphic designer and painter Felix Magno Miguel, the architect/watercolorist Joven Ignacio, and the husband-and-wife tandem of Dom Galica and Tina Periquet.
Ramon Orlina
Architect & glass sculptor
We first visit Ramon Orlina at his studio home in Sampaloc, Manila. The noted glass sculptor had to close his studio for three months and pass his time by getting in physical shape with boxing and walking. His wife, Layann, told me that he also learned to play mahjong with her to keep himself mentally sharp.
Ramon reopened his studio in June after first having his assistants tested for the virus. He and his crew have been productive ever since and hope to expand the displays at his Tagaytay studio and gallery. He is also building a small studio for their youngest, Anna, also in the same compound.
Dengcoy Miel
Editorial cartoonist & painter
Next we fly to Singapore to drop in on the always-colorful DengCoy Miel. The famous editorial cartoonist and painter has spent his quarantine time very busily preparing for a planned two-man show with Bogie Ruiz in September at Eskinita Gallery in Makati. He hopes the crisis will ease up by then.
The good thing about where DengCoy lives in Singapore — in fact, in all residential districts in Singapore — is the proximity of vital necessities within walking distance. District shopping arcades and convenience shops are distributed in all estates Singapore-wide. Hawker centers where you can buy cooked meals are also ubiquitous.
Felix Mago Miguel
Book designer & painter
From Singapore we visit another island, Bohol, where we find the award-winning book designer and painter Felix Mago Miguel. I've worked with Felix on several book projects and really admire his talent, both in graphic design, as well as painting. He has spaces for both passions in his home.
This National High School for the Arts alum moved to Tagbilaran over a decade ago to get away from the mess that is Manila. He definitely does not regret his decision. Felix and his family are able to enjoy this small city, as well as access the idyllic countryside of Bohol on weekly bike trips.
Dom Galicia, architect & Tina Periquet, interior designer
Finally we venture to Makati (virtually again — I requested all these images and did all the interviews over the Net to maintain social distancing). In one of the CBD's villages we step into the library of architect Dom Galicia and his wife, interior designer Tina Periquet.
They describe their shared creative space: "Our library is three meters wide by five meters long, and approximately 3.7 meters high. In addition to that 15-square-meter floor area is an entry vestibule that also connects to a bathroom. Dom and I can spend the whole day in this room, with its Palladian proportions, lit naturally by tall windows and walled by books on three sides. We share a worktable, which is one of two Gustav Stickley pieces we brought home from New York."
Tina continues, "I actually started working from home long before it became the norm, as I find that a room with high ceilings and plenty of light is more conducive to creative thinking. A couple of years ago I converted my half of the room into a painting studio. When I need to take a break from my laptop, I can swivel round from the worktable to an easel nearby (to) switch from planning to painting. I find the combination — and the environment itself — both synergistic and therapeutic."
Dom describes his side: "I spend much of my day at this desk… I have not seen fit to make improvements to this space during the quarantine because it has everything I need to be productive: natural light, quiet neighbors, books, music, Wi-Fi, a couch for the post-prandial nap. The bookshelves behind me form a perfect backdrop for Zoom meetings. To top it all, having Tina sit across the table from me as I work — quarantine or no quarantine — renders this setup a perfect working condition, as far as I am concerned."
Our visits to the homes of these artists show that artistry continues even in quarantine. Of course these artists, like all of us, long for the time when social interaction is not constrained. In the meantime, we may all be tempted to pick up brush or pencil, to tap the wonderful healing power of art.
Joven Ignacio
Architect & watercolorist
Back in Manila we drop in on Jose Ramon "Joven" Ignacio. Joven was a fellow faculty member of mine a decade ago at the College of Architecture in UP Diliman. He is a specialist in tropical architectural design, a specialty that he trained in England for. His other gift is his talent for painting tropical flowers and birds, which he developed after his graduate studies and upon returning to the country two decades ago.
Joven found mentors in Napoleon Abueva and Araceli Dans, who obviously influenced his work in watercolor. Joven paints at home, which he designed to be blessed with an abundance of natural light. I am amazed at the fine detailing in his meticulous renderings of flora and fauna. His current work features diaphanous Filipino weaves, and he, like DengCoy Miel, are looking forward to when galleries will open again.
* * *
Feedback is welcome. Please email the writer at [email protected]