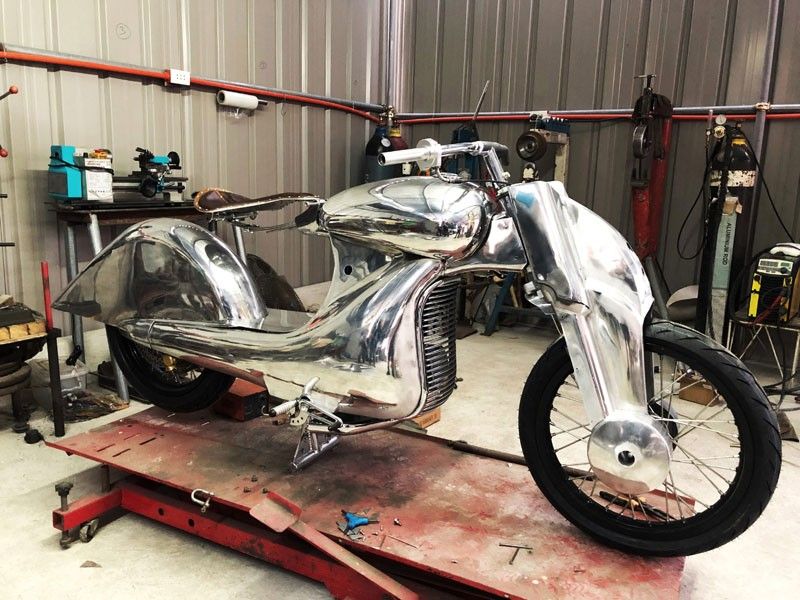 Wild Aranda of Wild Custom will showcase his finished work "Homage to Craig Rodsmith" at the upcoming Art Fair Philippines from Feb. 21 to 23 at the roof deck of The Link, Aya-la Center, Makati.
Blood, sweat, and steel: the art of Wild Aranda
In late 1998, the Guggenheim Museum made a bold decision to use their iconic art institution to house more than a hundred bikes for "The Art of the Motorcycle" exhibition. The show panelled the wall of Guggenheim's spiral ramp in shiny steel, allowing light to reflect off the glistening surface of the machinery and filling the entire building with a striking luminosity. The exhibit saw such a huge turnout that the New York Times reported it was the most highly attended exhibition in Guggenheim's then 61-year history, beating the audience numbers of Roy Lichtenstein's retrospective. Perhaps it was the convergence of something so utilitarian like motorcycles, and something so esoteric like fine art, that saw bikers covered in tattoos sauntering into the art museum, where the history and design excellence of the bike was heralded.
This February, Art Fair Philippines (AFP) will be treading a similar path, as Crucible Gallery exhibits the work of metalsmith and custom bike builder Alfredo "Wild" Aranda. The name "Wild" bestowed upon him by his peers when he worked as a welder, emerged from his superior ability to create literally anything. Wild's experience as a fabricator was passed onto him by his father, who worked as a mechanic and fabricator in Las Piñas. The only boy out of six children, his father's workshop became his playground, and by the fifth grade, he was already learning to weld. But the knack for two-wheeled automobiles is something that Wild remembers dreaming about as a kid, imagining builds of his own and sketching them out on paper.
Today, Wild's name is not unknown by the obsessed rider or collector. His reputation grew within circles in the industry, whispered by many who saw his clients showcase his work in competitions: "Fabricated by Wild Custom." His ability to meticulously, shape, hammer and polish sheets of metal by hand is an extraordinary gift, the cleanliness and breadth of his work acknowledged for its sheer wizardry. Like any artist, his process involves a deep understanding of his medium: learning how the metal reacts as a response to his actions. He shares that the process is like having a conversation with the material, because one can't just hammer away at it.
His control over the medium gives him the ability to fabricate almost everything on a bike, earning him the nods of his peers and the respect as one of the best custom motorcycle builders in the Philippines. And while he has never subjected himself to compete in motorcycle building competitions, he has been invited several times to act as judge. Wild's clientele continues to grow both locally and abroad, and his work is often seen on local television. Once, it was on display behind Snoop Dogg during one of his concerts in Hawaii (it was a blue 2013 FNR Lowrider that Wild fabricated for a customer in Honolulu).
Crucible Gallery owner Sari Ortiga says that he came across Wild's piece for the Art Fair while working with him on a separate project, along with Christopher "Kit" Nicolas of the reputable Classic Kit Restorations as a member of the creative team.
Ortiga shares, "The Crucible Gallery was working on a collaboration with renowned sculptor Daniel dela Cruz, Classic Kit Restorations, and Wild Aranda. It just so happens that during that time, this Art Fair exhibit piece was at the peak of production. I suggested that it should be something that the Art Fair should see, even if just for the quality of its craftsmanship."
Daniel dela Cruz, who works with brass and other metals in his delicate sculptures, attests to the artistry of Wild. "The skill and technique Wild has is very rare," says the artist. "Not many people are as knowledgeable in the metal working techniques he uses. He has an extremely good eye for detail, and is a perfectionist who won't settle for anything less than the best he can do." Both artists toil by hand, constructing every shape, fold, and arc of metal into sculptural forms. "I see Wild's works as functioning kinetic sculpture. The perfection required to form aluminium this way is unreal, and at a level that goes beyond mere craft. The metal work plus keen eye to create a bike design that not only works, but is beautiful as well, elevates this into the level of art!"
Despite Aranda's notoriety, he mostly keeps to himself at his workshop, where he spends a bulk of his time hunched over a wooden stump, amidst the tinkering, thudding sounds of his garage. His ability to engineer metal will be highlighted in the upcoming AFP where he repurposes a Honda Wave motorcycle into a piece titled "Homage to Craig Rodsmith." This project shows off his dexterity in construction, attention to detail, and flair in design; an iridescent, dynamic sculpture forged by a true maestro.
* * *
See the finished work at the booth "Wild" at the roof deck of The Link, Ayala Center, Makati, in the Art Fair Philippines from Feb. 21 to 23.