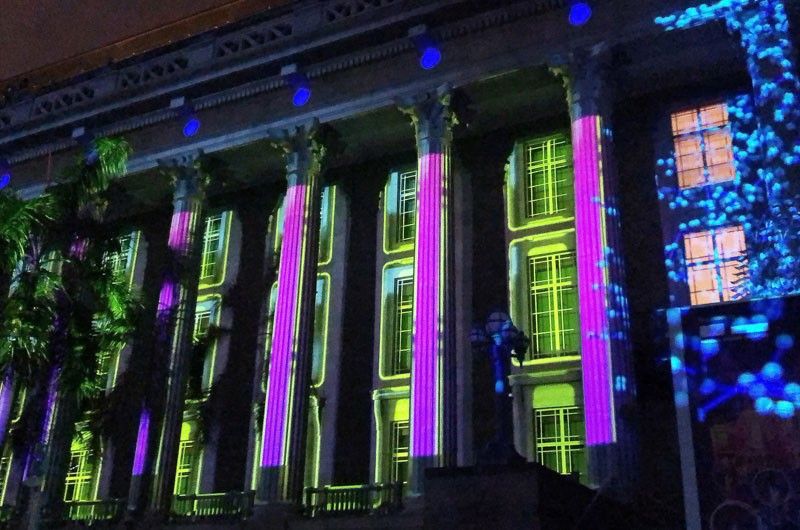 The annual Light To Night Festival, organized by National Gallery Singapore, saw massive projections on the facades of Singapore's Civic District.
Exploring the ins and outs of Singapore Art Week
MANILA, Philippines — Now in its seventh year, Singapore Art Week continues to draw crowds not just from within the art community, but from the general public as well. And despite being prefaced by an abrupt cancellation of Art Stage — one of Art Week's main attractions — the festival still had many compelling exhibitions to offer. Over a period of nine days, the city-state transformed into a vibrant canvas showcasing not only the best of Singapore talent, but also art from all over the world.
Hanging with the heavyweights
One of the main features of Art Week's calendar was "Minimalism: Space, Light, Object." This was on show at two locations: at the ArtScience Museum at Marina Bay Sands, and at the National Gallery Singapore. At ArtScience, the exhibition walks the viewer through the various manifestations of minimalism: repetition (as six reflective brass cubes in Donald Judd's "Untitled (Six Boxes)"), materials (as a wooden wheel with a glass window in Mary Miss's "Portable Window"), absence and endlessness (as a long, jagged white line drawn on a black roll of paper in Tan Ping's "+40m"), sound (showcased in the museum's sound room featuring nearly 40 composers such as Philip Glass, Èliane Radigue, and La Monte Young), color and form (as single-pigment sculptures in Anish Kapoor's "To Reflect An Intimate Part Of The Red"), the void (as a circle of the "blackest black" in Frederik De Wilde's "Horizontal Depth3 — "This Is Not The Place We Go To Die"), and light and space (as a labyrinth of different-colored plastic sheets in Olafur Eliasson's "Seu Corpo Da Obra").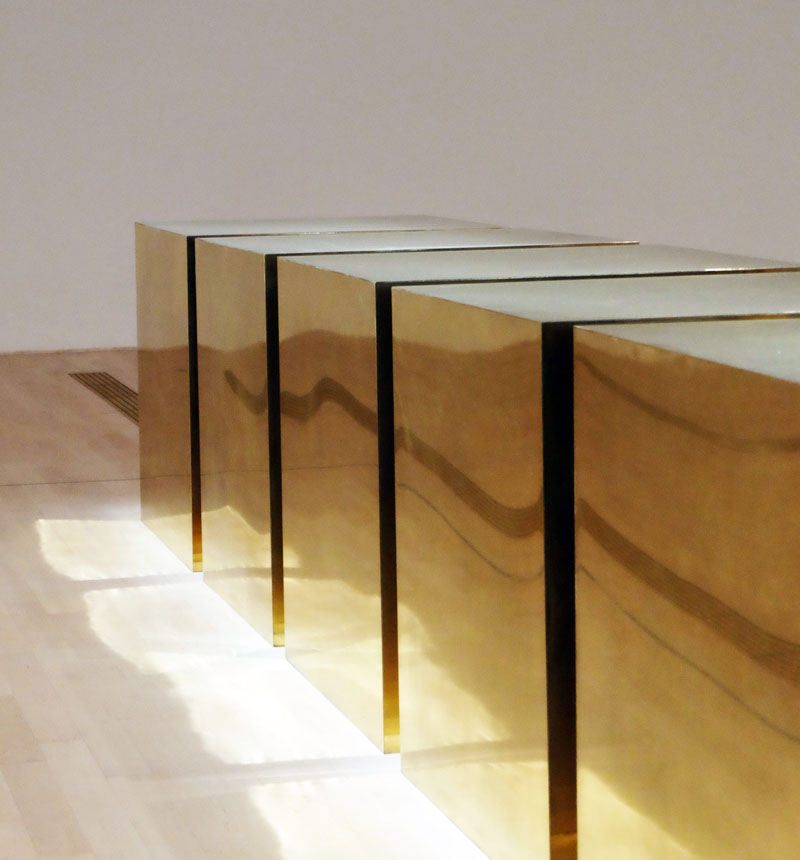 "Minimalism: Space, Light, Object" at the ArtScience museum demonstrated minimalism in different manifestations, like this example of repetition of brass cubes by Donald Judd.
At the show's continuation at the National Gallery Singapore, highlights included a sea of porcelain sunflower seeds in Ai Wei Wei's "Sunflower Seeds," Eliasson's "Room For One Color" made possible by mono-frequency lamps, and a black-on-black Rothko.
Speaking of heavyweights — did you know that Lucy Liu is also an artist? While many know her as a Hollywood icon, Liu practices on various media, including painting, mixed media, found objects, and more. At the National Museum of Singapore, Liu was part of "Unhomed Belongings," a conversation of existing artworks with the Singaporean artist Shubigi Rao, co-organized by The Ryan Foundation. Here, Liu and Rao highlight the parallels between their own works, despite having never met before. For example, Liu's installation "Lost And Found," a collection of found objects housed in about 200 carved-out books, echoes Rao's "Pulp: A Short Biography Of The Banished Book," a "decade-long film, book, and visual art project about the history of book destruction, censorship, and other forms of repression."
Take it to the streets
Art Week definitely wasn't only confined indoors: in the precinct of Little India, the Singapore Tourism Board and the Lasalle College of the Arts organized ArtWalk Little India, where a number of artists and groups were commissioned to create murals, performances, and exhibitions that captured the essence of the area and its history. Themed with "image and sound of fragrance," ArtWalk's fifth edition aimed to showcase Little India's history in Singapore. Despite having only been formed 200 years ago — and gaining independence in 1965 — the murals featured a very rich culture and history of Little India and Singapore that rivals that of any country with a longer history.
A few neighborhoods away, in Blair Plain, was another tour of art by foot. This was put together by art consultant and interior stylist Iouise Martin. Blair Plain is the area famously known for its preservation of Singapore's shophouses, which were built to have a place of business on the ground floor and a residence on the second. Shophouses can be found all over Southeast Asia, but what makes Blair Plain special is that the conservation is protected by law, and no major alterations to any of the buildings can be made outside of the government's guidelines.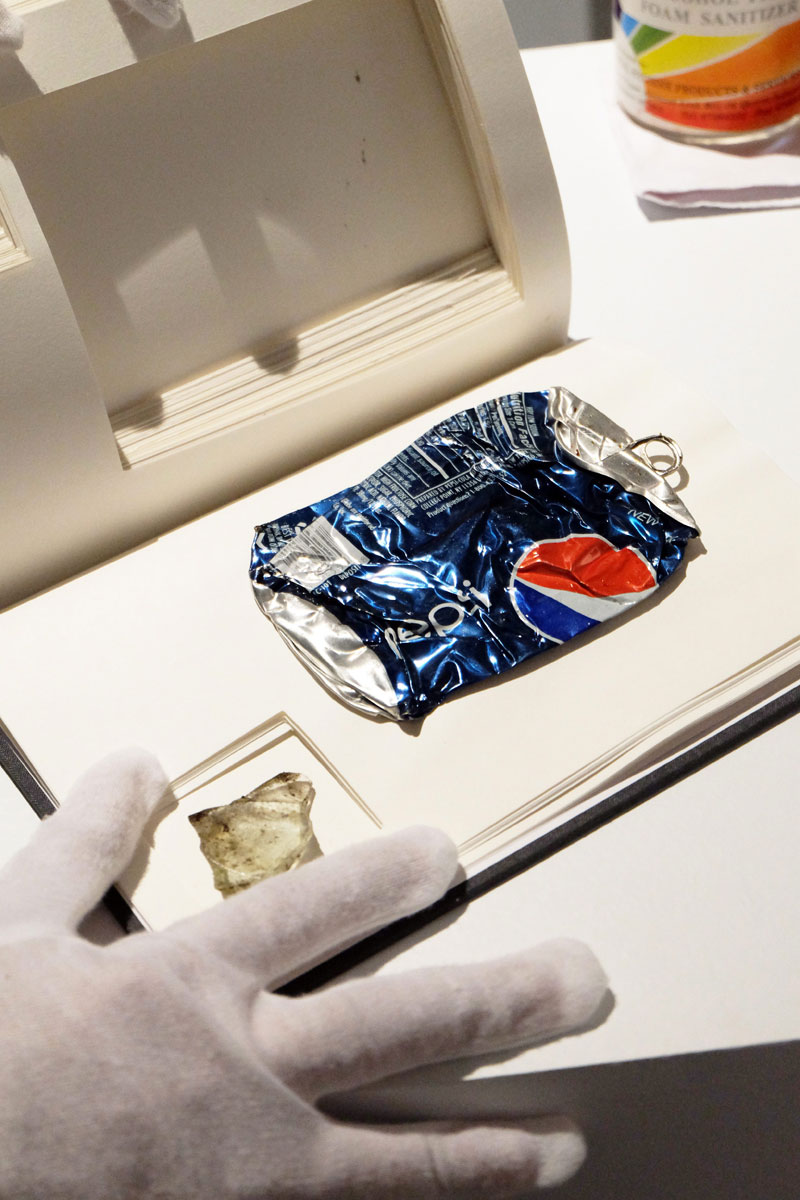 Lucy Liu's work as an artist covers a range of media from painting, found objects, and mixed media. Here, she collected found objects and housed them in about 200 carved-out books.
This doesn't stop the neighborhood from becoming a vibrant community, however — today, Blair Plain is home to various artists, galleries, art collectors, and more. The first stop of the neighborhood tour was the mural of self-taught artist (and former accountant) Yip Yew Chong, who has lived in the neighborhood for 23 years. Next was Art Porters Gallery, co-founded by Frenchman Guillaume Levy-Lambert, who also houses an impressive collection of artworks in his home next door (the personal collection with his husband Mark Goh is so impressive it has its own name: The MaGMA Collection).
As night fell, the spotlight was — quite literally — back on National Gallery Singapore, where they held the Light To Night Festival. For this year's edition titled "Traces and Echoes," the entire Civic District was dressed up with projections covering the facades of the National Gallery, The Arts House, the Asian Civilizations Museum, The Esplanade Park, and the Victoria Theater and Concert Hall. The light show itself was called "The Odyssey," and was created by various artists, illustrators, and multimedia designers to tell the story of an Explorer across seven different surfaces of the Civic District. The largest projection was shown on both wings of the National Gallery, and was created by Safuan Johari, Machineast, Didier Mathieu, Mojoko, Brandon Tay, and TMRRW.
Next attraction
Apart from the heavyweights in the museums and the murals out on the streets, another one of Art Week's major attractions also includes leading and upcoming galleries from Singapore, Southeast Asia, and around the world. S.E.A. Focus, a project led by the STPI Creative Workshop & Gallery, gathered a slew of galleries such as 47 Canal (from New York), The Columns Gallery (Seoul), Nadi Gallery (Jakarta), Gallery VER (Bangkok), and more. About half of the galleries that showed in S.E.A. Focus were from Singapore, which included well-known galleries Art-2 Gallery, artcommune gallery, and Art Seasons. These galleries hosted over 50 artists, which included Filipino artists Brisa Amir (represented by Artinformal), Yeo Kaa (Yavuz Gallery), and Amy Lien and Enzo Camacho. It also featured Manuel Ocampo, represented by The Drawing Room. All these artists and galleries were housed at Gillman Barracks, a former British military camp that has since become Singapore's contemporary visual arts hub.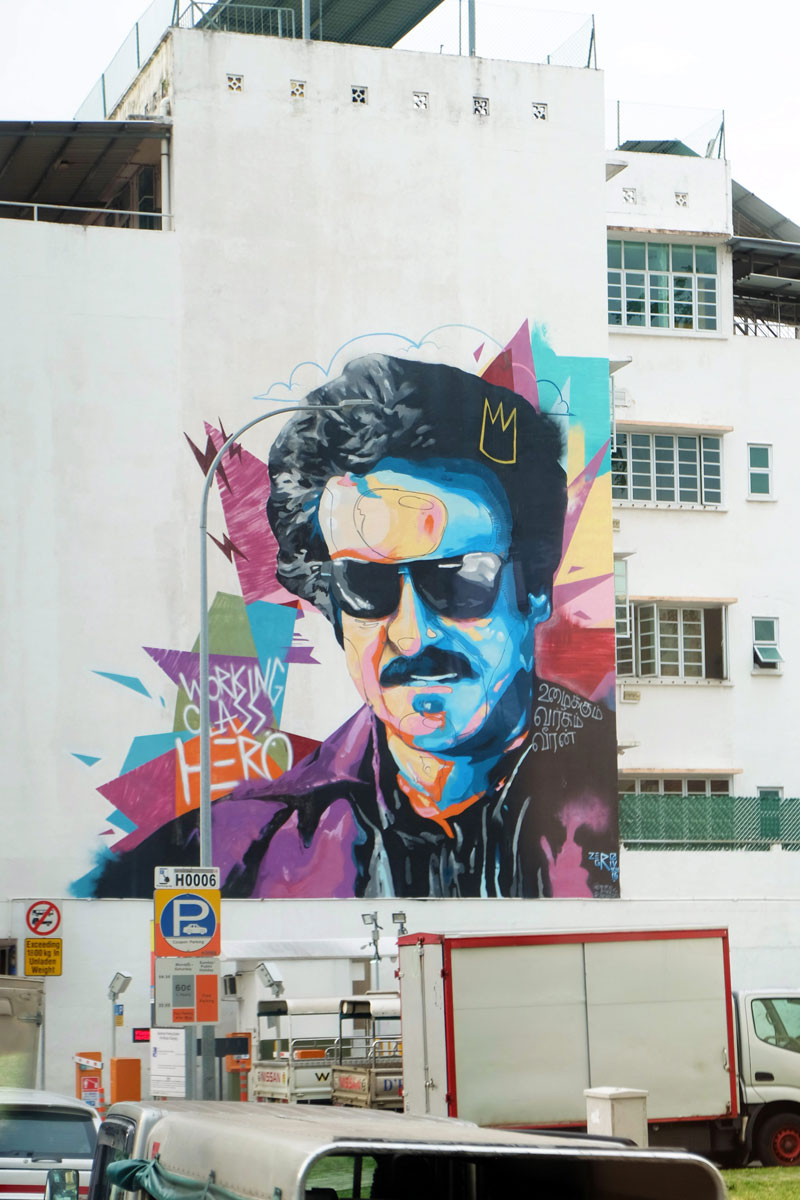 Little India is home to various murals paying homage to Indian culture, including this one of Indian actor Rajinikanth by artist Zero.
Even with a bit of drama at the beginning, Singapore Art Week pulled through with one of its most vibrant programs yet. For a country so small, Singapore offers one of the most robust art and culture scenes around the world, and Art Week, year after year, is only proof of that. Already looking forward to the next one.
* * *
For information on Singapore Art Week, visit www.artweek.sg and follow facebook.com/sgartweek, on Instagram at @sgartweek, and check out the hashtags #SGArtWeek, #SAW2019, and #ArtTakesOver on social media.