The CCP 13 Artists Awardees: Zeus Bascon, Dina Gadia, Bea Camacho, Archie Oclos, Shireen Seno, Raffy T. Napay, Eisa Jocson, Guerredro Z. Habulan, Janos Delacruz, Doktor Karayom and Cian Dayrit (— not in photo are Carlo Gabuco and Lynyrd Paras)
Figuration makes a morbid comeback in CCP 13 Artists Awards
Ronald Achacoso calls it "the revenge of figuration."
Among the generations of Thirteen Artist Awardees is Achacoso. He is now back at the Cultural Center of the Philippines (CCP) as curator, arranging the works of the new breed.
The Thirteen Artists of 2018 consist of Zeus Bascon, Bea Camacho, Cian Dayrit, Janos Delacruz, Doktor Karayom, Carlo Gabuco, Dina Gadia, Guerredro Z. Habulan, Eisa Jocson, Raffy T. Napay, Archie Oclos, Lynyrd Paras and Shireen Seno.
Noel Cuizon, batch 1994 awardee, calls it "peer validation" — and it is. He, along with former awardees Yasmin Sison-Ching, Leonilo Doloricon and Ofelia Gelvezon-Tequi, are this year's panel of jurors along with Rica Estrada, who represents the CCP. Having been around since 1970, the TAA was inaugurated by the late Roberto Chabet who held a brief position as the first CCP museum director. It meant to recognize artists who "restructure, re-strengthen and renew art making and art thinking." It is still the ethos they uphold to this day. A little backstory: it was only after the Marcos regime that the TAA recognized art practitioners like Doloricon who were deeply critical of the government. The CCP sought risk in terms of content, and has since allowed artists to critique it as space and institution.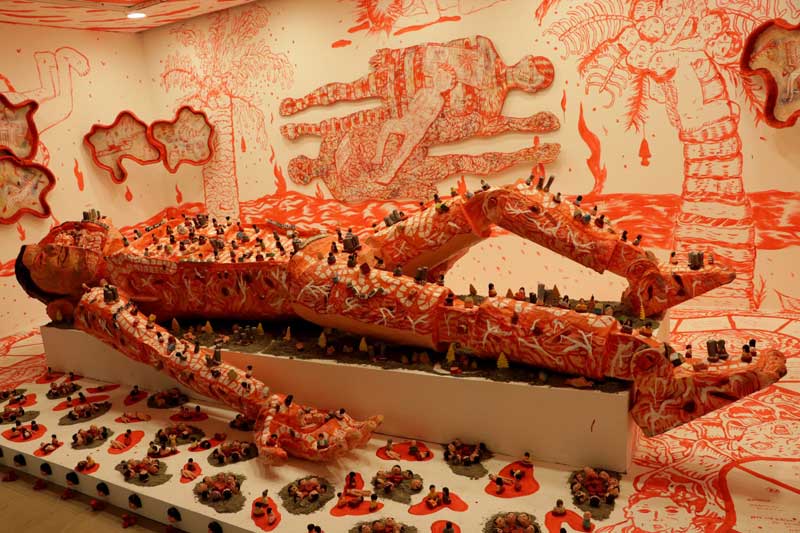 "Isla Inip" by Doktor Karayom
"Iba 'yong mundo noong time na 'yon; iba rin 'yong konsepto ng risk. Iba 'yong binabangga nila. Iba na rin 'yong binabangga ngayon," says Sison-Ching. Walking through the exhibition that opened on Oct. 18, it feels as though the show highlighted not just a generation but this specific point in time. Says Cuizon, "This batch is more diverse in terms of medium and approach. May common denominator, very committed sila to respond to their time." The need to critique the current moment felt like the night's defining theme.
The Main Gallery is a long, charged line of dead bodies. Zeus Bascon has scrawled "patay" on the mirror amid his show of masks and hanging garbs. Guerrero Habulan's rope-coiled figure lying limp on wood is placed right before Doktor Karayom's much larger dead. Visitors are encouraged to play a game of dice, within the muralist's red-stained chamber. We are all already playing with bodies.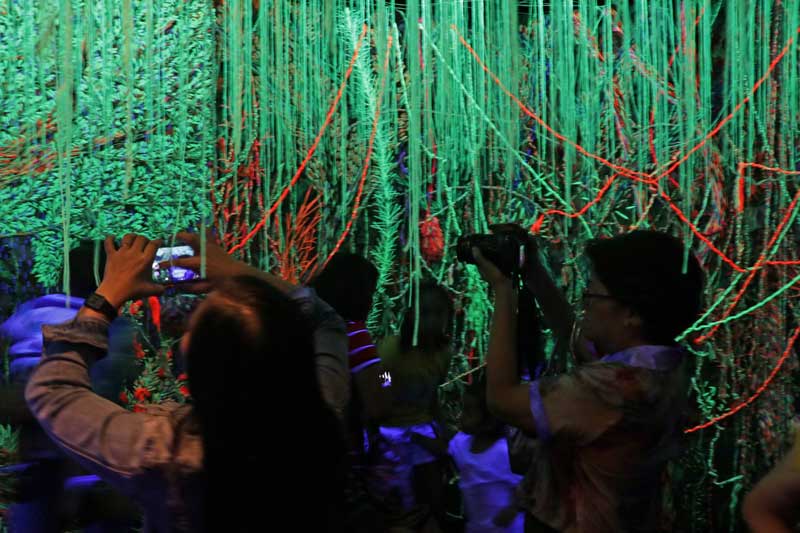 "Tahanan" by Raffy Napay
At the end of carnage hall, Bea Camacho places a stack of The Philippine STAR published that morning. Framed on the wall is the back page — Camacho tells me that she is fascinated with The STAR's "Truth Shall Prevail" adage and what it means in the post-truth era — side by side with Camacho's work published that day: a large blank space on the paper. Hinting at ways we document and represent, her work is a witty remark on absence, memory and negotiated space. In terms of wayfinding, Camacho's work feels like the silent full stop in a paragraph of raging phrases, saying that we don't need to be bombastic to drive home the point: that absence shouts. Raffy Napay's beautiful forest of threads also feels like a silent harbor, the quiet personal in the midst of the raging political.
Cuizon clarifies one criterion for the selection, "Responsiveness to contemporary realities, it's like your social responsibility. Avenue lang ang art, sa tingin ko, nauuna 'yong konteksto." Estrada adds, "Was it a conscious effort to pick artists that were engaging with these social realities? For me, it wasn't." Content, they clarify, is the product of the time.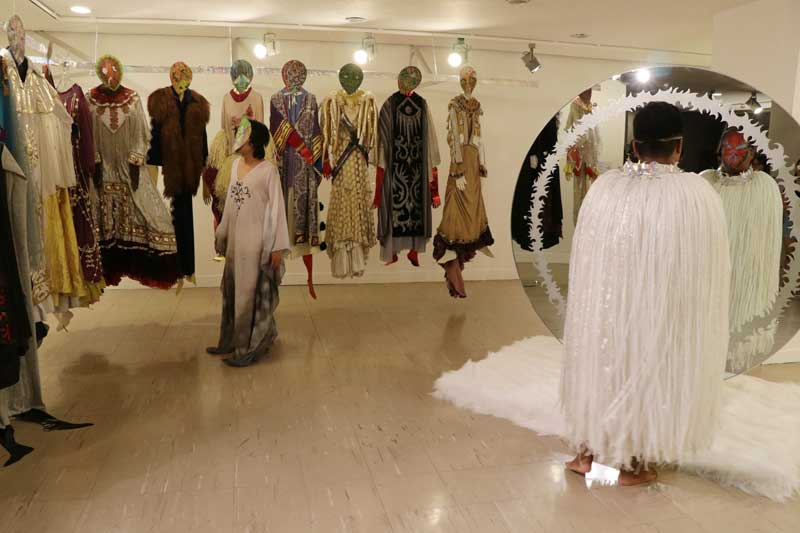 "Ghost Drawing" performance by Zeus Bascon
The central difference between the TAA and other awarding bodies such as the Ateneo Art Awards is that, while the latter focuses on one work or exhibit, the former considers the artist's entire body of work. One thinks about, for instance, why Carlo Gabuco's work merits a visual arts award instead of one for photojournalism. Or why dancer and choreographer Eisa Jocson belongs to performance art, rather than the performing arts. How do we cross the boundary between visual art and everything else? TAA considers the evolution of their practice. Of Gabuco, Sison says, "Artist muna siya bago siya naging photojournalist. Pagiging photojournalism, part ng visual arts practice niya as a whole." As with Gabuco, Jocson began as a visual arts practitioner before she went on to question body politics and migrant dancers through performance.
In terms of curation, however, what if the exhibition highlighted not the works they made for the awarding, but the entirety of the practice they sustain? In Cian Dayrit's works, it's refreshing to see notes on counter-mapping workshops he conducted with communities in Bataan. In Gabuco's video, one can easily admire the artist who goes out in the field and tells stories he witnessed and captured first-hand. Practice is larger than any individual work — or any fabricated dead body — devoid of context.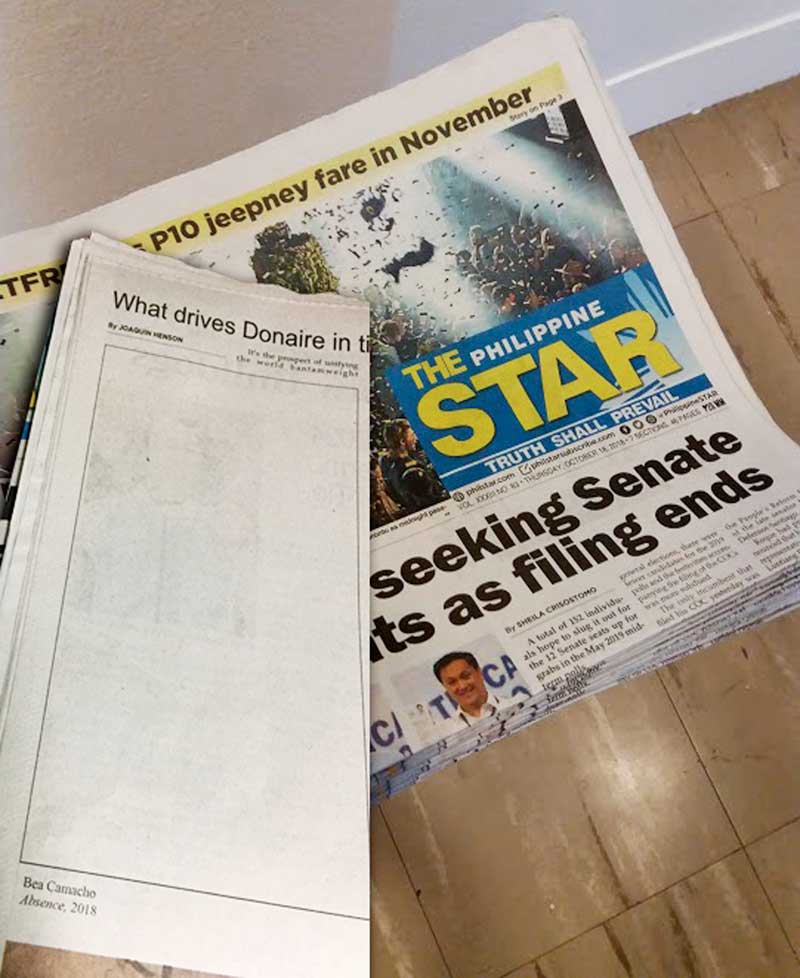 Bea Camacho's installation makes use of copies of The STAR. She hints at ways we document and represent; her work a witty remark on absence, memory and negotiated space.
Artists are the new critics of the time — phrases to that effect were thrown around on opening night. One wonders, though, who is criticizing these critics? It has to be asked: What is the danger of reducing realities to narratives, bodies to caricatures, time to trend? When bodies are stored away and gestures are finished, only practice remains. Figuration is back with a vengeance but how deeply rooted is their practice in the realities they portray?
Archie Oclos, onstage during the awarding ceremony, raised words in red: "Serve the People." Considering the selection of today's promising new vanguards, I'd like to read the phrase in two ways: First, make art that serves the people. But ultimately, don't just make art but serve the people.