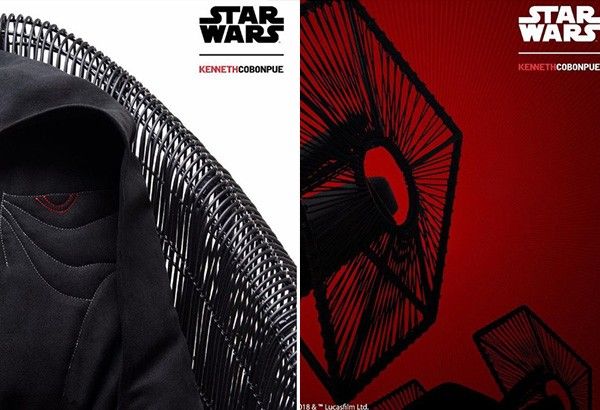 Kenneth Cobonpue's Star Wars furniture collection commissioned by Disney
Instagram/Kenneth Cobonpue
Disney taps Kenneth Cobonpue to create Star Wars furniture
MANILA, Philippines — World-class Filipino industrial designer Kenneth Cobonpue released his new "Star Wars" furniture collections on October 10.
Designed in collaboration with Disney, the owner of the "Star Wars" franchise, the collection includes Darth Vader, Sidious and Imperial Wings easy armchairs as well as Little Jedi lamps.
In an interview on ANC's "Headstart," Cobonpue said the selling of his new collection is only available in the Philippines for now.
"For now, it's only available in the Philippines. Our license is only in the Philippines, but right now people all over the world who heard about it want to see it, so they have to get it through a Filipino," he said.
The world-renowned designer has showrooms in Manila and Cebu.
Cobonpue revealed that it was Disney that approached him to do the "Star Wars" line.
"Disney asked me about a year ago to do a line with them for 'Star Wars.' When they asked me, I said, 'You don't need me to make replica of spaceships.' They said, "No, we want you to interpret 'Star Wars' through the lens of a Filipino designer'," he said.
"Star Wars" is one of the most successful film franchises in the history of movies. Written by George Lucas, it began in 1977 and since then, millions of people around the world followed the franchise.
In 2015, a day before a new "Star Wars" Philippine premiere, Cobonpue auctioned six Yoda chairs used by former US Pres. Barack Obama and five other world leaders during the Asia Pacific Economic Congress in Manila.
Besides being a "Star Wars" fan when he was a kid, Cobonpue named the chair after Yoda as it was as calm as the "Star Wars" character, while the construction of the grass-inspired chair was reminiscent of what Yoda says in the movie saga - something about bending with life without breaking.