Conduits for sale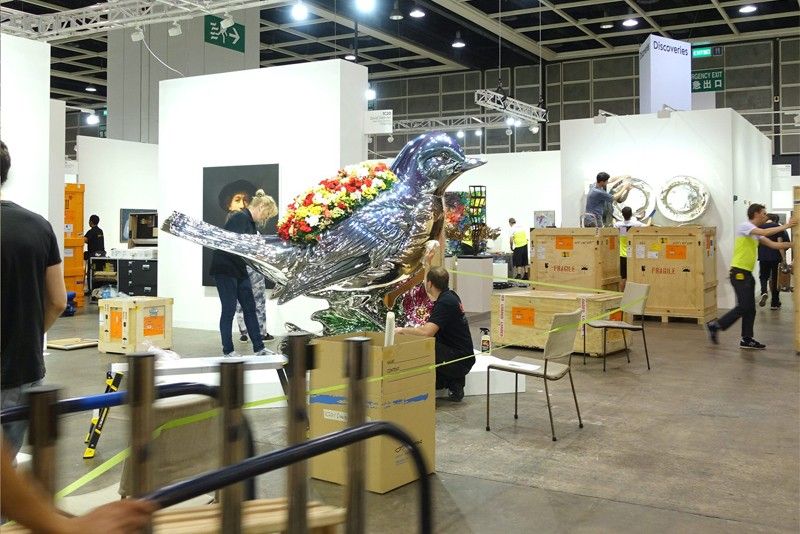 After all the bottles of champagne, afterparties and photographs, what is left?
Art fairs tend to be very glamorous events. With collectors, curators and artists gathering to see their favorite works on display, these are occasions where the finest champagne pours freely and people are keen to find out who's where and who's who.
Art Basel Hong Kong is no exception. For its sixth year, this fair continues to expand with a growing number of gallery participation and public visitors. When the fair ends at 6 p.m. on a Sunday, everyone is escorted promptly out of the convention center.
After 6 p.m., however, is where all the action happens. It's quick and intense — gallerists are supposed to pack and tear down everything by midnight or they risk getting fined. For six hours, the works are carefully and swiftly removed from the walls or pedestals and secured in crates drilled shut. Packing tape is constantly being pulled apart and bubble wrap is strewn haphazardly on the floor. Crates of all different sizes are being wheeled into the space and if you aren't paying attention, you could get run over.
It's interesting to see art in this context. In a way, it feels humanizing. Watching art handlers efficiently pack up everything somehow brings you back to earth about what art really is: an object. A few hours ago, visitors were in awe of the works; the space was once so filled with framed pieces and with people, but in the next moment, it is mostly just filled with wooden crates. This is the reality of the art fair week — it often feels like being in a bubble of exciting events and shows, but after that, it's back to regular programming.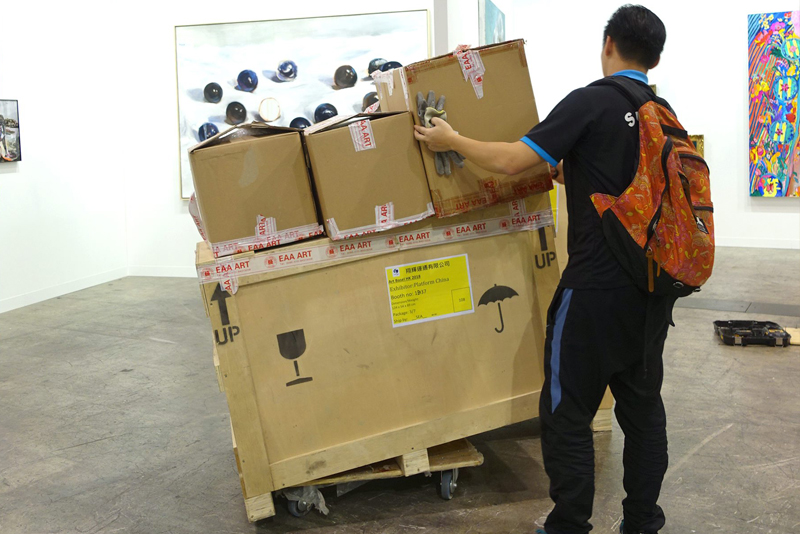 An art handler balancing boxes and crates on a pushcart
Art often acts like a vessel or placeholder for meaning. We rely on symbols in artworks to "understand" it. Especially when we talk of conceptual art, we are always hoping that someone is there to explain what we are looking at. Many works at Art Basel tackled a multitude of issues, from identity and political conflict, to art market commentary. To see these all being packed away feels like a switch being turned off, that the "meaning" that it may have carried is no longer applicable.
Perhaps we often forget that art in itself does not completely embody the idea or concept the artist wishes to talk about. The excitement that surrounds art and the art world often monumentalizes artworks to be something more than just its qualities as an object. The way artworks are often contextualized burdens the pieces with a grand importance and value.
We may look at art expecting a logical explanation, but it's disorienting to see it or even think about it completely as an object without meanings and labels. Why is that? What about art makes it so tied up with meaning and reverence? Has art fooled us into thinking that it is something important to humanity?
Art in its material sense seems to have no value aside from aesthetic enjoyment. (What is there to do with a sculpture other than to look at it?) However, art still often remains a conduit for fruitful discourse, just not the endpoint of it. It's easy to get caught up in the necessity of the presence of a piece to supplement a conversation, especially when we are familiar with museum brochures and wall texts. But when an artwork is packed away, where does the meaning go? When all the politically charged works are sold and tucked away in homes, what happens to the conversation the work was trying to have with the public? Maybe it's up to us to continue it.
* * *
Arianna Mercado is a recipient of the 2017 Purita Kalaw-Ledesma Award for Art Criticism. She is a recent participant in the Cultural Journalism Campus (CJC) Fellowship in Hong Kong. One out of ten international fellows, Mercado underwent training in cultural journalism and art criticism led by Hong Kong industry professionals. Their publication, Culture Express, was distributed across Art Basel Hong Kong.