National hero movies have become a "thing."
Not the kind of thing you associate with dreary history lessons taught by monotonous old educators, but an in thing. The kind that people flock to because said thing is hip and en pointe, even spawning its own social media presence.
In the interval after Heneral Luna ended and the theater lights turned on, a smattering of applause filled the room. This wasn't an isolated case. The film has been eliciting applause, rave reviews, and all sorts of status updates congratulating the return of more "substantial" Pinoy cinema, as if movie-goers were only learning about the protean general for the first time. In an inspired maneuver, Heneral Luna even attempts a mid-credits teaser of a possible sequel — Paolo Avelino turning dramatically towards the camera, invoking all the Byronic glory of the Boy General, Gregorio Del Pilar. It's a page lifted straight from America's Marvel franchise, where the obligatory post-credit reveal ensures that legions of fanboys (and girls) sleep well at night, knowing another superhero movie looms on the horizon.
This minor parallelism isn't as incidental as it seems. Similar to how America's film industry has crested on the wave of ancillary superhero characters, the local movie trend has gravitated towards other players of the Philippine revolutionary tradition; putting to rest (for now) the seemingly exhausted mythos of Dr. Jose Rizal.
In the last five years, there have been no less than three Andres Bonifacio movies, an offering on Emilio Aguinaldo, a documentary on Rizal, and now, the eponymous feature on Gen. Antonio Luna. All we need to complete the main cast is a biopic on Apolinario Mabini and Gen. Artemio Ricarte, the only two leaders who saw the Philippine Revolution to its bitter conclusion.
Perhaps the spike in our consumption of revolutionary figures is a manifestation of anxiety over the 2016 elections. Great personas are often forged in times of great necessity, after all, and the context in which these hero-images are produced and circulated has been rife with political tension.
Whatever it is, the memorialization of heroes is nonetheless an important exercise for the national consciousness.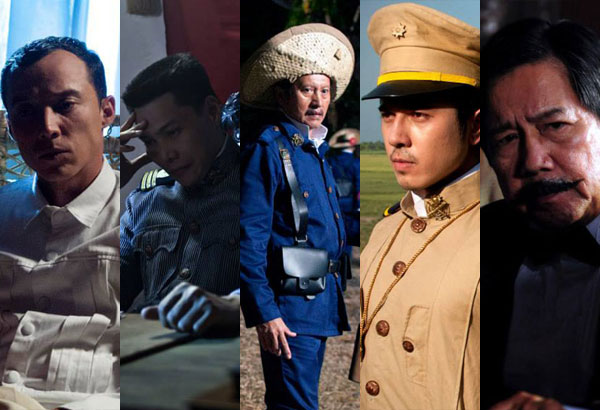 Power players: Apolinario Mabini (Epy Quizon), Emilio Aguinaldo (Mon Confiado), Lt. Garcia (Ronnie Lazaro),Gregorio Del Pilar (Paulo Avelino) and Pedro Paterno (Leo Martinez)
When viewing Heneral Luna, for instance, we see more than Jon Arcilla dressed up in period costume. At that moment, he is an emotive symbol, there to stimulate our sense of membership in a collective. He is the tragic general.
Indeed, no matter the form they are (re-)presented to us, these dashing, romantic figures are identified as the chief agents of the story of the nation. Through this reimagining of the revolutionary heroes, our country's history assumes a degree of intimacy — their struggles become our "creation story," their mistakes a bridge between the past and present.
It's ironic how emotionally invested we become, enough to protest over Heneral Luna's pull-out from some cinemas, enough to take to social media and express passionate disgust over Aguinaldo's machinations. It's ironic precisely because we know how it ends. This is the power of cinema at its finest; the medium is the message.
This trendy, popular interest in the revolutionary narrative, however, is a double-edged sword. On the one hand these towering figures have become as accessible to public consumption as, say, the Kath-Niel love team. This means a more informed Filipino body, refreshed about their history, eagerly awaiting the next biopic. Anything that invigorates a desire to learn about history can only be good for the general public. And yet, on the other hand, the danger lies in the premium given to such retellings. It may not always be "accurate" (at least as far as those canonical historical accounts are concerned), which is why not every gesture, or knowing glance, or quotable phrase, should be swallowed whole.
For instance, Heneral Luna heavily implies that Aguinaldo was the main villain behind Luna's violent end, and that the Sublime Paralytic was the only objector to the brewing scheme. However, based on accounts, it was actually Mabini, the power behind the throne, who helped plant the seed of doubt in Aguinaldo's impressionable mind, saying simply to his commander: "It would be better if Luna was replaced." Much later, the paralytic would publicly harp a different tune.
Then there's the recasting of Gregorio Del Pilar. Granted, the upcoming sequel might do much to piece together the missing links, but in Heneral Luna, the boy general's affinity for Aguinaldo was never touched upon. He was El Presidente's favorite, a rising star even under Luna's stint as Director of War. Much like the other generals whom Luna inflamed, Del Pilar would only take orders from Aguinaldo. The ending scenes of the movie show the arrest and eventual liquidation of the Bernal brothers, Luna's closest aides de camp. What it doesn't show is that these events transpired almost at the same time — the younger Bernal was forced to watch as his brother Manuel, bound like an animal, was flogged and tortured by none other than Del Pilar.
Finally, as regards Luna himself, the film's narrative would have benefitted from more context. Luna, the only true nationalist at that point in our history, carried with him the burden of atoning for perhaps his greatest mistake. Under the strain of physical torture by the Spaniards, but even more so under the deception that he had been betrayed by his comrades, Luna had denounced the Katipunan, revealing the names of his friends who were thus affiliated.
These were the times in which our heroes flourished. If character is destiny, we should revere them for their bravery as much as for their foibles. But that history repeats itself becomes something much, much less to wonder at.
* * *
With references from Nick Joaquin's A Question of Heroes and Teodoro Agoncillo's History of the Filipino People.