Undercover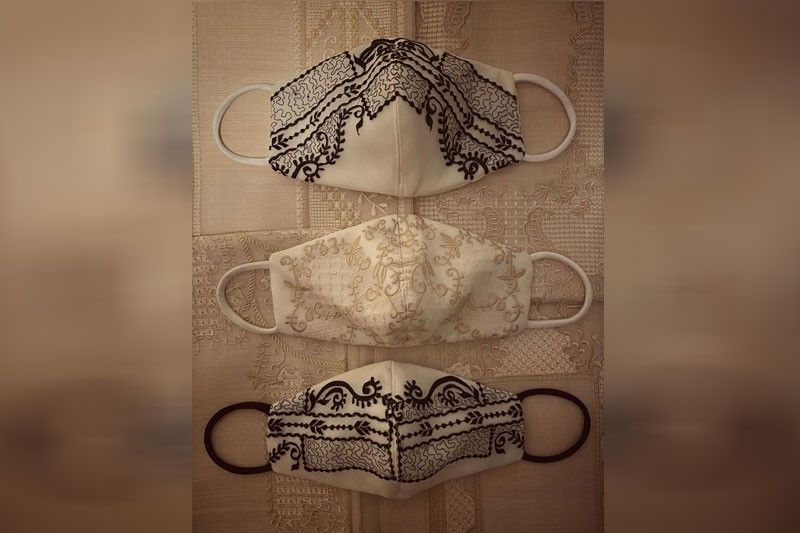 Did you ever wonder what people are wearing in these COVID times?
At home when one can lounge freely, there are no style rules because comfort is priority. Unless one's having a Zoom meeting, one's only fashion concern is to be dressed appropriately waist up. Staying in is chic especially when the new norm is WFH (working from home).
Lately, one by one, countries are starting to lift quarantine restrictions and are slowly getting back to having a sense of normalcy. As the restrictions ease out a bit, health and safety remain a priority.
During these times, fashion is looking forward to the new wardrobe essential — the mask. The piece-of-the-moment will replace the latest iconic bag, a to- lust-for pair of designer shoes or sunglasses, or a must-have dress. The global situation has given so much importance to this piece that it has multiplied and transcended into a multitude of forms. The mask has become a symbol of the times.
In the Philippines, the style landscape is at par with the international setting. Fashion designers, brands and creatives have taken the mask forward to complement a wardrobe-full of ideas. This masterpiece of function has become a chameleon of sorts by displaying modern form in a wide range of prints, colors and textures for everyday wear. From recycled, up-cycled, embroidered, embellished, hand-painted and all the brilliant craftwork the artisans can do, the mask has become a spotlight attraction as seen in social media platforms of designers, stylists, industry insiders, fashion personalities and influencers.
Proof that even in the darkest of times, style can go undercover.
Barong Tagalog
Jor-el Espina's new Barong Tagalog fabrications are specifically made for the designer's signature embroidered masks. Premium piña jusi is used to create one-of-a-kind pieces layered in cloth lining with a snug fit. Custom designs are hand-guided to create machine-made embroidery by the partner community in Lumban, Laguna. Each mask is washable and can be disinfected with bleach and detergent. Part of the proceeds goes to frontliners and relief efforts.
Leather FINO
Leatherware masks are called La Mascherina (Italian for the face mask), made from high-grade French calf leather. Each leather piece has an extra sheepskin lining and has a removable washable padded filter. They are breathable and soft enough for ease of use. The brand will donate 30 percent of proceeds of the first batch of masks to frontliners.
Denim
Esme Palaganas' (for Basic Movement) denim masks are from deadstock fabrics from the studio/recycled scrap materials. They're part of the initiative MASKS for MASKS Project by Basic Movement. For every purchase of facemasks from your favorite brands, they will use Basic Movement commission fees in donating five N95 masks to frontliners through the Face Shield Drive Plus team. To date, they have donated 605 pieces of N95 masks from the purchases since April 27.
Kaayo by Marga Nograles
These masks are made from cotton retaso that is hand beaded by the T'boli tribe of Lake Sebu. They have pocket lining at the back for filters. For every purchase, Kaayo sends three masks to frontliners.
Tela x Pio Pio
The brand's masks are made out of linen and handwoven cotton production offcuts. Each mask comes with a non-woven filter that's removable and washable. Every mask produced is donated to the frontliners. Pio Pio collaborated with Tela where the former donated materials to the latter such as retaso and garter. One-hundred percent of the proceeds go towards purchasing PPE suits for donation to hospitals.
NinOFRANCO
These masks are made of fabric scraps from the brand's past collections. For P500, 20 percent the proceeds of the sales of its #MaskofHope will be for its partner ethno-linguistic communities, Wimler Foundation, and Lake Sebu Indigenous Women Weavers Association Inc. through Ateneo de Davao University. (Please note that the digital prints of the #MaskofHope have already been approved and recognized by the appropriate ethno-linguistic authorities.)
Graphic Prints
Renan Pacson's masks are made from neoprene lined with microfiber. They are surplus from the designer's last collection. Initially, he gave it to neighbors, people from the barangay and LGU volunteers, then to his sister's officemates who work in a bank.
Rhett Eala masks
Rhett Eala's masks are made of imported brocade retazos. Each piece is lined in cotton. For every set of four pieces, which costs P1,000, P200 goes to the frontliners.
Viña Romero masks
Fabrics are recycled from cutouts from PPE materials. All of the masks are reusable and have undergone the lighter test (where one can't blow a lighter off with the mask on). It also features pockets for filters. They are part of the MASKS for MASKS Project by Basic Movement, together with other young fashion brands such as Proudrace, HaMu, Randolph and Raxene Maniquiz.
Anthill
These masks are made from commercial offcuts with recommended fabrics like scuba, spandex, neoprene, cotton stretch, and cotton knit, following standard face mask safety requirements. They come with two washable filters to improve filtration efficiency. The interior pocket of the mask holds an additional filter such as tissue or non-woven fabric. Each mask made and sold supports the livelihood of the brand's production partners who work from home during this quarantine period.